I was frankly surprised, but very excited to be covering Eurobike Media Days for Sportive.com - three days in the South Tyrolean Alps of northern Italy, sampling that country's famous hospitality, eating pizza, drinking grappa and saying 'Ciao' to everyone with a playful wink and a two handed friendly finger click-and-point.
South Tyrol couldn't be less Italian if you researched its family tree and found that its great grandfather was from Ulaanbaatar and had emigrated to Buenos Aires. The South Tyrol region is nestled close to the Austrian border and has an alpine landscape so lush and stereotypical, you expect to see Julie Andrews running through it.
I'd spent weeks practicing Italian phrases only to be greeted on the first morning by my driver, whose satnav had a better vocabulary than me. In an effort to avoid embarrassment, I feigned sleep for the three hours it took to get from Verona airport to Kronplatz, where the event village had been set up.
Nicolai Argon CX Adventure Bike
Day one was punctuated by poor decisions by me, involving clothing, food and refreshments. I stopped off first at the stand of Germany Heavy Metal manufacturers, Nicolai. Intrigued by their Argon CX drop bar bike, I abandoned my senses and decided to take it out on the short road route that was mapped out for testers to ride. To be fair, I intended to take it out on the shorter adventure course, but got lost.
Ordinarily, this would not be a problem, but the Argon was set up with a Pinion gearbox, the ratios controlled at the crank rather than the rear wheel. The gear shifter, although light and simple to use wasn't fully tightened on to the bars, and the bars themselves slipped round in the stem. I had some fun exploring the nearby town's dedicated cycle routes, but a couple of wrong turns took me up steeper inclines that tested my ability to oppose gravity. I stumbled upon the Adventure route quite by chance and the big tyres helped me through some rooty off-road, but it was an experience rather than an enjoyment.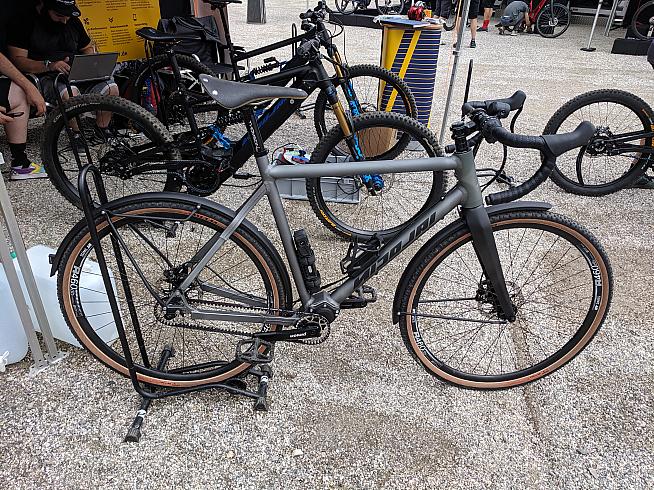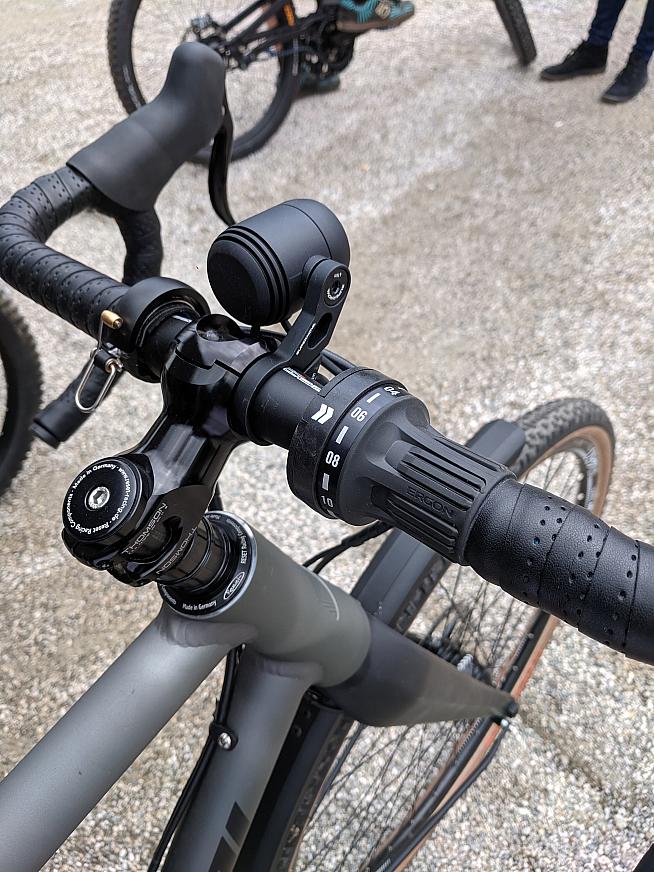 Happy to chuck it back and take on an eMTB, the next course in my Alpine sampling menu was their G1 EBOXX Bosch-powered Enduro bike. This beast was running the newest version of the German electronic's giant's Performance Line CX motor and, having ridden many bikes with the current version of this power plant, the improvement is astonishing. The 2020 set-up includes a full colour, multi-function display that provides a lot more feedback than the Purion display ever used to.
I rode the bike to the top of the marked trails, hoping to see what it and I was capable of, but one look at the steepness of just the entry to the sign-posted run made my stomach knot and the fear almost trickle down my leg. I took the coward's choice to drop back down the mountainside to session the easiest and shortest marked run, but even then, my unfamiliarity in riding a bike with this kind of specialist geometry made survival on relatively simple singletrack more anxious than a penalty shoot out (spoiler: England always loses to Germany).
My lack of skill on such a slack geometry was exposed and didn't make for a enjoyable ride, but I could tell that, if ridden properly, this would be a beast of a bike.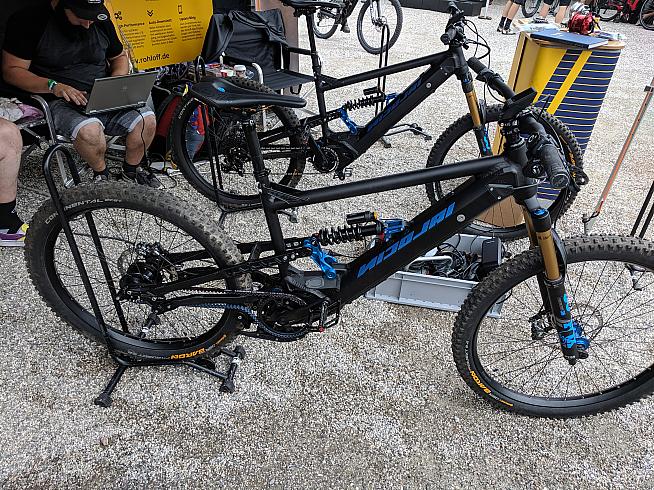 Greyp G6 Rebel
Stumbling wildly around looking for a more familiar pony to ride, I came to a dizzy halt in front of the gazebo of Croation bikesters, Greyp and their intriguing technofest, the G6 Rebel. Ever connected using T-Mobile and dripping with smart applications, I was a little nervous to be allowed out on such and expensive and complicated machine.
The uniquely mounted battery, amidships between the top and down tubes, gave it a solid looking appearance, and had front and rear sported powered lights. Within each light cluster was an HD camera that could live-stream or record for later and a smart-phone could be mounted on the stem to control all of the features on the bike using their proprietary android App. They even strapped a wrist-based, heart rate monitor on me (presumably with a GPS tracker so that it exploded if the technology detected I was doing anything really dangerous or stupid) - many years later (it was minutes, really) when I'd had had every feature explained to me, I was shooed off to the trails.
Less Enduro than the Nicolai, this was more my kind of full-sus - the shorter travel and less rangey geometry suited my cowardly kind of riding and soon I was sessioning the nursery trail with more and more confidence. It was a fun bike to ride, and it was then I recalled something of the tutorial that made sense - the HRM is used to gauge the rider's effort and help them to train within certain zones - too low a heart rate and the motor's power is reduced; too high and a boost is given to reign in the effort.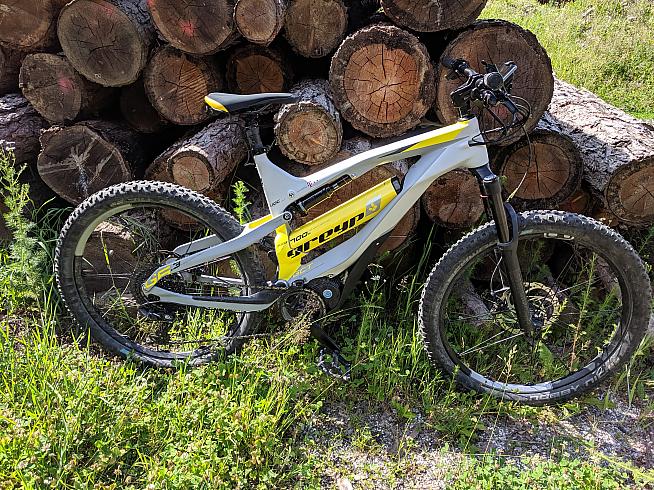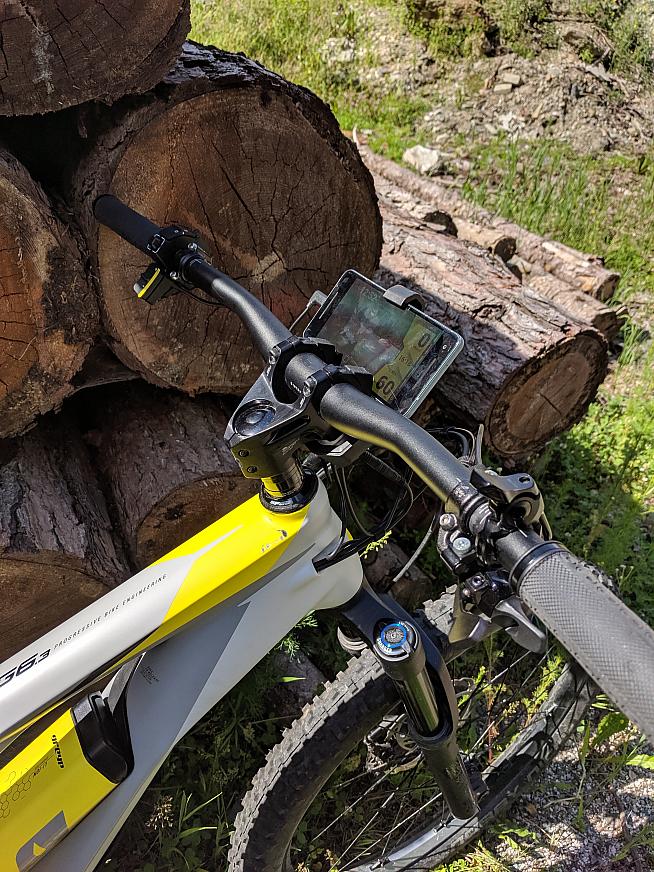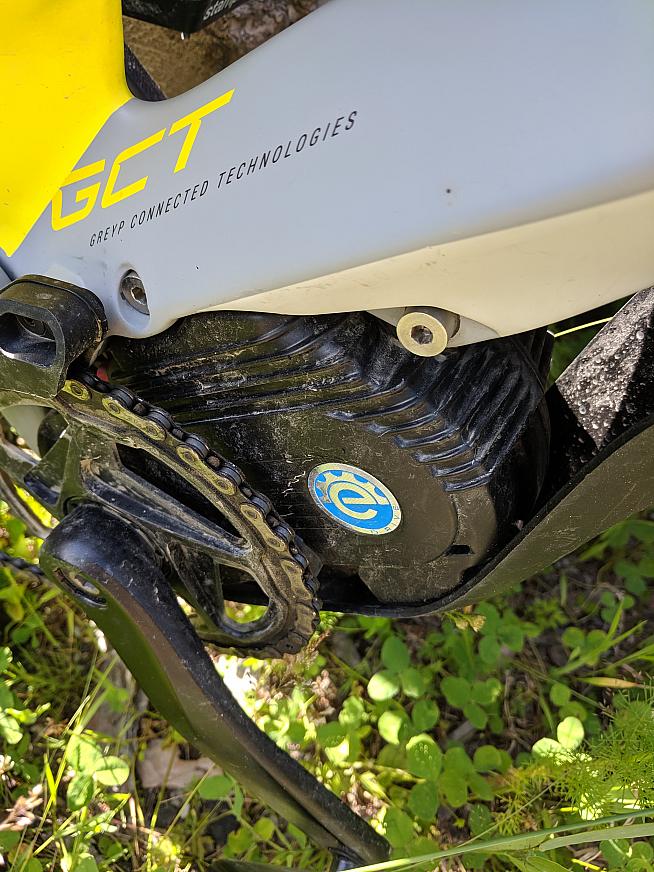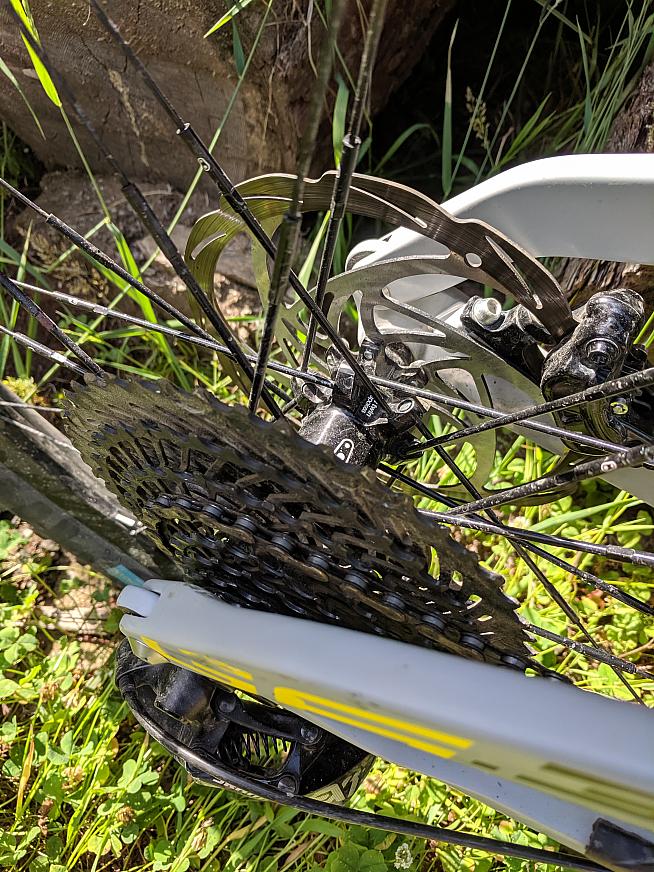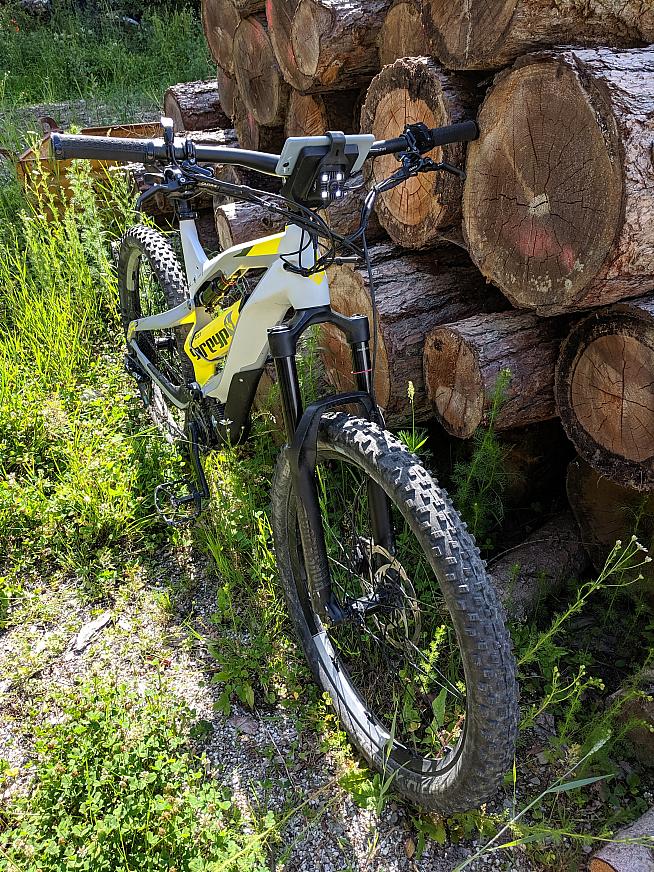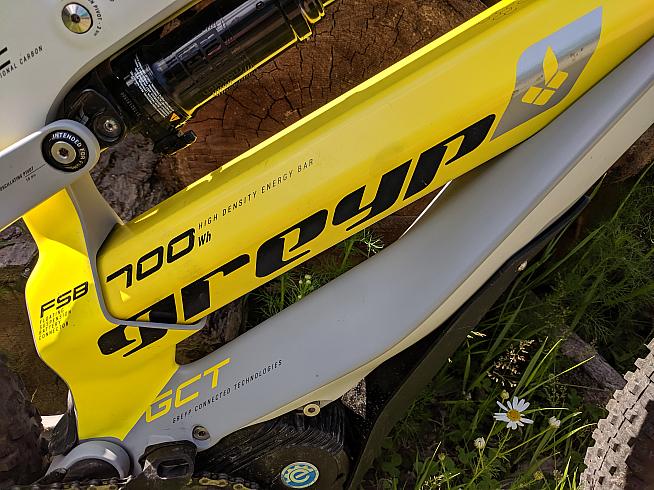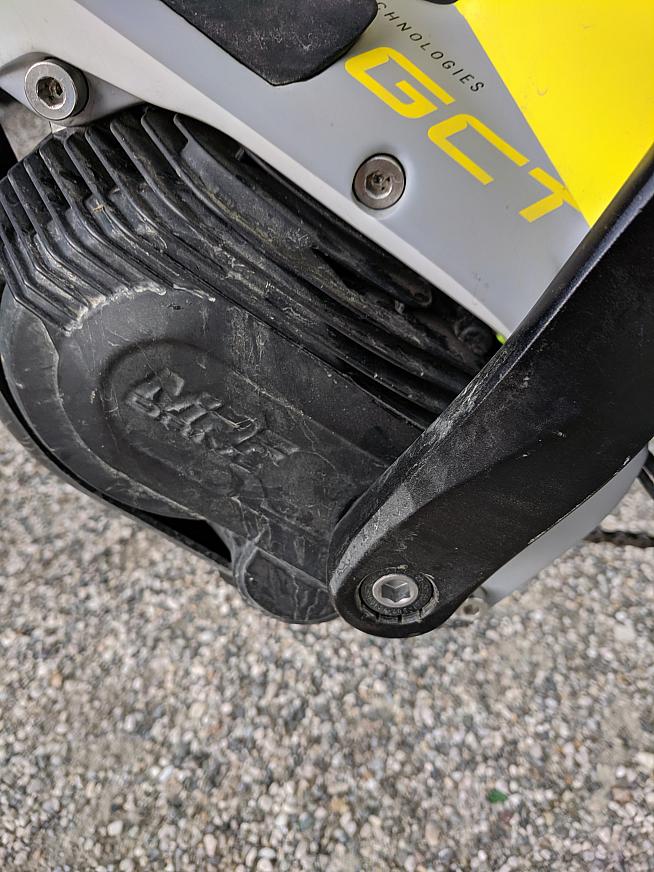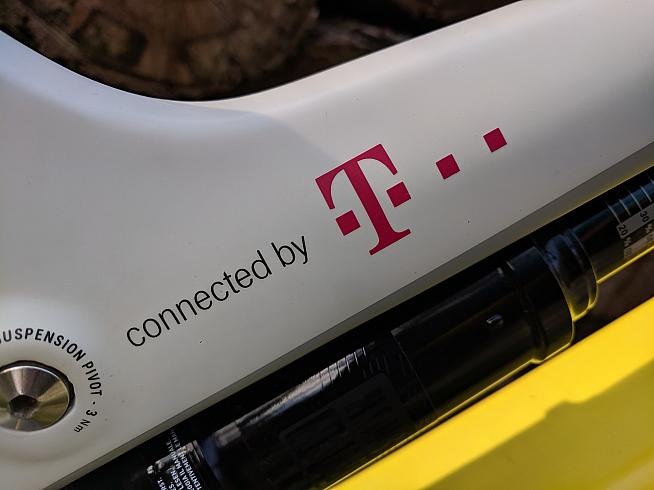 As an experiment in what you can do with tech, the G6 Rebel is a masterpiece but I think function and aesthetics have been sacrificed at this particular altar. This kind of clever tech has its place, but the average mountain-biker doesn't work in heart-rate zones or is worried about the weather. It could become the norm in years to come, but I think the e-biking community will view this kind of thing as a step too far, too soon.
Riding done for the day, we were invited to dinner at the summit of Plan de Corones in the Lumen Museum of Mountain Photography, constructed within the former funicular mountain station. Here we were officially welcomed to the Media Days after a 20 minute gondola ride and treated to some delicious gourmet food and plenty of wonderful wine. There restaurant is perched on stilts giving the impression of floating on air, if being 2275m above sea-level wan't enough to make your collies wobble.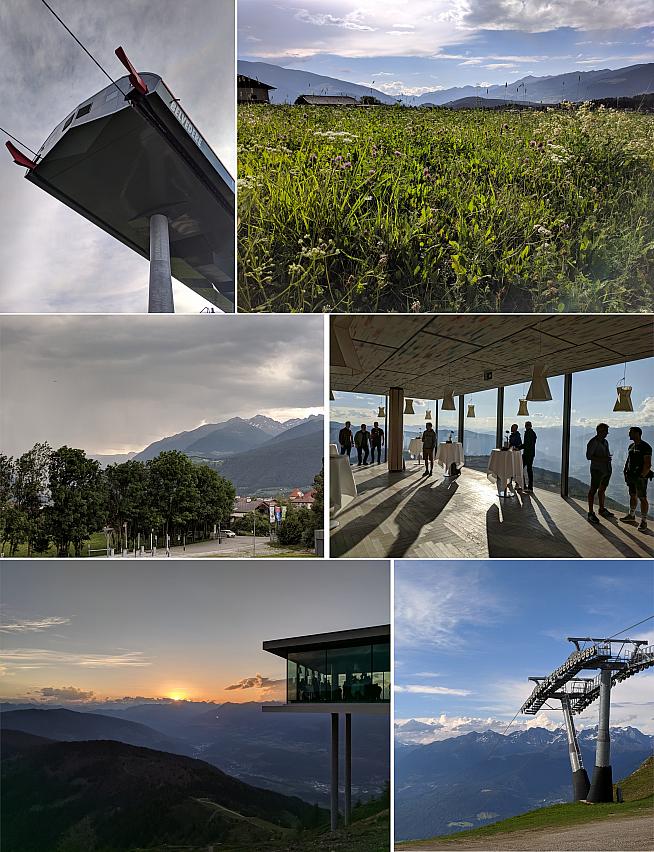 From the summit of Corones, you can see much of the eastern Alps, including the Col de Galibier and the Col de Telegraphe, but the Dolomites muscle into the scenery like big boys turning up to your 16th birthday party drinking booze and smoking Marlborough Red. With the sun sinking as quickly as the Merlot, we ventured back to our respective hotels.
After a hearty breakfast at which I was so confused about where I was that I spoke to the staff in schoolboy French rather than Italian or German, I decided to gird my loins for the harder trails with a more familiar sounding steed.
Fantic XF1 Integra 160 Race
The Italian motorcycle firm Fantic has been manufacturing e-bikes for a number of years now, and it's a brand I recognised from my youthful dabbling in petrol-powered two-wheel travel.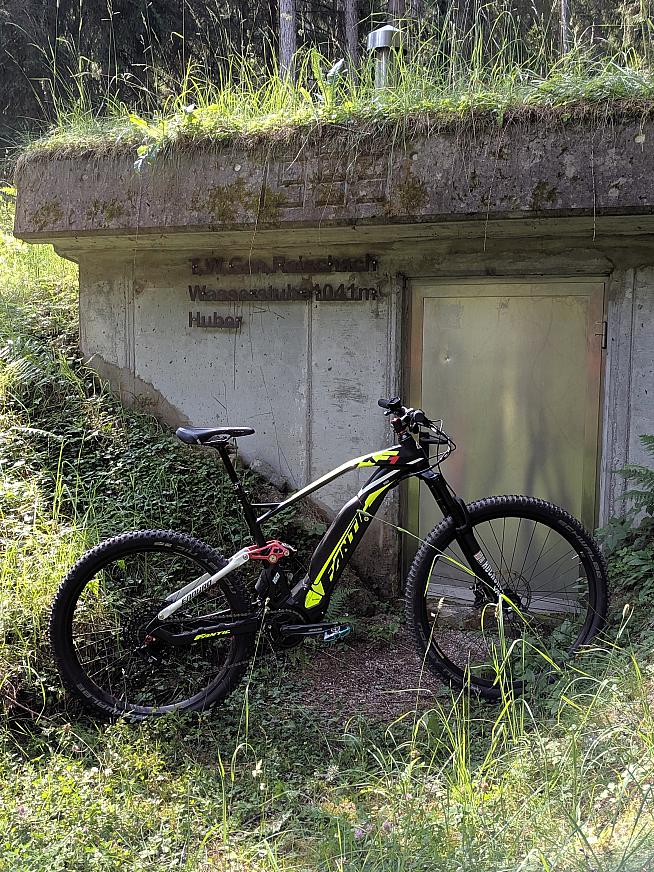 Their off-road bikes incorporate different sized front- and rear-wheels making them very stable steering downhill, while giving bags of grip and traction from driving end. It certainly felt better riding the e-Bike uphill challenge course, although a bit of over-exuberance on a particularly steep twisty section had me barrel-rolling back down the trail, still clipped in and ending up pointing 180 degrees in the wrong direction. Taking the hint, I skulked back down to the start of the route and tried my luck once more on the simpler ultra short course.
Handing back the XF1 Integra 160 Race, my eye fell upon their Passo Giau road bike and after apologising, picking it up and popping it back in its socket, I ventured out on something more akin to what I was used to riding back home.
Fantic Passo Giau
Some people just don't see the point of e-bikes, and I think even most of those that do struggle with the concept of e-road. Most road bikes are light enough for even those riders who consider themselves better-than-average. It seems a lot of money to shell out. In a world where "the less it weighs, the more you pay" it means you can tip the scales with a bike that would have UCI Commissionaires checking their scales and tutting with the kind of expenditure you could lay out on something like the Passo Giau.
There is a trend, however, that is moving towards producing a bike that is only a little heavier than these carbon super-lightweights that means those with lesser ability, or with health issues, can enjoy a ride out with their friends and have an extra small boost in power available should they need it. I recently sold a chap a six grand Colnago E64 that weighed in at just over 11kg, because he wouldn't let his passion for Alpine cycling be curtailed by a sudden and debilitating heart condition.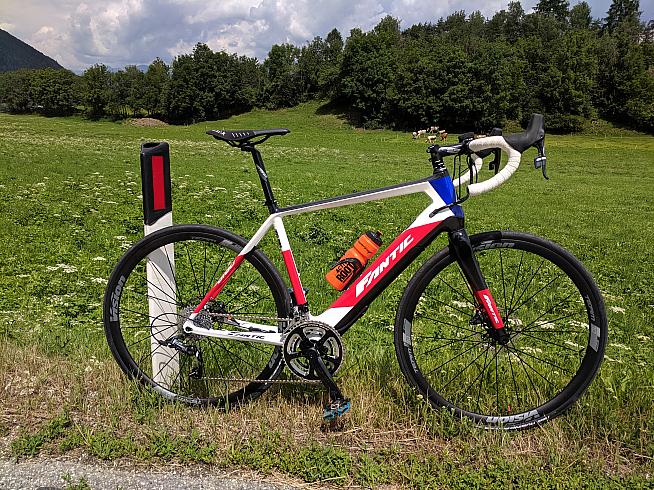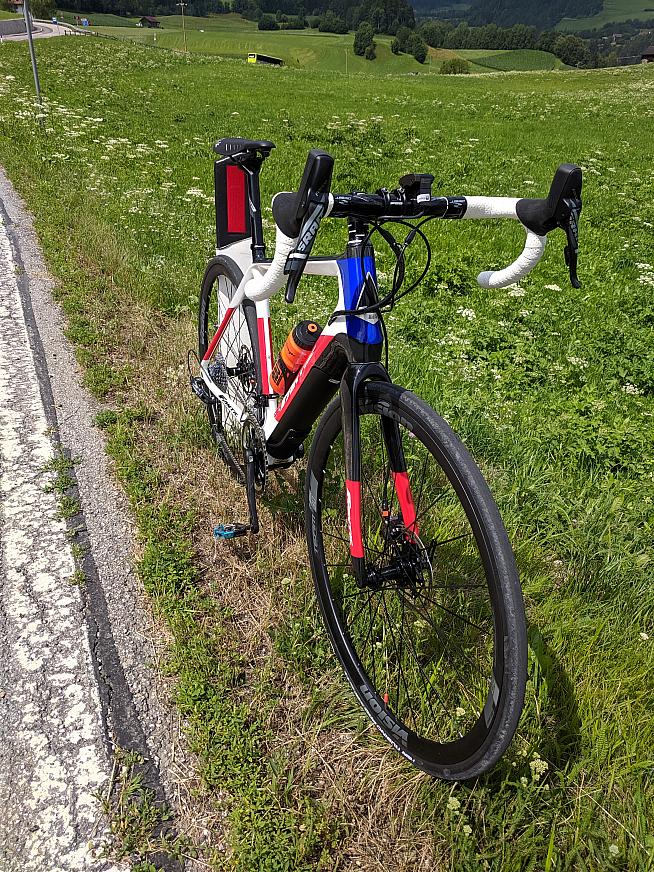 The Fantic rode like a high-end road bike should have. Down a sweeping set of bends on a descent, it stuck to the curves and stayed planted on the line it was plonked on. As soon as the downhill stops, I usually resort to shameful trundling but the extra 250W from the motor gave me a power-to-weight ratio that made me feel almost competent.
Unlike the delivery of the eMTB's motor, this augments your effort rather than turning you into a superhero. I liked the experience very much and once the integration of power switching reaches the same level of that currently in the eMTB scene, I think e-road will begin to take off.
MAXX Fab4
As the day wore on I began to gravitate more towards other, lesser known (in the UK) brands. I dawdled at the gazebo of MAXX Cycles long enough to strike up a conversation with Uwe, and mentioned how much their FAB4 reminded me of Trek's Powerfly FS range, albeit one powered by Brose's new Mag motor & battery system.
He invited me to take a spin, and immediately I was impressed by the oomph of the new Brose and how the power delivery was more akin to Bosche's CX Performance Line.
The ride was as good, if not better, than my memories of the Powerfly, and the addition of a digital readout is the right thing for Brose to have done if they're going to expand their appeal amongst those, like me, who suffer from range anxiety and a chronic need for meaningless statistics during a ride.
I took a little longer to get back to the event village than I wanted, partly because I was having so much fun - sadly rain had swept up the valley and many exhibitors were packing up for the day. This left me no time to try out the exciting prospect of a ride on the Maxx RoadMaxx, a Shimano GRX equipped adventure e-bike with a Fazua battery/motor concealed within the downtube and rotating the cranks via a modified bottom bracket. The whole motor unit can be removed, if so desired, for non-powered usage a design that enables you to have a reasonably light human-propelled sled with the option to add propulsion should the mood take you.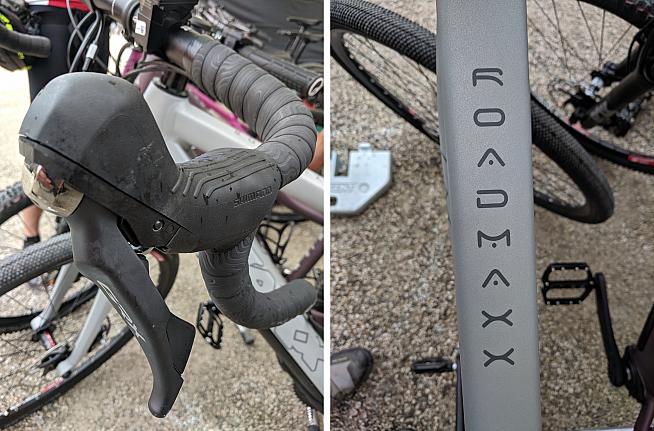 This option has been adopted by other 'road e-bike' manufacturers - I'd already experienced it in the Fantic Passo Giau - but MAXX also use this assistance method to power their smaller-framed eMTBs where a conventional motor/battery arrangement would be restrictive and the extra power isn't needed as much.
The delight of the RoadMAXX would have to wait until the morning, as the inclement weather looked to be here for the duration and we had another dinner date later that evening.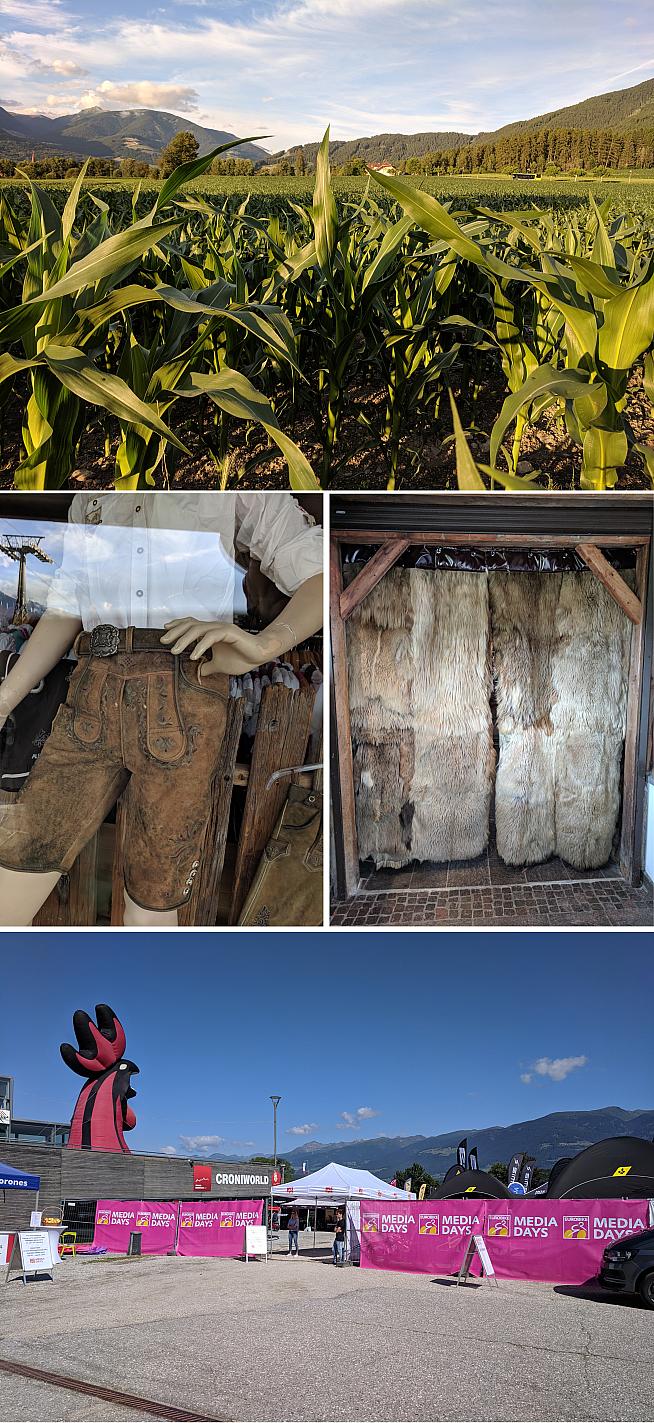 The venue for that night's culinary delight was the Hotel Henri, an establishment so stereotypically Alpine it had a lederhosen shop and faux-animal pelt curtains leading to a bar hosted by buxom Teutonic waitresses holding glass stein mugs topped with foaming clouds of beer froth.
The buffet was more continental, but was followed by a beef-and-dumpling main course that had me staggering for the exit and the quiet of a beer in my hotel room and a catch up on Netflix.
Nox Cycles Hybrid XC
As day three dawned, I decided to give the switchback trails a miss and head instead for the XC route on my map. For this I would need a different steed, and I was drawn to Antipodean sounds coming from the Nox Cycles stall. The Kiwi who introduced me to their Brose-powered hardtail sympathised with my monolinguistic predicament, right up to the point where he asked his mechanic to pop my pedals on to one of their Hybrid XCs in fluent German.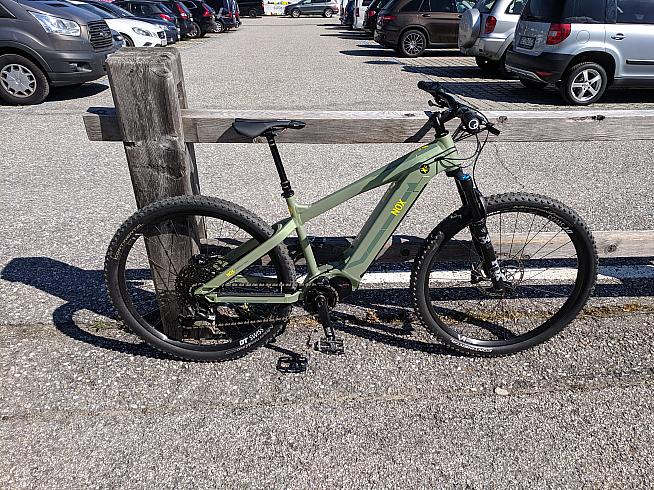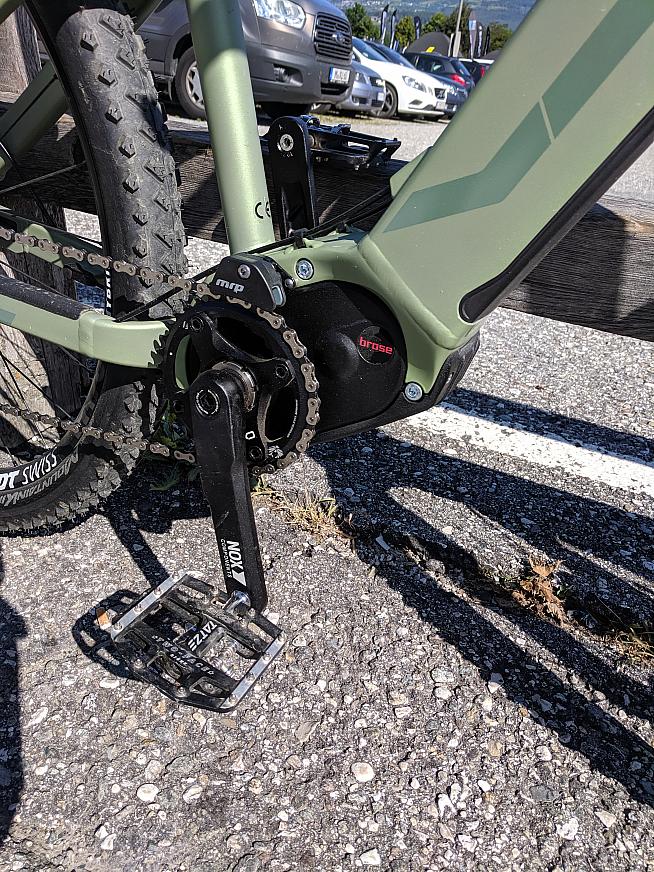 The XC course was five miles of mostly brain-off gravel with one or two rooty downhills, but the Nox took everything in its stride - from tarmac to grass, from churned up farm track to rubble, it was such fun that I decided to take it around again - and again.
On one of those returns I took a wrong right and ended up way off track, although still on sign-posted bridleways (daubed, confusingly with the Austrian flag - was I that far off course?). I found myself at the bottom of a steep climb I wouldn't have attempted to walk up, let alone ride on any of the other powered beasties I'd trialled so far, yet I felt strangely confident that the XC would make it before my legs gave out and my lungs poured through my eye sockets.
It did, of course, and without me shedding any unnecessary offal - to such an extent end that I considered going down it and doing it again, until I saw how steep it really was and my dander drooped somewhat.
Whether this was the excellence of the Brose engine, or that of the Nox XC's geometry is still open for debate. I couldn't find my way back to this particular trail on my fourth circuit, but I did find that it behaved impeccably on the road back to HQ as well.
Open U.P.
As the event was due to finish at 3pm, many of the exhibitors were beginning to pack up wares. I just managed to catch the eye of the chaps at the Open stall, showing off their monster-tyred, single-ringed Open U.P. adventure bikes.
No electro-mechanical boost here, just lightweight frame and components and heaps of pizzazz. Open is the brainchild of Gerard Vroomen, late of Cervelo, and Andy Kessler. They're a small company, planning to stay small and producing bikes they like to ride to people that ride like them. They're not interested in mass appeal, but this doesn't mean that their bikes aren't excellent.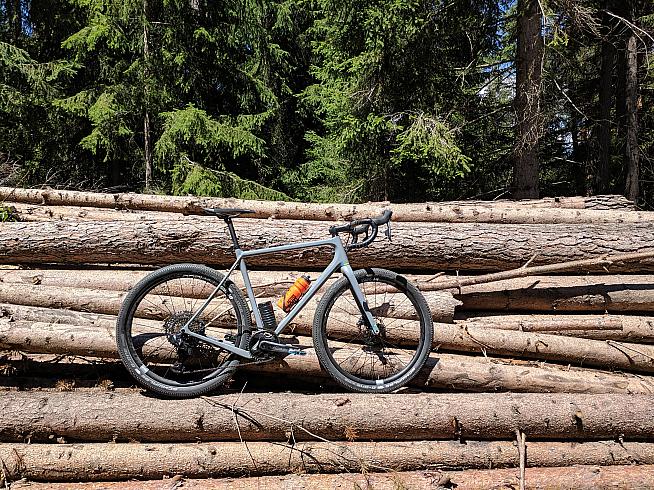 Tempted as I was to try the carbon-fibre monster truck, I couldn't pass up the opportunity to ride the alternative, a SRAM eTap AXS version, sporting Force at the front-end and Eagle XX1 at the rear - a kind of cycling mullet, if you like (business at the front, party at the back). The handling and balance were exquisite. DT Swiss 650B wheels were shed with Schwalbe G-Ones that were grippy on the road and forgiving down the rootiest part of the XC course.
The eTap design is simplicity itself - right tap for down, left for up - and the gorgeous Eagle mech and oil-slick shifting on the 11-50 cassette on the rear coped with the steepest parts of the route, despite the strain put on it by a diesel-powered elephant in the saddle. I was so impressed by the Open that I was close to tears when I had to hand it back. I may not (yet) have the funds to get a frameset like this, but I'm determined to give Plus Road a proper go on my current bike.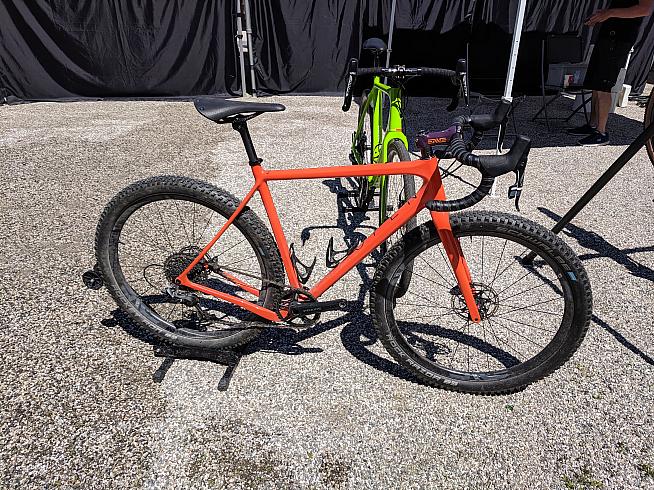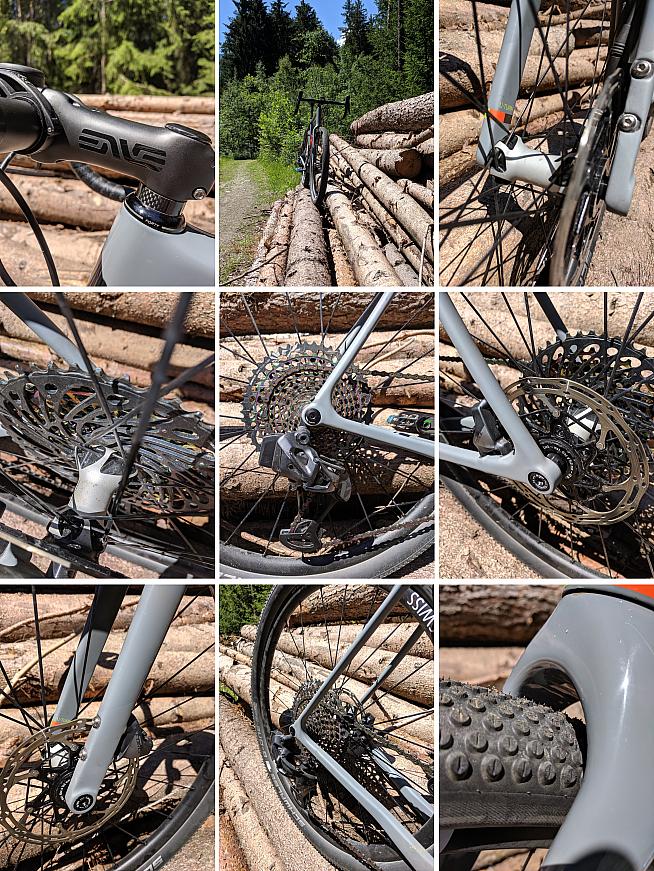 So with the tents collapsing around me like cricket teams at Lords on a muggy morning, I hauled myself up to the cafe for some lunch only to discover, much to my annoyance, that I could have had free beer with every meal.
This was really the only disappointment that I could take away from Eurobike. The hospitality of the people at Kronplatz was a credit to the region, even if I could never decide which language I should use to thank them.
The brands on show, from large to small - although heavily weighted to eMTB-ing - were quite varied. I don't think I could have explored them all if I'd been there twice as long. I decided to check out the unknown, the innovative and the just plain weird.
It seemed fortunate that each brand I tried I enjoyed a little more than the last. I don't think I would have done it any other way. From the first hefty touring bike to the pinnacle, in my honest opinion, of adventure cycling from Open, I felt like I was on a predetermined path to enlightenment. In a physical as well as a spiritual way. Just imagine how strange this report would have got if I'd realised all the beer was free.
0 Comments