Mont Ventoux, aka 'The Bald Mountain', dominates the skyline for miles around. She stands a vertical mile above the plains of Provence, a majestic goddess, daring mere mortals to climb her gravity-defying slopes in homage.
The journey is long and the journey is torturous. There are three routes up to her summit: you could choose the shallower fifteen-mile climb from Sault, or the steeper and more arduous thirteen-mile climbs out of Malaucène or Bédoin.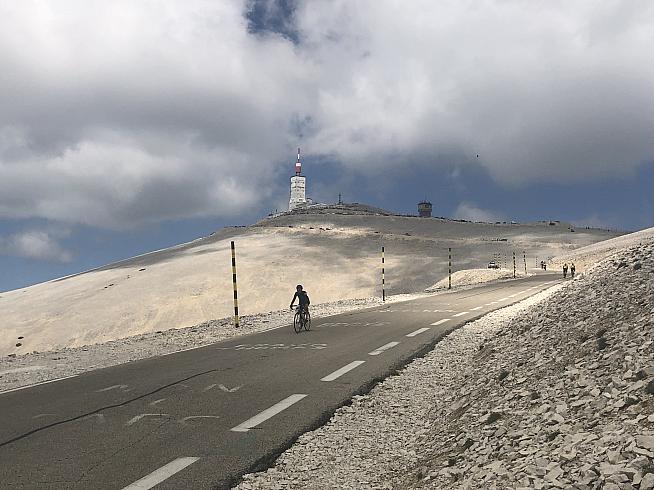 Decisions, decisions, decisions. I always find choosing difficult, which is why on this particular day I chose all three.
I wasn't the only one. Four of my fellow Sussex Nomads - Gary, Ian, Howard and Graham - joined me in my quest to complete the challenge and thereby earn entry into an exclusive club: Club des Cinglés du Mont-Ventoux... the madmen of Ventoux!
Round One: the ascent from Malaucène
We aim for an early start. Six-thirty was agreed the night before, but in typical Nomads fashion it's 6:45 before we hit the road. The first hurdle is the unreasonably chilly start to proceedings, making the donning of jackets mandatory. The second hurdle is taking them back off again as we warm up during the two-mile ride to the commune of Malaucène... the start of round one.
We rolled over the foot of the climb and Gary edged to the front and started to pull away. My natural instinct kicked in and I followed his rear wheel, fragmenting our beautifully formed peloton, leaving our three compatriots to form a grupetto in our wake.
Gary explained that his sudden acceleration was down to his wattage, the measurement of the force he was putting through his cranks, which was being displayed on his bike computer. He knew what power he could maintain, so would accelerate on the shallower sections but back off on the steeper segments, to ensure his numbers were consistent.
In contradiction to Gary, my impulses tell me to attack the steeper sections by dancing away on my pedals before returning to my saddle to recover when the gradient eases off.
The climb up from Malaucène is a real mixture of shallow and steep, which resulted in a revolving battle of our riding styles. I pulled away every time Ventoux dealt us a steep segment, but Gary reeled me back in as I recovered whenever the mountain exercised restraint. It was a pleasant distraction from the suffering that Ventoux is notorious for dishing out.
This north-westerly ascent is, until now, the least breath-taking of the three. The iconic tower - the weather station that Ventoux wears like a crown - does not come into view until you're almost at the summit. It feels like you're sneaking up behind her. But she knows you're coming, and ensures her gradient is sufficiently steep, in an attempt to break you after you've slogged through the first eleven miles or so.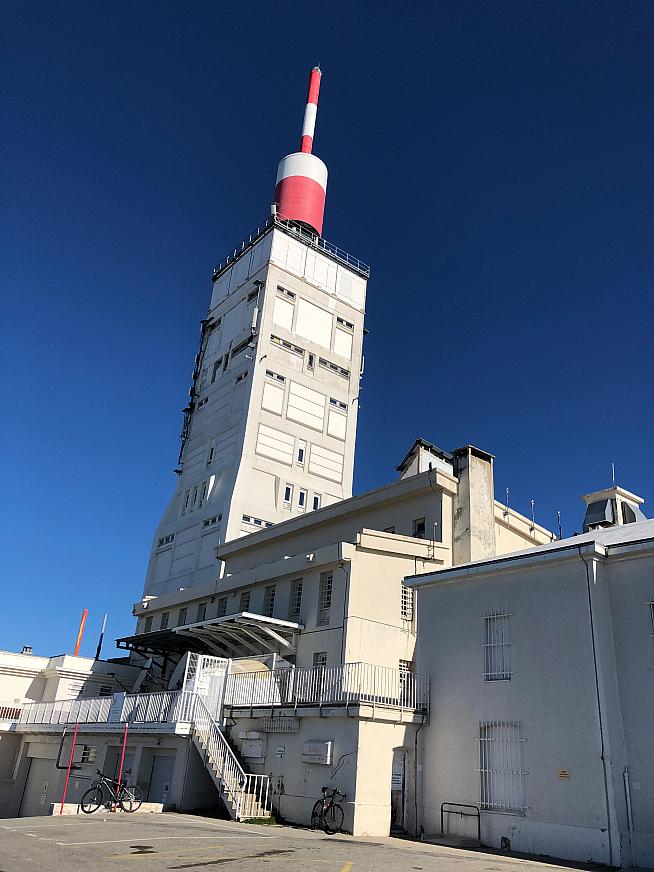 We are still locked together as we simultaneously round a right-hander to be greeted with our first sight of her crown. The view is absolutely stunning. The sun shimmers through, enhancing her beauty; she's magnificent but daunting at the same time.
She towers over you in an attempt to intimidate, but instead fills me with excitement. This is the first time I've seen her up close and personal: the sight acts as catalyst and I'm out the saddle again, attacking the final mile-and-a-half.
I love her hairpins, as I sweep right and then left. They are so tight that I no longer have to look over my shoulder to see how close Gary is. I'm confident that the gap is sufficient, so I back off to take in the beauty of the last few hundred metres before rolling up to the 'Sommet du Ventoux', arriving forty-five seconds ahead of my club mate. It's been an hour and forty minutes since leaving Malaucène; my longest climb ever, in both time and distance.
I savour my first time on top of this grandiose mountain. The view is spectacular, worth every kilocalorie torched on the way up here. I cast my eye over the lunar landscape that has opened up before me; miles of bare limestone lie on the exposed section of this mountain, a sort of icing on the cake with the forest below acting as the base layer.
It's relatively quiet at this time of morning with only a few other riders sharing the moment, so much so that we only passed three other riders on the way up.
This is in complete contrast to the climb up from Bédoin, as we pass well over a hundred riders on the way down... a sort of 'rush hour' for cyclists. The descent is rapid. There's a fine line between terror and exhilaration, and I switch between these emotions as I hurtle down the straights and hold on for dear life around the corners.
"Into the trees..." I recall the lyric from The Cure's classic 'A Forest' as the lunar landscape morphs into the flora and fauna of Forét Domaniale de Beumont-du-Ventoux.
My arrival in Bédoin signals the end of the workout for my brakes as I peel my fingers off my levers and flex them in preparation for their next important task... gripping a cup of coffee.
Gary, who's less attached to his levers, arrived a few minutes earlier. Ian disembarks as the coffee arrives and the grupetto arrives shortly after. We share stories of our heroic endeavour, tainted with a hint of caution as we collectively acknowledge the battles that lie ahead of us.
Round Two: the ascent from Bédoin
The route up from the south is the classic climb, used regularly on the Tour de France, which is probably why it's the busiest. Hundreds of cyclists are joined on the climb by motorcyclists, a handful of e-bikers, and even a roller-blader!
This is the same slope we've just descended. The consistently steep gradient through the forest should have heeded as a warning, but my confidence is high after the first ascent, so I attack the climb as soon as the first steep ramp appears. Gary sees me disappear into the forest, but doesn't respond as he diligently keeps to his pre-event power schedule.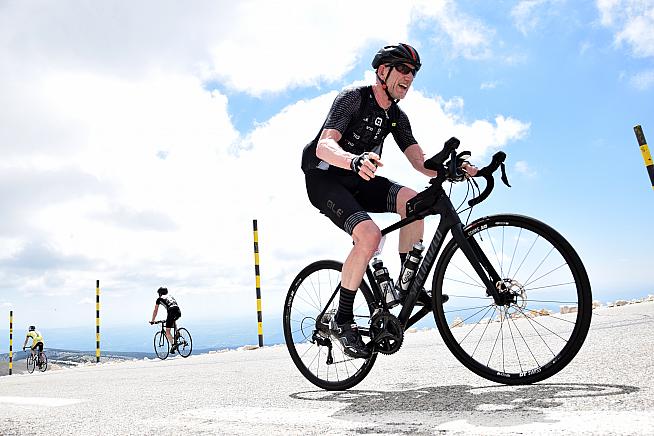 Ventoux has been biding her time; she let me get away with the first climb, but now she's frowning on my audacity and starts to live up to her reputation. Her gradient is starting to bite as my quads scream for some relief. I spend long spells out of the saddle, dancing on my pedals to alleviate the pain, hoping for something shallower so I can sit and spin once again.
Reality starts to hit home. All the easier gradients have been left behind in the olive groves and orchards of Bédoin, there is no respite now and I'm not even halfway up this beast. My sustained spells of dancing are starting to wear me down, my forearms are throbbing and my triceps are screaming. I'm forced back into a seated climb and my quads start hollering all over again.
I try to motivate myself through the pain. "Every pedal stroke is a step nearer the summit," I keep telling myself, but my pace has dropped dramatically as each mile is now taking an age. Ventoux is enjoying my suffering as she delivers blow after blow. The pain is excruciating, but I know the hardest part is yet to come.
In the meantime, Gary has reeled me in and passes me at speed. I momentarily grab his rear wheel, but I have nothing left to keep his pace so return to my private suffer-fest.
The arrival of Le Chalet Reynard is a significant milestone, signalling the completion of the long drag through the forest. The infamous lunar landscape appears one again and the enormity of the task hits me as the remaining four miles of steep ramps can be seen all the way up to the distant tower. This is Ventoux's way of trying to crush you before you can get within touching distance of her summit... this has now become psychological warfare.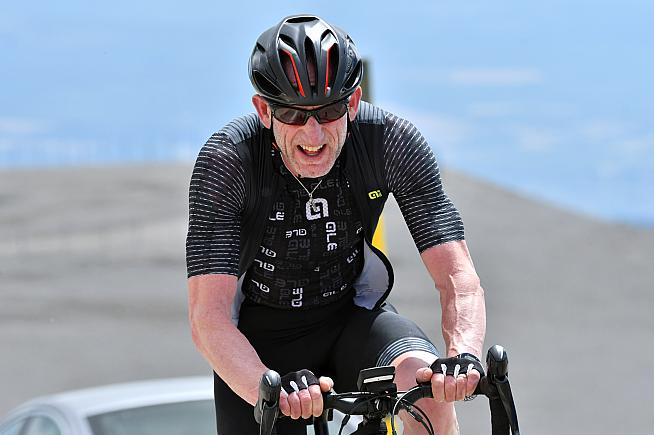 It's not just cyclists on this climb, it's also a mecca for motorcyclists as they race up the slopes, taking the corners at ridiculous angles. The noise and spectacle are a welcome distraction from my suffering. But Ventoux keeps reminding me that she will not make life easy for me. The blows keep coming.
I slow to walking pace and then to snail's pace as my aching limbs continue to make feeble attempts at forward momentum. I'm in the saddle, I'm out, I'm back down. I can't settle. One position delivers searing pain to my quads, the other to my forearms and triceps. I feel weak, but I keep grinding away.
I'm in the last couple of kilometres now. My pace has slowed even further, but every hard-earned pedal stroke moves me a few centimetres closer to the summit. Just when I think things can't get any worse, my adductors begin to cramp. I have to climb out of the saddle to stop them, but my arms feel so weak I have to sit back down only for threat of cramp to reappear.
It's now just a question of mind over mountain, as I can't bear the thought of dismounting and conceding defeat to this giant.
The one kilometre to go sign appears. I'm in touching distance of the summit as my weary body somehow keeps some forward momentum. The five hundred metres to go sign perks me up a bit, but I'm still in a precarious position as I'm teetering on the brink of cramping which would halt me in my tracks.
Standing on my pedals is my only option now. I know the last ramp kicks up viciously on the last right-hander before the summit. I manoeuvre to the middle of the road to lessen the gradient, then take another dozen or so pedal strokes and I'm there... totally exhausted and devastated at the cruelty of this mountain.
I slump onto my handlebars in an attempt to recover from the battering that her majesty has delivered. It's taken me five minutes longer than the first climb... it seemed like hours!
The long descent to Sault is punctuated by a brief visit to Tom Simpson's memorial. This British cycling icon gave his life to Ventoux during the 1967 edition of the Tour de France: a timely reminder of the power of this mountain.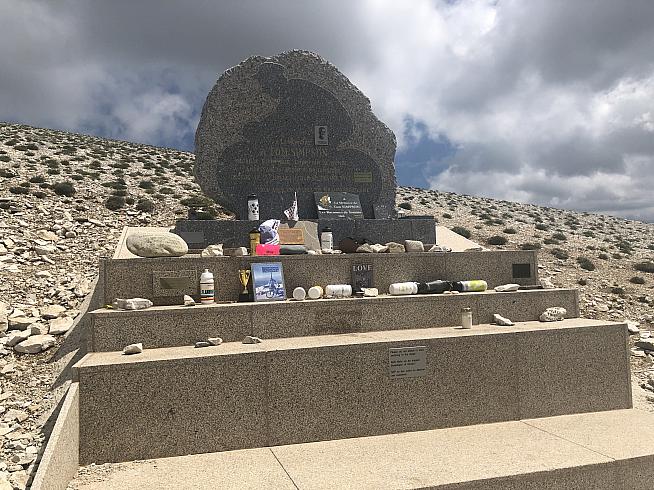 From here it's a 15-mile white-knuckle ride down to our lunch rendezvous in the commune of Sault. It's the same treacherous four-mile drop down to Le Chalet Reynard; several tight bends sweep you left, alternating with the same number of tight bends that sweep you right.
After taking the left turn at the junction, however, you face a more sedate ride off this mountain as the gradient shallows somewhat for the last ten miles or so.
We regroup in Sault for lunch, which is appropriate, as I'm straight onto resolving my cramping problem. It's a case of salt in Sault, as I down three glasses of salty water and add a spoonful of the white stuff to my spaghetti. It's not very appetising, but the last thing I need is another attack from the cramp monster on top of what our third ascent of Ventoux has in store for me.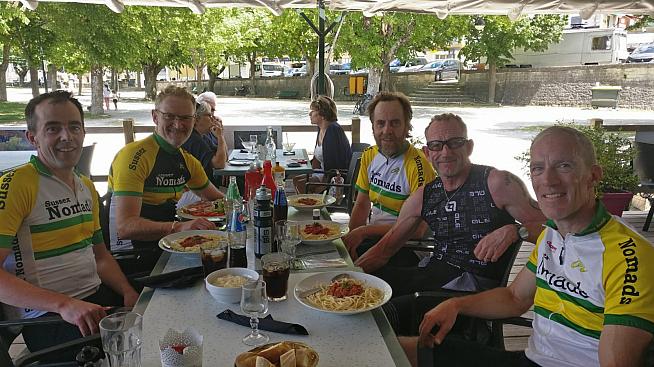 Round Three: the ascent from Sault
The Sault climb starts relatively gently, and the five of us resolve to ride together for the long, shallower section. The gradient barely reaches double figures, which is a welcome relief from what we've been through and what lies in front of us.
Ian and I bring up the rear, which just as well as we simultaneously pull over for a comfort break, leaving the other three to continue the quest. My call of nature is brief, itching to get on with proceedings. Ian, however, is drained and fatigued; he needs a breather, which is no surprise after five hours of riding and over 10,000 feet of climbing. I encourage him to take his time, take a gel and eat some of his energy bar stock. Five minutes pass and our teammates are now a distant memory; we have now morphed into the grupetto.
I become Ian's domestique as I pace him up the climb, keeping the pace moderate and offering encouragement along the way. The slower pace was doing me a favour; I find it difficult to exercise restraint when climbing, so I was inadvertently saving myself for the final onslaught.
We arrive at Le Chalet Reynard once again; from here it's the same four-mile slog as the route up from Bédoin. It's been an hour since Ian's sojourn; he has suitably recovered and releases me from my domestique duties. I'm hesitant at first. After getting a pasting from Ventoux earlier in the day, I'm not sure I want to take her on again. But my subconscious craves the pain, and I pull away for my final instalment of misery.
The gloves are off and, like a case of déjà vu, Ventoux delivers some hefty blows all over again. I respond by telling my limbs that I'm going to drag them kicking and screaming up this damn mountain, but the suffering she is dishing out is pure torture. I'm on my knees, but she delivers blow after blow in an attempt to halt me in my tracks.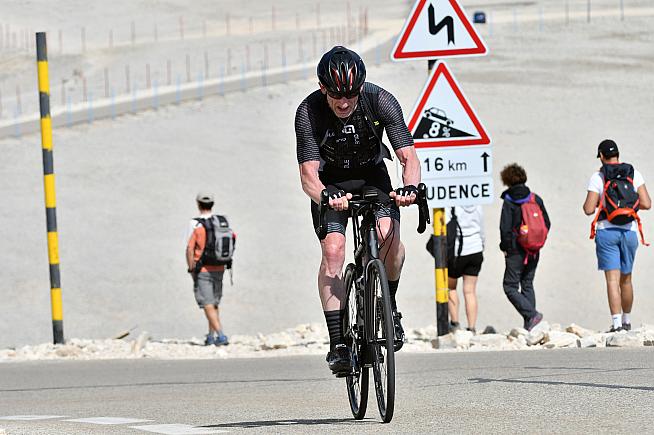 I follow the same in-the-saddle, out-of-the-saddle routine as earlier. Only this time, the former is a hunched over, tortoise-like plod and the latter is more akin to a drunken last dance at a party.
Somehow, I reach the one kilometre to go sign and I'm still standing. Ventoux is infuriated; she inevitably delivers a final barrage of attacks. I'm so close now that the anticipation of the finish line prevails over her wrath; the final-right hander arrives and the torment is finally over.
I slump on my handlebars once again; I'm exhausted and overcome with emotion. Ventoux has knocked the stuffing out of me. She doesn't take any prisoners and she's not in the habit of bestowing gifts. Summiting this giant has to be paid for, and the currency is toil, sweat and tears.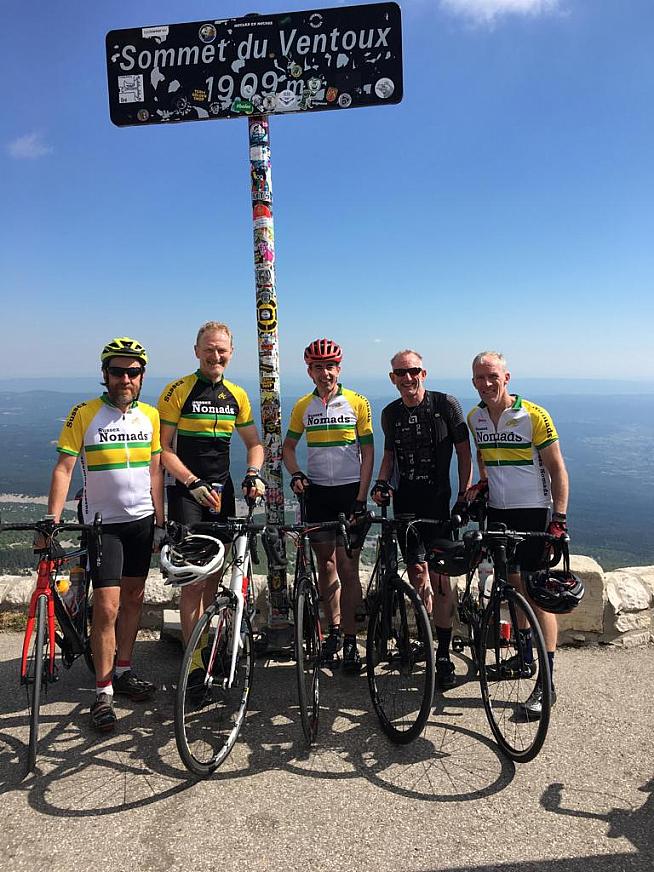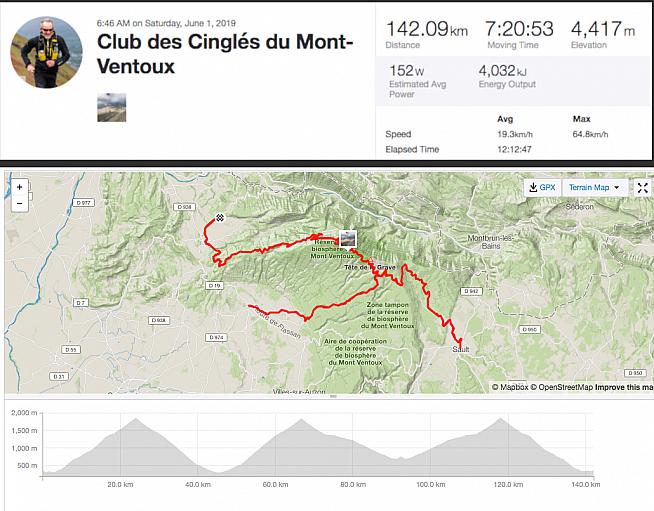 They have a saying in France: "Nuts is not the one who climbs the Ventoux, but really nuts is the one who does it again... and again!"
All five us went toe-to-toe with 'The Giant of Provence'. We were indeed mad to take her on, but we're still standing, and have all earned the title: 'Madmen of Ventoux!'
Find out more about the Club Cinglés Ventoux: www.clubcinglesventoux.org
Read more Ventoux reports:
It's only a big hill: Gran Fondo Mont Ventoux report
Becoming a madman: Ventoux three ways in a day
0 Comments