Cast your mind back to May 6th 2018, if you can. Are you able to recall the weather conditions, or where you were, or what you were doing on that day? The answer, for most of you, is 'probably not', but I can because that is the day I decided to enter the 2019 Tour de Yorkshire.
My daughter, studying architecture at Leeds Beckett University, had sent a myriad of pictures and videos from her vantage point at the finish line - a symphony of colours, set against a canvas of blue sky, bundled in a cacophony of sound and completely surrounded by cycling fans basking in 28°C sunshine. My plan to be there in 2019 was hatched.
365 days later and I'm at the Monument Moor start village in Leeds at 6.30am for the 123km long course of the 2019 Tour de Yorkshire. I've (almost) heeded the organisational advice to get there an hour in advance of my official start time of 7:14-7:26am and, to my pleasant surprise, there isn't a gaggle of riders queueing in front of me.
Unlike 2018, however, there's no sunshine and it's about 5°C - the best I can hope for is 7°C and to stay dry! Inexplicably, my mind suddenly recalls the TV adverts of a certain brewing company. You know the one: 'We don't do XXX, but if we did, XXX would be the best in the world. Probably...'
I laugh, thinking that Yorkshire's legendary cricketer, Geoffrey Boycott OBE, doesn't do sportives but, if he did, it would be the best sportive in the world, probably. And it would take place on a day like today - a 'proper' Tour de Yorkshire - battling for several hours in a hostile, hilly environment.
Two days earlier, my wife and I have checked in to a Leeds hotel. It's in a quiet area, just five minutes' walk from the train station but a world away from the lights, noise, activities and general hubbub of city life. With my trusty Trek Madone 4.5 safely tucked away in a secure laundry room, our thoughts inevitably turned toward food for the evening.
If you've never been to Leeds then you'll probably associate it with features and places such as the Royal Armouries, Elland Road football ground, music festivals, the Emmerdale studio experience and the Corn Exchange. Less likely is that you will associate Leeds with dining of the highest quality, value and variety in streets that juxtapose Victorian extravagance, panache and industrial might with cutting-edge modern architecture.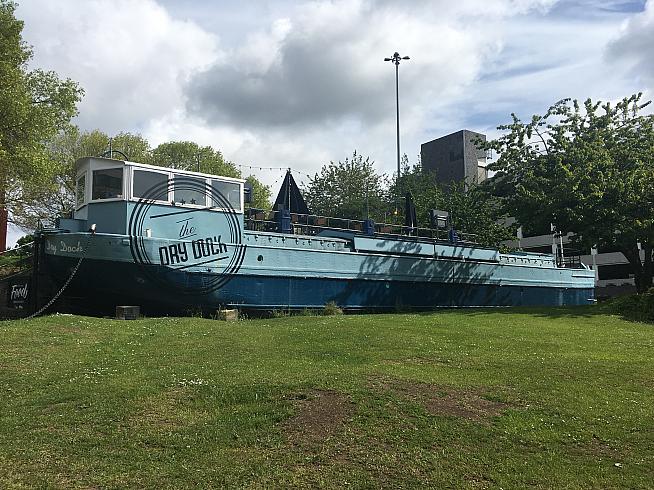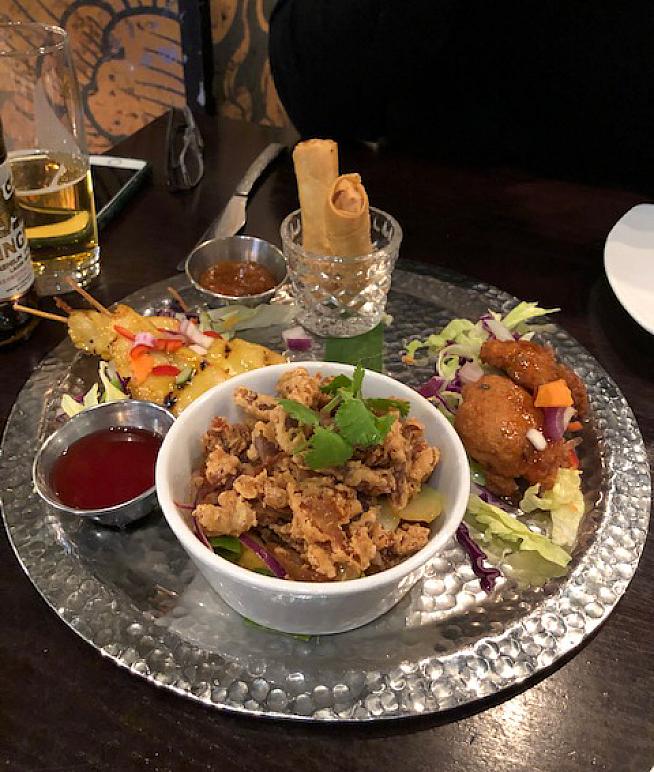 You can probably have better curries in Birmingham, better nights out in Nottingham and a better skyline in London - but the place where they all come together is Leeds!
Over the course of the weekend, we ate at the Sukhothai Restaurant (South Parade); Le Chalet (Park Row), Ambiente Tapas (The Calls), PieMinister (Duncan Street) and Laynes Espresso (New Station Street). Every single meal was a delight, but the highlight was definitely breakfast at Laynes Espresso - poached egg on sourdough toast with mushrooms and spinach on the side was a perfect treat on Monday morning.
5:15am on ride day. 'My songs know what you did in the dark' by Fall Out Boy comes crashing out of my phone. There's no chance of sleeping through that one, so I hurriedly hit the off button and begin the separation from warm quilt to the cold bathroom.
6:00am. Two fellow riders have beaten me downstairs to challenge the night porter to find their bikes. Fortunately, we all have our collection tickets but the bikes seem to have been dispersed across a number of secure rooms. I mention 'laundry room' to the porter and he lets me in - my Madone is still there but the pile of laundry bags has doubled! It takes quite an effort to extract my steed and spirit her away to the front door where I learn that one of the other rider's bikes cannot be found.
Just as I am expecting to hear a stream of new cursing words, three revellers knock on the hotel door - they have clearly had a very good night out on the town! We exchange a few pleasantries before they chatter off towards the lifts - I find myself doubting if they will be in time to see the live broadcast on ITV4!
6:30am. Up at the start village, I strike up a casual conversation with one of the High-Viz team - he has no idea whether I can start early, but he motions that the start line is down the hill and around the corner. I wonder if I should wait, but the chorus of clippety clop sounds down High Viz's hill is clear enough, so I stand my bike against a wall and switch on my Garmin Edge 1000.
As is part of my ride routine, I lift the rear wheel, spin the cranks and get ready to calibrate my Vector 2 power meter pedals. For professional cycle coaches such as myself, access to power readings from a client is the nirvana that we hope for - but why, Garmin, do these Vector 2s seem to eat CR2032 batteries? I've changed the batteries just a week ago but 'Calibration Error 2' pops up on the Edge 1000 screen. Not again, I fume...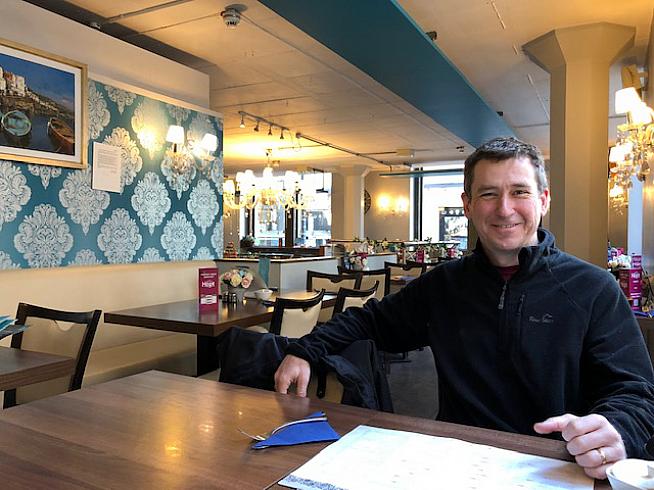 Readers of my previous articles on Sportive.com may, at this point, be reasonably assuming that I am now going to harp on about my encounters with Poorplanicus, the Roman God of Cycling. Wrong!
Instead, I pop open the left pedal pod, remove the battery and replace it with a fresh one. Calibration is now complete and Poorplanicus goes off to torment a guy standing in the queue for the portable toilets. You know the one I mean - the one at the back of the queue, hopping around, wishing he'd waited a few minutes for nature's natural course to take place instead of rushing off without a stash of loo roll!
6:45am and I'm in my start pen, listening to the very enthusiastic tones of Mr Starter before my ears detect something far more interesting. Some unfortunate soul behind me has just clipped one of the pen's barriers and is now sitting in a human shaped pile of bike, body and barrier.
Rescuers quickly help the rider to his feet, saving him from as much embarrassment as they can, but I know that everyone else has the same thoughts as I have had - thank heavens it wasn't me!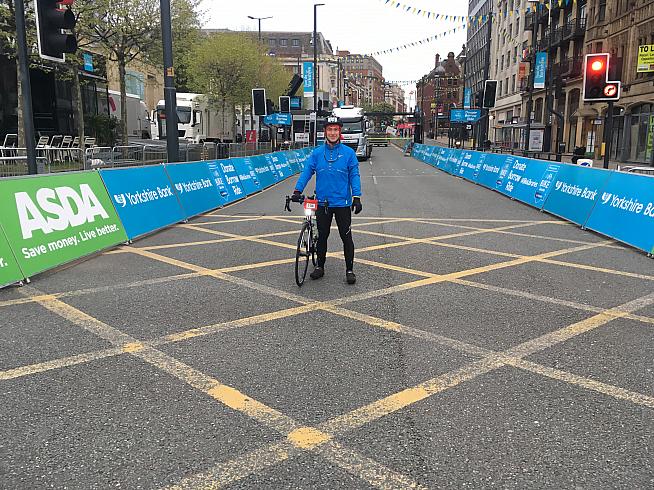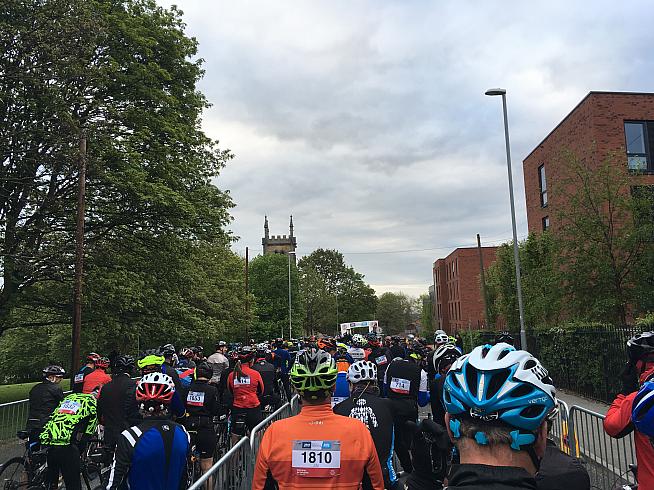 10, 9, 8... the countdown finishes and we're off to face 123km of Yorkshire's finest terrain - a mighty shark's tooth profile of 10 named climbs.
There's always a moment of hesitation and anticipation at the start of any sportive, so with a bit of nervous energy and the sounds of beep, beep, beep, beep softening into melody, I change gears unnecessarily as we roll down from the start gate. Gears working - tick. Brakes working - tick. No strange, unfamiliar, noises from the bottom bracket - tick.
With my check routine now complete, I ready myself to get up to speed for the inevitable headlong charge to the first hill - but it doesn't happen.
Most of the other riders are content to ride along at a reasonable pace of 15-18mph, so I conclude that they know something I don't. Regardless of what is to come, I'm happy to be riding at a comfortable speed as I know that it takes a good 30 minutes for me to warm up properly. I'm not medically trained in any shape or form but, after 30 minutes, my body seems to decide that it might as well stop 'moaning' about the activity and just knuckle down to it!
Time passes quickly for the first hour on the road, with the steady pace being maintained by most riders. Yes, there's the occasional, unmistakeable sound - like two people wobbling a sheet of cardboard - of someone riding past on a bike with deep-rim rear wheels, but they are few and far between.
I do admire the speed of a couple of guys that simply whoosh by and I wonder if I have just been Brownlee'd. I've heard that the brothers are in the sportive so it is possible and, in fact, they finish the ride with the fastest and runner-up times. Unfortunately, I'll never know if it was them!
I glance down at my Garmin to check my average speed - it's around 15.6mph. The early leg-warmer up Church Lane (675m @ 6.2%) was easily offset by the downhill pace and efficient marshalling at road junctions. My thoughts that I am on track for a 5-hour ride are suddenly disturbed by a comment from a nearby rider.
Rider 1: "I remember this one..."
Rider 2: "You do?"
Rider 1: "Yes, it's not too bad. Just take it steady and pace yourself. Save some energy for later."
Thoughts of 'here we go' are ejected from my brain as gravity suddenly yanks on my wheels at the same moment that I see a signpost proclaiming Rigton Hill. Officially, it's 1925m @ 5%, rising about 140m, but the average gradient rarely conveys the truth of how the climb will feel. The half-mile lower section where the gradient is 8-10% represents the true character of the hill. I pace myself, as the rider advised, but I can't help going just a little deeper to ride past them - it's still early in the day!
Shortly afterwards, the first feed station at Beckwithshaw comes into view and, momentarily, I consider zipping straight by as my pockets are stashed with flapjacks and porridge bars. Common sense prevails as it's another 30 miles to the next scheduled stop, so I take a few minutes to sample the local produce of jelly babies, Jaffa cakes, sausage rolls, pork pies and a selection of other very welcome treats.
The organisers have clearly done a good job of providing sweet and savoury options, but where is the black pudding? If Geoffrey Boycott organised sportives, then there would be black pudding. And ale. Probably...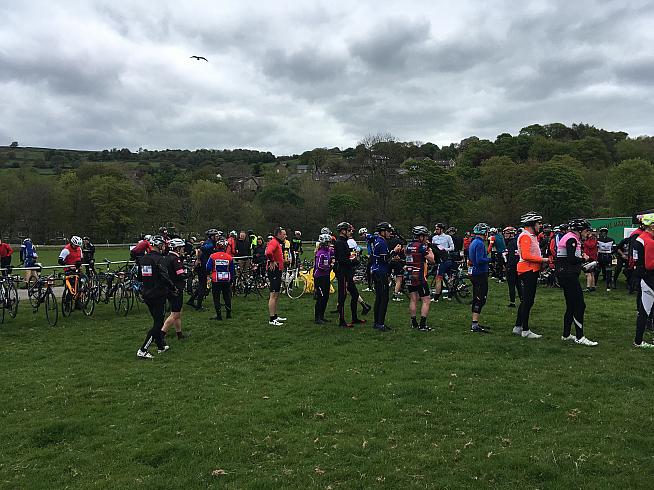 Under the shroud of leaden skies, I set off after just 10 minutes to try to keep my average speed close to 15mph and my body temperature up. It's still only around 6°C but I thank my lucky stars that it isn't windy. Rigton Hill has knocked my average speed down a few tenths, so I am keen to try to get some of that back. The long drag up Penny Pot Lane is not too challenging but it's not going help me claw that time back either!
Fortunately, the descent to Darley is a blast, dropping about 150m in a mile but this is the Tour de Yorkshire and I am expecting to be hit again with another climb. Proving myself right far too easily, I've soon ridden through Summerbidge, straight to the menacing Hartwith Bank.
This is one chunk of a hill that would hold its own with many of the legendary climbs from the Spring Classics. It's relatively short at one mile but it averages 10% and spikes at around 21%. The lower section is tree-lined and the surface is very poor in places.
Essentially, it's a 8-10 minute lowest gear slog for biking mortals, as demonstrated by the fact that my average speed for the Strava segment was a mere 5.8mph. Mind you, I'm not too disappointed with the 250W average that was needed for nearly 10 minutes to propel my 85kg skywards! (I have heavy bones!)
The next 10 miles of the route are just wonderful as we rise from the northernmost point (Kirkby Malzeard) to cross open, exposed moorland before dropping down to the second feed station at Pateley Bridge. I afford myself the luxury of thinking that I'm more than half-way around and then I overhear a comment from a rider, as he munches on a pork pie.
Rider1: "I'm not going to nail it up Greenhow. Think I'll get up the Otley Chevin first, then turn my inside out to the finish."
Rider1's mate: "Haven't seen you at the front all day. You've done nothing but get towed along. Lazy bug*er."
Well, actually, he didn't say bug*er - it was a tad more graphic than that. But we've all got a riding mate like that haven't we! The one that hides in the group for the duration of the ride and then 'takes his turn' just as you crest a hill. In my experience, he's also the last to arrive at the café stop!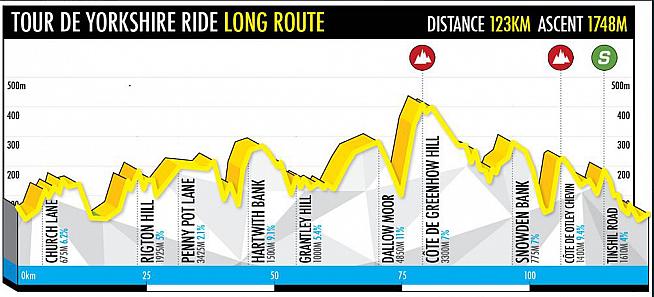 'Nailing it up Greenhow Hill', or the Cote de Greenhow Hill as it's known in the local French, is the preserve of professional bike riders, authors of hill climb books, or bona fide bonkers people.
My official statistics of 21m 54s, 233W and 6.6mph were good enough to place me at 114th out of 353 in the M(50-54) age group and 816/2295 overall. Being in the top third of my age group isn't too shabby as I am closer to the older end of the group, rather than the 'young' end.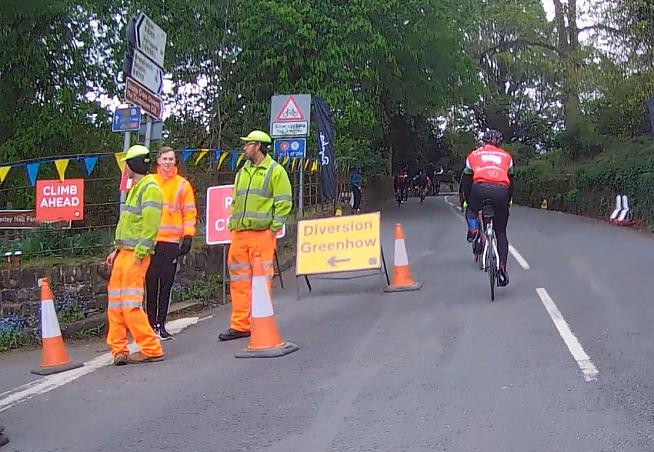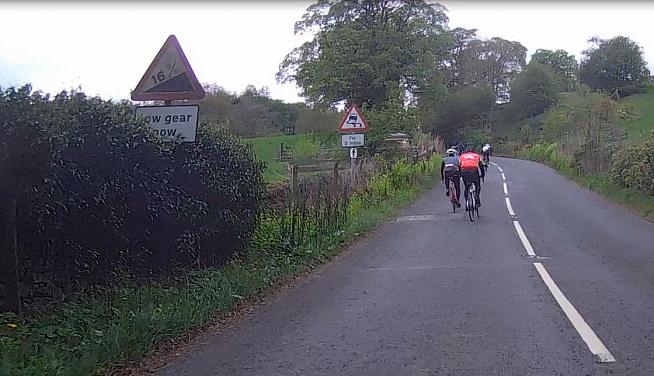 Needless to say, overall positions #1 and #3 were occupied by a couple of chaps called Brownlee, and 14 of the top 15 times recorded in Strava were achieved on May 5th 2019!
It is listed as climb 52 in Simon Warren's UK '100 Greatest Cycling Climbs', rising for 282m over 4km for an average gradient of 10%.
Greenhow Hill also happens to spike at 18%, but it was only classified as a Category 3 climb for the Tour de Yorkshire. To add further insult to the pain inflicted by the Greenhill, the climb was sponsored by Rapha and officially timed, just so we all know how ordinary we are!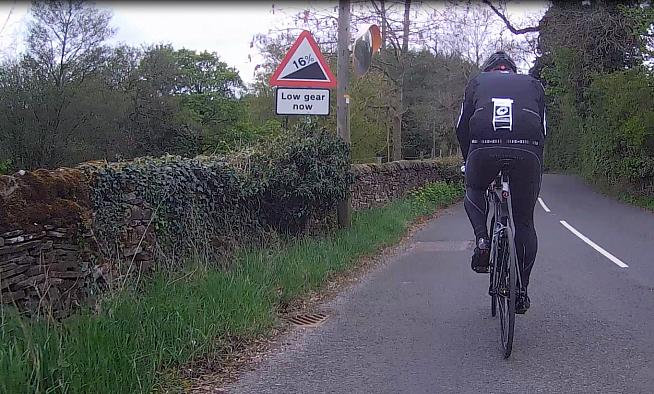 The pain of Greenhow Hill is soon removed by a 220m descent over eight miles to Blubberhouses before the next serious ramp up Snowden Bank. By this time, I am starting to count down the miles to the final feed station as, despite years of experience, I had made the schoolboy error of taking a dissolvable energy tablet at the last feed station, after giving up on them a few years ago.
The subsequent 'churning stomach' leaves me with no choice but to limit my fluid intake. Fortunately, though, it's still only 7°C, rather than the 28°C inflicted twelve months before.
Safely refuelled and water replenished, it's time to take on the wall known as Otley Chevin. Whether you take the statistics from Strava or the official guidebook is largely irrelevant, as you'll be 'arguing' about whether it is 9% or 10%, 1 mile or 1.1 miles. The point that you should really know is that it goes in a straight line in front of you - no bends to disguise the gradient, just a skywards march. If Geoffrey Boycott designed hill climbs, they would all look like this, probably...
A fit looking rider twiddles alongside me as we silently and begrudgingly grind out the gradient. After 30 seconds or so, he speaks to me:
Fit bloke: "What's this hill called?"
Author: "F***ing hard"
Fit bloke: --- (Doesn't respond as he is laughing so much, that he wobbles and almost falls off.)
I carry on twiddling up the hill, leaving Fit Bloke in my wake and feeling rather pleased with myself!
Five miles of pure enjoyment follows as we descend 100m over three miles, gradually returning to the urban fringes of Leeds. I know that it will soon be over but sportive organisers always have a sting in the tail. On this occasion, it's the three-quarter mile climb of Tinshill Road at a 6% average.
The pro's also have a sprint section at the top, but I choose to concentrate on my task of holding my hand out to a number of Leeds residents on the way up the climb. I spy more and more kids coming to the side of the road further up the hill for their own mini high-five - it's a great moment for me and, I suspect, some of the kids too!
A number of onlookers also shout "Allez, Allez, Allez", their Yorkshire accents making it sound a little bit like "Ey up, Ey up, Ey up".
Finally, we're plunging downhill for the last five miles, hindered only by traffic, but the High Viz folks did a wonderful job of keeping us moving, without breaking any laws.
I see the barriers at last - cheering starts, Mr Commentator gets very excited and there's my wife and daughter taking pictures as I cross the line.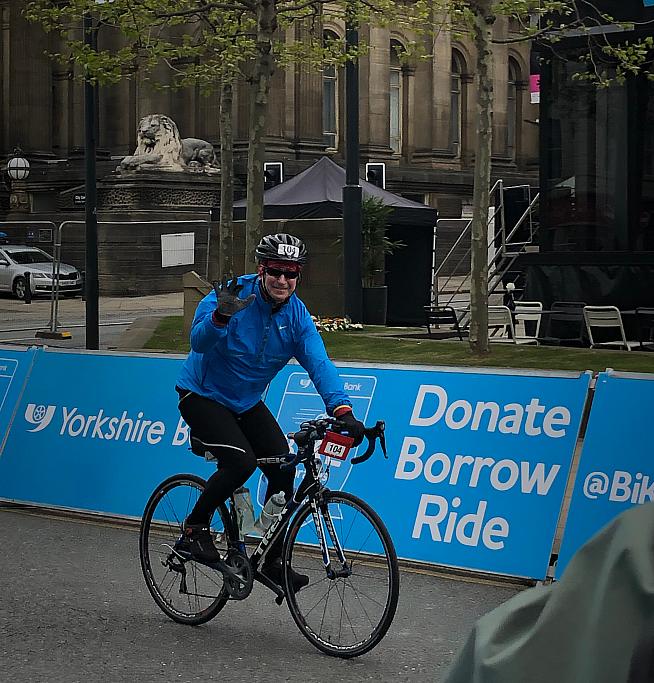 Even though I finish in 1152nd place (out of 2321 long course riders), I'm happy with my top 50% performance. I've spent over 40 minutes at feed stations so I know that I could be placed a lot higher but, for me, that's not the point of taking part.
What a ride - if Geoffrey Boycott organised sportives, then it would be just like this!
The Route: ridewithgps.com/routes/29632982
2 Comments