The closest I've been to bikepacking recently was putting a frame in a box and posting it.
That's not strictly true - a few years ago, me and a mate cycled down to my sister's in France to watch Le Tour when it sped through her village in the Mayenne. This July, the journey was much the same - same start and end point, same 30-second road-side whizz of carbon, lycra and sinew - but I wasn't travelling so light and I had my wife with me.
I had never cycled so far with luggage, she hadn't gone so far on a bike ever, but the bitter pill was supposedly being sweetened by a trip on the Velo Francette (VF), a cycle route that, in its entirety, carves a path from Ouistreham on the Channel to La Rochelle on the Atlantic coast: a trek of more than 600km.
Thankfully, we weren't going that far - a day's cycling south was in store for us, the first 60km of which was on the fabled Voie Verte network, France's answer to the question "How can we make long-distance cycling more appealing"?
We took the train from home to Portsmouth Harbour and the cycle provision from the station to the ferry port was good (by UK standards), although we did get a tad deceived by some of the confusing signage around Portsmouth Naval Base. Shepherding on to the overnight ferry was efficient although not terribly speedy, and darkness had started to creep across the docks by the time we boarded and checked into our cabin and feasted on cafeteria nosh and a nervous glass of vino.
A cabin is always a good idea on a ferry journey overnight as the communal lounges are anything but comfortable and many people shun the chairs and sleep on the floor. Car alarms on the vehicle deck notwithstanding, we had a half decent night's kip before being bullied awake by the piped-music harp-based Reveille. Disembarking was a breeze as we were waved through to the border control and shushed on our way.
The Velo Francette actually starts right there. Big, beautiful, clear, concise and obvious signage - signage that my co-rider and I so obviously missed a few years earlier and proceeded down the autoroute into Caen on pure adrenaline and with lungs full of exhaust fumes and ears full of French displeasure.
I cycle two miles of NCN21 to work and back and it's more disjointed, vague and useless than a microwave instruction manual in Mandarin - and it's been in place for over 40 years. It's an embarrassment and is only getting worse - investment in it is poor and new works on and around it just make it more of a trial to use the older it gets.
Less an hour later we found ourselves in the middle of Caen trying to decipher the Voie Vert arrows - it wasn't the lack of signs that was the problem, but the plethora of info. When we eventually found instructions for the Velo Francette (a rather jolly red blob accompanying the cyclist on the arrows) it was plain cycling.
The section from Caen south towards the Swiss Normande region is built on an old rail route, much like what Dr Beeching cuts provisioned in giving us the Worth Way, an old branch line connecting Crawley with East Grinstead; but instead of crushed limestone and rubbish road priorities, this route is straight, smooth, metalled and has frequent rest stops, all of which have cycle racks and, in many cases, piped water to refill your bidons.
These small luxuries are essential for a route that, despite its rail-based origins, seems to bypass civilisation and magically take the traveler through some of the most stunning scenery the region has to offer, replete with riverside fauna and flora, viaducts over valleys (the French love a bridge) and dappled shade. In fact, often the only clue that we were approaching another town was an increase in joggers and roller-bladers. It seemed just as popular with leisure cyclists as it did with travellers like us and full lycra-clad Sunday Sportivistas.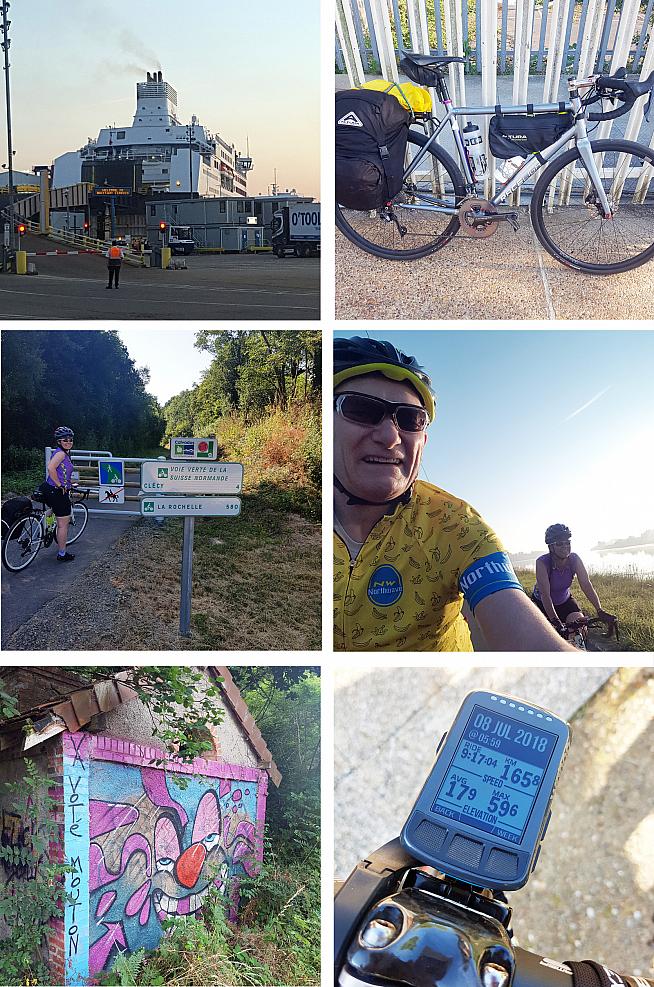 Our elevenses stop in the town of Clecy, in the heart of Swiss Normande, was a welcome break and a chance to top up with fluids and local pastries. Clecy isn't on the Voie Vert but, like many of the local towns and points of interest, is a clearly signposted diversion. Sadly, though, this was where the gentle gradient petered out and the VF took to local winding roads and we took to the spinnier gears on our groupsets. We still saw glimpses of the old rail line but we began to chalk up extra kilometres as we meandered west and east of its line, scooping up the sides of the valley like Italian Job Mini Coopers in Milanese flood pipes.
Hospitality stops, like the insides of our mouths, began to dry up mostly due to the French custom of being bloody closed everywhere on a Sunday. Near disaster could have struck us close to the town of Flers when the wife's rear shifter decided to cease functioning. Luckily we had enough tools and knowledge between us to first diagnose and then fix the problem and tune the gears, but had it have been a broken cable, we would have been stranded down a French country lane with nowhere but fields of six-foot-tall maize to have a wee in.
Once on our way again, we could still happily follow the multitude of clear and regular signs until near delirium through lack of water made me divert off the route on to the main road in search of any open shops in the metropolitan centre of Flers. We found one severely depleted boulangerie with four half-litre bottles of water, two of which were 'sin gas' - I chugged one Perrier down and prepared for a knee shower by pouring the other into my bidon.
Persevering on the main road south of Flers towards Domfront wasn't too much of an ordeal as the gradients up were manageable and the those going down were very rewarding. We were due to leave the VF at Domfront anyhow as it took a longer route towards our goal than we wanted to do, the distance now approaching far in excess of the 100-odd km I'd sworn to the missus it was (enough in itself, let alone with 7 kilos of luggage). We picked up a section of cycle route just west of the town (nothing open, at all - was beginning to think of scenarios encountered by stranded sailors that involved pickling the weevils out of biscuits and drinking their own 'water') that afforded some much needed shade and a sense of direction.
Instead of finding ourselves further west, closer to our ultimate destination, the route we'd chosen pushed us imperceptibly back towards the main road, extending our agony for another dozen kilometres and through the achingly pretty but annoyingly closed up town of Ambrieres-les-Vallees, doing the long sides of a triangle instead of the hypotenuse. Fortified by little more than regular sucks on energy jellies and bloody-mindedness, we eventually trundled up to our destination after over nine hours on the road.
The Velo Francette has nothing to compare it to in the UK - there is plenty of space here for proper, connected touring infrastructure, away from the dangerous environment of the roads, toxic both the fumes and closeness of speeding hulks of metal and the attitudes of many of their occupants.
It's all very well protesting that we share 'our' roads, but the honest truth is that given the choice, many more people would cycle if they could take to the byways that remove all the conflict. In France, this conflict is handled with respect to both parties - the crossings are sympathetic to the needs of the cyclist and motorists get plenty of warning (and already have a more accommodating view of cyclists).
Cycling is at the heart of French culture and respect for the activity outweighs any necessity for MGIFs or left/right hooks - it also helps that heavy traffic is banned from the roads on Sundays. All of which means that cycling in France, even on the main roads away from cities, is a joy.
And with the Vélo Francette awaiting right as you roll off the ferry, there really is no reason to put off planning your next, or even your first, cycle touring adventure.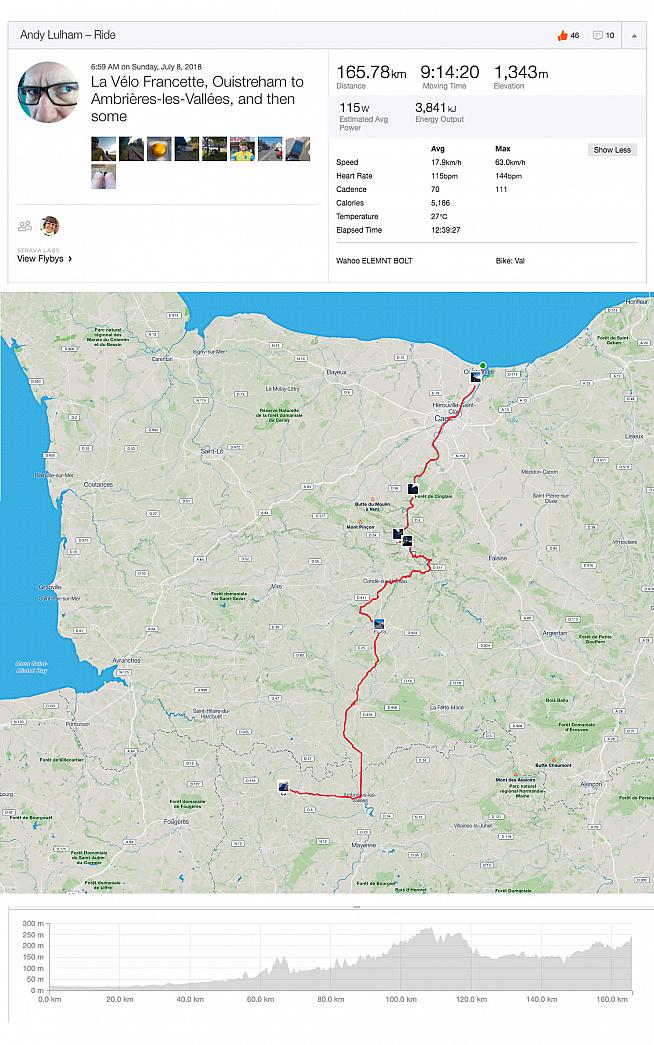 Andy's Top Touring Tips
If you want to use the Voie Vert to get about, loaded up or not, you need to keep in mind several things:
Plan your journey (don't tell your wife it's 50% shorter than it is)
Keep hydrated (if you can find enough watering holes - or learn the phrase "Un bidon d'eau, s'il vous plait?")
Be prepared to mend your bike
Don't recover face down on your sister's lawn or you'll get stung in the pubes by red ants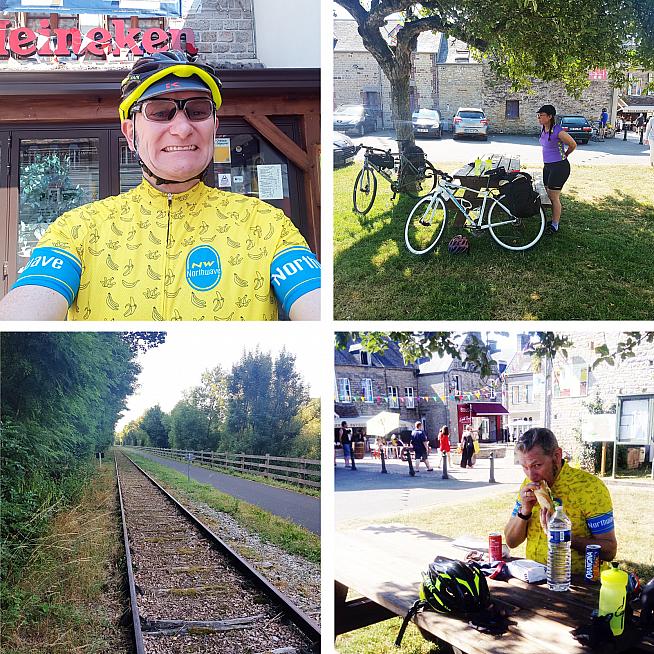 La Vélo Francette: From Normandy to the Atlantic by bike
Established in 2015, the Vélo Francette is a signposted cycle route guiding you from the Channel to the Atlantic on largely traffic-free roads. "Savour sweet, gentle, traditional corners of western France as you cross the regions of Normandy, Pays de la Loire and Poitou-Charentes" via the route's five sections, and "discover unsuspected gems along the way and fall for the charms of French country towns and villages as you get to know them by bike!"
You'll find full details including maps, GPX downloads for your cycle computer, accommodation info and practical tips on the Vélo Francette website: cycling.lavelofrancette.com
0 Comments