Having moved to Italy last September but not getting the chance to ride Passo Del Stelvio during the summer, I had been waiting rather impatiently for the snow to be cleared so I could give this iconic climb a go.
Every weekend I was checking the webcams and waiting, but epic snowfall this year meant it wasn't until end of May that I could finally get up there. With the Gran Fondo Stelvio Santini offering a unique experience of a traffic-free ride, this felt like the right way to do it.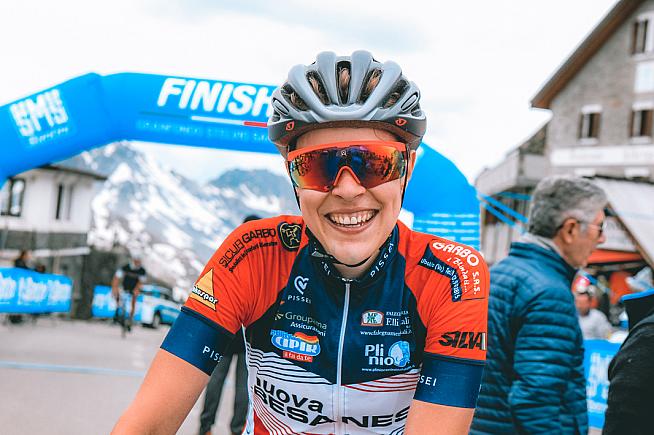 The journey up to Bormio, the start of the race, is really where the adventure starts. As you pass through tunnel after tunnel you get a glimpse of the mountains and as you enter into Bormio, you see the true extent of the breathtaking landscape around you.
The race takes place on a Sunday and from Friday night, swarms of cyclists descend on Bormio all sporting cycling caps, long socks and distinctive orange race packs. Everyone is in search of big, carb-heavy meals so don't be surprised if you get turned away from multiple restaurants before finding a seat.
I'd highly recommend arriving on Friday night so you can have a relaxed day on Saturday, enjoy a warm up ride and enjoy all that this playground for cyclists has to offer. Route suggestion - Passo Torri di Fraele.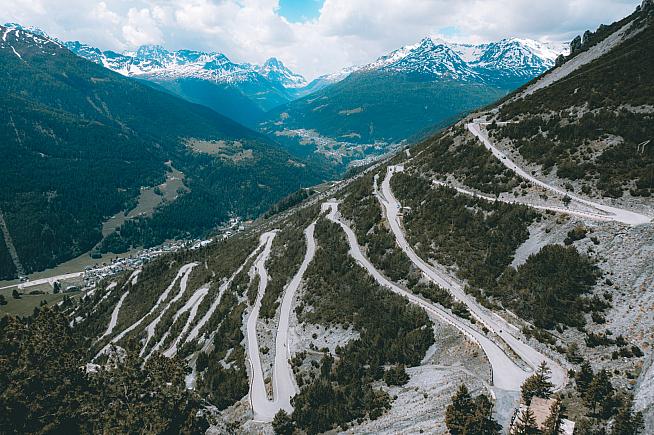 Another tip would be to make sure you don't rely on mountain hotels to provide you with a good pre-ride breakfast. Expect biscuits, orange juice and a croissant/brioche, so make sure you go shopping the day before so you know you're eating your usual fuel!
Before you get to the start line, each rider prepares a pack of winter kit to change into for the descent of Stelvio. Don't pack too light for this - mountain weather can be a little tricky to predict! Around 3,500 cyclists take part in the race and are split into pens within the town itself to set off at different start times. This all works like clockwork and means you're in small groups when the gun fires. The first 40km of the course are all downhill so you feel pretty smug rolling along at 45+kmph thinking you'll be back just in time for a mid-morning espresso.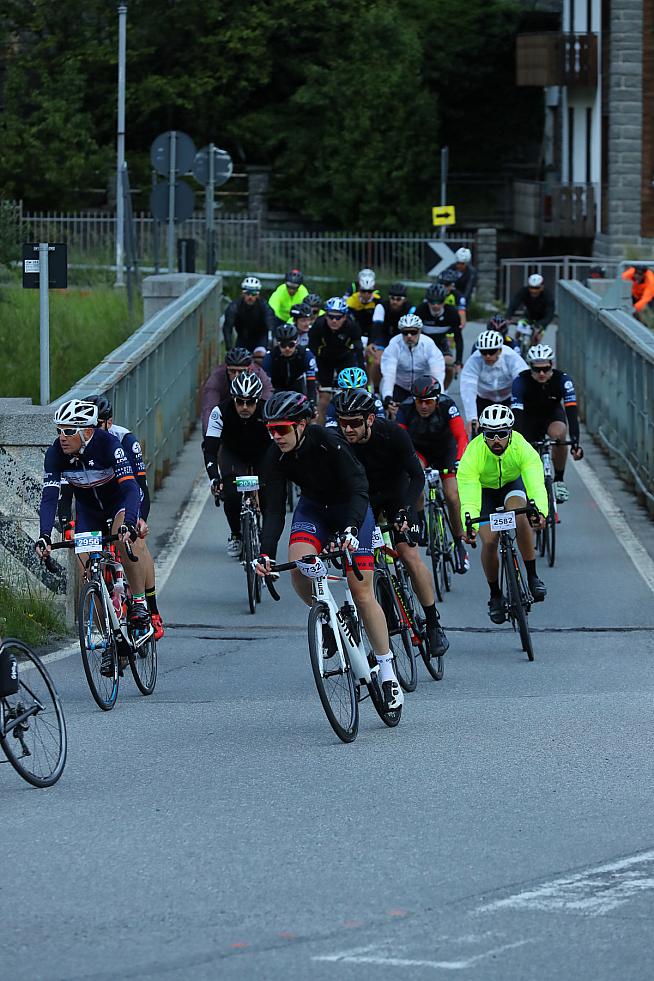 Don't get lulled into a false sense of security at this point, you'll be bought back down to earth as you reach the bottom of Teglio - the only other notable climb in the race. At 5km in length and an average incline of 9%, Teglio is not one to be sniffed at and this narrow road filled with cyclists sees you weaving in and out and trying to avoid the riders who are pushing their bikes up the climb.
At the top of Teglio is a feed station but I decided it was still too early to stop for snacks so took the chance to pass the hordes of refuelling riders and went powering down the other side of the climb. If I could give you one word of advice, I'd recommend paying close attention to the "attenzione" road signs. I found out the hard way that these are there for a reason! As I went hammering down Teglio, I missed the sign and was faced with a very tight corner and very little time to react. I went colliding into the barrier at, thankfully, a relatively slow pace thanks to some heavy last-minute braking and tried to move off the road as quickly as possible with the other riders screaming "occhio" (look out) as they came past.
I checked over the bike, then myself (in that order), and then embarked on a mad sprint on the flat to find my riding partner. Slightly hazy memories tell me that I jumped on the front of three groups in a quest to get back to where I should have been so I was a little worse for wear by the time I got there. I knocked back my emergency gel and all was right in the world.
My riding partner and I rode for another 30km telling each other that we should take it a bit easier to save some energy for Stelvio, but it wasn't even before the end of the sentence that another group went speeding past and we jumped on the back. Having been without water for around 10km and in pretty hot weather we started to suffer and it was a welcome sight when we saw a natural spring up ahead. We both downed one bottle, poured the other over our heads, refilled and hit the road.
We soon came to realise that it isn't the distance of Stelvio Gran Fondo that would punish us, it was the elevation. We were almost back at Bormio (around 110km) and became all too aware that we were fried and still had the minor detail of the pass to tackle.
On arrival back into Bormio you're greeted with live music and an epic feed station with sweet and savoury snacks. I necked two glasses of my secret weapon, Coca Cola, and we started the long climb. As we turned the first corner we started seeing the short route riders passing us in the other direction dressed in their winter cycling kit. This brings with it a hint of resentment that they've been through the impending doom, but also a sense of excitement about what you're about to experience.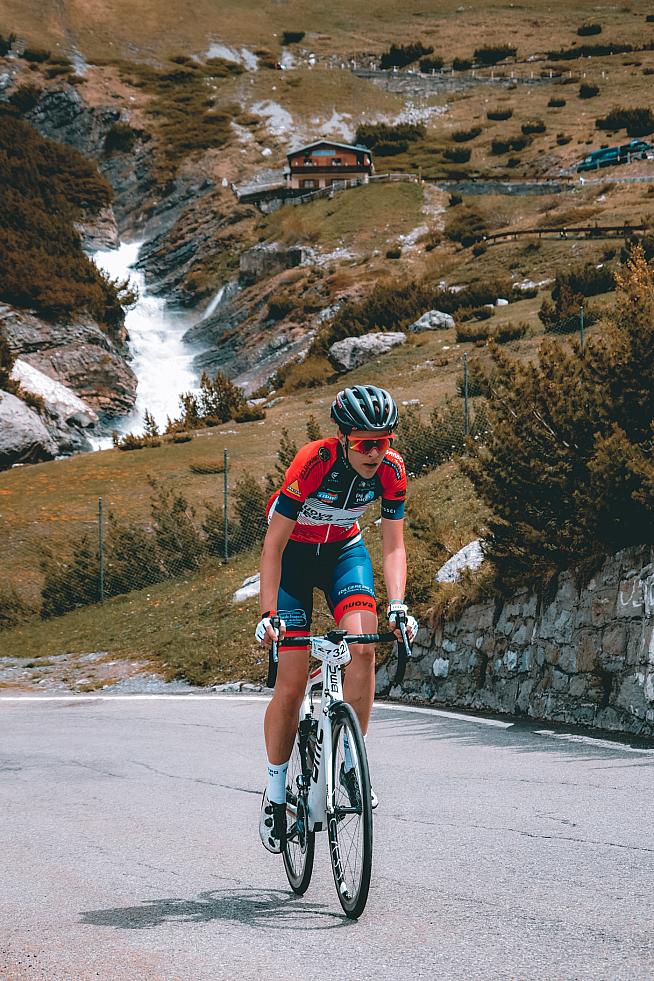 Being a cycling nerd, I checked out the Strava stats before the ride and found the QOM time for Stelvio was around 1hr 20 min so I knew I was in it for the long haul...certainly a fair time longer than that! I found a comfortable rhythm, put some music on and started grinding away. The temperature at the bottom was high but not unbearable at this time of the morning but it was certainly welcome respite as I rode through the tunnels and was sprayed with the water coming powering down the mountain.
As you reach the infamous switchbacks, the landscape is pretty remarkable. Not only are you riding up a mountain covered in snow, the entire mountain is lined with cyclists weaving back and forth. Some walking, some in groups working together, and again, the all too familiar skinny cyclist who came powering past (probably completing the long route way ahead of me!).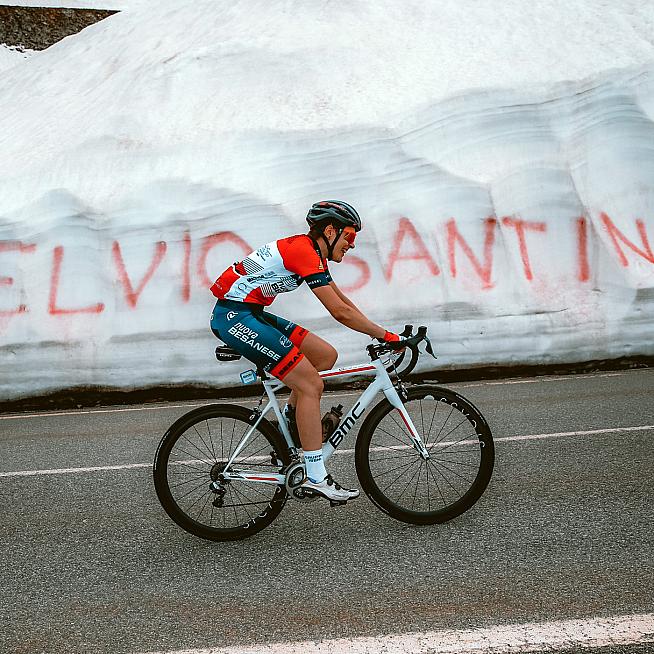 As the final kilometre countdown markers start to appear, the temperature began to drop considerably and as I reached the long awaited finish line, I hurried to find my pack with trusted ASSOS bonka jacket to keep me warm before I cooled down rapidly!
As I waited to regroup with my friends, I lay on a bench at the top and just absorbed the post-race atmosphere. Such a great sense of achievement amongst all of the riders, utter bewilderment in the faces of most of us, and the knowledge that the only part left was a freewheel down a beautiful mountain.
Based on the morning's events, I took this descent in a slightly more controlled manner, stopping at regular points to take pictures because it's only really at this point, when the pain of the climb is over, that you can appreciate the pure beauty of this legendary Italian climb.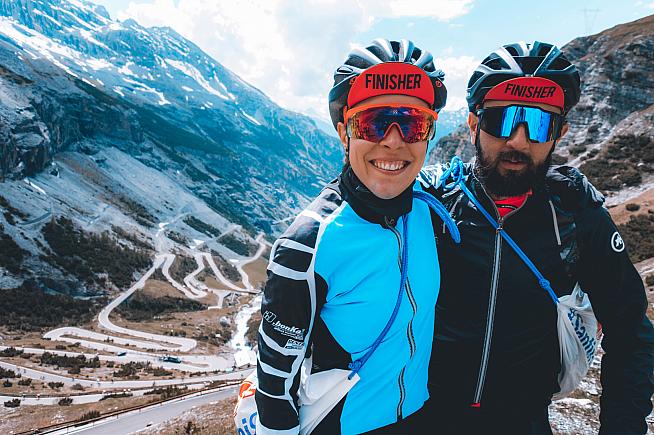 I joined the pasta party and watched in awe all of the winners with their enviable times, knocked back an espresso and drove back through the mountains replaying in my head an unimaginable weekend.
To put it in numbers:
Distance: 133km
Vertical metres climbed: 3,220
Barrier 1, Dalany 0
Gran Fondo Stelvio Santini: 10/10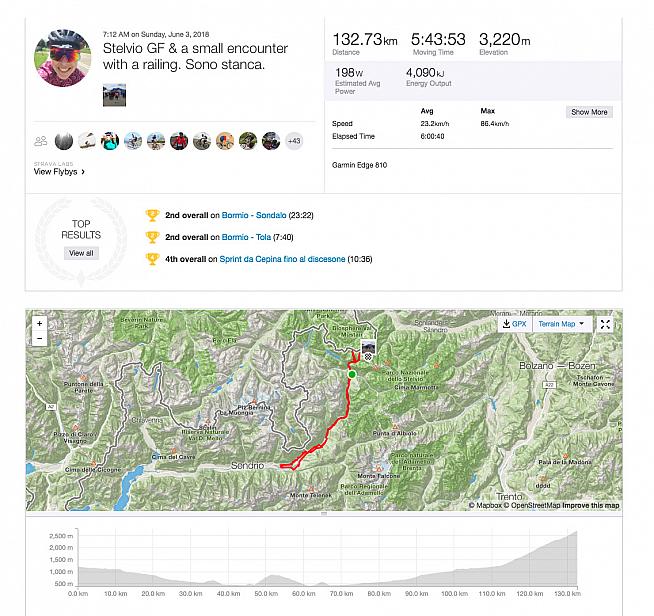 0 Comments