In July last year we sent James Smith, Director of Primal UK, to ride the first edition of the Two Ton Tour. A brand new event featuring back-to-back century rides on a single weekend, the Two Ton Tour is aimed squarely at hardcore cyclists looking for a serious challenge.
Here's his report: just be warned, you have to like hills...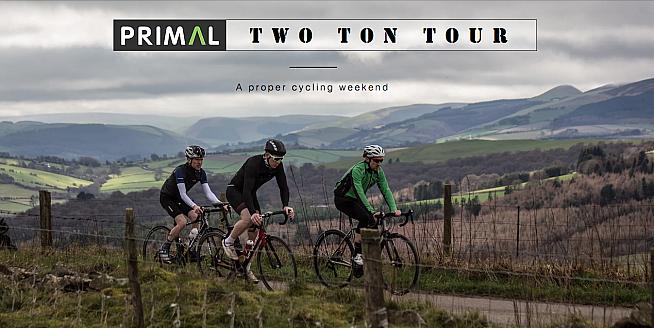 Nasty... If I was going to describe this event in one word that would be it, "nasty". Although the pre-event blurb for the Two Ton Tour is pretty clear about the challenge in store, the actual reality still manages to be far, far different.
So the Two Ton Tour is a 200 mile return cycling trip starting near Leominster and heading west over the Cambrian mountains towards the coast and Aberystwyth. The organisers mention the fact that climbing is around 10,000ft (3050m) a day! The actual figure is nearer 7000ft (2130m) a day, but still that is, as I said, nasty.
The event is run by ex-downhill racer Ed Moseley, who obviously has a dark side when it comes to organising events. The pre information was very informative and actually useful when it came down to event day.
You are instructed to bring one bag (airline style size), and after registering you attach a label and give it to the organisers who will return it to you at the end of the day at Aberystwyth university. Once your bag is handed over you roll out to the low profile start line. There were only 58 starters gathered under the leaden sky for this inaugural edition; well, we were warned about the weather.
>>> Check out James' short film of the Two Ton Tour on YouTube >>>
The roll out itself is pretty gentle, that is until you pass the Welsh border, then the relentless steep climbs begin. Over and over again the incline tops out over 25% across Wales. I am no racing snake, but I am not unfit either, so rolling around at an average speed of 13mph into a headwind was punishing to say the least.
After 30 miles mostly uphill, we finally reached the first feed. This was a slight problem, the food provided was not great. A feed station acts as a reward in most events, a chance to relax, to chat and of course eat and drink. Here there was only flapjacks, jelly beans and bananas; remember the entry fee is £120, so more work needed here.
Once back on the road it wasn't long before we were climbing again, and now comes another small gripe: some of the roads were small, and I mean small. In fact some had grass growing in the middle, whilst others were covered in sheep poo. I think the event may wish to advertise this fact and possibly invite the option of riding cross or gravel bikes; this course was right on the edge of what a road bike can deal with, especially in the rain.
Yes the rain, it did rain pretty much 70% of the time. But that's OK, it is to be expected in the UK.
Once we arrived in Aberystwyth university we were quickly given keys, bags and instructed on the location of our rooms, a nice room with shared facilities, perfectly adequate for our short stay. The food on campus was quite a walk from the accommodation (I don't think my legs appreciated that) but it was plentiful and of good quality.
On the Sunday we set off early after handing back out bags, keys etc. This time the first two hours were pretty standard stuff but it was not long before we hit the climbs again and this time it included such beauties as the Devil's Staircase, a straight 2km climb topping out over 25%.
Finally after seven hours, yes seven hours, we reached the HQ back in Leominster for a well earned beer and debrief. We had survived the first ever running of the Two Ton Tour.
Torment, yes - but at the same time strangely satisfying. Would I do it again? Probably not.*
So be fair warned, this is a tough, tough, brutal event - right up there with the Fred Whitton.
The Two Ton Tour returns on 14-15 July 2018. And this year it's sponsored by Primal... so it looks like James changed his mind once his kit dried out and his legs had a chance to recover!  
For more information and to take part, visit www.twotontour.com.
0 Comments