The silence of the night is broken by a rattling at the door, the familiar sound of metal against metal as a key turns to open the lock. I hold my breath as the steel door is lifted up and open. I can make out an imposing figure standing in the doorway... it's my human... he's come to release me.
He says he loves me, but he keeps me chained up in here night after night, like a discarded plaything. During the winter, he doesn't let me out at all, sadistically placing a cover over me, abandoning me until my enforced hibernation is over.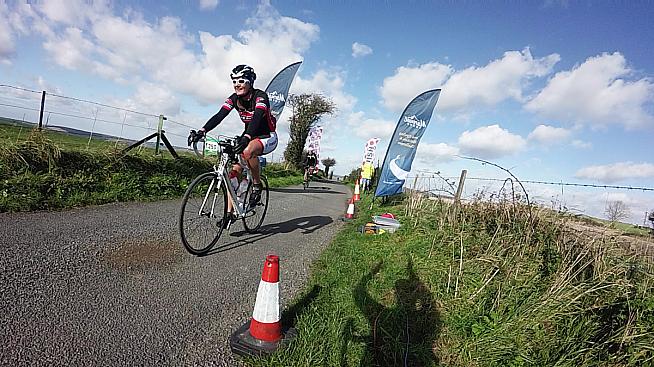 I know winter is coming, so it's a huge relief as he walks me out. He tenderly lifts me up and over the debris that has congregated along the driveway. The wind had been on the rampage all day yesterday, partying like there was no tomorrow with its relentless assault on surrounding trees and buildings. The roads will be a sea of flotsam and jetsam today, but I don't mind as I'm looking forward to taking him for a ride, like a dog excitedly wagging its tail when it's time for a walk.
I'm a bit confused however... it's still dark and I know humans can't see in the dark, especially this one. Then he detaches my front wheel and puts me in the back of a person transporter, I don't believe it. "Why don't you just ride me?" I call out, but as usual he doesn't hear me. I'm left disillusioned and frustrated.
An hour or so later, we arrive in the cathedral city of Chichester in West Sussex. My earlier bewilderment is nullified, as I realise that we've arrived at what the humans call a sportive. This is where hundreds, sometimes thousands of bikes, take their humans for rides. Sometimes these are short, sometimes they are long, there are always hills... and I love hills. My virtual tail is wagging once again.
Let me introduce myself. I am from the Colnago tribe, an Italian stallion, the Ferrari of the bike world. I'm a gleaming black and white time machine. I have a Jekyll and Hyde personality, where at the drop of a hat (or a turn of the pedals) I transform from an all-day cruiser into a ferocious race-ready beast.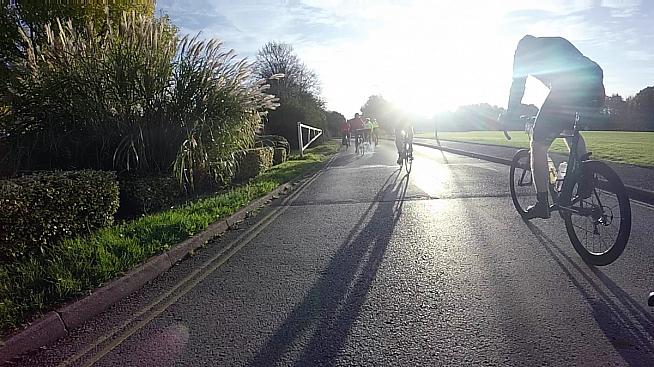 My human, Dave, has travelled down with his buddy Malcolm and his steed, a Giant TCR. They arrived here with the sole intention of riding one hundred miles. Malcolm is on a year-long mission to complete at least one a month, and has earmarked this as his October century, whereas my human... well... he's just obsessed.
There's a lot of talk of Brian. Apparently, he'd been causing problems, making life difficult for the organisers. While I'm contemplating why anyone would want to do this, it occurs to me that Brian is the name the humans had given to yesterday's storm. Humans are so endearing; as if giving it a name would make it any less fierce.
As it turns out, Brian had given the organisers a major headache. He wouldn't let them out to put all the course signage up, so the 100-mile route became a slightly diminished 70-mile version.
Like a scene out of Blackadder, Malcolm and Dave busied themselves hatching a cunning plan. Plan A was dismissed almost straight away, the organisers made it very clear that absolutely no-one was to venture onto the original course. That left the not so cunning plan B, fifteen miles out and fifteen back upon returning to Chichester. Dull, but at least it was a plan.
Now let's ride. Dave grabbed me by my horns, swung his leg over, clipped in and perched on my saddle. We were one; we go to together like coffee and cake, inseparable like chocolate chips and cookies.
There are four categorised climbs on the route today and what seems like another hundred little ones in between. We're barely out of the starting blocks when we encounter the two-mile drag up to Goodwood Racecourse. It's a good warmup for the humans; some, including Dave, are still wearing jackets. We take it nice and easy, but Dave overheats and promptly removes his jacket at the summit. Not the most thrilling climb, but I've heard there's a couple of more exciting ones coming later in the day.
The first real exhilaration comes some 11 miles into the day, the descent down Duncton Hill. I have all the equipment needed to allow Dave to descend quickly, my two-piece monocoque frame is incredibly responsive and my carbon fork, with tapered steerer, provides pin-sharp handling. I just need a human who doesn't touch my brakes; today Dave obliges as we plummet together on the half-mile straight before the Dunction bends... bank left, swerve right, left again and then right once more... invigorating.
Dave looks down at his Garmin, max speed: 50mph. He's pleased, trouncing our previous record, set only two weeks ago. I think the extra weight he's put on of late has helped, "You see, all that cake you've been eating recently has come in handy" I announce to him, momentarily forgetting that humans can't hear me.
In all the excitement, we lose concentration and almost miss one of the left-turn signs. This inspires Malcolm and Dave to come up with a new plan, this one is more cunning, in fact it's as cunning as fox who's just been appointed Professor of Cunning at the college back in Chichester... miss a turn on purpose!
The first opportunity comes at Graffham. "Ooops, missed a turn," announces Dave. "We'd better ride a bit further just in case," adds Malcolm. It doesn't last long, less than a mile up the road we reach a dead-end and have to turn back. Never mind, that's an extra mile and a half. They just need to keep repeating this all day.
Two more detours add another seven miles to the total, prior to the second categorised climb of the day. The ascent up to Woolbedding is over a mile long, but it's not steep, barely touching double figures. My revolutionary lightweight frame with sloping geometry, combined with a compact chainset allows me to climb like a dream. My human hardly notices as he continues to chat with his buddy.
Down the other side, and it's time for another detour. Our humans do not choose wisely however, as it's straight into a headwind. Brian is still lingering. The humans are obsessed with light-weight aerodynamic racing machines like me and the Giant that Malcolm is riding. In reality they are the far heavier feature of this partnership, and have you ever heard of a human designed in a wind tunnel? They change down and tuck down, but the wind is always going to win this one-sided battle. After the turn, Brian blows us all the way back to the course and another five additional miles are racked up.
Our arrival in the village of South Harting signals the halfway point in today's adventure and, like a cloud casting a huge shadow over proceedings, the Turkey Island climb looms large. At slightly less than a mile long with an 8% gradient, it's not daunting, but I'm itching to get on with it. Dave cuts me loose and I start to power up the slope, leaving my newly acquainted chum from the Giant tribe in my wake.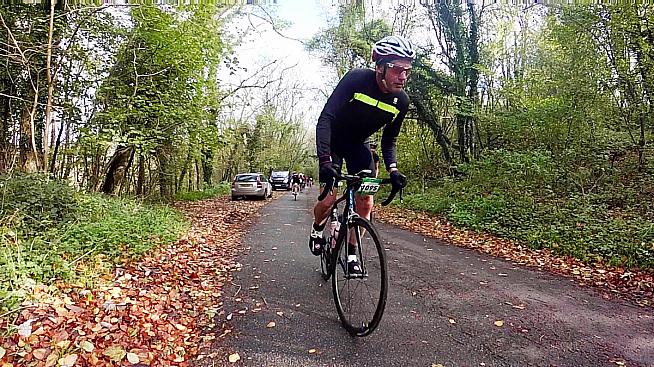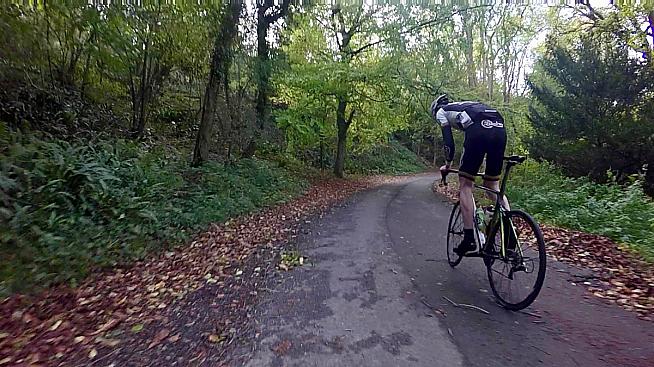 As the gradient steepens, Dave is forced out of my saddle as he wrestles with my handlebars to keep the pace high. Another bike, from the Scott tribe, has the audacity to challenge me, I fight to stay with him but my human has reached his limit as bike and rider disappear into the distance. At the summit, we spin round to wait for our riding compadres. Dave admires the grimacing faces and nodding heads, while I just check out the frames to ensure none are as handsome as me.
Locals have dubbed the descent as "The deadly twists of Harting Hill." But they're a descending delight, providing me with another opportunity to show off my razor-sharp handling as we bank left, right and left again. The fun is halted by a T-junction and a lorry in no particular hurry, but I keep my human safe by engaging the solid stopping power of my Tektro brakes.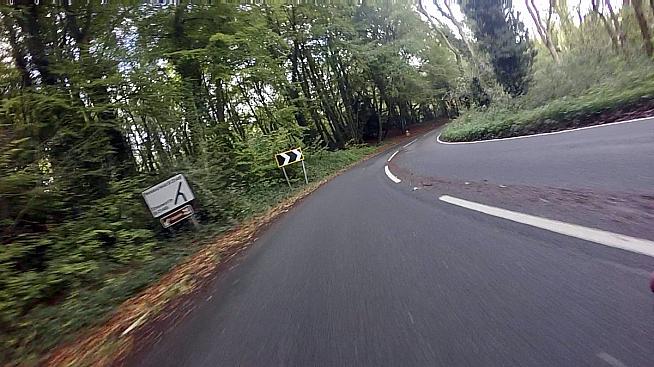 With the excitement of South Harting now a distant memory, a four-mile dog leg into Petersfield is snuck in just before the feed station. This is where us bikes are abandoned while the humans chat amongst themselves and gorge themselves on flapjacks, fig rolls and bananas. Our humans encounter Mark and Julian who are from the same Sussex Nomads tribe, they discuss their exploits and the delights of an upcoming treat... a closed road, timed hill climb up to Butser Hill.
Butser is one of the highest points in the south-east, the climb up its northern face is one and half miles long with a modest average 5% grade, which sadistically kicks up to 17% as you approach the summit. Flags flutter at the climb's base to signal the start of this timed challenge, simultaneously awakening two of Dave's adversaries... the clock and gravity. He can't help himself and cracks his virtual whip as we soar up this mini-mountain, weaving in and out of other riders like a snake slithering up a rock face.
It's a substantial effort as we beat our previous best time on this climb, but it's nowhere near enough as one of those super-humans has crested inside five minutes.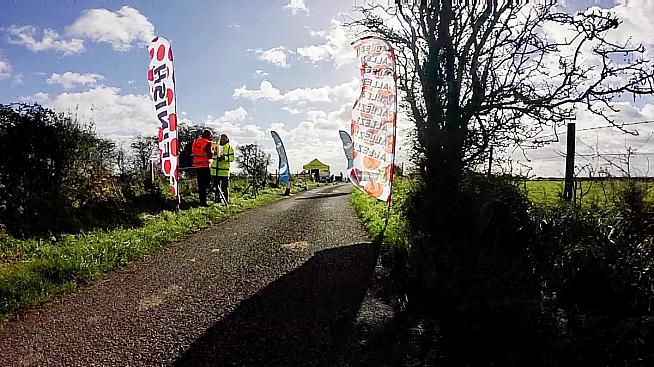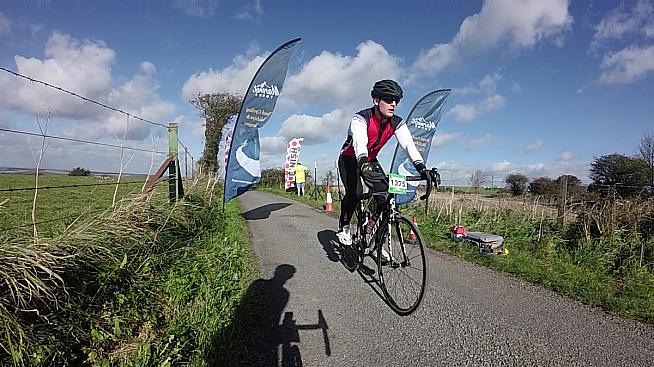 It's now only 20 miles back to Chichester, but our humans have only got 70 miles on their Garmins, some ten miles short and they're running out of road. Time for a long dog-leg, the eight-mile round trip from Clanfield to Catherington and back is more like a slog-leg. It may have been flat, but Brian is still making a nuisance of himself.
The pace over the last hour is fast and furious, my human is on a mission and pushes me hard. I love it, and happily oblige. Bikes from the Cannondale, Specialized, Boardman and Carrera tribes come and go while the Giant-Malcolm combo is just about hanging on.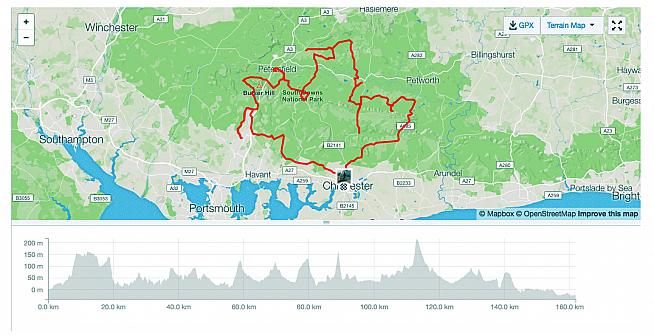 The last few miles take us back into Chichester along Old Broyle Road, a sharp right delivers us onto Sherborne Road and my deepest darkest nightmare appears in front of me... speed bumps. Humans call them sleeping policemen. I wish they would wake up and get out of the way. I'm a delicate carbon racing machine, I'm not made of springs like the species they call mountain bikes. "Ouch... ugh... ow... aargh," I yelp, over and over again.
The end of this torture delivers us onto the A259 and a wind-assisted last mile back towards the finish line. It's a relief to be back, but uh-oh... we're two miles short. Dave leads us on another lap of Chichester, he doesn't really know where he's going and we end up back at the dreaded Sherborne speed bumps. "Ouch... ugh... ow... aargh," like a bad case of déjà vu, I yelp all over again.
My prayers are answered as number 100 finally makes an appearance on Dave's Garmin, we won't need to do another loop. This time we venture up the finishing straight to the delight of the volunteers, greeting us with warm applause as we cross the finish line. We are all happy, Dave's pleased with the socks handed out with the medal, Malcolm's just pleased to finish. I get the medal, Dave gets the socks... orange is not my colour.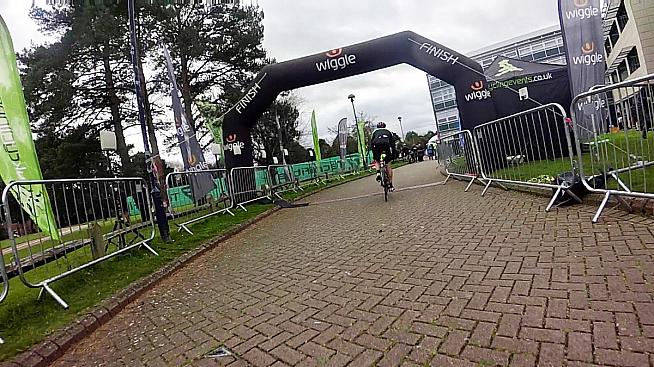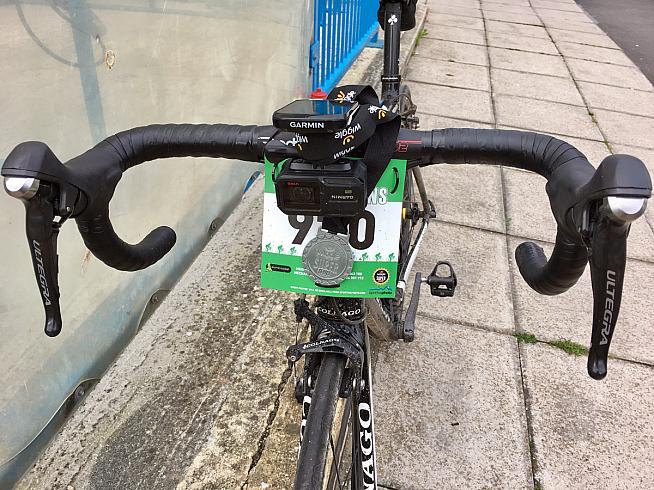 After a long day out, I am happy and content. I've just had a decent workout and back at home my human gives me a first-rate clean and polish. One hundred miles of muck and grime is vanquished, I'm shimmering once again and I feel stunning. He wheels me back into the garage, I know the chains are coming... but what's this?
"Noooo!" I scream, as I'm covered top to bottom by that dreaded blanket... It must be winter!
For more pics and video, visit cyclingcenturions.com/south-downs-100.
The Wiggle South Downs 100 returns on 14 October 2018. For details and to take part visit www.ukcyclingevents.co.uk.
0 Comments