It's an overcast and rather chilly start to this Sunday morning in early October. The anticipated autumnal sunshine is nowhere to be seen as grey clouds dominate the skyline like the beginning of the apocalypse.
In complete contrast, twelve hundred brightly coloured riders have gathered in the village of Cranleigh to take on Cycling Weekly's annual climbing-fest, otherwise known as the Box Hill Original.
I say brightly coloured, I'm the exception to the rule. After my experience at the recent Norfolk 'Mud-fest', I decided to dress more appropriately for the occasion. I only chose garments that inhabit the dark side of my wardrobe, resulting in an ensemble that only Darth Vader would ordinarily make for a sportive.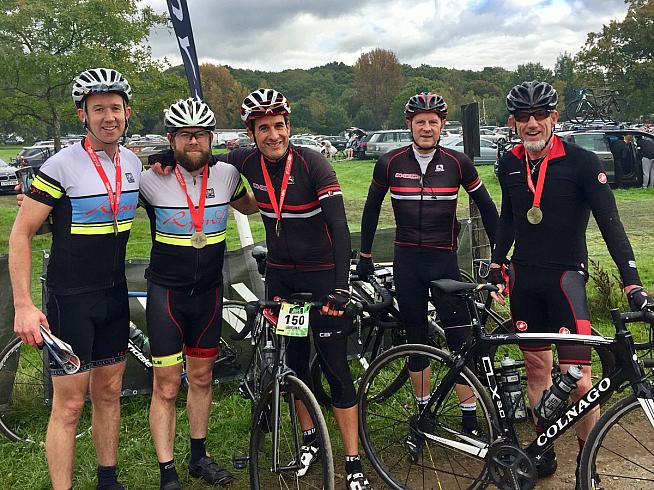 Today's route choices are the usual short, standard or epic, which on this occasion translate to 31, 67 or 102 miles. As dictated by my century collecting obsession, I instinctively line up for the three-figure option. This obsession comes with special powers, but being the end of season, these had begun to fade recently. The capacity to rack up successive mega-mile weeks and the ability to decline all offers of cake and biscuits were now distant memories. My (over)confidence was still present, but the reality was that I was undertrained and over-nourished.
As is usual for this type of event, organisers UK Cycling Events set us off in waves, small enough to mitigate the angst of local motorists, but large enough to get everyone onto the course by 9:30am. Timing chips merrily bleeped away as riders rolled over the start line and onto the bumpy path out of the venue. It's full of loose stones, gravel and shingle which creates a rather sedate start, a sort of neutralised zone as no one wants a puncture in the first few hundred yards.
Gravel turns to tarmac and the virtual starter's flag drops, prompting me to sprint up the road in an attempt to form an early breakaway. No one bites and I'm on my own, I keep forcing the pace but then reality kicks in as I remember that I'm not actually in the Tour de France.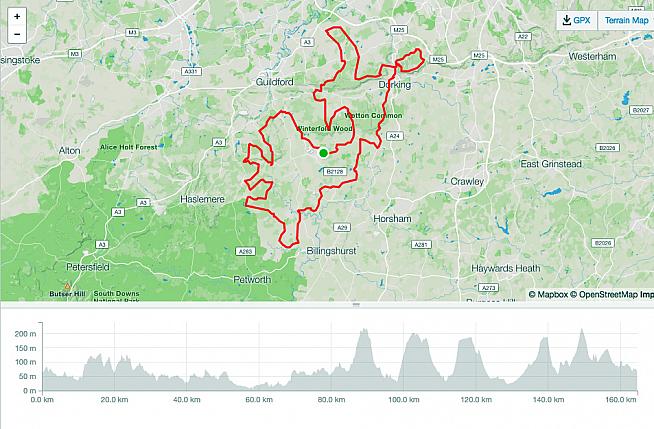 I spend the best part of the next hour getting used to the fact that I'll most likely be soloing all the way to the finish. I start to consider the course; five categorised climbs are stacked up one after the other in the second half, leaving a flattish first fifty. My thoughts distract me and I miss a right turn. I carry on oblivious until I realise my mistake, then turn back to retrace my steps to get back on course. I'm cursing my error, but in reality, it turns out to be a lucky break.
Unbeknown to me, five riders line up behind me shortly after I arrive back on the route. I'm oblivious to this fact, carrying on contemplating my solo journey, until one by one the quintet pass me, give me a nod and beckon me to latch onto the back of their train. "Yippee, I've made new friends," I think to myself as the group becomes a sextet.
Three of the riders are from In-Gear Quickvit CC; Andy, Sean and Pete are resplendent in their club colours of black and red. The other two, Greg and Simon, are sporting black jackets masking their white RPM 90 jerseys. It occurs to me that all my new chums are wearing the same colour... black tops, black shorts and black socks. I didn't get the 'wear black' memo, but my earlier wardrobe choices mean that I blend in perfectly... it feels like a Sunday club run.
This will be Greg's first century, having ridden 92 miles in the Alps before; I tell him that this will be easier. Simon rode from Land's End to John O'Groats earlier this year, riding between 110 and 150 miles a day for seven consecutive days... wow! The In-Gear trio are not regulars on the sportive circuit, but they've all previously completed hundred-milers.
The club run theme continues as we ride as a group, working together, chatting together and we even synchronise our comfort breaks and a feed station stop. The latter came at the halfway point: now it's time for that climbing-fest.
I've ridden up to the Surrey Hills on many occasions and experienced many of the climbs in this lovely part of the world. I usually plump for the more famous Leith Hill just along the road, but our first incline of the day is Broom Hill. Broom Hill is like Leith's little brother: it may be slightly longer, but it's not as harsh. With a 4% average gradient, it's a moderate introduction to the undulations that await us.
Our little group splinters for the first time today as the gradient sorts out a pecking order. Greg and Sean stay with me as we reach its 12% peak. "We've dropped the other three," Greg announces. "They need to man up," was Sean's cute reply. "Welcome to the Surrey Hills," I smile.
The descent is a different matter however. I'm still brimming with confidence from my Pyrenean experience; I release my inner Froome by crouching on the top tube while lowering my torso to the handlebars. It's exhilarating. I think I'm descending the Tourmalet and my speed touches the mid-forties. I knew all that cake I'd been eating recently would come in handy; those few extra pounds help me plummet a bit faster as I break my personal speed record by peaking at 47 mph. I slow to allow my new buddies to catch up. "Wow, can we do that again?" I exclaim. I'm in a minority of one.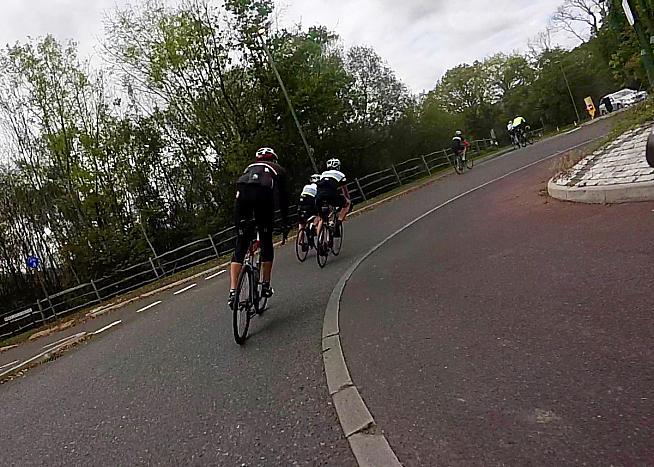 The last part of this slope would deliver us in Dorking. Sean almost doesn't make it. In a heart-in-your-mouth incident, a car pulls out from a junction right in front of us; without any time to brake Sean manoeuvres around the front of the vehicle millimetres away from being taken out. The rest of us have time to brake, but we're all stunned at how close this driver came to causing a serious accident.
We regroup and move on to negotiate the traffic building up through Dorking, before moving on to climb number two.
Box Hill, pivotal in the 2012 Olympic Road Race and now a regular feature of the annual RideLondon sportive, presents itself as today's second challenge. I usually approach this iconic climb by playing a game of frogger with the traffic on the A24, but today we are mercifully spared this peril and sent onto the cycle path that runs through the underpass.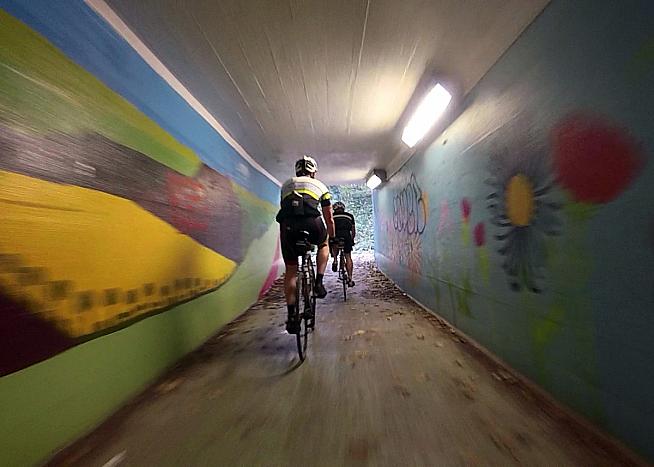 With far fewer riders than RideLondon and less crowds than the Olympics, Box Hill is a quiet affair. Greg and I chat all the way up; he's ridden it before on a local duathlon called The Ballbuster. In fact, he rode it three times... and ran it twice... thus the event's rather apt title.
After admiring the view at the summit, we regroup with the others and loop around Headley Heath and back down to the A24, traversing the cycle path once again to avoid the busy dual carriageway.
Seventy miles into our epic adventure and the ramp up to Ranmore Common arrives on cue. It's not a giant, but with almost four hours in the saddle it begins to feels like it. It's only a mile long, but the steady 7% gradient is torturous. Some riders have had enough and are walking. A sharp left-hander, almost a hairpin, breaks the monotony as the gradient temporarily pushes 20% and gets us out of our saddles.
Once at the summit, the road flattens to provide some respite before the long road down to Martyr's Green relaxes us some more, lulling us into a false sense of security. The turn at Ockham signals the starting point of a long drag back up to the A246, followed at the eighty-four mile mark, by the mile and a half mile climb up through Dick Focks Common. This one is a mild 4%, but we feel pain when it intermittently escalates into double figures.
Another summit arrives; most are relieved, but I'm excited as I know what's coming next. The descent down Combe Lane is technical and steep, one last opportunity for a white-knuckle ride. Adrenaline is coursing through my veins as I plummet at break-neck speed down to the A25, overtaking a car in the process.
We're almost home now, but the organisers throw one last climb at us. Hound House, known locally as the never-ending hill - and after ninety miles it certainly feels like it. It's not steep, but just keeps going up... and up... in a straight line, no twists or turns, just up. I've ridden up this one before, but never so late in the day. It hurts.
The final summit reveals the virtual ten miles to go banner and we continually congratulate Greg on his longest ever ride... until the novelty wears off. Up and over Holmbury St Mary, a spin down to Ewhurst then the last few undulations back to Cranleigh.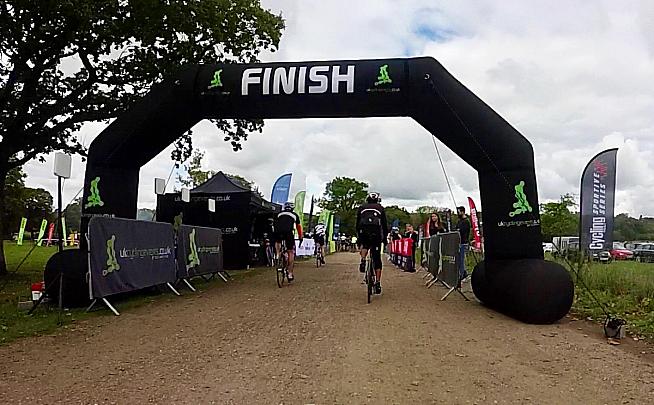 No need to save anything for a sprint finish today; the rocky path up to the line ensures a leisurely finale as this group of newly acquainted friends cross the line together and we congratulate each other on our achievement.
Greg is elated having completed his first century, while Pete on the other hand states that he's "done with centuries". Sean is just happy to be in one piece after that close shave in Dorking.
And me, well I'm quietly satisfied that I've added another century to my 'century of centuries' mission.
Check out Dave's Box Hill Original video at cyclingcenturions.com/the-videos.
The Box Hill Original returns in October 2018. Check out the full UK Cycling Events sportive calendar at www.ukcyclingevents.co.uk.
0 Comments