A hair of the dog that bit me - that's what I needed.
After the misery and disappointment of an incomplete Etape du Tour adventure, I had been looking forward to slaying the beast and completing an epic ride since July. Not quite a Dragon Ride (maybe next year, if I can lose some timber and train properly), but the mileage of TP ICAP L'Etape London - the London equivalent of L'Etape du Tour - would be the furthest I'd ridden in an official sportive.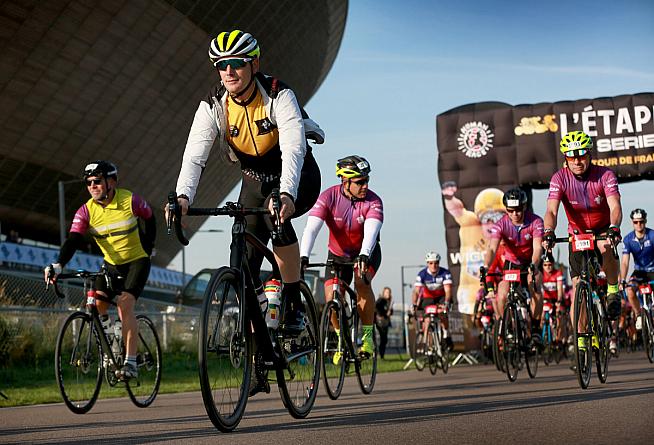 I was also looking forward to comparing my French Etape experience to that offered in more familiar settings. The Etape London couldn't begin to compare with the Haute Alps in parcours - there's nothing between the capital and Cambridge that even registers as a categorised climb, motorway bridges included - but there's more to a great sportive than mountains...isn't there?
Iconic scenery aside, I felt the whole French Etape experience a bit lacking in some respects. It quite rightly relies heavily on the appeal of riding a Tour de France stage in similar conditions to the pros - the closed roads, the cheering crowds - but in other regards it left me feeling let down. The feed stations, although well run, weren't the best. And the support, especially for me, was woeful in one important regard - in that the Broom Wagon failed to pick me up not once, but twice.
My London Etape Day was already off to an exciting start, as I got to drive through the Blackwall Tunnel for the first time in my life. At 05:30am it's an enjoyable experience, but I guessed I would get a more realistic impression when I tried to return through it later in the day (spoiler alert - it was awful).
Parking in Stratford was surprisingly easy to find and realitively cheap, and the route to the Velodrome at Lea Valley well sign-posted.
Thanks to Human Race, the UK arm of Tour de France organisers ASO, I had a pre-ride breakfast appointment with Tour legend Andy Schleck. This gave me the chance to listen to a Q&A session in the heart of the velodrome while preloading with carbs and drinking as much coffee as my system could cope with. It was a very relaxed and enjoyable start to the day. Mr Schleck was charming and friendly to all who asked him if he hated Bertie for attacking when he dropped his chain back in 2010...
As my start time approached I found my ride partner for the day, my old mate Nick, and we proceeded to the start on the Velodrome's road cycling track. After a succinct safety briefing, we were whisked through with a cheer and a klaxon blast from Andy to be ushered on to the roads of east London and a tussle with the slowly building morning traffic.

After about 17km of pedestrian dodging we streamed on to the ramrod straight roads leading into Epping Forest and the ride proper. As well as numerous feed stations and multiple excellent (though strangely mute) marshals the course had a couple of timed sprint sections for those that like that sort of thing. Both Nick and I were keen to pace ourselves, discretion being the better part of bonking, but if heart rates were raised in the closed road sprints it was purely down to British anxiety about dodging traffic cones and passing a barrier prohibiting entry (for other road users).
Mountainless it may be, but the roads north east of That London aren't devoid of lumps and bumps and the undulations started to take their toll on my companion who, although an excellent cyclist with better fitness than me, hadn't had the opportunity to train for the event. I may have unintentionally magnified his discomfort by attempting to do the entire ride in the big ring, so slopes were tackled with a combination of increased cadence and out-of-the-saddle efforts that put him into the red a bit.
We meandered through the rural roads of Essex, joining part of the 2014 Tour de France route at Saffron Waldon, and ticked off the k's at a comfortable rate. Pretty soon we began to pass cyclists on the Medium route, indicating we were close to rejoining roads we cycled out on.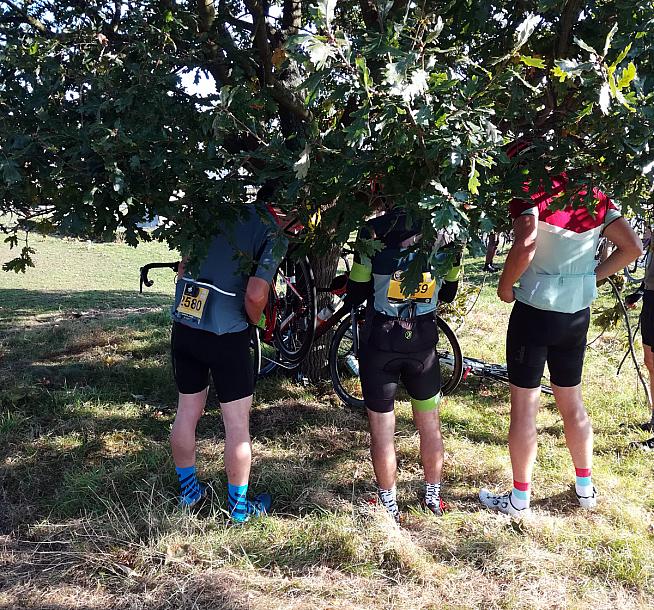 As we barrelled along, we took in the quintessentially English countryside - thatched cottages, the odd upside-down Union Jack clinging feebly on a flag pole, some dodgy close passes (notably from drivers pulling trailers), the occasional roadside cheer of encouragement, and perhaps the only village in England twinned with one in Nepal. We even encountered a shoal of Scooter Boys on their way, we imagined, to Southend for one last rumble, who rode fume-belching, two-stroke two-wheelers in a moving tableau of Smoke & Mirrors.
One last feed station visit was greatly improved by being welcomed by the sound of the theme to 'Allo Allo' played on an accordion by a gent dressed in stereotypical French fashion, replete with beret and false moustache. (What's the French for pastiche? - Ed)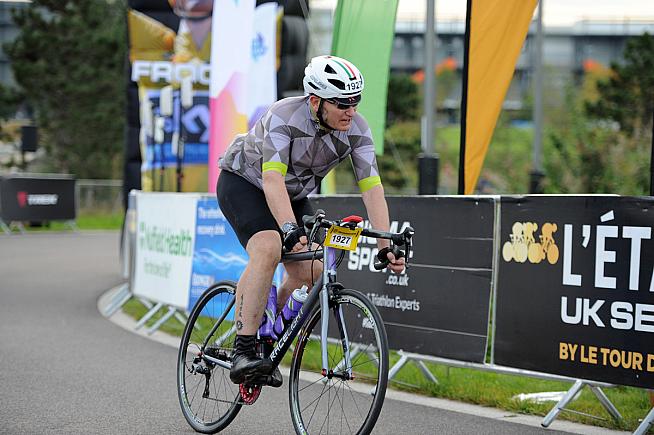 Once onto the road, I began to hate that minstrel as I had the tune stuck in my head for much of the rest of the ride. But when we exited the Forest of Epping and the scent of the capital was in our nostrils, the accordion in my head was replaced by the thrum of engines and the evensong of crossing signals. There was one last challenge, in addition to traffic dodging: a flamme rouge and a 1km TT to the finish.
Sadly for Nick it was not to be - his front wheel called time and spat a spoke passing underneath the inflatable arch. I pushed on, motivated by the prospect of a Bacchanalian feast of free cheese and wine (one cracker, one slab of cheddar, one generous glug of a very passable red) and the hedonistic delight of a free can of fermented vegetable recovery beverage in the form of a chilled Erdinger.
At last, I had an Etape finisher's medal to go with my stolen bidon from back in July. Within minutes of us crossing the line, we had a text with our times and a promise of event photos in a matter of days. This is the sort of thing that makes a sportive event special - the acknowledgement that you've taken part, that you've achieved something, that you felt part of the event, no matter what time or state you finished in.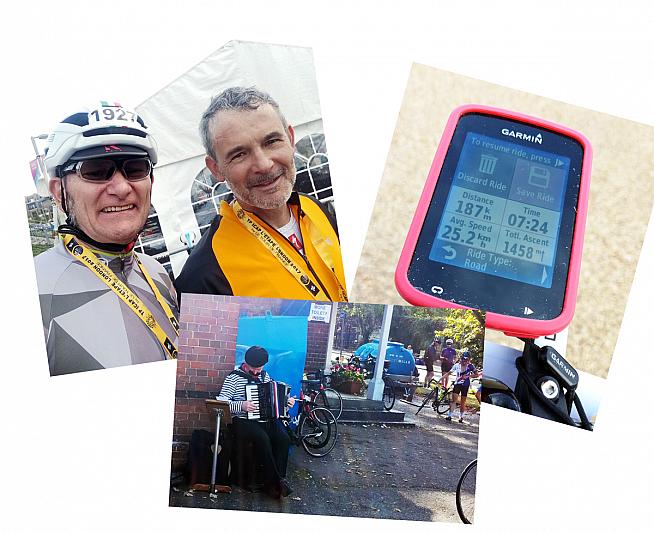 And that, for me, is what made this Etape nugget shine brighter than the Motherlode; the riders are made to feel part of the day, not just incidental to the scenery. This is what encourages people to test themselves, to push their limits and to set their sights on something grander.
Whisper it, but maybe the Etape du Tour could learn a valuable lesson.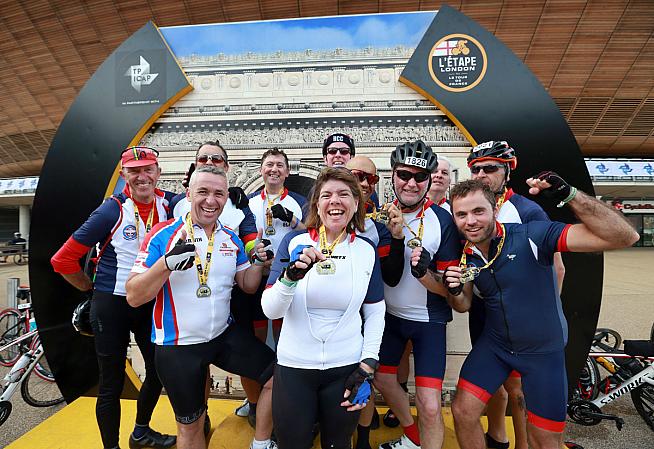 The TP ICAP L'Etape London returns in September 2018. For more information and to sign up, visit www.letapeuk.co.uk/london
0 Comments