972 feet. 296 metres. That was my 'biggest climb' to date on Strava. Pretty unimpressive for someone who's racked up the distance I have in the last few years. My attributes (such as they are) led me to believe I might be a decent climber, but I'd never had the chance to find out for sure due to living in London. There are hills around, plenty of them, but they tend to be short and sharp. Real climbs don't really exist here.
When an unexpected opportunity came up to join cycling holiday firm 44South for La Morzine Haut Chablais, a 155km gran fondo in the Alps, I finally had the chance to find out if I was a climber. I didn't know what to expect...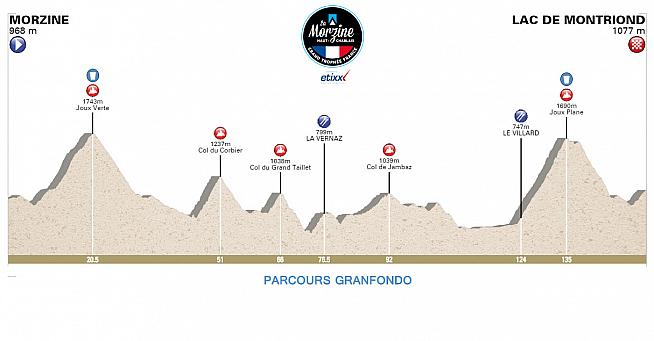 The route looked pretty hard going and was unlike anything I'd done before. I had a 34/28 as my easiest gear which I hoped would be enough - it had to be, I wasn't shelling out for a new cassette. As for my legs, well... there was no time now for an upgrade.
44South's chalet is located in Morzine, an hour's drive from Geneva airport. It's a pleasant drive too - it reminded me a lot of the Alpine stage on the Gran Turismo games on the original Playstation. Unlike my virtual driving however, we managed to stay on the road without bumping off the barriers. The roads sweep through the mountains and the views are spectacular.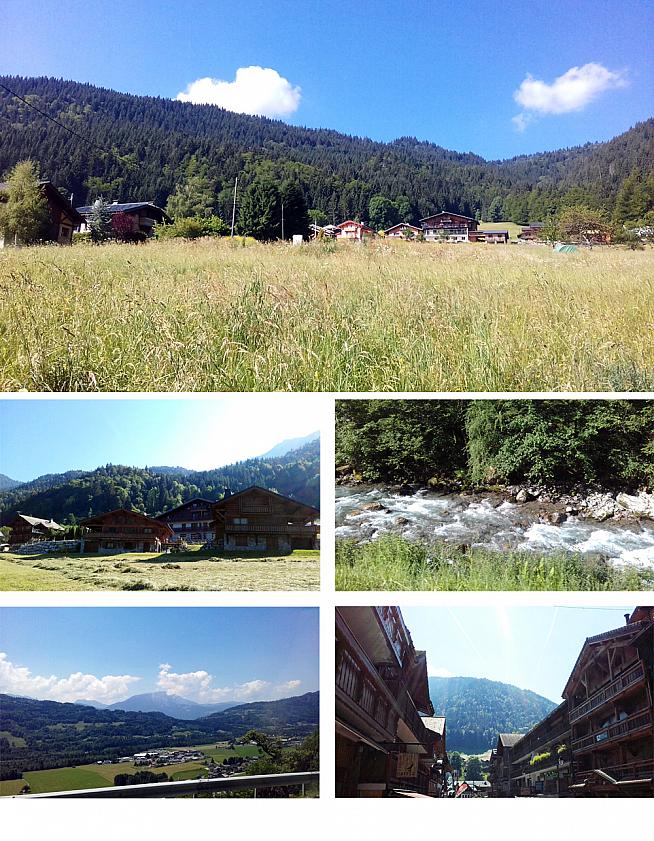 Morzine itself is idyllic. Everywhere you look are beautifully crafted chalets, the likes of which I'd only previously seen in Bond films and inside snow globes. A twisty purpose-built mountain bike track down the side of a mountain was pointed out to me. It looked terrifying - I assume it was the Dignitas exit.
The 44South chalet we stayed in is spread over three floors and was lovely and spacious. The rooms are all clean and modern and there's cycling paraphernalia all over the place to inspire. All food is cooked on site by 44South's inhouse chef, Harriet, and you eat dinner looking out at the mountains. I paid particular attention to that view over dinner, because I'd be taking a closer look at those mountains the next day...
The Morzine Haut Chablais is part of the Grand Trophée series, a programme of mostly French sportives that includes some of the most prestigious amateur cycling events in the world. You'll have heard of the Marmotte, but that isn't even their toughest event. That honour goes to the Tour de Mont Blanc, an epic 330km loop of the mountain that takes in three countries and 8000 metres of climbing in a single lung-busting day.
The Morzine Haut Chablais isn't quite on that scale, but with close to 4000 metres of climbing packed into 153km it's no easy introduction to the Alps; I would definitely find out if I was a climber. The key to this ride would be having enough at the end. The route features a huge climb of the Joux Verte (1743m) at the start, and an even more challenging ascent of the Joux Plane at the end. In between it's not exactly flat, with another four categorised climbs worthy of note on the parcours.
As ever, my goal was to go as fast as possible but try and take in as much as I could. Family commitments meant I'd done far less riding than usual in the preceding week, so I could go for it with fresh legs.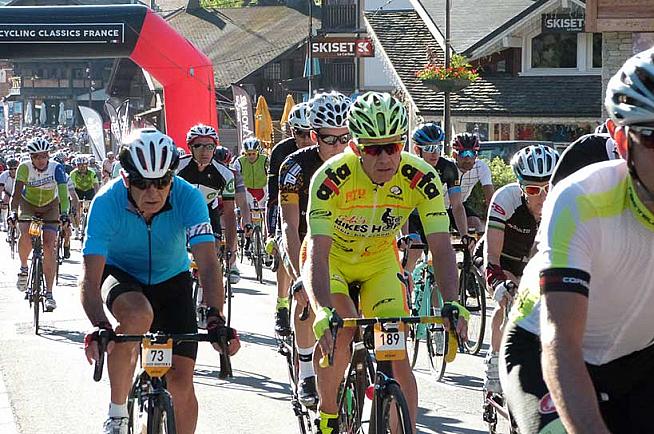 First up: La Joux Verte
The route started in Morzine at the foot of the Col de la Joux Verte, topping out at 1,743m and just shy of 13km long. Average gradient around 6%. I'd come to climb and this was certainly a climb. I had in mind keeping a steady power and being very conservative till the halfway mark. As it was, I found a cadence that just felt right so I stuck with that.
What followed was, I think, pretty good climbing. With the big climb at the end in the back of my mind I kept solid and steady, conserving energy and not dropping below 80rpm which felt right (though a lot lower than I'd typically ride at). The views were relentlessly stunning, and the fact I was overtaking everyone was boosting the morale - I think I might just be a climber I told myself.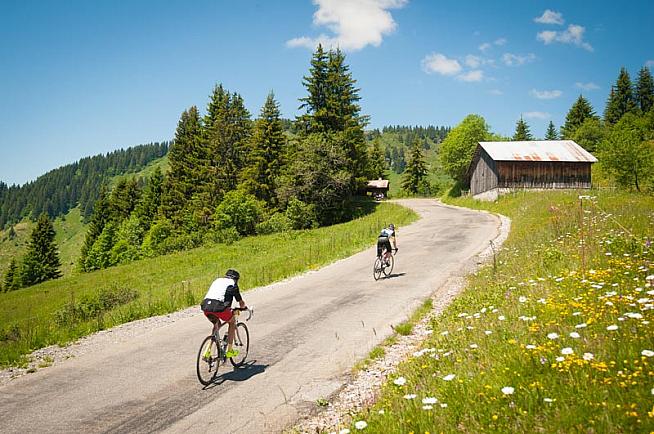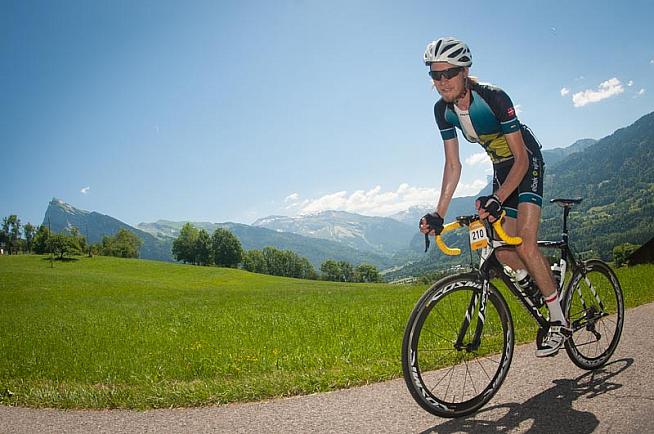 The best views were near the summit looking down at all the switchbacks below and the riders on them. I was very tempted to reach for my phone for a picture but thought better of it - it was quite a long way down.
I got to the top of my first ever 'real' climb in just short of 58 minutes, 87rpm average, 252w average (3.7 w/kg). Average speed 14.3 km/h (8.8mph). I felt pretty good having ridden my first mountain and I had plenty left in the tank - I knew I could hold that power for a couple more hours which, with all the descending, ought to be adequate to complete the ride. For those not familiar with power numbers, they'll have a bit more context when compared to the last climb.
Turning up the heat
Following the summit there's inevitably some descending - and I cruised down the other side of the Joux Verte with an average speed of 45km/h (28mph) over about 8 kilometres with little need for pedalling.
We'd ascended on a quiet single lane road and descended down the main road with two lanes. I've ridden hairpins many times on flat tracks but never entered one from a steep descent. Fortunately there wasn't a great deal of traffic and the visibility of the hairpin turns is excellent so, with decent brakes, no real trouble (incidentally, disc brakes weren't allowed in the gran fondo though I did spot some).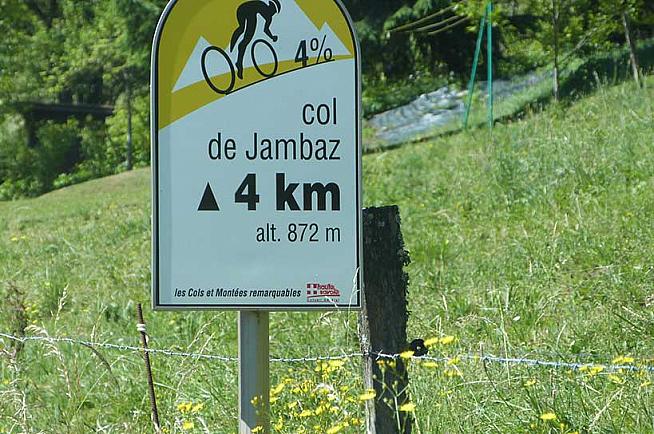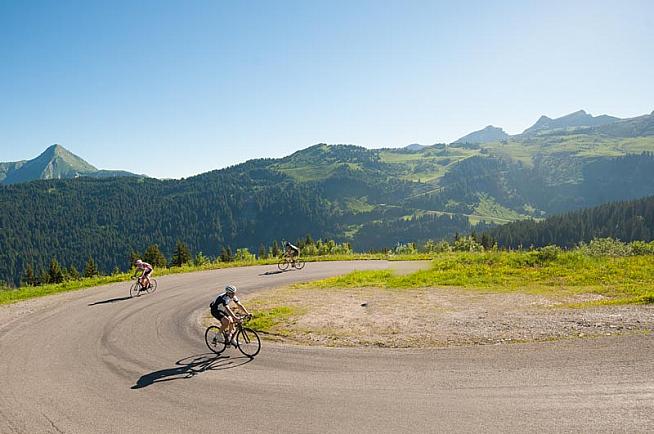 A couple of riders did pass me on the descents but I told myself they were definitely locals who knew the area. The descents felt like real Tour de France stuff. Other than a little gravel here and there the roads are in good condition.
With some flat sections between the climbs on this middle section, I found a small group to ride with for a bit and tried to conserve as much energy as I could. The road soon ramped up and I dropped them all.
Yes, I'm definitely a climber I thought - but what about that last climb, what if I fall sideways after weaving all over the road and die horribly?
At the end of the Joux Verte there'd been a water stop but at the time I was happy to carry on past that. Now though, at the mid-way point of the ride and about three hours in, I was very much looking forward to the feed stop.
When it arrived I found they had quite a selection. There was isotonic drink, energy drink and bars (provided by Etixx), oranges, bananas, dried fruit and various breads. The half-time oranges hit the spot for me and I took on as much water as I could.
It was hot when we started at 8AM, so by 11AM it was very warm indeed. People seemed to be spending a long time at the stop but I wanted to get on with it - I didn't like trying to get my head around the fact I was only halfway, so pressed on.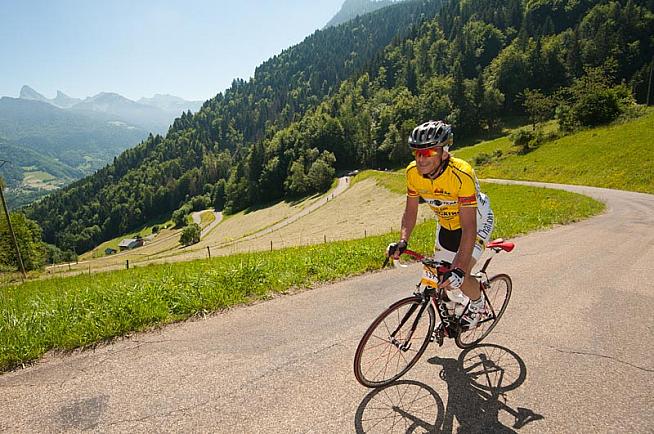 What followed was a bit more climbing and a bit more descending with plenty of lovely scenery to admire - especially sweeping through a wooded area at 50km/h (30mph).
Worried about battery life (which turned out to be fine), I hadn't downloaded the route to my bike computer. Fortunately the event was well signed and they had a marshal at every junction or roundabout of note. Other than people's driveways, which are quite long and seem to blend into the road when you're tired, it's hard to make a wrong turn as there aren't many roads.
I only managed to head down one driveway, and fortunately a companion I'd picked up waited for me as we'd been working together for a little while. Sadly for him (and he did look really sad) I dropped him when the road kicked up.
Col de Joux Plane
Fast forward to the last major climb, the Col de Joux Plane, and it was hot; 30 degrees and no shade.
I should note at this point my skin tone is a few shades off Tippex. The heat does not suit me. I'm told it isn't usually that hot in the area at this time of year (mid-June). I'd been in the saddle for about six hours by now, remembering to breathe deep, remembering to take in the scenery. By this point though things got very, very tough.
There are lots of cows along the roads and they all wear bells round their necks. That seemed quite novel early in the ride, but at the start of the last climb it was like they were tormenting me with their incessant jangling. Every time I looked up towards the summit there were riders parallel on to me at the sort of angles I was dreading. The signs along the route let you know how many kilometres to the summit - I'm sure I saw the same number a couple of times. This was full on grinding and surviving now as the sun continued to beat down.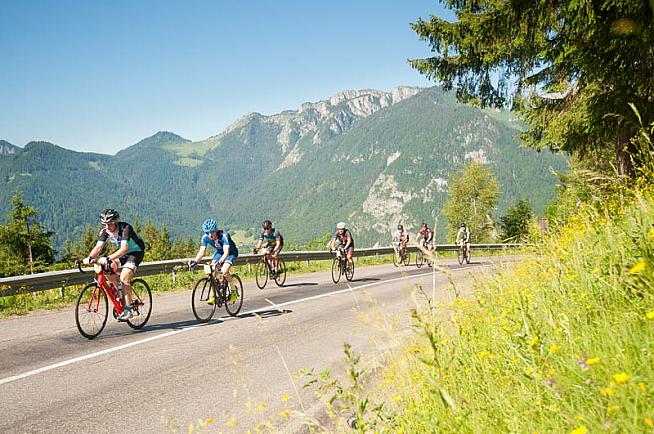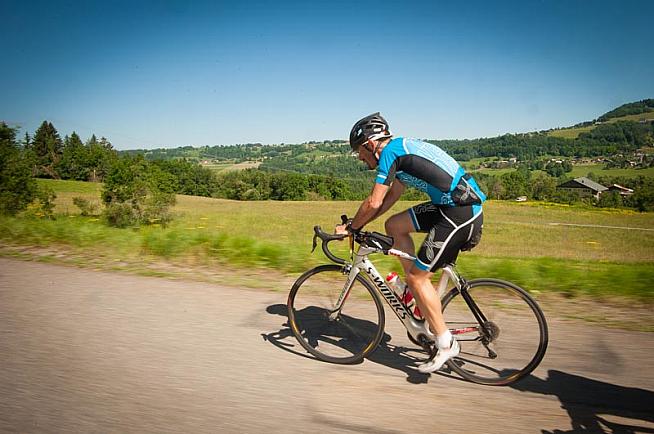 Col de Joux Plane is 11.6km with an average gradient of 9%. It took me 75 minutes with an average speed of 9.28km/h (5.8mph). Average power 184w (2.74 w/kg), average cadence 60rpm. Average gradient was 9%. This was suffering - 60rpm is just something that should never happen. The last 5km were even worse, averaging just 50rpm. I think the phrase is 'pedalling squares'.
I was tempted to quit and rest a few times, but I knew I couldn't because I'd never allow myself to be defeated by a climb. By this time it was about 2pm and the sun was at its highest point. I was longing for some shade but the best there was were intermittent patches where the very tops of the trees had created a few metres' of darkness. I treasured those few seconds and slowed down for them. The thought of tumbling down the mountain to my demise seemed a reasonable option by this point. The gradient rarely let up and I carried on grinding my way through because there was no other choice.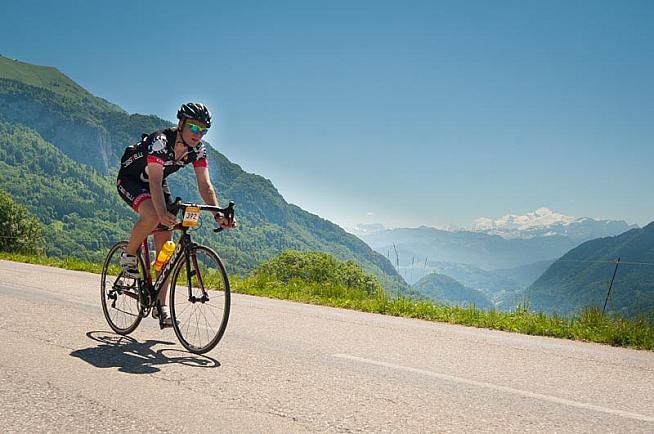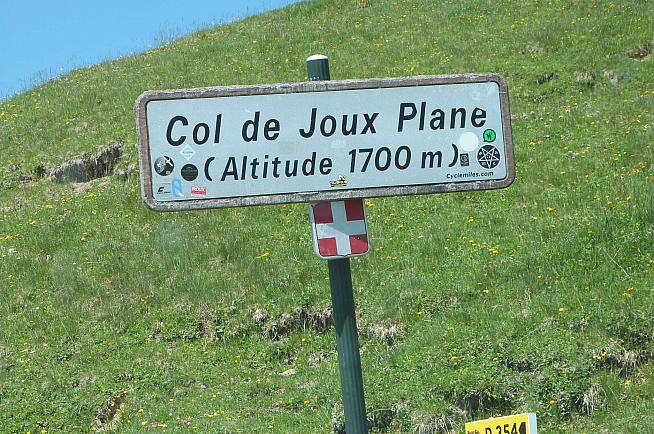 I thought my struggles might see me getting overtaken on the last climb, but only a couple of riders managed it. Everyone was cooked in every sense of the word - did I mention it was hot? We'd had over six hours in the saddle. I was able to talk fine (I managed a conversation with someone) and breathe smoothly but the sweat was stinging my eyes and I was barely maintaining that 50rpm. I saw one chap weaving all over the road - he wasn't far off finding his way back to the start of the climb.
At the top of the Joux Plane, 1690m above sea level, there was a water stop. This was much needed. To my delight there was some fruit juice too - I can't remember what it was, but it was cold and sugary and I liked it. After that was some nice, fast descending, pedals barely used for around 20 minutes. This was very welcome respite, and some shade combined with speed meant actually coming close to feeling a chill.
We went through a small village and past some shops but it was a bit nondescript because the only thing that mattered was getting to the end by this point. The thought of a lake at the end kept me going.
To the finish
The cruellest way to finish a sportive is with a climb. This one finished by sending us back up the Joux Verte from the start, although only a few kilometres up it. Back to grinding with only willpower pushing the legs round. The payoff for this, however, was that it took you 100 metres from the lake's edge and a spectacular view.
I crossed the finish line in a daze. There was apparently some sort of pasta party at the end. I like pasta, a lot, but I was so exhausted I didn't even see the party happening (everyone else did apparently). I went straight for the lake. I'd never stuck my head in a lake before but I highly recommend it. I wanted to lay and rest but I knew I'd end up sunburnt if I did. The lake and surrounding area was gorgeous - I wish I'd had more of a state of mind to take it in properly. I managed a few pictures though.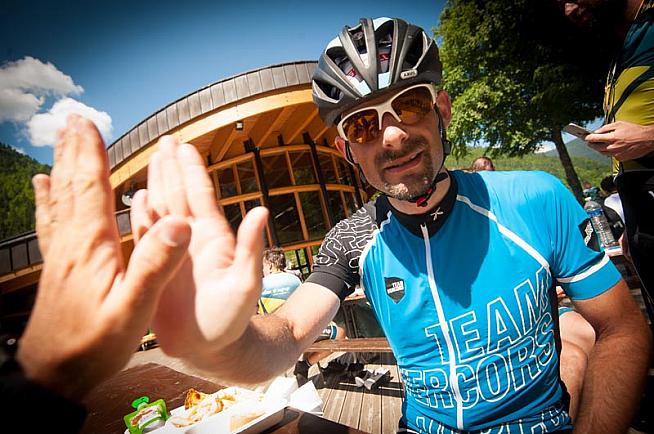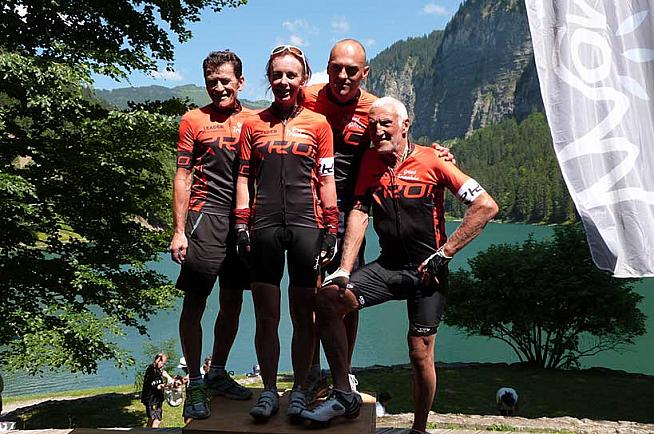 And back at the chalet, I made up for that missed pasta with a feast of stuffed chicken breast, potatoes and veg followed by sticky toffee pudding and ice cream - all freshly prepared by Harriet.
A Cyclists' Paradise
Although I didn't have much time to spend in Morzine after the sportive, it's the sort of place I can see myself returning to again. It may be a cliché but with its easy access to stunning mountain roads the region is a cycling paradise; it's no surprise the that Tour de France regularly visits the area, with Morzine itself hosting a stage finish in 2016.
Morzine is a serious cycling hub (when it's not being a serious skiing area), so if you want a rental bike you can rest assured you'll have no trouble getting hold of something decent. There were also lots of mountain bikes around if you're into that sort of thing - it'd be easy to take one bike with you then hire something for another discipline.
There's also a lovely looking swimming pool in the middle of town though it has a very limited opening season (there's always the lake instead). You could certainly do some good triathlon training there.
If you're looking for somewhere to stay in Morzine then I can't speak highly enough about 44South. Run by cyclists (owner James and his staff all hail from the UK), their passion for the sport shows in the hospitality they extend to guests. James is usually on hand to offer advice, while guides Ali and Andy will show you around the best rides and share their wealth of local information.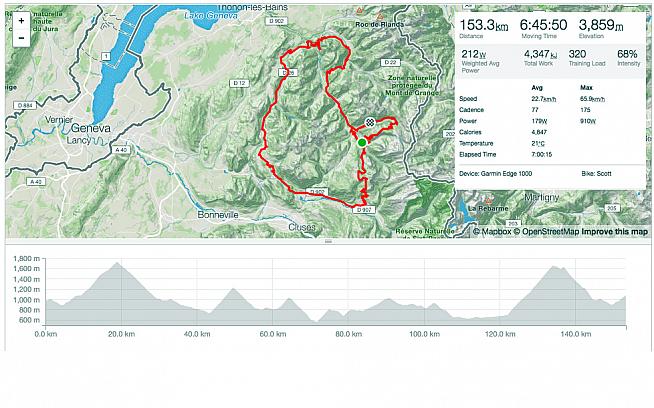 Off the bike, the food is good and filling, with lots of local produce and top marks for presentation. There's plenty of space in the chalet to make yourself at home, work on your bike, or hang around plotting your next foray over a drink. And just a few minutes away there's cafes, bakers, grocers. Oh, and plenty of bike shops too.
If you've ever suspected you might be a climber but lack the mountains to test your theory, why not come over and see for yourself. From cols to cowbells - Morzine has everything a cyclist could ask for.
La Morzine Haut Chablais returns in June 2018. For more information on the Grand Trophée series of sportives, visit http://grandtrophee.fr.
44South run cycling holidays throughout the season, offering accommodation, catering and a bespoke service tailored to athletes. For more information visit 44south.co.uk.
0 Comments