Dorothy was transported from Kansas to Oz by a tornado. The Cyclone that I encountered on Saturday 20 May transported me to a world of pain, delirium and aching not heard of since I danced to 'Come On Eileen' at my wedding reception.
After my last abortive attempt at an Epic, due in part to my woeful concentration and map-reading skills, I was determined to hit the ground running, figuratively. The going was easy to good out of the new venue for the Surrey Hills Cyclone - Lingfield Park Racecourse, nestling west of the Ashdown Forest. For the pedants among you, it was strictly speaking a three counties cyclone, the route rolling up and down the lanes of Kent, Sussex and Surrey for 100 miles with 2100 metres of climbing.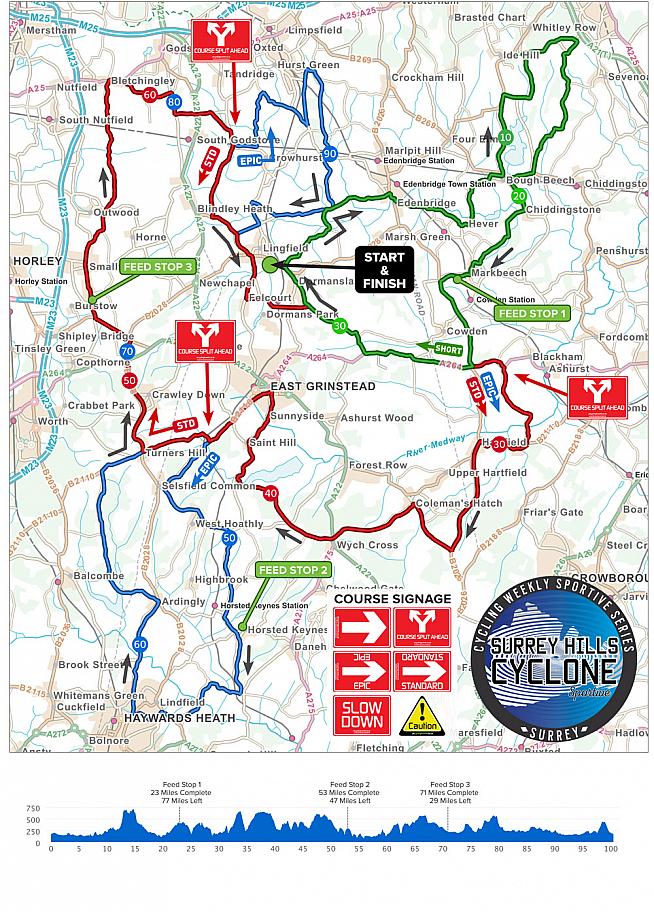 I was so enthused to take part that I turned up earlier than normal, got a parking spot near the start and rolled up to registration before all the other M-L's had had their breakfast. Sadly, though, there was no sign of my name to sign against and I wasn't in the late registrations list either. Barely able to stifle the cry of "Don't you know who I am?", I trudged back to the paddock to retrieve my entry email and was duly enrolled, stickered and issued with my dossard.
Turning out of the start, I had a rough idea of what was in store, having ridden most of the hills in the vicinity. After a gentle warm up through Edenbridge and past Hever Castle, the route racked up at the bottom of York's Hill, site of the annual Catford CC Hill Climb. What comes next is a mud- and flint-strewn wobble up one of the most claustrophobic lanes in the county, culminating in a steep ramp up to the top of Ide Hill, itself a miserable slog. Barely 15km in and the sound of auto-pausing Garmins was music to my ears, despite my own upward progress being only speedy in geological terms.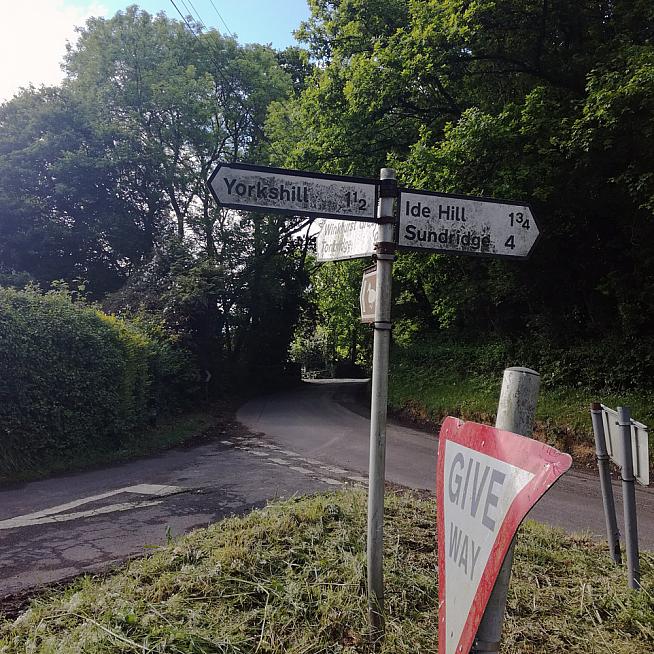 For once I'd mastered my GoPro and reviewed the footage of York's Hill later, noting the mournful apology of Phil "Where There's Phils, There's Hills" O'Connor on photo duty. I consoled myself by counting the number fellow sufferers doing the Shove of Shame. Breathing like a 40-a-day octogenarian, I had time to enjoy the relative comfort of many miles of downhill to the first feed station.
Onwards, then, to the Ashdown Forest and more up-and-down slogs until hitting relative civilisation through East Grinstead and past the whistles of the Bluebell Railway, climbing up towards Sharpthorne and West Hoathly before heading south for feed stop two at Horstead Keynes.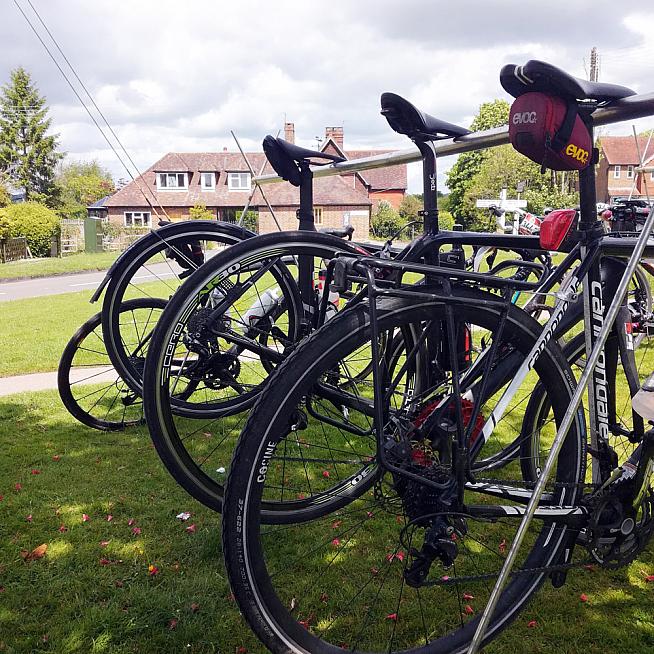 Lindfield came and went, before a slight diversion from the published route. Instead of heading through Balcombe, the route trundled up past Ardingly College before confusing a few riders (and disappointing others like me, who know the area) by not continuing up past Wakehurst Place, choosing instead to plough down past the reservoir.
After the pain of the ascent up to Paddockhurst Lane, it was a relief to turn off right before having to endure the Mill Lane climb.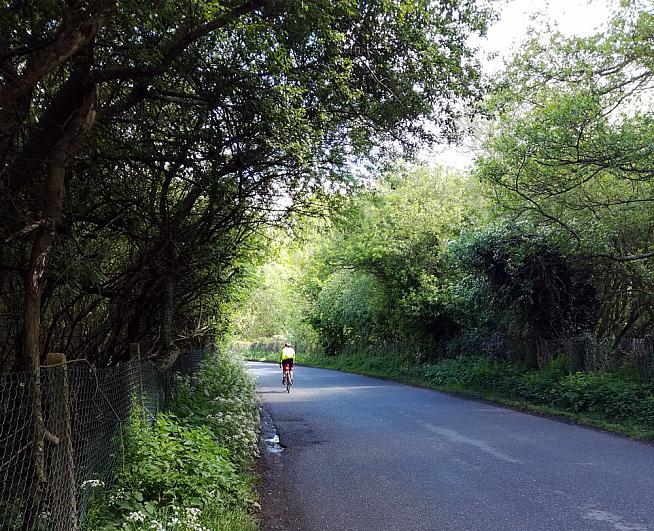 The rest of the ride is already pretty much a blur, partly due to being on familiar roads and partly as my energy levels were seriously diminishing. The rolling terrain all seemed to meld into one, with the odd burst of effort up some of the short humps up to the A25.
A final evil twist came in the last 10km as the route skirted around Lingfield, for one last trundle up and one hallucinogenic descent back to the start, nearly missing the entrance gate which had been half closed. I didn't think I'd been *that* long... it was still daylight.
Suitably proud of myself, having at last completed my Epic, I chatted with other careworn riders back to parking about how damn hard it was, only to find out they'd done the standard route. This ego massage got me as far as my car, where I collapsed on the grass to do the most unerotic slo-mo striptease you're likely to never want to see. I would've stayed there, but something smelt a bit ripe and for once it wasn't me.
As a standalone event, the Surrey Hills Cyclone probably ranks as one of the hardest in the South, with climbs to rival those in the Sussex lanes, and destroyed road surfaces to match. If you target one hilly sportive a year, you'll not find many that compete for distance and elevation and sheer energy-sapping evilness.
This ride needed a character of its own, away from the Ups and Downs and more towards the lesser-known but no less challenging side of the High Weald, and it certainly delivers.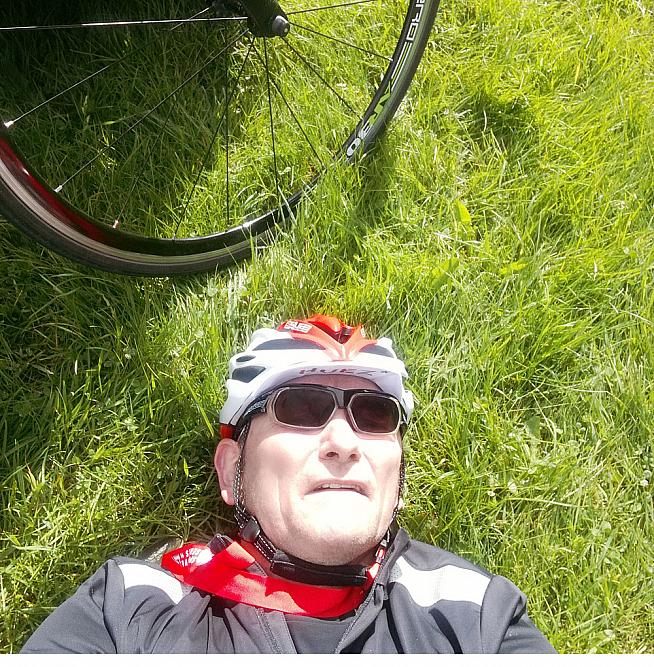 The Surrey Hills Cyclone will return in May 2018. Visit www.ukcyclingevents.co.uk to see upcoming UKCE sportives across the UK.
0 Comments