Riding LEJOG - the 900-mile journey from Land's End in Cornwall to John O'Groats at Scotland's northernmost tip - is a bucket list ride for pretty much any cyclist you talk to who enjoys long distance cycling. I have met so many people who have embarked on the challenge and have always spoken highly of it. Some have done the ride independently, carrying everything they need on the back of the bike, while others have opted for the experience of riding in an organised group like the Deloitte Ride Across Britain (RAB) that takes place every September.
I had seen the RAB advertised on Facebook and always thought that I liked the sound of an organised event rather than attempting the adventure on my own, something I don't feel ready for just yet. When a last-minute opportunity arose to ride a section of this year's RAB, the 4-day Ride Across Scotland, I jumped at the chance. I figured this would be a great taster for the full challenge at a later date.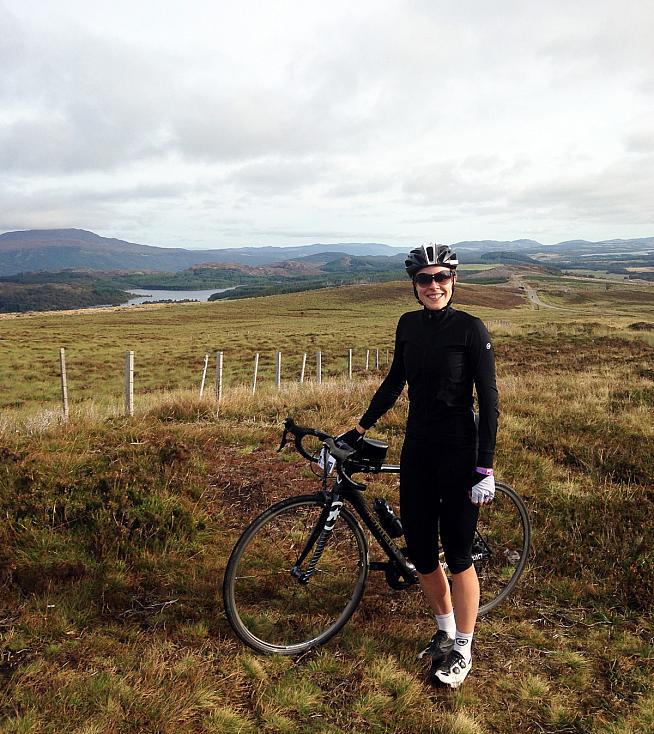 From the moment the riders set off from Land's End, I was following their progress from my desk through social media updates and was desperate to get started. On the Wednesday morning I packed my bags in line with the detailed kit list provided by organisers, Threshold Sports, and headed to Penrith to meet the riders.
By the time I arrived, the fastest cyclists had just started cycling into the finish of day 5. I looked around at the camp and was amazed at the organisation and convenience of everything around me. As one of my friends described it, it was essentially Disneyworld for cyclists. Once arriving in from a hard day's cycling, there's a routine that it was clear everybody got to grips with very quickly:
Following your assigned colour, head to tent allocation (all tents are erected prior to your arrival)
Over to the DHL lorries to collect your backpack
Find tent, drop off bag, grab washbag
Shower
Laundry
Massage
Foam rolling
Beer
Food
(Steps 8 and 9 are interchangeable!)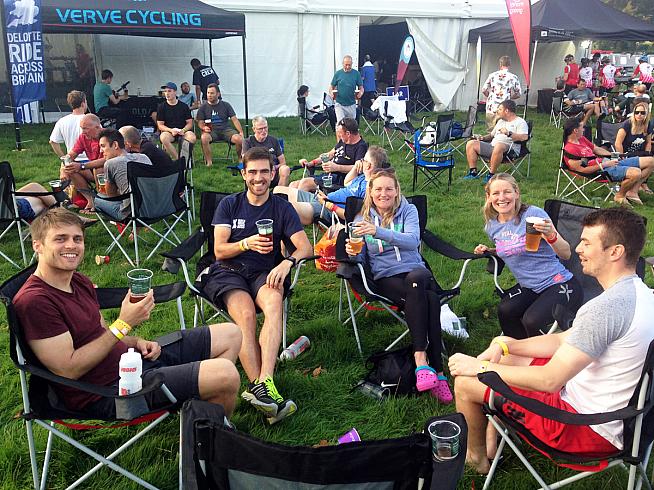 Every element of a cyclist's needs had been taken care of, and not only was everything thought out, there were rarely queues for anything. The staff were all really friendly and the setting of the campsites were beautiful.
I joined the Ride Across Scotland briefing on the first night and the team from Threshold Sports explained how everything worked, what time we would be setting off in the morning and what to expect.
After this I headed in to grab some dinner, expecting to find a pasta party similar to any other multi day cycling events I've taken part in. Instead I was greeted by an option of four or five dishes which catered for all dietary requirements and an incredible selection of desserts. I enjoyed a delicious dinner and then headed over to the campsite which became very quiet very quickly, full of exhausted cyclists all tucked up in bed.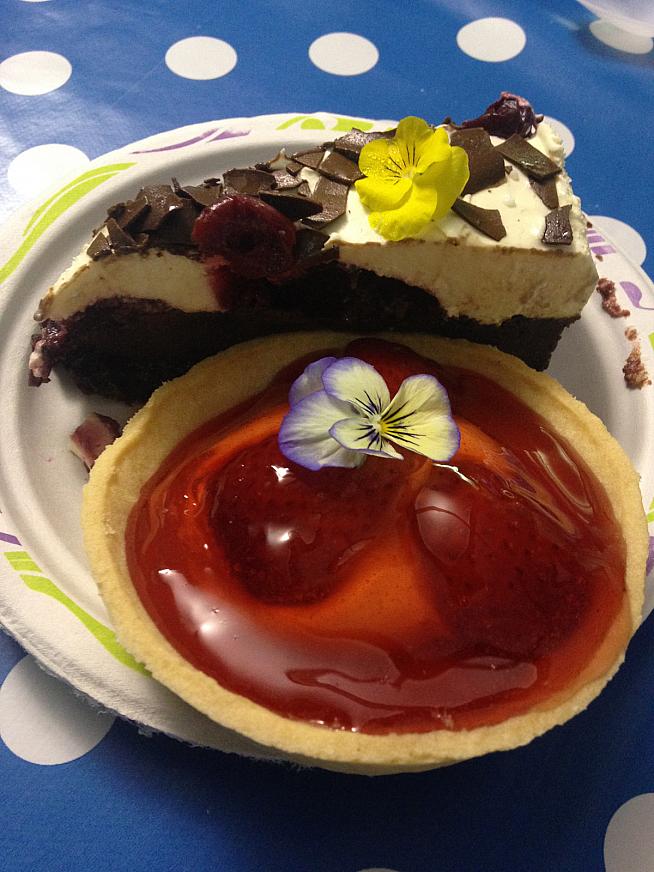 The morning routine of a RAB-er (Ride Across Britain) is something that you get better at the longer you're there; the key is to make as few trips back to the tent as possible. The ideal situation is to wake up, get dressed, take washbag and water bottles with you to breakfast, enjoy a (delicious!) breakfast, fill water bottles, do teeth, pick up laundry and drop back at tent, give bag to DHL guys, grab bike, bike checks, GO.
The reality is you accept that you'll always leave something vital in the tent and have to go back; you'll spend longer at breakfast than you mean to (because just one more croissant smothered in Nutella is always necessary); you run around the campsite like lemmings all with your head torches on being careful not to bash into each other; run over to the start point doing up your helmet and putting your gloves on, only to find your group are all running late too. By the time you set off in the morning, you already feel like you've achieved so much!
On day one we were riding from Penrith to Haydock, which meant crossing into Scotland within around 40km of the start. The roads were long and straight allowing for plenty of opportunity to ride as a group with everyone taking turns on the front. Having done most of my training on my own or with one other person, it took some time for me to click into working as a group - it was great fun riding at a good speed without using up too much effort. Threshold also organise for around 30 chaperones to take part in the ride and jump from group to group, teaching riding skills and generally making sure everyone is riding safely.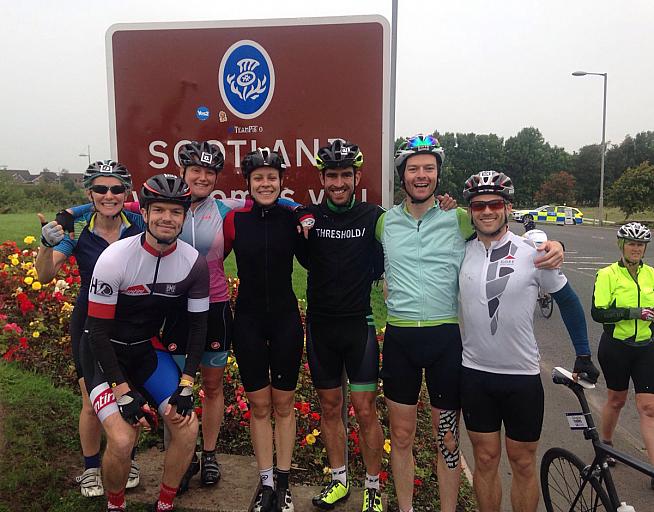 We rode up to the first pit stop and were greeted by a whole array of snacks ranging from flapjacks, chocolate bars and fruit to quinoa bars, pork pies and scotch eggs with onion relish.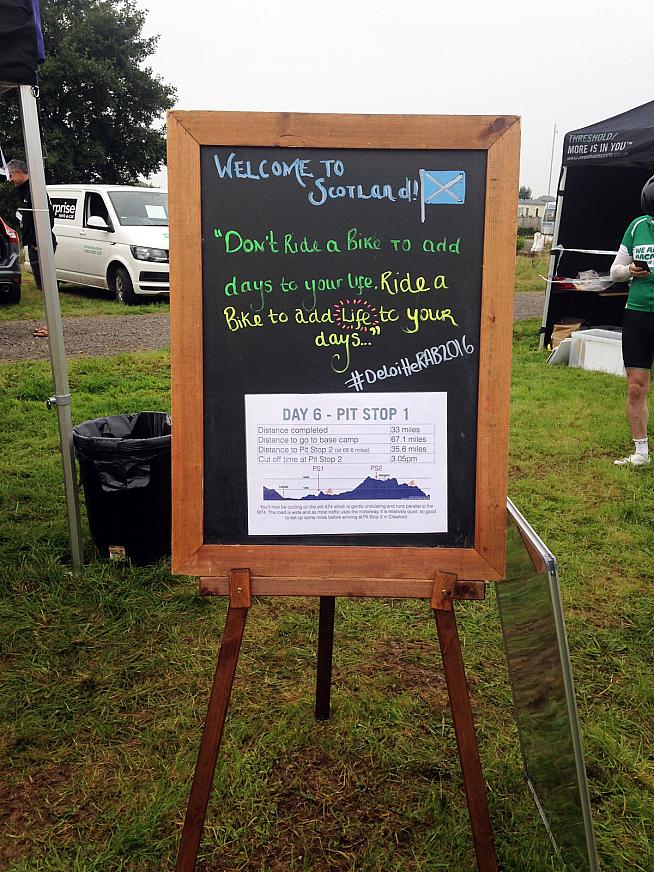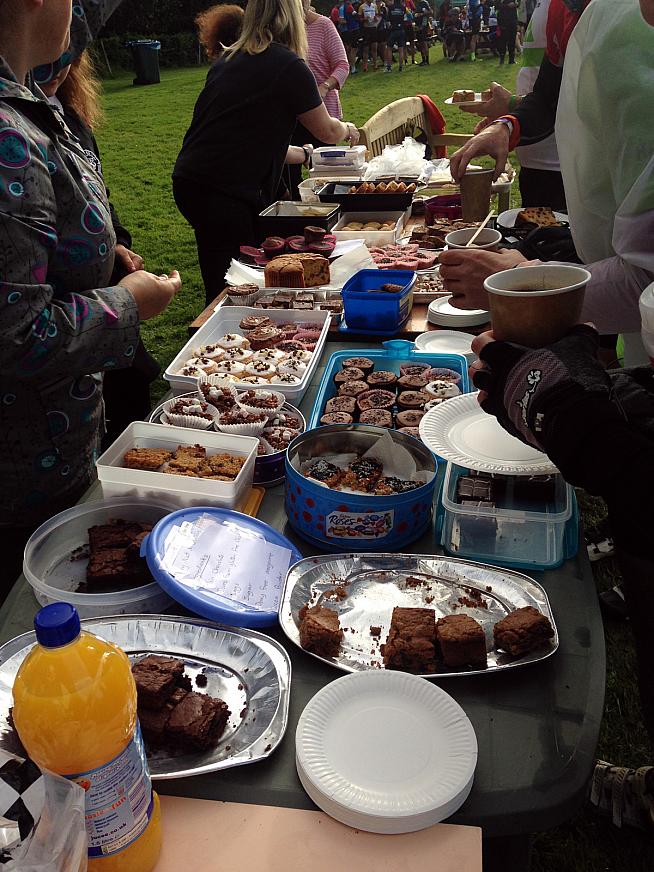 With my fresh legs I was keen to get going pretty sharpish, but soon realised I should probably be a bit more patient for the rest of my group who had already racked up around 500 miles!
During the second part of the day we were subjected to some very bumpy, unpaved roads which made for some painful riding and a lot of pins and needles in my hands. Everyone was feeling pretty frustrated by this point as the rough roads seemed to go on for miles, so when we came around the corner to find a class of primary school children cheering us on, our spirits were certainly lifted - our own mini Tour de France moment!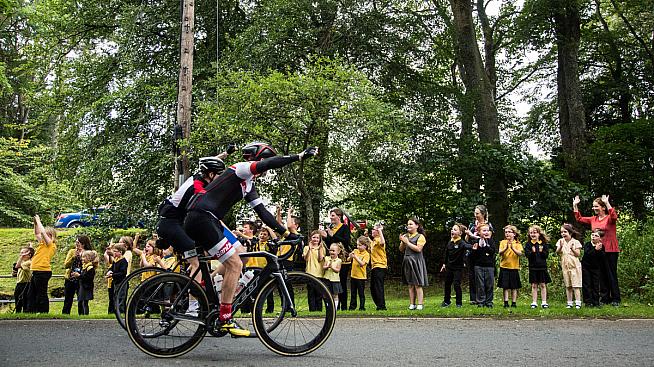 We rode into the Haydock racecourse which was camp for the night and started the evening routine. There were two kinds of people in the racecourse on that evening; the general public who were enjoying a drink at the bar, and then the RAB-ers who could be distinguished wandering around with a glazed look, a continuous mouthful of food and often with a limp of some description. The public must have wondered what we'd been up to - we did get a few strange looks!
Day 2 was the longest day of the whole ride: 126 miles from Hamilton to Fort William. We started earlier than usual to account for a long day in the saddle, so it was a case of shovelling down as much porridge as we could and setting off in complete darkness into a sea of flashing red and white bike lights.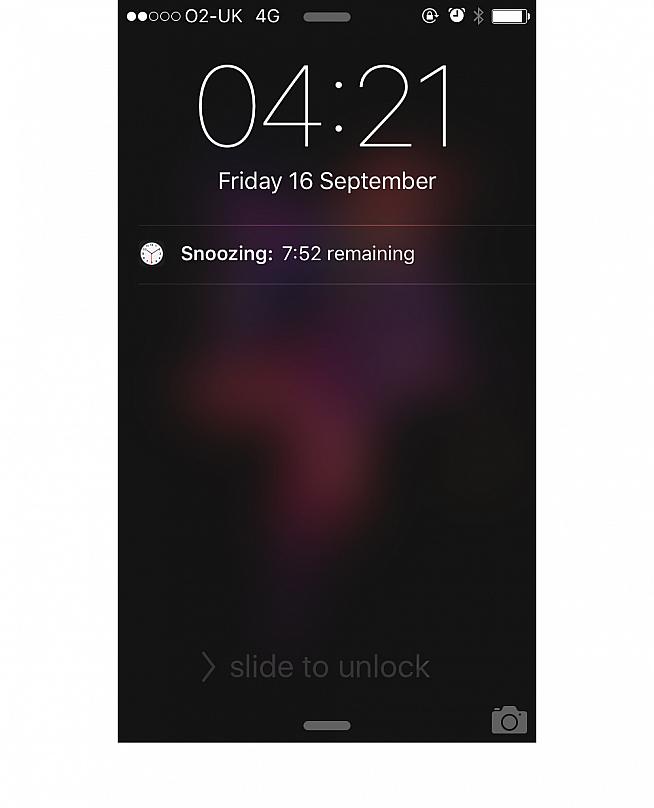 The first hour of most days was ridden in complete silence as everyone prepared mentally and physically for the day ahead and tried to forget about their aches and pains, but everybody perked up as we sped off down a quick and beautiful descent. The terrain for today was completely different from the day before - so far, we'd only had a taster of what was to come!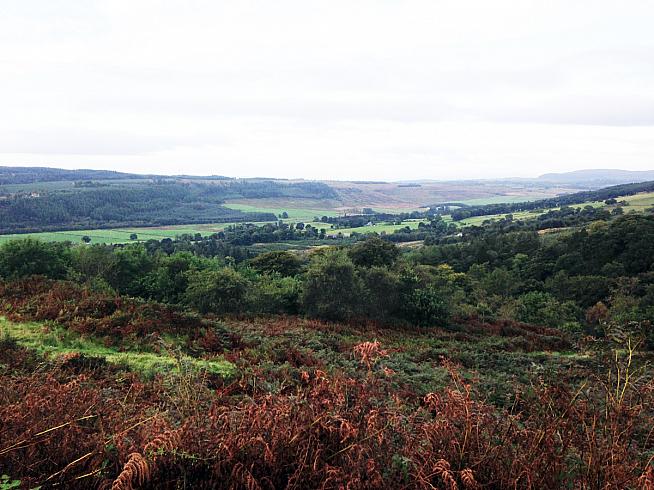 As we neared the first feed stop we could hear the faint sound of cheering and whistling. We rode in to find another class of schoolchildren and teachers, all with Scottish flags, who had organised a cake and bake sale to raise money for the local school. Being a hungry cyclist, nothing is more satisfying than finding an array of home baked cakes to enjoy so everybody paid their £3 and tucked in.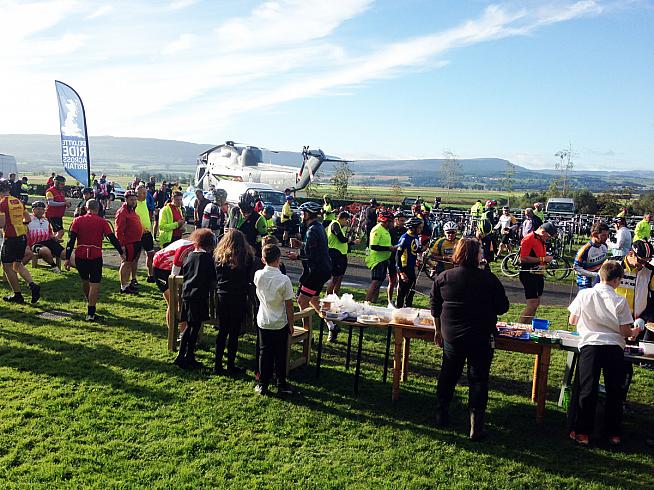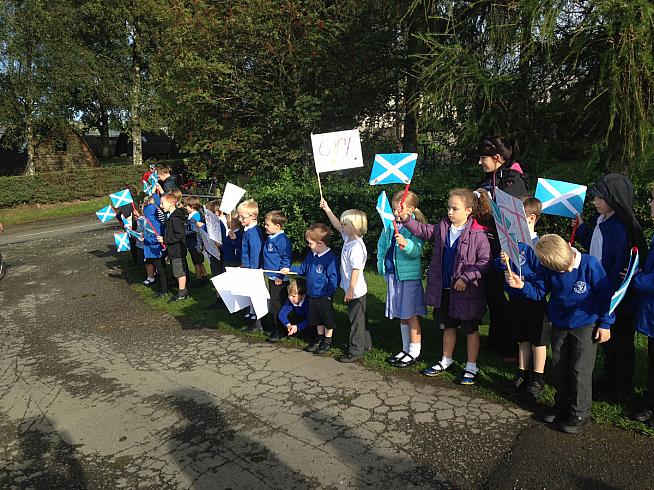 The remainder of the day was filled with some of the most beautiful riding I've done in the UK. We rode past lochs, bridges that looked like they were straight out of Harry Potter, and vast expanses of mountainous terrain that had us all singing the Jurassic Park theme tune!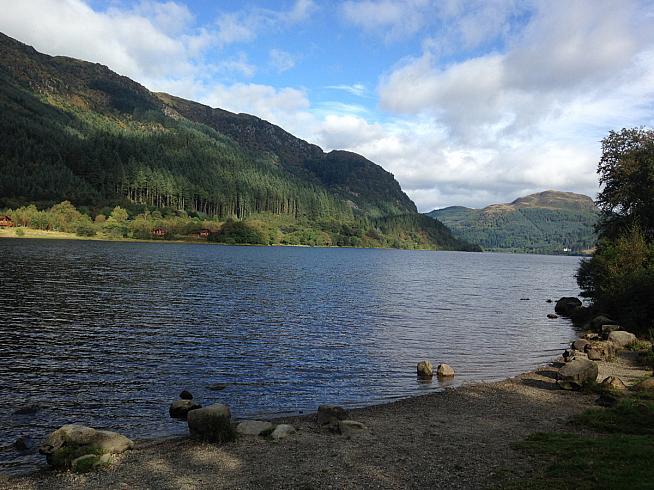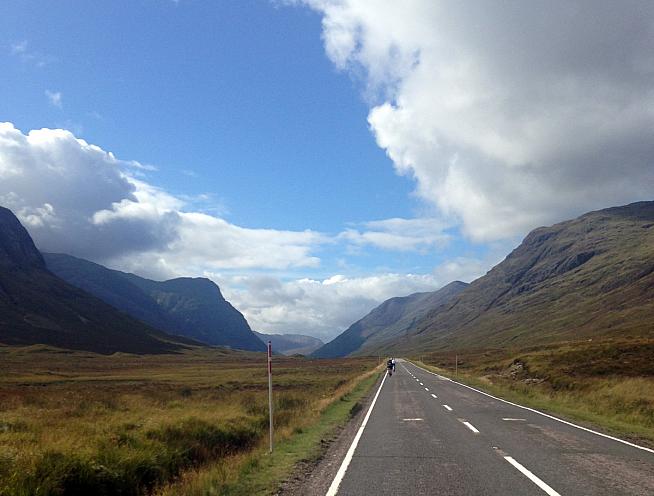 We were battling some serious headwinds for what seemed like an eternity so it was welcome respite when we hit a long, steep descent which we all flew down. With around 30km to go I started dreaming of the campsite and my legs started screaming at me. As always seems to happen at this point, everybody decides to speed up with a mind to get there quicker, so we jumped on the back of a faster group and out of nowhere we're group riding full gas, everybody in silence, screaming inside. Or perhaps that was just me?!
As the kilometres rolled past 200km I was struggling mentally, so felt a great sense of achievement rolling into camp; particularly as we were located with a view of Ben Nevis and the surrounding mountains. I collapsed on the grass for a while before having a celebratory beer with my group.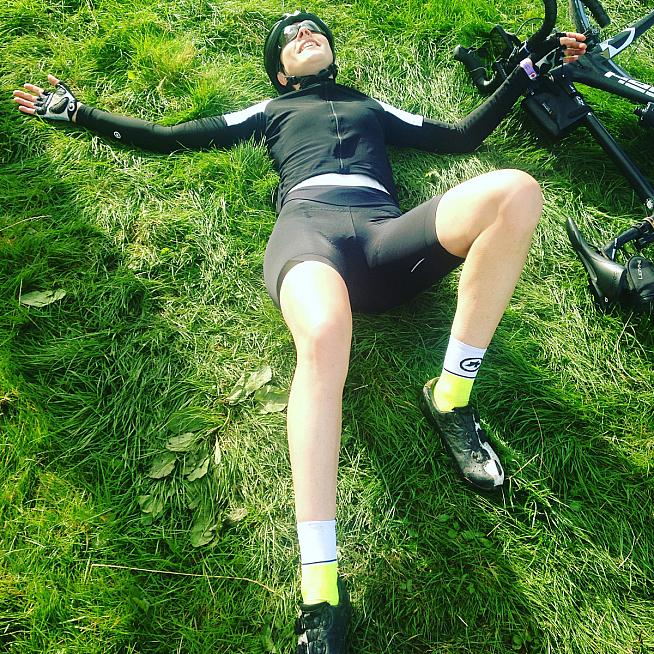 I clambered out of my tent on day 3 to be graced with a beautiful red sky and a view right to the top of Ben Nevis. Not bad scenery to enjoy whilst you're brushing your teeth!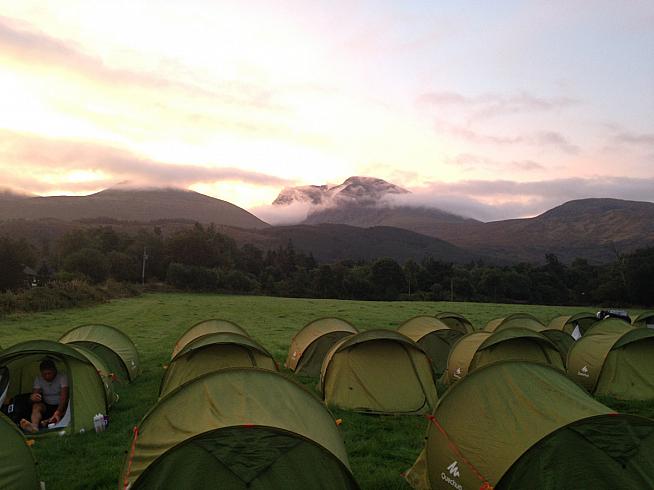 Today we were riding 110 miles from Fort William to Kyle of Sutherland, and as someone who enjoys climbing, I was excited for today as I knew there were a fair few hills to be tackled. The climbs were long and drawn out with a few tough sections which were great fun.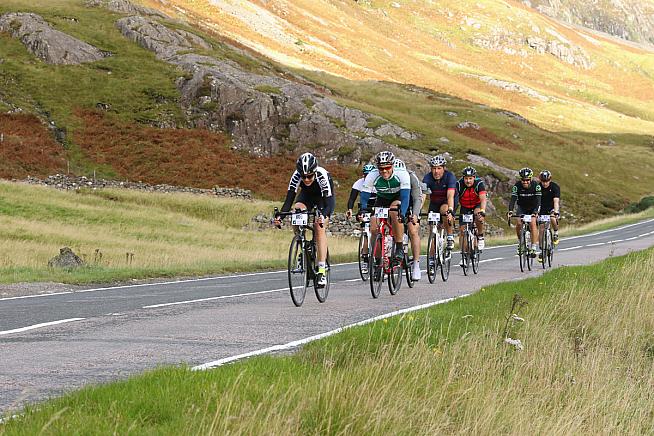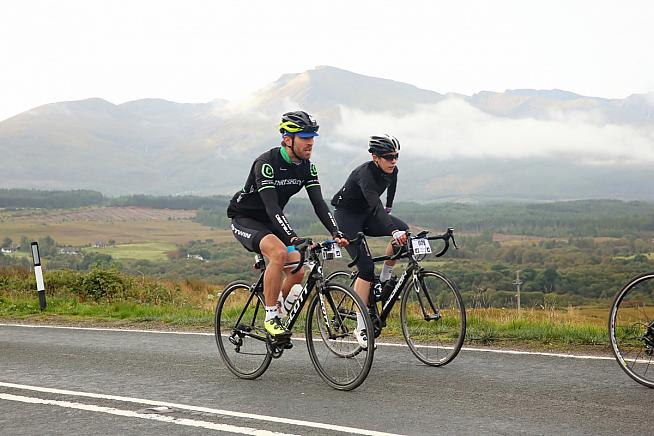 We stopped in Inverness on the river for a quick coffee and then rode along the lochs and through the woodland for hours - a cyclist's dream. The sun was beaming down on us when we arrived at the campsite so I lay foam rolling my legs for a long while, enjoying the warm weather and the final night in the camp.
The next morning as 'The Final Countdown' was blaring across the campsite (motivational morning music!), there was a real sense of excitement in the air as everybody prepared for the final day. It was another early start as everybody had bus transfers to catch once we arrived at John O'Groats, so we set off and cycled at a pretty rapid pace whilst savouring the breathtaking sunrise around us.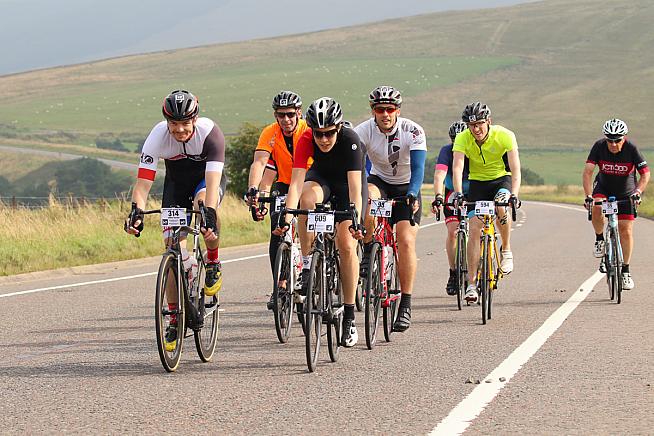 It's worth noting that we were incredibly lucky with the weather and didn't have one spot of rain throughout the whole ride! We rode along the lochs on small, winding roads for hours until it seemed we were running out of land ahead of us. At this point, the climbing started. We rode up and down and up and down for miles, eagerly awaiting the pit stop - and then when it came, as we were making good time, everybody stopped and basked in the sun for a while feeling sad that it was almost all over.
The final stretch was filled with excitement and anticipation and, again, a pretty punchy pace! We were cheered through the finish line by other riders and also families who had come to see their loved ones complete the challenge. We had our photo taken with the John O'Groats sign, packed up our bikes and jumped on our transfers back to normality.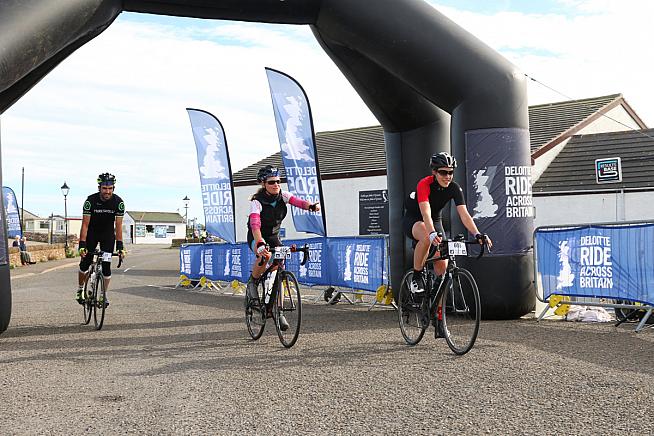 What an adventure! I thoroughly enjoyed the whole experience and the organisation really was second to none. If you're after a real adventure, I can't recommend RAB highly enough.
And next year for me...the full route!
Whether you're looking to race the full route across 9 days, take part in just one or two individual stages, or perhaps would prefer hotels rather than camping, there really is something for everyone.
Early bird prices for 2017 are available now. For more information, visit the Ride Across Britain website: www.rideacrossbritain.com.
0 Comments