The ecstatic cheering as Sven takes the lead in the 2016 Cyclocross World championships is incredible. It's like a wall of sound that seems to echo and bounce, making it hard to distinguish exactly where it came from. Although he's the oldest rider in the field, Sven still manages to find the power to accelerate past the leading riders. For a short period of time, a significant number of CX fans across the world find some unexpected dust in their eyes as they imagine Sven winning his final CX world championships before heading off to pastures new in retirement.
The thought of Sven beating the best riders in the world and being crowned world champion for the third time in his racing career is just too mind boggling to properly consider. Is it possible to be world champion aged nearly 40? I joined in with the other fans and cheered as loudly as I could, to mentally will Sven towards the finish line.
At that point my wife walked into the sitting room and told me to keep the noise down as the neighbours would think I had gone mad. Ah. I guess the wall of sound was just me cheering like a madman at the TV then.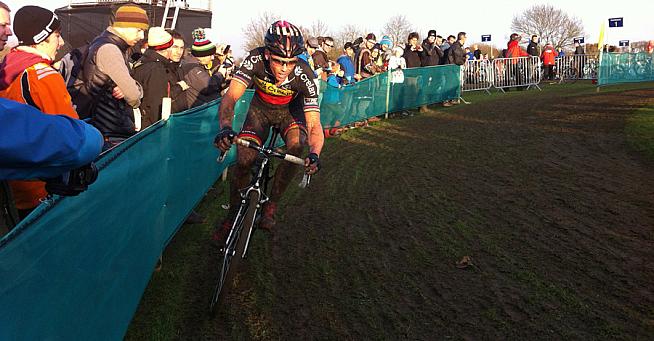 I would have loved to have been at the World Champs for real, but sadly I was having to make do with watching the live-streamed coverage from the UCI website. I tried to recreate some of the atmosphere of the race even in my living room by wearing mud splattered lycra, having killer helmet hair and occasional sipping from a slightly battered looking bidon - testament to my having been out riding shortly before the race started, rather than any mad dressing-up binge in case you're worrying.
Sven Nys started his career as a CX pro back in the mists of time in 1998, and has somehow managed to stay at the top of a very select group of racers ever since. His palmares is mind boggling - he's won the CX World Championships twice, he's won the UCI World Cup Series six times, he's won 50 individual world cup races, he's been the Belgian national CX champion nine times, he's won the Belgian Superprestige CX series no fewer than 13 times, he's been the Belgian MTB champion five times, and he's a double Olympian. By anyone's standards, that's a hell of a tally. Apparently the trophy room that he had specially built in the basement of his house proved to be so significantly undersized that his various trophies, cups and medals have spilt off the shelves onto the floor and any other flat surface within reach.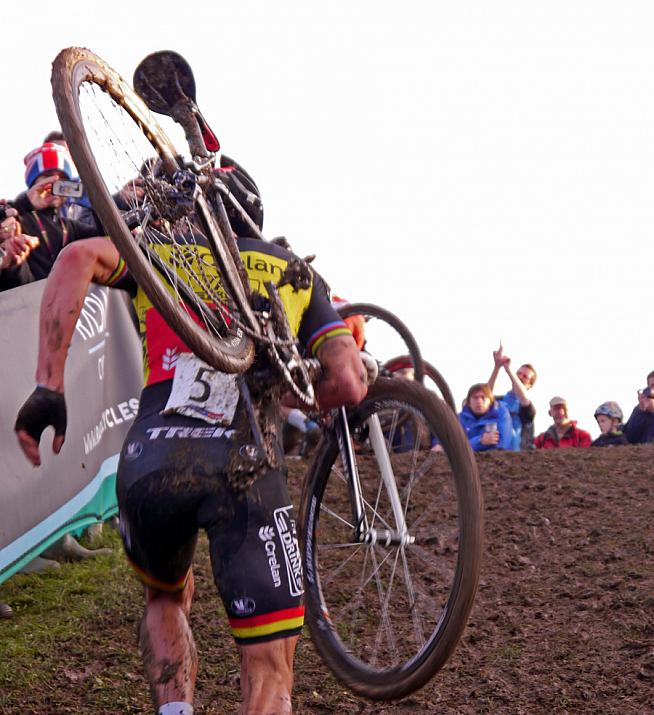 End of an era
Fast-forward a few weeks, and a momentous day has come around. Sunday 21 February sees Sven line up on the startline at the 2016 Internationale Sluitingsprijs Oostmalle. Try saying that with a mouth full of archetypal Belgian frites avec mayo!
After an incredible 18 years racing as a pro, this race will be Sven's last. He takes his normal position on the front row of the grid. To his right is Dutchman Lars Van de Haar, born 23 July 1991. To his left is the 2016 World CX Champion, Wout Van Aert, born 15 September 1994. Sven was born on 17 June 1976.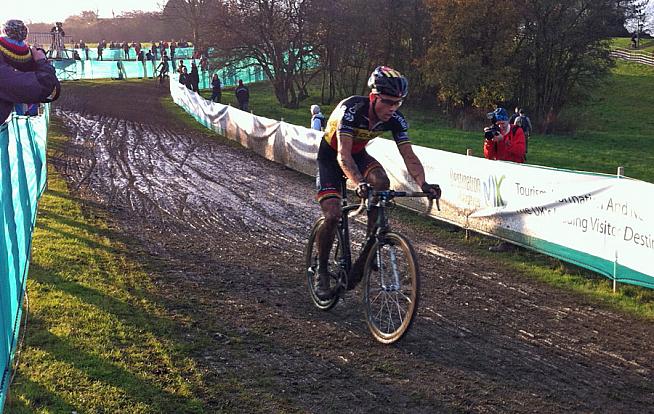 Sven is the King of Disco and the two Vans are Internet children. That's how massive the age difference is. He is conceivably old enough to have fathered both his rivals. Sven has been racing so long that he used to race against the father of one of the other main contenders today, Mathieu van der Poel.
On the start line Sven looks steely-eyed with determination. He's as focused as ever. OK, so in just over an hour he'll be able to swap his disco slippers for zip-up tartan booties, and he is more likely to be looking for his pensioner's free bus pass in his wallet than his UCI racing licence, but that doesn't mean he's going to out without a show for his fans.
As the whistle blows, the peloton surge forward, rear wheels scrabbling for traction on the damp concrete as their owners put mind-blowing amounts of power through them. On courses with flat profiles, some top-level racers have been known to have a bike that they use solely for the first lap, which has a larger front chainring to allow them to generate more speed down the start straight!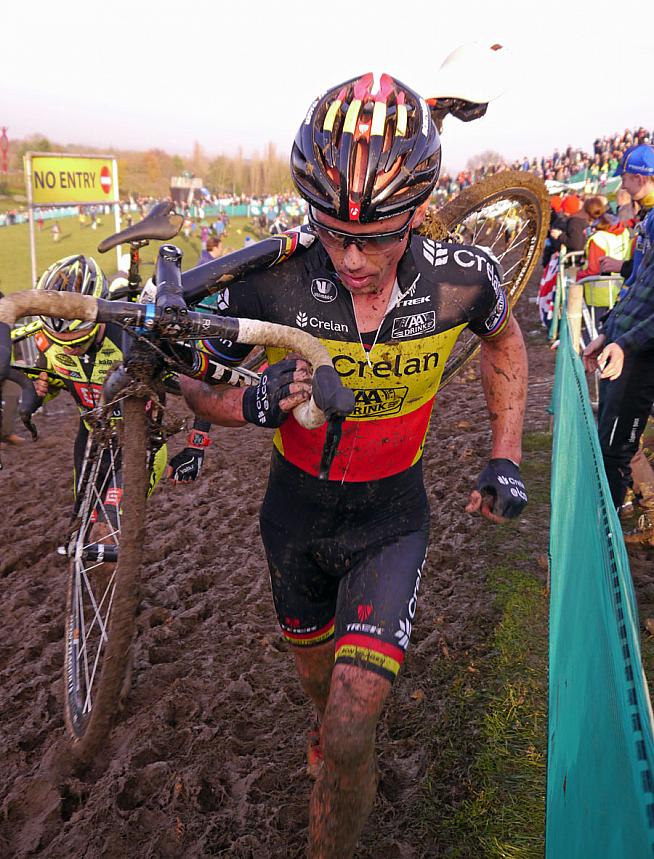 Sven over the last few years has proved to be more of a diesel engine, taking a lap or two to get to fully top speed, whereas his young whipper-snapper rivals are absolutely full-gas straight from the metaphorical gun. This means that Sven drops back from the front row to somewhere around 15th for the first lap.
As the cameras pan around the different sections of the course, even though Sven isn't in the first group, they seem to linger longer on him than his fellow racers. Even cameramen know that it's the end of era, so are milking their Sveness for all they're worth.
At the end of lap two, 7 seconds covers the top ten. Sven is in 10th. Just a streak of neon yellow socks and shoes visible as he passes the start-finish line.
At the end of lap three, he's up to 8th. The front runners are all in a grupetto, no one wanting to give an inch, so they're all buzzing the back tyre of the rider in front.
21:23 minutes in, Sven makes his move. 8th to 4th in the blink of an eye: he spots a Sven line, puts his foot down hard and nips up the inside.
24:11 in and he's on fire. Riding shoulder to shoulder with his closest rival, he spots a gap which looks barely wide enough to fit his bars through and somehow makes it up from 4th to 2nd. You can hear the cheers at the North Pole. The Sven fan club start to jump up and down so vigorously that tidal waves threaten low-lying south-east Asian countries due to the Butterfly Effect.
I'm pretty sure I learnt the Flemish for "B*gger me" from the commentators, Sven's overtaking move is so audacious.
26:07 minutes, Sven floats over a set of foot-high wooden barriers, seemingly held aloft by a squadron of pixie-winged fairies, such is his lightness. If I practiced that move for the next 200 years, I wouldn't be able to do it that smoothly. With the slickest re-mount ever seen in the CX world, he's back on the bike and straight into the lead.
Choirs sing from the heavens, small boys wet their pants with excitement, and old ladies spontaneously combust beside the track.
Sven is leading his last ever CX race. As he crosses the finish line at the end of the lap, he's already put a 7-second gap into the following bunch, which happens to contain 99% of the best CX racers in the world.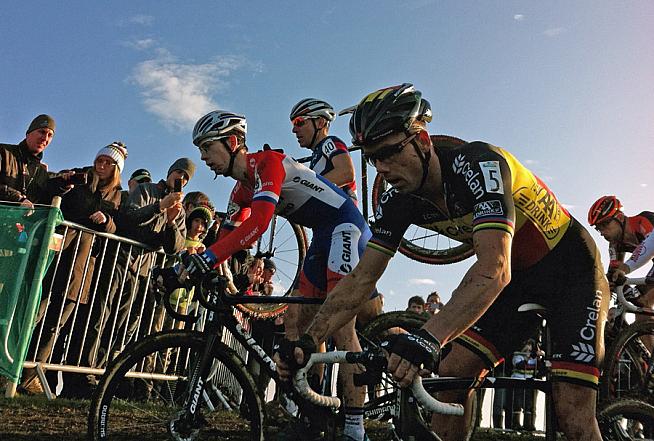 David Van der Poel, Sven's closest rival, and the only one of the racers able to get anywhere near his back wheel, grimaces with pain as he tries to hang on the Sven's coat-tails. There are shots of his back wheel drifting sideways as he desperately tries to power his way out of corners.
Meanwhile Sven sits at the front looking like the King. His poker face is turned up to 10 and he's barely even breaking a sweat. With every pedal stroke he's inching away from Van der Poel, slowly, incredibly slowly working his way towards the finish line and victory in his last ever race.
Or maybe not.
At bang on 30 minutes, Sven seems to have a soft rear tyre. The picture quality is too grainy to see exactly what happens, but it looks as though the rear of his bike is shimmying under power - a sure sign of a problem. From being off the front, he's reeled back in and while he screams into the pits for a super-fast bike change, he goes from 1st to 6th.
For 10 more minutes he fights valiantly. He works his way back up to 4th and really looks as though he could challenge for the lead again, but at 42 minutes he sits up. The grupetto are hammering down the finishing straight to cross the line for another lap and Sven sits up, stretches, slows down by about 30%... and as he crosses the line to start his next lap, he drops his head in defeat.
He keeps racing, obviously - he's the King, after all - but his fight has gone.
As the clock ticks on and the laps notch up, Sven's speed (although still double what mere mortals could achieve) is significantly less than some of his less-stellar rivals and he starts to drop down through the rankings.
As the winner crosses the finish line, the camera goes hunting for Sven. He slowed down to a crawl a few minutes earlier and collected one last immaculately prepared Trek Boone (carefully painted to match his socks and shoes, obviously) in the pits for his swan-song lap.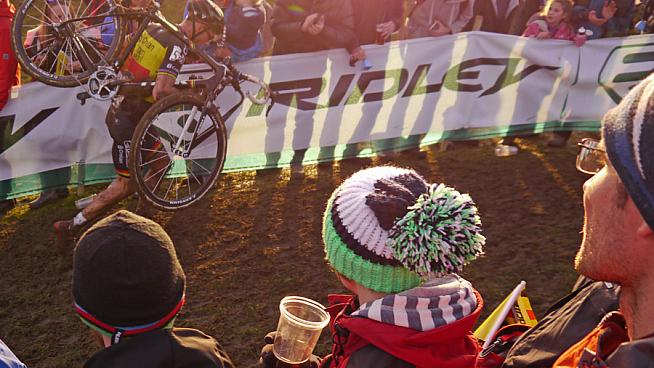 At last the camera finds him. He's stopped at the side of the track, looking over his shoulder. Legions of fans are pushing towards the course, stretching the barrier tape to breaking point as they try and out-selfie each other with their hero in the background.
Eventually it becomes obvious what Sven is doing. He's waiting for his long-term teammate, Sven Vanthourenhout, as he wants to make sure they cross the finish line together.
As the two Svens roll up the finish straight, most of Belgium seems to burst into tears en-masse. Vanthourenhout is so overcome with emotion he can barely steer in a straight line.
King Sven of course manages to maintain his composure. Internally he may be a complete mess, but he manages to stay the King right to the end.
With the deafening sound of thousands of mad, beer-addled Belgians willing them on, they make it up to the line and as they cross, a confetti cannon is fired, showering them with multi-coloured strips of tissue paper. Perhaps not quite the end that Sven deserved, but his fans are such a disaster zone of emotion, I'm surprised anyone had the wherewithal to actually fire the canon at all.
I'm not really sure what happened after that, as the damn dust levels rose dramatically in my house and got in my eyes, causing some blurriness and general loss of concentration.
For as long as I can remember cyclocross meant Sven and Sven meant cyclocross. Now that his reign is finished, who knows what will happen next. One thing's for sure, there are plenty of young pretenders all vying for his freshly vacant throne.
The King is dead. Long live the King?
0 Comments