This summer has been long and warm, but now, with the nights drawing in and a definite autumnal chill in the air, it seems a perfect time to pack up a bike and head down to the south of France for a few days sunshine before winter arrives.
This trip has become an annual event for me and a group of friends. It's a lovely excuse to spend a few days riding bicycles together and a great training boost before the winter season—hence why many teams have training camps in nice parts of the world, I guess. Last year we rode Mont Ventoux, but this year we were planning to stay around the Alpes Maritimes.
My mother lives on the Côte d'Azur so we stay at her place, and it's a really enjoyable trip by train; a short hop over to Lille on the Eurostar then a few hours on the very comfortable and pleasant 'duplex' TGV train. Really, I can't work out why people fly so often; it's cramped, a hassle and quite expensive, especially with bicycles. The Eurostar seems to have, at least for cyclists, become a victim of its own success though. Previously you could just hop on the train with your bike but now Eurostar charge to transport them. It's a slightly complex system but essentially you pay a certain amount to take your bicycle on the train on which you're travelling, although you pay considerably less if you don't need a guarantee that it'll be on your train.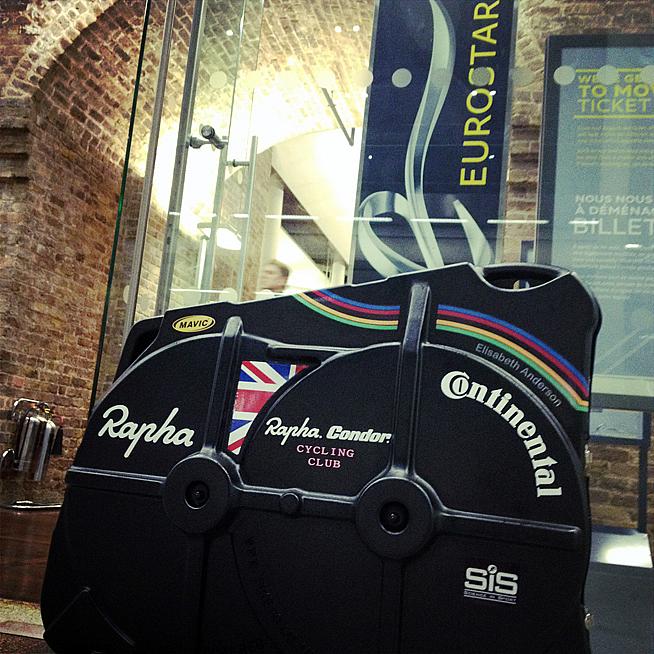 Our bikes needed to be in Lille waiting for us but instead of paying the premium we dropped them off at St Pancras the evening before our departure so they'd be at Lille by the time we arrived, paying just £10 (€14 for the way back). As it turned out they were on our train, so it was easy to pick them up and walk the few yards or so to the platform to catch our TGV connection. Watching France pass by a train window is a great way of seeing that beautiful country, and leaving London just after 6.00 am, we were having a glass of rosé on the balcony by 6 o'clock that evening.
As we'd packed our bikes in hard cases for the trip we spent the first day re-assembling them, buying in provisions for our stay and planning the routes we wanted to do. Route planning used to mean sitting with a map and writing out cue sheets, but now it's creating a route in Strava's Route Builder then exporting the GPX and uploading it to all of our respective Garmins; a daily routine.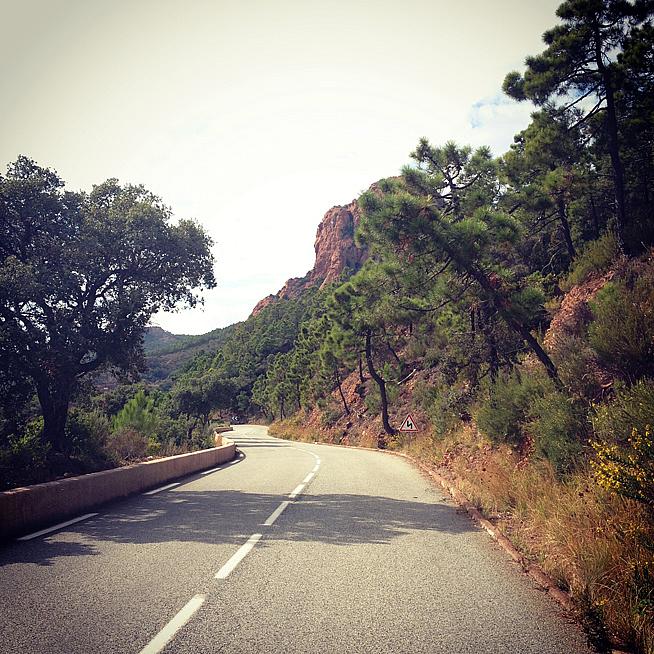 Day 1: Estérel Forest
Our first ride was an 80km loop around the Estérel Forest on the Côte d'Azur. Although we'd all brought winter kit, none of us were out of lightweight summer kit for the duration of our stay there; the sun was shining as we paced along the coast towards Théoule-sur-Mer and out across the ragged and rocky coastline, the rocks of which are a deep red colour. We swept up and down the coastal road, well-surfaced and fast but not too busy with cars—and certainly cars seem to give you more space in this part of the world.
Near Agay we cut inland away from the coast and headed up towards the first climb of our trip, the slope of the Col du Testanier. Reaching only around 300m it's quite a gentle climb, but with over 15km of constant uphill and in the warmth, it stretched our legs. It really felt like we were in France now as we gulped in the fresh air! The descent is stunning too, losing that height over a similar distance and providing a long descent which we swept down, reaching 60kph past beautifully forested slopes and back towards where we'd started earlier in the day.
Distance: 80.2km Elevation: 1,264m
Strava: www.strava.com/activities/87315410
Day 2: Lac du Saint Cassien to Grasse

Next up we decided to do a loop quite similar to the previous day's, but up past the Lac du Saint Cassien and then towards Grasse. Turning off inland sooner than our first ride, we enjoyed the quiet roads heading through the forest and past beautiful houses, with a view through the valley out towards a stunning cobalt-blue sea and sky.
Unfortunately these were the last quiet roads we'd see for the rest of the day, and by the time we reached the lake we were riding in the gutter of some really busy routes! The time of day and this particular route conspired to mean the ride from the lake to Grasse turned from a pleasant experience to one of constant traffic noise. By the time we reached Grasse we had all had enough of the din of engines so dodged into a quiet bar for a coffee, which turned into a meal. Being quite hungry by this point I really enjoyed the frites and along with a mixed salad and a caffeinated cola drink, I was refuelled.
It had now started to spatter with rain and we still had the 25km or so ride back home, a schlepp that was a combination of being rained on and trying to avoid cycling straight onto motorways, requiring a couple of quick turn-arounds! Hindsight is a wonderful thing, and checking our GPS track when we got home showed that we ended up riding around 40kph and got a bit turned around in the pouring rain, which was probably my fault.
Eventually we got back to near our destination only for my back wheel to slide on a patch of painted road-surface. I managed to shout a warning but before anybody could do anything we'd had one person down on the glass-like surface—not the only one of the trip...
Distance: 83.7km Elevation: 1,662m
Strava: www.strava.com/activities/87593197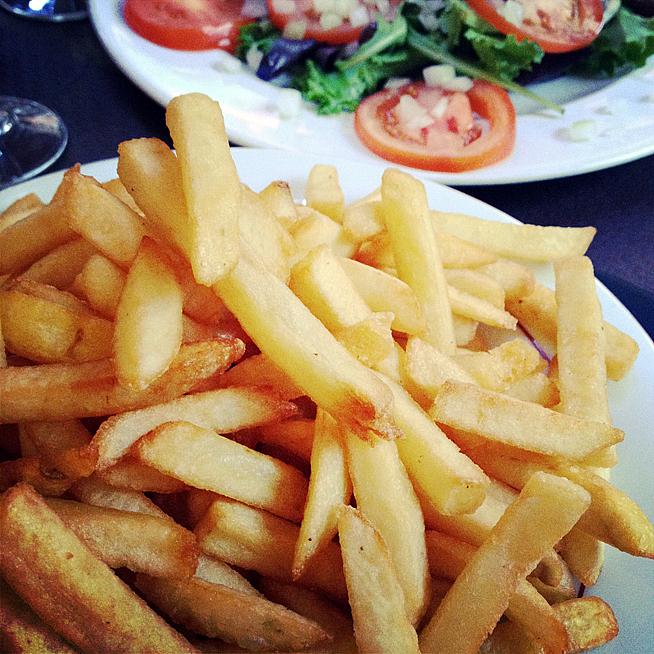 Day 3: Col du Caussols to Cagnes-sur-Mer
The next day we spent mostly relaxing on the balcony and reading books, but as it was my birthday the following day I wanted to do a ride I'd planned since the previous year: up to the Col du Caussols from Grasse and down past Tourettes-sur-Loup and Vence. Deciding to cut out the trek up to Grasse and back from Vence, we planned to get the train up to Grasse and back from Cagnes-sur-Mer, the location for the start of stage 5 of this year's Tour de France to Marseille. Early the next morning I ignored opening cards and presents until later and we were at the station for the 9:23 am train to head up to the mountains...I couldn't wait!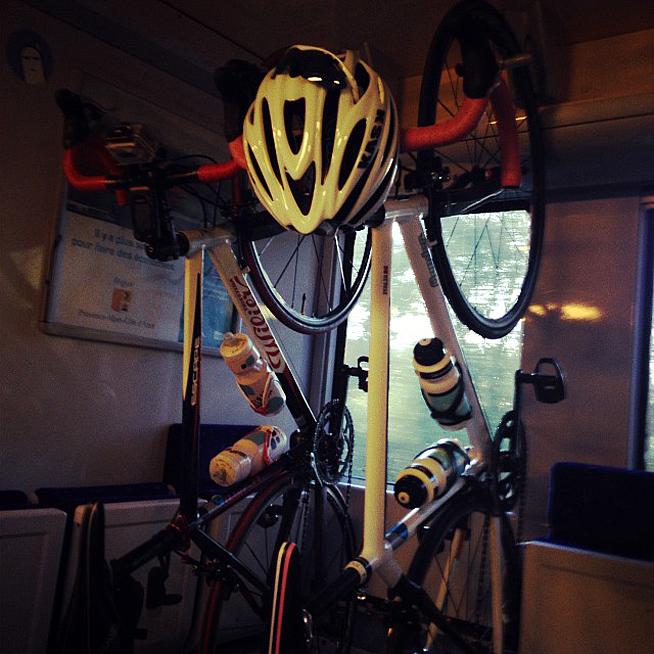 Starting up our first climb (pausing part-way to re-fit a crank arm that had 'come adrift') we passed Châteauneuf-Grasse and on up the stunning roads towards the beautiful commune of Gourdon, where we passed my favourite view of the day and one which is sure to be my wallpaper for the next year. The forest had a fresh smell, full of summer growth but with the dampness of autumn—it truly is the most magical time of year to be riding a bicycle.
After a few photographs we continued and headed up towards the Col de l'Ecre. Strictly speaking the climbs here are two cat 2 climbs, but given you hardly get a breather in between, you feel like you've put some effort in. Passing the faded road-paintings from a race we batted off some of the last flies of the summer, swallowed a raspberry gel and pushed on to the summit; a pleasing 1,100m. As we arrived, thin tendrils of fog were rolling ominously over the lip of the craggy peak. After the climb the summit felt quite cold so we pulled on rain jackets and pressed on through the mist.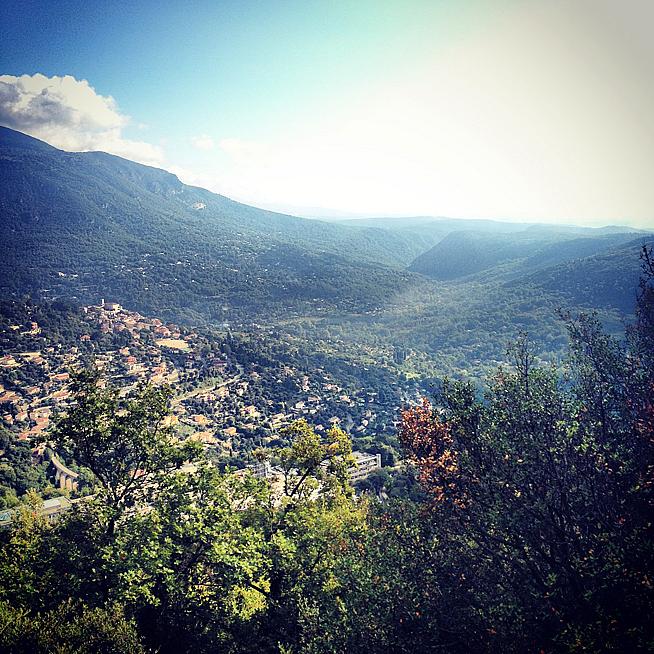 A few minutes later we appeared, quite unexpectedly, in the most stunningly beautiful Alpine meadow surrounded by a crown of mist and rock with the sun blazing down on us. It felt to me like Shangri-La or a long-lost mythical land, although maybe that was the altitude and the effort of riding up there... All of us paced along in a line quite speechless by the surrounding beauty, the sound of cicadas coming from all around us and the wind swirling as we passed through the village of Caussols, its streets empty and entirely quiet.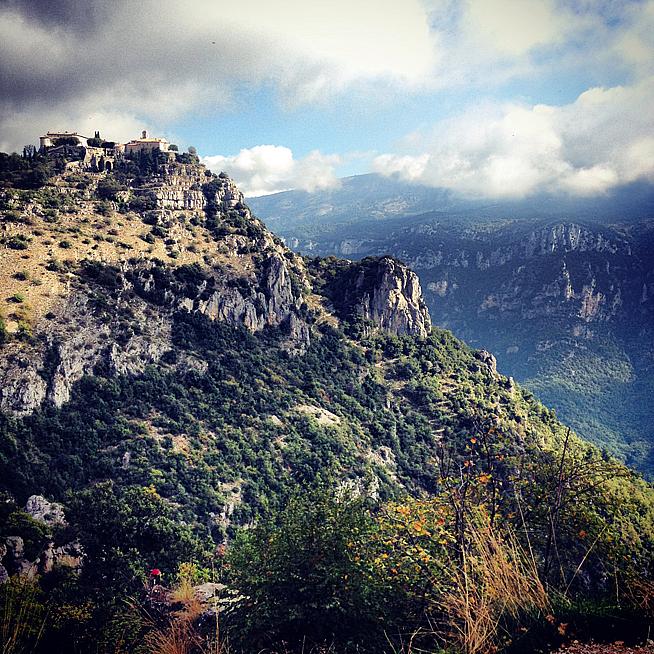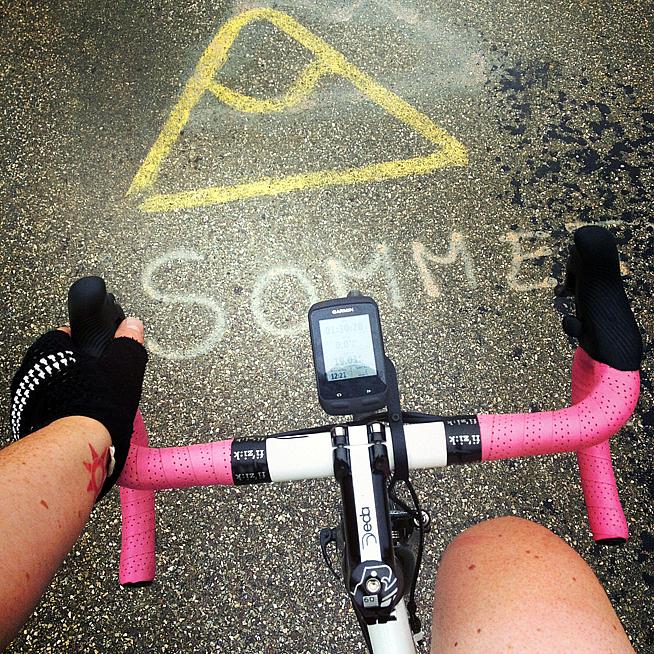 Heading down the north west of the pass, we took the road towards Andon before looping back towards Greolères where we stopped for a drink in the warm sun. For miles we shot down the wide, empty roads on our largest chainrings, concentrating on the descent but enjoying the beautiful scenery that enveloped us. Quickly we were heading down past Cipières and towards Tourettes-sur-Loup on one of the most stunning, and fast, descents I've ever ridden. Tearing downhill past hundreds of feet of tumbling water, towering rock formations and dark tunnels through the mountain we passed a group of cyclists coming the other way. A polite 'bonjour' from us all was quite incongruous with our speed as we shot past them like arrows, our tyres whooshing with the speed.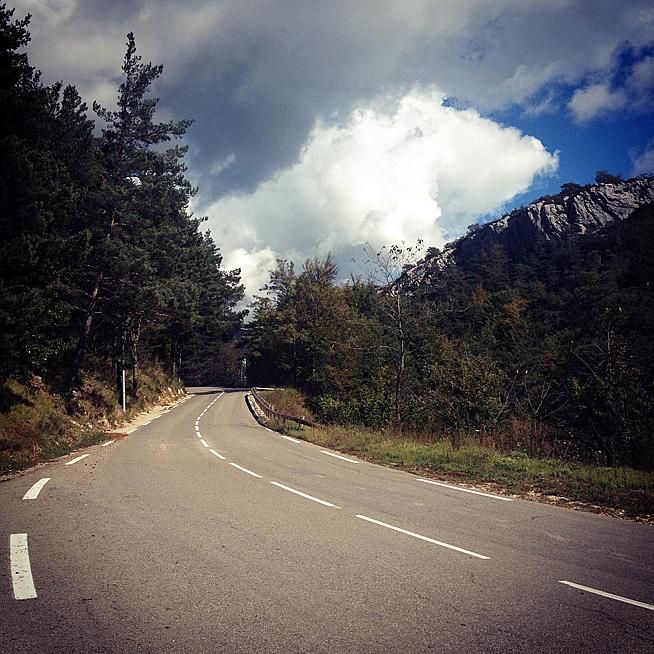 Soon we were passing the gorgeous town of Tourrettes-sur-Loup and through Vence to get our train. By the time we arrived at the station at Cagnes-sur-Mer (and a few loops around the town, which seems to have no signs to the station at all) we were all quite stunned by our day's ride. A quiet trip back home on the train, a shower, and I was soon dragging the rest out for my birthday meal of a pizza, a mound of frites and a mixed salad—I'm nothing if not predictable.
Distance: 90.7km Elevation: 1,686m
Strava: www.strava.com/activities/87998559
Day 4: Antibes mechanicals

After a few drinks that evening we only planned for a short leg-stretch the next day, but as we headed up to Antibes the wind was so terrific that it took your breath away! We managed a slog up the coast but soon turned back, completing a 15km loop; still, it was nice for the legs to get out. Unfortunately, that evening the same member of our group who'd come off a couple of days earlier took another tumble when his chain snapped, which resulted in matching buttock bruises on the other side, a lump on the head and a snapped front derailleur, effectively putting an end to his riding. We did plan to take the bike to Nice to fix but he was pretty beaten up after two offs so was happy to relax for a couple of days instead.
Day 5: Estérel forest closed road loop
I'd had a tip-off from a cyclist called Max who is currently in that area about another loop through the Estérel forest with closed roads so that was definitely on my agenda. So the next day I headed off on a solo mission up the coast roads we'd ridden earlier in the week with a turn-off part-way up a road closed to motor traffic.
Initially the road kicks up very steeply but keeping a good cadence up, you're soon up in the peaks which look more like a prehistoric landscape or the kind of mountains painted behind an old Star Trek set. After the initial climb, the route snakes through the forest maintaining a relatively similar altitude. Dropping down behind the peak that greets you on the first climb, you plunge into a green valley with spires of rock rising all around you before winding around the ribbon of road to the highest point at a modest 320m but with a stunning view of the coast. As I stood leaning against my bike, eating an energy bar and watching the tiny dot of a motor-yacht heading up the coast I wasn't jealous of them at all. I had the road to myself and the sun in the sky...pretty perfect really!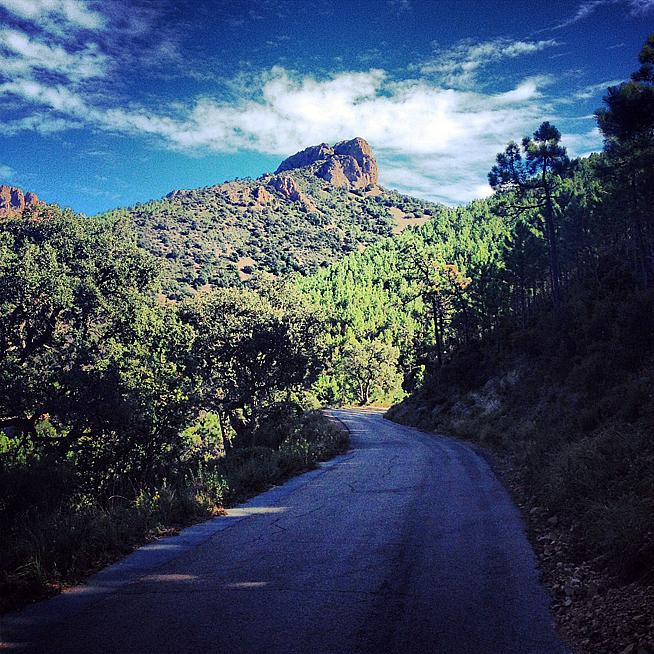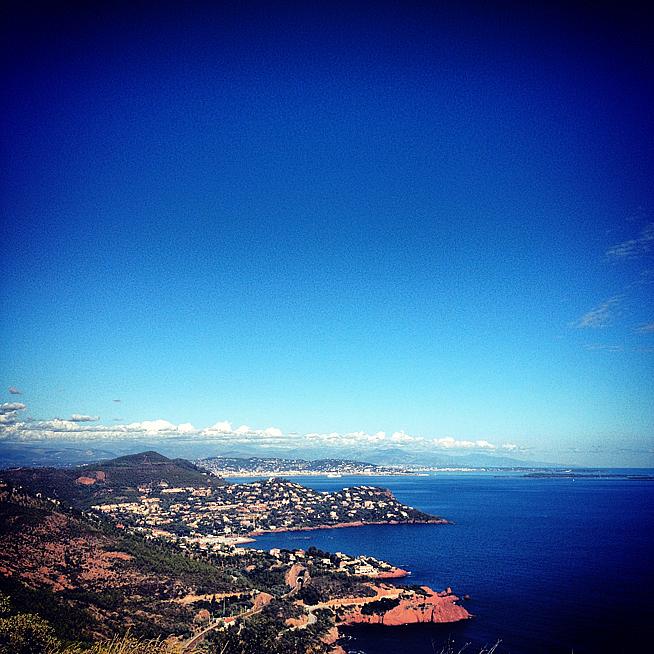 The descent is a rather a pot-holed affair with the kind of road you'd imagine to see in a movie, set 10 years after the zombie apocalypse; one that really needs a bit of TLC. All of the riders coming the other way (of which there were only a few) looked at me in a friendly way but I could tell they were wondering what I was doing on a light road-bike slaloming past potholes, piles of mud and palm branches as they were all climbing up on mountain bikes. After a few more miles I was heading back down the road we headed up when we rode to the Lac du Saint Cassien, until I was back at the sea-front for a lemon sorbet to cool down.
Distance: 58.5km Elevation: 970m
Strava: www.strava.com/activities/88364217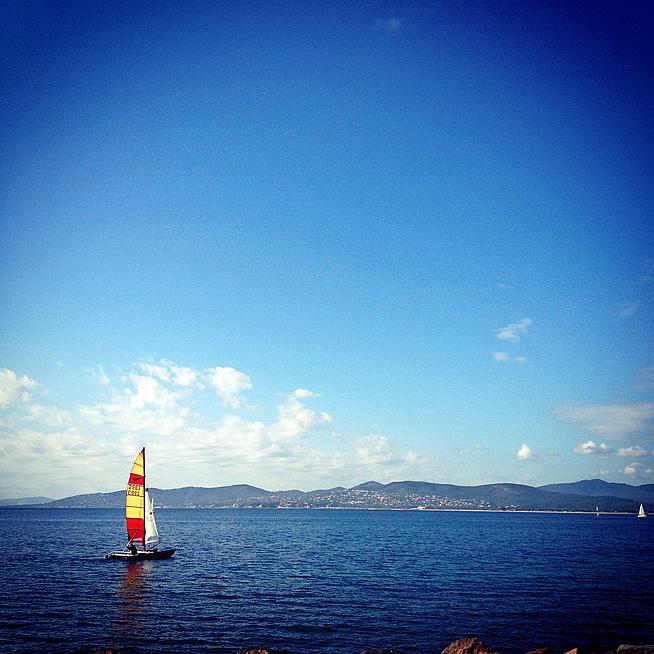 Day 6: St Raphaël
The next day was spent sight-seeing in the old town and getting some more food shopping, so the day after I was keen to get back on the road. The guys were sleeping so I jumped into my kit and grabbed my bike, planning to have a short ride and loop back in an hour or so. Guess I got a bit carried away, as I was soon on my way to St Raphaël, putting in an 80km blast down the coast and back down the same sweeping roads that we'd enjoyed a few times that year.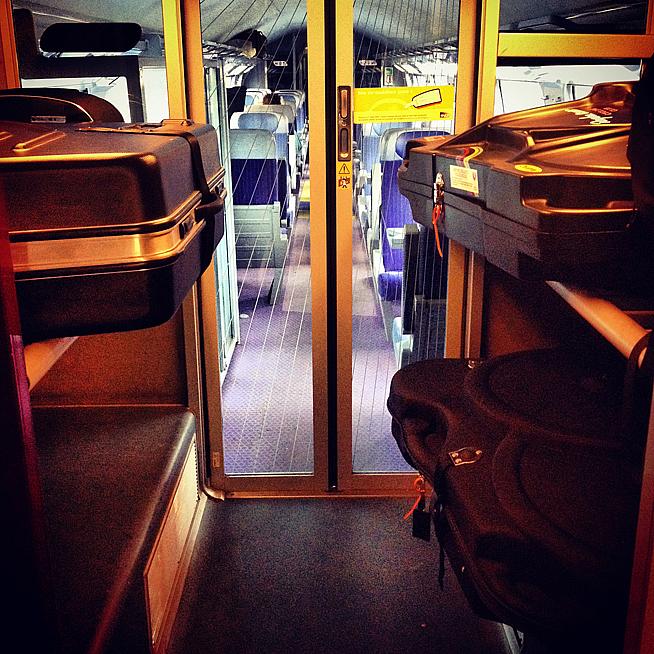 When I got back the guys were up, discussing TfL's provision for cyclists in London. I started the sad process of packing up my bike, velcroing it into position in the case and then carefully packing around it my shoes, helmet, pump...and cans of Crème de Marrons which I'd stocked up on to take back home.
Distance: 80.9km Elevation: 987m
Strava: www.strava.com/activities/88747869
The next day, we hopped on the train back to London and within a few hours I was walking back to my house, steering my bicycle box from St Pancras station in the rain... But I returned with a smile on my face, a hoard of Instagram photos, a topped-up 'cyclist tan', and a good few Strava activities to pore over during the winter season that's fast approaching.
0 Comments