Just when you think you know your bike, what it's capable of and how it behaves, new doors open up to realms of thrills, spills and wonder that you never knew existed. A truly great bike is one that grows with you as a rider, and its versatility is hidden from sight; it must be ridden to be understood.
I didn't really 'get' the Cinelli Mash frameset when I first saw it a couple of years ago. Oversized tubing and clearance for big tyres, yet ultra-aggressive track geometry and no brake drilling. I couldn't tell if it was a track bike doing a bad job at being a road bike, or vice versa. I didn't really like the chrome paint either, so just avoided the thing, feeling bad for being shallow.
Early last year, I spotted the 2015 Histogram colour scheme for the Mash and my curiosity was sparked. It was no coincidence that I had booked myself onto a course at Newport Velodrome to prepare myself for accreditation, and so I knew that in due course I would be in need a track bike to race on, or so was the plan. A number of financial pieces tumbled into place and the order was made. Three desperate days later, and a thing of beauty arrived at Dropouts, the Bristol bike shop where I work.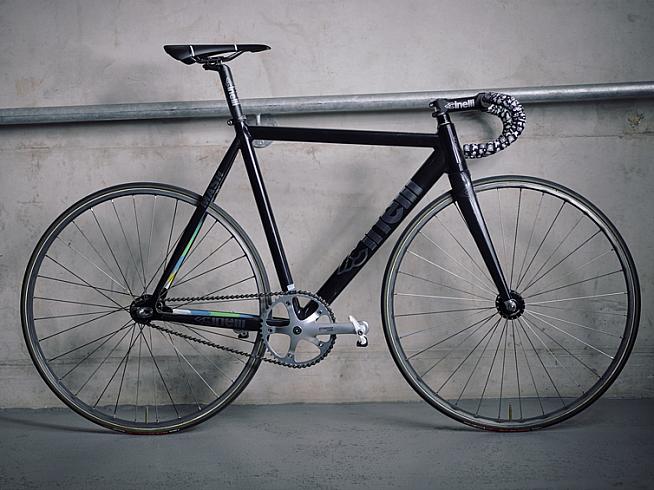 We built this beauty up with two builds: a high-end street setup, and a classic track setup. The only changes are in the wheelset, but the dynamic and endlessly versatile characteristics of the frameset shine through in both.
My first experience of the Mash was riding on the street, where it was intended to spend most of its life. Immediately, I was astounded at the lush ride; the quality of the Columbus aluminium frame speaks for itself in riding. It utilises Colombus' 'Airplane' tubing that changes profile from end to end, optimising stiffness and weight. Looking at the muscular tubing you would assume a lively, frantic ride that many aluminium track frames possess, but quite the opposite is true. Cinelli have managed to incorporate a damping system somewhere in this frameset - it's really solid.
I went for the Medium sizing, but this frame's lo-pro credentials make the geometry somewhat different to a regular setup. It also features a tapered head tube (1 1/8 - 1 1/2 in) which you would expect on most modern framesets.
Compared to the two previous aluminium track bikes I have owned (Colnago Pista, Kinesis Omnium), the Mash Histogram is buttery smooth over the road buzz, but ridiculously stiff at the same time. The carbon fork and big tyres help with this, but it is very impressive nonetheless. There is easily clearance for 28c tyres, possibly more.
The significant toe overlap is something to learn, but the power transfer through the tight frame makes it incredible for punchy riding and aggressive corners. It means you try to lean the bike and rail every turn. Of course, for this to work it requires one to be going pretty fast, and so you find yourself smashing it everywhere. The aggressive geometry constantly reminds you that the bike wants to accelerate and just put the power down and blast up the many hills of Bristol. The steep head tube angle results in whiplash handling, and the rear end snaps out easily when you want it to.
Cinelli claim a weight of 1500g for the frame and 500g for fork, and with this build the bike is light, on par with my 7.5kg road bike.
With current bike trends being leaning towards subdued and subtle paint schemes, it is even more important that the actual finish is done well. Cinelli and Garrett Chow have nailed it on this frame. It looks good on a picture, but it looks incredible in the metal. It would have been nice to find some of the little surprises that Cinelli often put on their bikes, e.g. the stamping on the Experience brake bridge, but I guess the pared back design keeps the frame a bit classy.
The build
We built this bike with complementary components. The frame reflects their quality, and vice versa. The Campagnolo Pista crankset is precise, stiff and looks beautiful. The narrow Q factor suits me perfectly, allowing for a direct line between knee centre and ball of foot - something that I often find difficult to establish on my bikes.
The wheelset we have chosen comprises Stan's Grail rims on Royce track hubs (28h/32h). It goes without saying that in our hands this bike will not be fitted with brakes, so the rims without a braking surface are not only lighter and a better performing choice, but look spot on. They are very wide - 24mm - which helps the tyre inflate to a uniform shape, and the slightly toroidal shape is more aerodynamic than traditional box section rims.
Royce hubs are the jewel in the crown of this build. There is seemingly no resistance in their rolling, no resistance in the acceleration, and no flaw in their lustre. These hubs are made from titanium with 15/4 steel axles. This may seem like over-engineering, but it is in fact not so ridiculous. With spokes becoming stronger, existing hub designs are required to be improved, and we have built these wheels to be very stiff, roughly 30% more tension that we usually build wheels to. Therefore, the highly stiff and near-as-dammit perfectly circular spoke hole + flange setup makes a lot of sense. Royce use machine-tool sealed bearings in these hub bodies, far exceeding the specifications that your regular 690xxxx bearings are made for.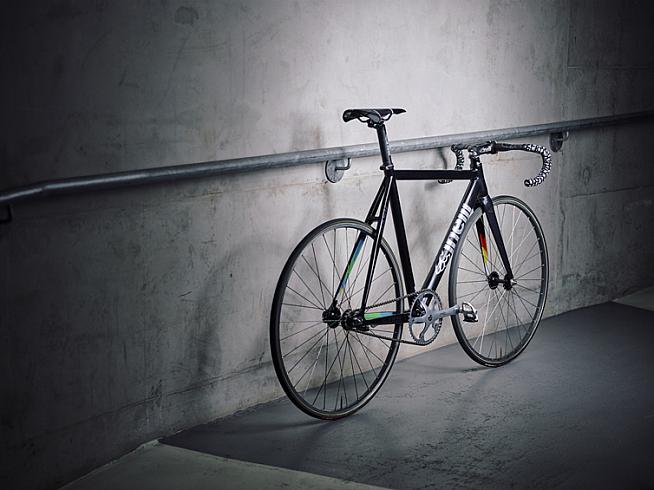 Track test
Cinelli's frame was starting to make a bit more sense to me now. It was definitely fun to ride, and it was definitely a well-built and beautiful bike, but a fun bike doesn't have to be a track bike. So, the only figuring out that I had left to do was to see if it was actually any good as a track bike.
I'd been to a couple of sessions at Newport Velodrome and used the Dolan Pre Cursa hire bike, so this was my comparison point.
I dug out some classic Mavic Reflex tubs that I had sitting around, waiting to be used for this duty. Taking the Histogram to the track, I felt nervous. Today was a proving ground for this bike - I was almost scared of tarnishing my newfound respect for the frame. Walking down the harshly lit corridor to the track, you can feel the bike bouncing and vibrating to all the tiny imperfections of the non-slip lino flooring. As if the frame was fizzing and knew what was coming. I hastily got my skinsuit on, checked the chain tension, and pumped some air into the Pista Tubs - 180 PSI.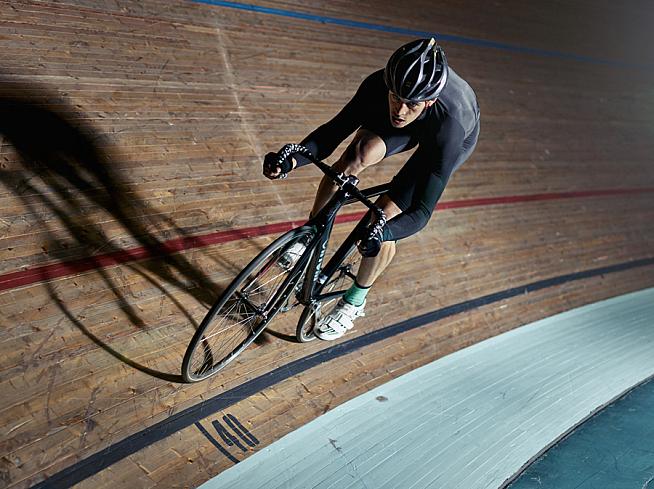 Nerves had now turned to devilish excitement as I rode out on the Cote d'Azur. The 93" gearing caused no dramas - again the stiffness just propelled it forward.
Winding up and gathering speed now. The low-pro makes total sense. Getting low over the bars, far lower than I would on my road bike, and you can feel the wind rushing down your spine. Slightly lost in the moment, driving the bike up the middle of the banking to get up to the blue line I nearly lost it; the super-aggressive geometry favours precise input and control. Noted. But oh-so-hard to not test. As I found on the street, you can just go faster, and faster, and faster. My legs gave out before the bike did - need to go faster still.
I found the Histogram to be comfortable enough to give 10 mile efforts on the track 110%, and still be enough of a whip to feel fast in 500m standing starts. It feels special to be going faster on this honest, straight-up metal machine, than other riders on new-fangled carbon spaceships with disc wheels. Each time I go to the track I can't help but smile at the images of classic Cinelli Lasers in my head. Anyone who owns a Cinelli should be proud of this soulful, iconic brand.
Conclusion
For the reasons that I made apparent in the opening line of this review, I'm scared to say that I know the Mash Histogram. Every time I get off it I'm left beaming, every time I ride the boards I want to go faster. But I'm pretty sure that I 'get' what it is about now. It's not just simply a flashy fixed gear; it's actually a great track bike and a solid street shredder. It manages to pull off both duties effortlessly, and that really is the crux of riding fixed. The Histogram is as capable as you will ever be.
Cinelli Mash Histogram, £1624.99 from dropouts.cc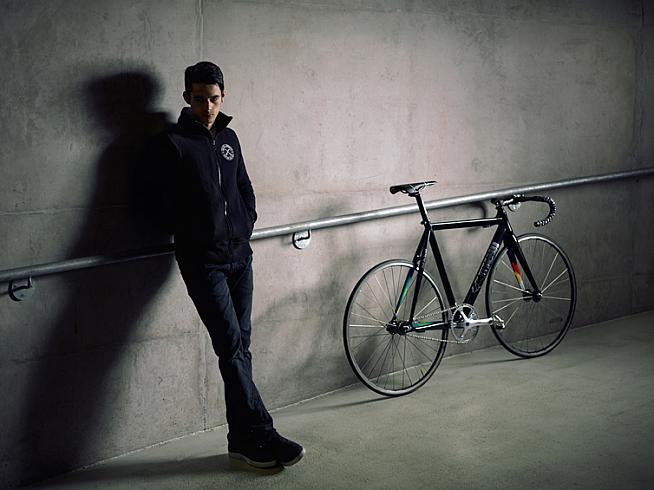 0 Comments