Overshoes mightn't be the sexiest bit of cycling kit out there, but on a cold or wet ride they can be your best friend. Hailing from Sonoma County, California - a state which I naively imagined was bathed in eternal sunshine - VeloToze claim to have reinvented the shoe cover with a snug-fitting rubber cover that fits over your regular cycling shoes.
Sportive caught up with VeloToze at the Core Bike Show recently and got hold of a sample of their 'tall' version for testing. And, after riding a few miles in VeloToze's overshoes, I'm pretty impressed.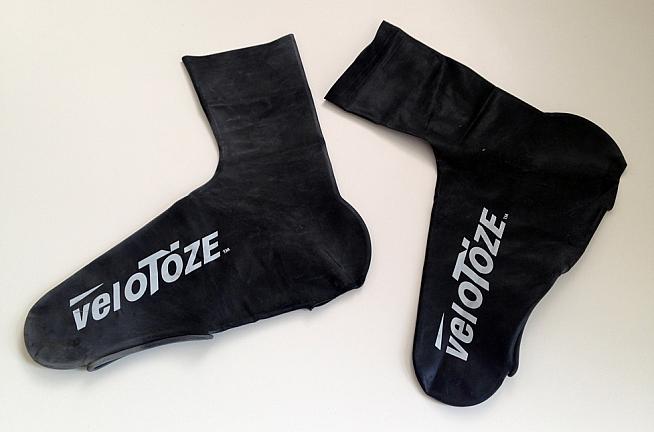 The VeloToze is essentially a rubber sock. Unlike other overshoes there is no fastening mechanism - instead, you have to put the VeloToze on before your shoes, rolling it over your foot and up your ankle first. Once you've put on your shoes, you roll the VeloToze down over the top of them.
There are two holes cut out in the sole to allow your heel and cleat to poke through; apart from these holes the VeloToze forms a watertight seal, clinging to your shoe and ankle like a hungry octopus and leaving wind and rain with no chance to penetrate.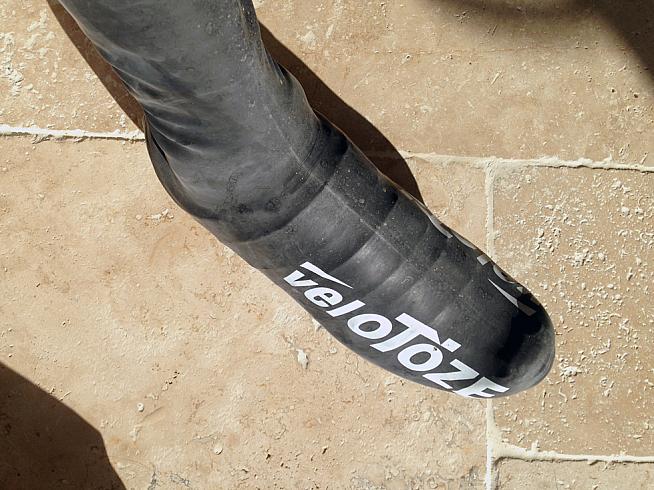 VeloToze is a classic case of a product that has one job and does it well. It's also pretty aero into the bargain, lending your foot and ankle a streamlined profile to help cheat the wind. Our sample pair weighs 107g (compared with 185g for my neoprene Planet X overshoes) so they are relatively light too.
If VeloToze has one drawback over typical neoprene overshoes it is ease of use. Getting the tight-fitting rubber over your feet, and off again at the end of a ride, is a mini workout in itself. That said, it gets easier the more you do it. I was initially worried I might tear the shoe cover because of the force needed to pull it on, but VeloToze seems to be made of pretty tough stuff.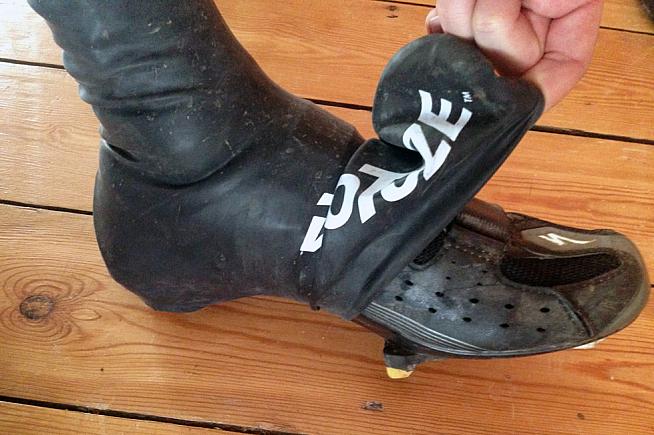 VeloToze is available in two versions: the 'tall' version for colder climes, and a shorter, ankle-length version. Being waterproof rubber and tight-fitting you can expect to find your ankles a bit damp when you strip off the VeloToze at the end of a ride, but I didn't experience any discomfort during use. In fact, it's one of those garments you don't notice you're wearing - a good sign that something is doing its job.
Bottom line: if you're looking for some lightweight overshoes to keep your feet dry on the bike, VeloToze is definitely worth a look.
VeloToze shoe covers are available in a range of colours priced $13 (short) or $15 (tall). Shipping to the UK is $9.99. For more info, see www.velotoze.com.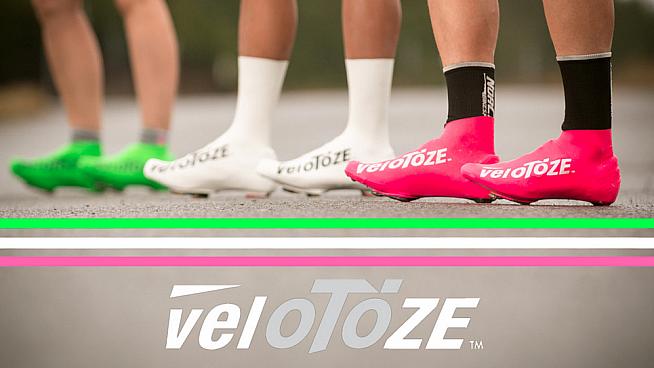 0 Comments