Quick - to the pain cave! If you notice fewer cyclists out on your club ride over the weekend, and suspicious groans emanating from garages and spare rooms, it might just be because today sees the start of the 2015 Tour of Sufferlandria. Thousands of cyclists are expected to take part in the nine-day "Grand Tour" of the fictional land of Sufferlandria, with proceeds going to charity. Entrants are eligible for a host of prizes including a trip to the Spring Classics, carbon wheels and signed team kit.
So what is the Tour of Sufferlandria? Now in its third year, the tour originated with The Sufferfest, creators of the popular and notoriously tough series of indoor training videos for cyclists, and is basically an indoor cycling stage race that you can do at home on your cycle trainer. "Sufferlandria" is the setting for the action, and the tour involves participants riding a prescribed number of Sufferfest training videos each day, for nine days in a row.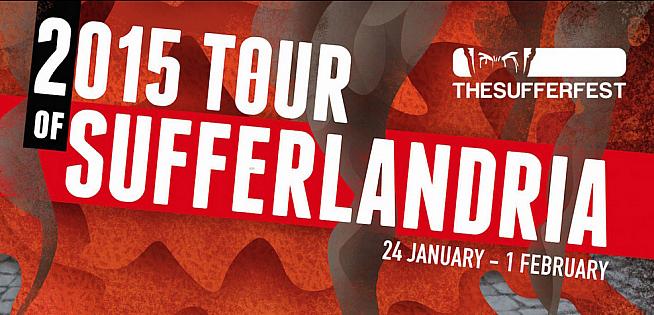 All you need to take part is some rollers or a turbo trainer, and access to the Sufferfest videos - a selection of which are available free to Premium Members on Strava. There's no registration fee for the Tour of Sufferlandria, but to be eligible for the prize list participants must donate a minimum of $10 to the Davis Phinney Foundation.
While suffering in your garage or spare room can be a lonely pursuit, there is an official "race village" on the Sufferfest Facebook page where you'll find all the encouragement you need to push through to the end. Riders have a 50 hour window to complete each day's stage, so there's still plenty of time to get involved.
If you're struggling to get out on the bike thanks to less than optimal meteorological phenomena, the Tour of Sufferlandria could be just what you need to kick-start your cycling year. We'll leave the final word to Race Director Grunter von Agony:
"We make route for those seek GLORY," says Grunter. "You want easy, you do Tour Down Under. You want donuts, you do Couchlandria Tour. You want ATTACK ATTACK ATTACK ATTACK ATTACK you ride hard in Sufferlandria."
0 Comments