After its successful inaugural event last October, the London Sports Writing Festival returned to Lord's cricket ground this year with a whole day devoted to cycling. Michael Hale reports from the session with British Cycling's Phil Burt.
As head physiotherapist at British Cycling and consultant to Team Sky, Phil Burt has a key role in implementing the famous marginal gains strategy used by his respective bosses Shane Sutton and Dave Brailsford.
An ex-rugby playing bear of a man, Burt woke up the slightly sleepy Sunday morning audience with British Cycling's adrenalin inducing highlights package of the past 17 years or so. And what highlights they are! Seeing the Olympic gold rushes, tour triumphs and rainbow jerseys again made me realise anew just how far we have come. From cycling minnows all the way to Buttertubs Pass.
With his credentials firmly established, Burt explained how making tiny improvements to every element of a bike and its rider can add up to give a small but decisive advantage.
"An improved skinsuit made the difference when a sprint between Chris Hoy and Frenchman Gregory Bauge was decided by photo-finish," noted Burt. "At that level it comes down to the finest margins and even the slightest advantage can be the difference between gold and silver. Of course you still need a world class athlete putting in the hard work and putting everything on the line during races.
"There is a theory that the willingness of an athlete to go into the red zone and risk physical breakdown is what sets the champions like Bradley Wiggins apart from the rest of the field. At British Cycling we've had other riders with similar numbers to Brad but they don't get the same results in competition. You cannot replace the athlete putting in the hard yards. That's not what we are about. The analogy we often use is that the hard work is the steak and the marginal gains are the peas."
British Cycling has led the way in technical improvements of every imaginable sort in recent years. Ridged skinsuits, helmets utilising superlight honeycomb aluminium and hollow cranks made with 180 separate pieces of carbon fibre are just some of the innovations that have helped British riders dominate velodromes.
But it's clear from what Burt says that despite the successes of the past, complacency is not an option. Rival teams are quick to mimic any advance, so the impetus is for continual improvement in order to stay ahead.
"A lot of the low hanging fruit in terms of things to improve has gone now," said Burt. "When we were asked to make a difference to the Sky riders on the Tour de France, we came up with a 'bed-in-a-bag' tailored to each rider that could be transported with the team and set up each night in the hotel. This allowed the riders to sleep better. Many of the other teams have since copied this approach, and we have to look elsewhere."
Obviously cutting-edge gear and support are beyond the means and needs of recreational riders, even if a bed-in-a-bag does sound tempting for a good night's rest ahead of La Marmotte. So what are Burt's marginal gains for mere mortals?
"The first thing that springs to mind is weight, and by that I mean of the person rather than the bike," said Burt. "I regularly fit chief executives of potential sponsor companies who agonise over buying carbon cranks when they could gain much more by simply losing at least some excess weight.
"Another aspect to consider is tightening up your skinsuit or clothing. I see people with clothing flapping about who are making their ride more difficult than it needs to be. The tighter and closer fitting, the better from an aerodynamic point of view.
"The final thing is to cycle with intelligence. I realise that sounds very vague, but it just means being smart about how you go about the various facets of cycling and getting the basics right. From establishing a good bike position to refuelling properly, this will make a big difference. Ninety per cent of what you can achieve on a bike is taken care of by eating clean, riding hard and sleeping well."
Burt's book, Bike Fit: Optimise Your Bike Position for High Performance and Injury Avoidance is aimed at enabling recreational cyclists to benefit from his expertise without paying the hefty fee required for a personal consultation.
"The average sportive rider has very different needs to a pro," says Burt. "They won't benefit as much from an aggressive aerodynamic position and often should prioritise the comfortable position that will get them through a long ride. There's not a particular bike fit position that everyone should be aiming for, but riders should be within a certain range which I call the fit window. It really helps with minimising injury and performing to the best of your ability."
Phil Burt's book, Bike Fit: Optimise Your Bike Position for High Performance and Injury Avoidance, is available from Amazon.co.uk priced £12.91.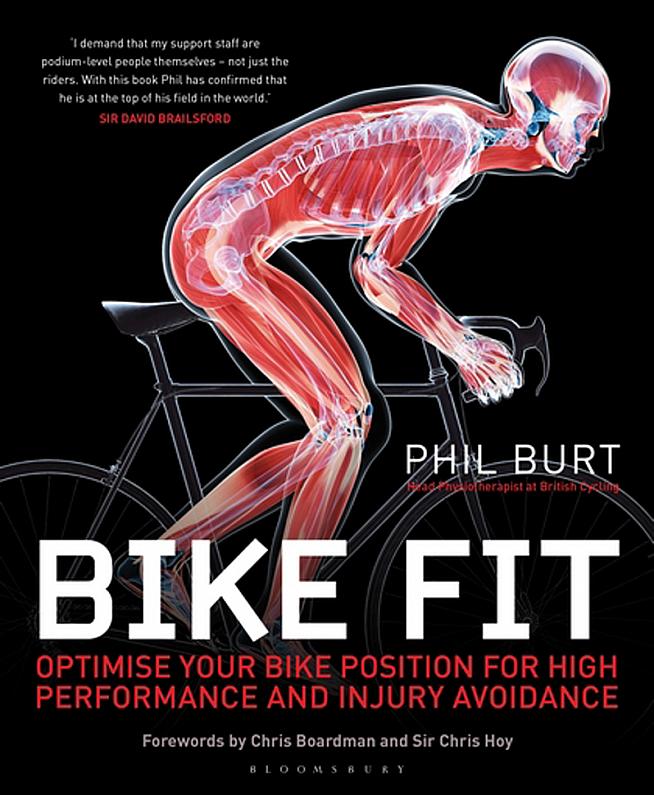 0 Comments