At first glance, the NSPCC Tour of Yorkshire sounded great: "...A unique, multi-day weekend of sportive riding, which gives riders of all abilities the opportunity to feel and ride like a pro with support from domestiques, lead cars, soigneurs, mechanics and motorcycle outriders." That part sounded great: it was the next bit - 182 miles and 10,000 feet of climbing - that were more of a concern. I hadn't yet ridden 90 miles in one day, let alone twice in a row.
In addition, my form had been a little off lately - a crash a fortnight earlier had resulted in a hole in my elbow being glued back together in A&E and my poor damaged bike back in another bike shop for the nth time this year, which meant no riding at all in the weeks leading up to the event. Despite this, Dad and I headed north to York on a Friday in July. We checked into our booked accommodation in the University of York's James College (a nostalgic reminder of my old Halls of Residence days) - which were available at a special rate for the Tour's participants - and headed out for a less institutional dinner option in the form of the nearby Deramore Arms' pub garden and BBQ. After what I maintain was a 'healthy' protein and carbs dinner of burger and chips, we retired to our student rooms for an anxious night's sleep.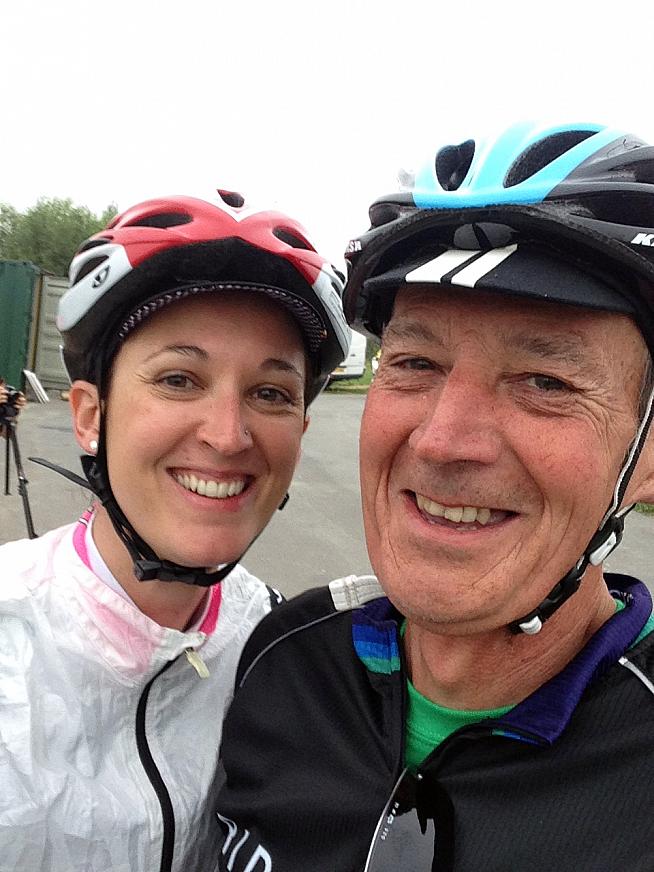 I've never started a cycling event by shaking hands and introducing myself to a group of riders before, but it was a novel way to begin the day's activities at 6.30am the next morning. It was also a nice way to get to know people, which was important as we'd be spending the weekend riding together. Unlike a typical sportive, the Tour of Yorkshire groups riders into 'sportive bubbles' which keeps everyone riding at a constant pace. This would enable us to stay grouped together on the road, causing the minimum of disruption to the traffic and helping to keep the support vehicles and teams with us. There are four different groups you can join: I had chosen the slowest group (Group 1: average riding speed 12-14mph) with about 20 other people including my dad. The fastest group is 18mph+ so there's a group to suit all abilities.
Formed up as a peloton, we do a quick loop of the Sport Village's 1km cycle circuit (a lesson in how all tarmac should be laid) and then we're off, following our Ride Manager Tess, who is our pace-setter and navigator for the weekend. Having arrived first this morning, Dad and I have accidentally managed to find ourselves on the front of the peloton. Tess is a track champ and it shows: the pace isn't sluggish and the first 20 or so miles are pretty flat so we're averaging 18-20 mph. Thank god my legs feel rested. It's damp and misty and the landscape we whizz through is mostly an indistinct grey blur of small villages and farmland.
After 20 miles, there's a food stop - or Hub - in the car park of a pub. It's a Pub Hub, and it offers an opportunity to stretch legs and arms and backs and refuel with the complimentary gels and bars. The stage that follows is a bit lumpier as we head east and then north over the Yorkshire Wolds, and this starts to string the group out a bit more. At 50 miles, there's another stop: lunch is provided and the rolls, crisps, homemade cake and - joy of joys - cups of tea and coffee are most welcome as the rain continues to drizzle.
There is a long climb shortly after lunch and it seems to go on forever (in reality, it's about five miles). It's incredibly muggy, the air is thick and unmoving and I am covered in thunder flies. Covered. They are tickling my face and I cannot get rid of them because I am grimly keeping ahold of the handlebars as I continue climbing. On the descent into Thixendale that follows, the little buggers get blown off and it's a relief to feel a breeze on my face. I join up with Sarah, a friend of a friend who has also found the climb in the heat tough and we work together to catch up with the main bunch. We have a few miles' respite through the lanes before we reach the day's big climb, 70 miles in. Hanging Grimston is the Tour's first King/Queen of the Mountain stage: a 1.5 km, 153 metre climb with an average gradient of 10% and a maximum of 20%.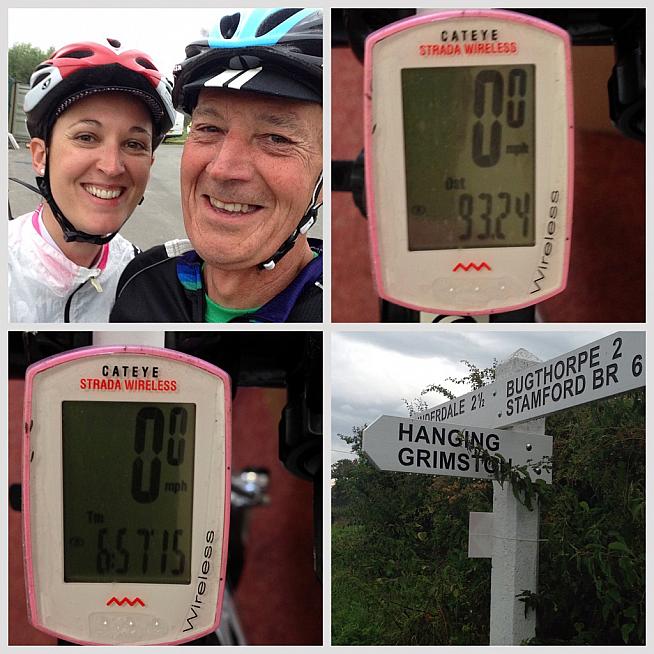 This is the point at which the thunder flies' presence is sadly realised when the heavens decide to open. Having negotiated a steep descent into a temporary water feature (the by now flooded Salamanca Beck) to get to the bottom of the climb, I wait to be counted over the line with dripping feet and a sinking heart - I don't even have the luxury of downhill momentum to carry me up the incredibly steep first 100 metres (apparently a 15-20% gradient, I looked it up). You know a climb is steep when you can see how steep it is. It looks like a vertical ascent ahead of me. I get up it, the ground levels out and then ascends again, but nowhere near as steeply, across an open bit of moorland. The road surface, on the other hand, leaves a lot to be desired. As thunder claps overhead and the heavens really open, I am struggling to find a line and cursing the road, the potholes, the weather and my legs.
I turn into the final section: a road lined with beech trees, passing an old 1-in-6 sign and climbing still at 16%. I have to stop for a breather but I'm buggered if I'm going to get off and walk. Still climbing, I pedal on. Things are really hurting now and as I near the NSPCC crew who have turned out to greet us, my jaw is locked around gritted teeth.
After that the road levels out and it's a short-ish pedal on shaky legs to cross the stage finish line and regroup with the rest of the crew. It's properly wet now and I swap my gilet for a full waterproof but it's not really worth it. The next sportive bubble, Group 2, has caught us up so we chat with friends and strangers, exchanging stories about our KoM or QoM experiences.
After that it's a fairly steady but very wet ride to the finish back at the York Sports Village. As I cross the line I am aware of the huge grin on my face and the feeling of elation that sweeps across me. After a final lap of the race circuit, we're finished for the day! Just over 90 miles and I'm still standing. After a very strong coffee we head back to James College for a hot shower and the Yellow Jersey Dinner with our fellow riders. Yorkshireman and former pro cyclist Barry Hoban is our guest speaker - the only Briton to have won two consecutive stages of the Tour until Mark Cavendish matched it in 2008. He tells great stories from his heyday in the Tour and other classics, and I manage to stay awake through the whole dinner, before heading back to a room full of smelly damp Lycra.
Day Two
Sunday starts with another massive thunderstorm at 3.30am. Luckily when I wake up again properly at 5am, it's stopped raining. It's another 6.45am rendezvous, a fact that doesn't seem to have been communicated to anyone else in our group. However, do note that if you travel with your father, you're not just on time, you're early. For everything.
Group 1 sets off at 7.30am. The morning is overcast again, and we take in the historic stateliness of York and the Minster through damp, empty streets (it is a very early Sunday morning after all) before rolling out of town again, two by two along flat roads through farmland. It gives me a chance to chat to new people and exchange cycling stories. There are quite a lot of semi-local Yorkshiremen amongst the group, who sort of know the area, but sort of don't. I also love riding in countryside I don't know. The route takes us through North Yorkshire's pretty villages, including Tollerton, Alne and Easingwold, where Tour fever is still in attendance - I spot yellow flags, yellow bikes and we even get some waves and cheers as we roll through.
After the first hour, it really starts to brighten up and then it is hot and relentlessly muggy. There is no breath of air and again I am glowing like a Belisha beacon as I climb the hills. At the top of one hill, we regroup and look over to the pass where Boltby Bank, the second KoM/QoM of the weekend, is located. It is a mile-long, 25% climb that has been dominating everyone's conversation for the past two days. Also over in the distance is a spectacular white horse carved into the hillside - it is the Kilburn White Horse: 318 feet long and 220 ft high, it is said to be the largest and most northerly hill figure in England. It looks amazing.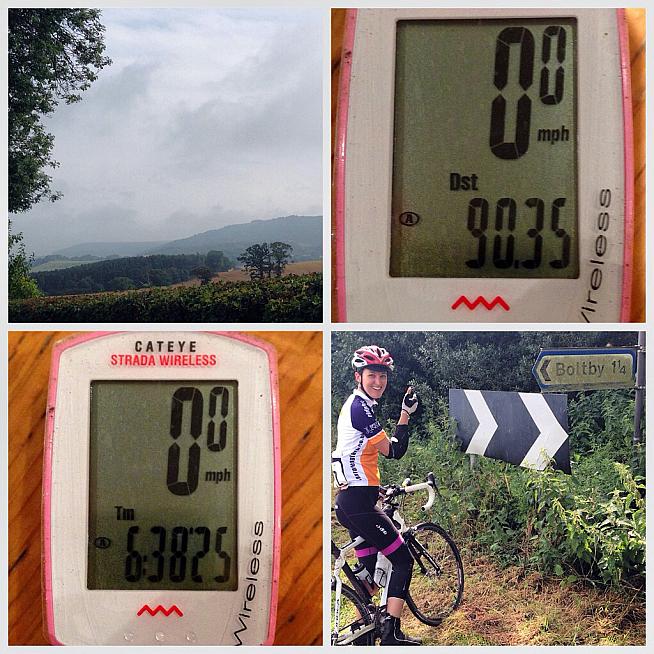 At the base of Boltby Bank, we are set off at intervals and the timer starts. I make it around the first corner and up another slope but then need to stop and see if my legs are going to stop shaking. I set off again but the slope above is a vertical warning. I decide to be prudent, and dismount before I fall off. As I round the corner, I am relieved to see that everyone else in front of me is walking too. This hill is so epic that even walking up the hill pushing a carbon fibre bike begins to seem like a struggle (I blame the heat and the gradient!). I have to laugh when the lady in front of me takes off her shoes because they are making her calf muscles ache, and continues to walk in her socks. I follow the trail of warm footprints up the hill, wishing I could be bothered to do the same.
At the top, we remount on wobbly legs and make it over the timed finish line - around 20 minutes after I crossed the start! Our group's Queen of the Mountain made it up in around 11 minutes. Never mind, though, even walking up this hill has been quite an experience. And Frank, a fellow member of my club VC Bristol, has made it up. He is a legend.
After the climb comes the rewards: a stunning descent of 25% through Peak Scar Wood, spectacular views over Hawnby and empty lanes which we take full advantage of. After that comes a long, flat slog to lunch that seems to go on forever. And ever. And ever. We are all starving and flagging. It is the longest 20 miles I have ridden. The lunch stop at a village hall in the middle of Salton is the most welcome sight I ever have seen, and I eat as much as I can as fast as I can.
The great thing about this ride is the support vehicles - not just the motorbike outriders but also the paramedics, who are kind enough to provide me with both cold spray and paracetamol for the aches which are starting to set in after more than 140 miles of riding. Stage three, after lunch, takes us through the grounds of Castle Howard. The road is long, undulating and completely straight and we pass through a number of stone gatehouses and archways heading towards the obelisk on the horizon. It is quite something.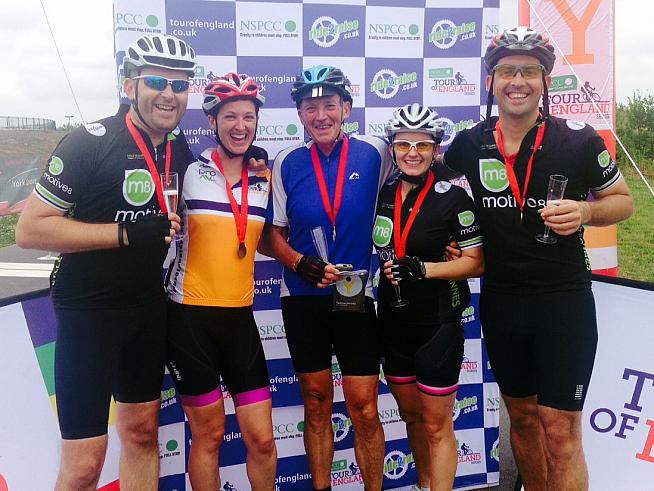 After another food stop, the final stage of the day has everyone smiling slightly in relief as we stretch out our achey limbs: the end is in sight. The final ride to the Sport Village is short and fast and we get quite spread out on the ride in to the finish. At York Sport Village we do a final celebratory lap and attempt to cross the line with the guys we've ridden with the most - I'm not sure if we manage this (I'm too scared that I'll take one hand off the handlebars and fall over). A medal, a celebratory glass of bubbles and a goodie bag are welcome treats for the finishers.
We shake hands with our fellow Group 1 riders and wait to cheer on those who have come in behind us. What an amazing day - there has been not a drop of rain all day, in complete contrast to the day before, and despite the fact that I had to give in, get off and walk up Boltby Bank, I have still cycled more than 180 miles. At the time, I am too tired to appreciate it, but by about Tuesday, the fact sinks in and the feeling is incredible.
And at the end of it all...
This ride - although a tough one - offers some truly unique experiences. The sportive bubble means you ride with the same people for two days, making it feel really friendly, while the motorbike outriders (one of whom was a real character with an excellent line in 'dad' jokes) made you feel supported, safe and well looked after. Having a Ride Manager was good for pace-setting and not getting lost; and of course, seeing a completely different part of the country, whilst finding a happy balance between riding at a decent pace without being disheartened by it, was a great boost to both confidence and fitness.
If you're interested in trying out the tour experience for yourself, there are two events next year: the Tour of the South East (6-7 June 2015) and the Tour of Yorkshire (18-19 July 2015). I loved it, and I'd highly recommend it!
3 Comments