This year's Broadgate Estates CYCLE TO MIPIM 2014 exceeded all targets, raising more than £250,000 for charities in the UK and abroad thanks to a combination of generous personal and commercial sponsorship.
This brings the overall total raised by CYCLE TO..., organisers of the annual multi-day ride for the property industry, to more than £1.75 million for its charity beneficiaries: Coram, the UK's first ever children's charity, which receives two-thirds of the money raised, along with Article 25, Emthonjeni Trust, Multiple System Atrophy Trust and Tom's Trust.
CYCLE TO MIPIM 2014 was a truly spectacular vintage, with sublime weather from the start at More London on Thursday 6th March, to the finish, six days and 1,500km later, at the MIPIM International Property Fair in Cannes. The event gives an amazing professional ride experience and sense of camaraderie amongst the riders, with networking taking place as they ride ahead of the arrival at MIPIM.
CYCLE TO... have produced an infographic to illustrate the behind-the-scenes logistical support required to get the peloton from London to Cannes in six days. A total of 98 riders completed this year's event, some of them riding for 14 hours a day, to traverse France by pedal power alone. All sectors of the property industry were represented by the riders, key sponsors and smaller alloy ones, including property management, developers, construction, architects, estate agents, home builders, planners and design consultancies, structural and civil engineers, law firms and local councils.
Steve Whyman, MD of headline sponsor Broadgate Estates, commented, "We're absolutely delighted that this year's ride has surpassed the 2013 fundraising total and we would like to thank all those who sponsored and supported the event. This was my fourth CYCLE TO MIPIM and the great weather combined with the fantastic logistics and support made the ride an unforgettable experience. Once again, we were proud to be the title sponsors: not only is this is a unique and challenging event but it is also a great platform for the superb work that Coram does helping some of the UK's most vulnerable children."
The riders were greeted on their arrival into Cannes by Mayor of London Boris Johnson, who congratulated the riders on their achievement and accepted the relay baton which had been carried by the cyclists all the way from London. Former pro-cyclist, Malcolm Elliott - the first British rider to win points in the Grand Tour - was also there to welcome them into Cannes and hand out the medals.
Nick Hanmer, Chief Executive of CYCLE TO..., commented, "A huge congratulations to all the hardworking riders for their cycling and fundraising efforts. This year's event signifies that strong optimism in the property market has returned; reflected both in the interest in ride, with places for this year's event oversubscribed by 40%, and the increasing sponsorship from both commercial sponsors and individuals. We're also seeing the event's reach spreading beyond the London property market with a growth in support from non-London-based companies and riders. CYCLE TO MIPIM came of age this year and it's a fantastic springboard for our tenth anniversary next year."
Carol Homden CBE, Chief Executive of Coram, said, "The success of this incredible challenge event will allow Coram to change the lives of thousands of children. CYCLE TO... is helping us deliver our health and drug education programme, Coram Life Education, into nearly one in five primary schools. It also supports our adoption service, where time and again we see the right family transform exceptionally vulnerable children's lives through love and security. We are grateful to every rider and to the CYCLE TO MIPIM team for what you have achieved for these children."
CYCLE TO MIPIM gives the riders, some of whom only began cycling in October, the opportunity to experience what it is like to be a pro rider, with rolling road closures, support vehicles, mechanics and sports therapists.
Broadgate Estates Cycle to Cannes 2014 was sponsored by headline sponsor Broadgate Estates; team sponsors Aedas, Argent, Elliott Wood, Invest in Nottingham, H2SO and Savills; support team sponsor Knight Frank, and mechanics' team sponsor Berkeley Group.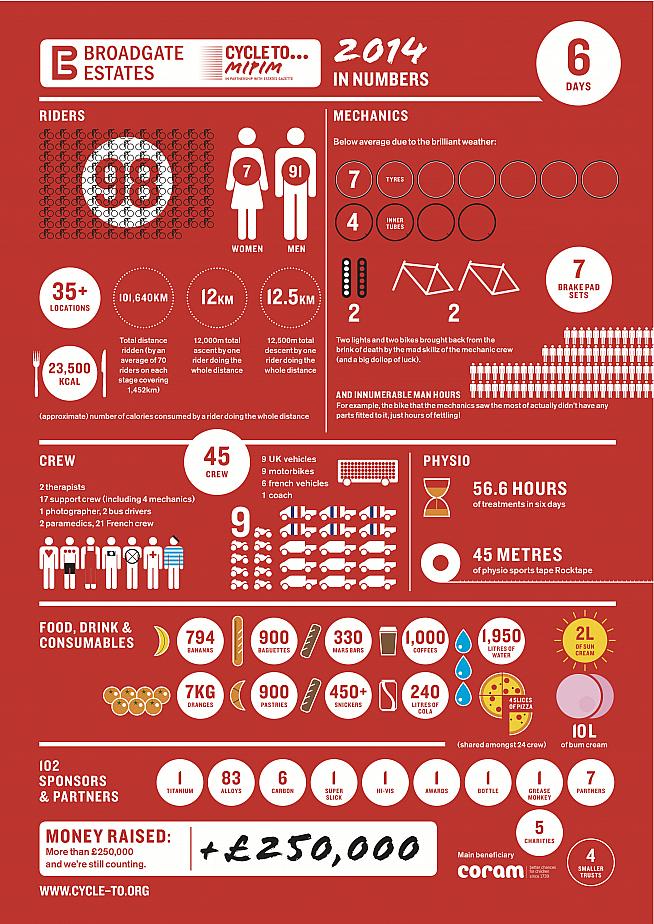 0 Comments