Day Two was an early start for the Broadgate Estates CYCLE TO MIPIM riders, with an alarm call at 4.45am, so that everyone was ready to depart on Stage 1 at 6am.
Teams Invest in Nottingham and Aedas led out the first stage, Calais to Dohem, 51.8km. Dressed in neon and lit up by bike LEDs, the waiting riders looked like they were off to a secret rave. A lumpy, bumpy route awaited them, which began in relative calm but, as the morning progressed, saw them challenged by a nasty crosswind.
The appearance of the sun and the distinct and oft-remarked-upon lack of rain is having a positive effect on everyone, with a good proportion of the riders choosing to ride Stage 2 (Dohem - Savy Berlette, 50.4km) because of the favourable weather conditions. Joining teams Savills and Argent, around 80 riders rode through the World War I battle sites of Vimy Ridge and Arras (the setting for Sebastian Faulks' Birdsong). Today it was hazy sunshine over the gently rolling farmland.
It was a fast refuel and turnaround at Savy Berlette, and then back on the bikes for Stage 3 with teams H2SO and Elliott Wood. Your correspondent (me) joined the peloton for the 46.1km stage to Croisilles. The ride captains kept the large group of riders moving swiftly. It was noted there was less of the yo yo-ing effect, a sign that the group is gelling as a unit, unusual this early on. There were some gentle inclines to deal with, as well as a mean wind in some parts but otherwise the pace was fast and the riders made up some time.
Lunch at Croisilles was a typically French affair of baguette au jambon. Physios Loic and Tierney of The Tri Touch did an excellent job of righting some of the aches that have started to appear after 111km yesterday and another 145km by lunchtime.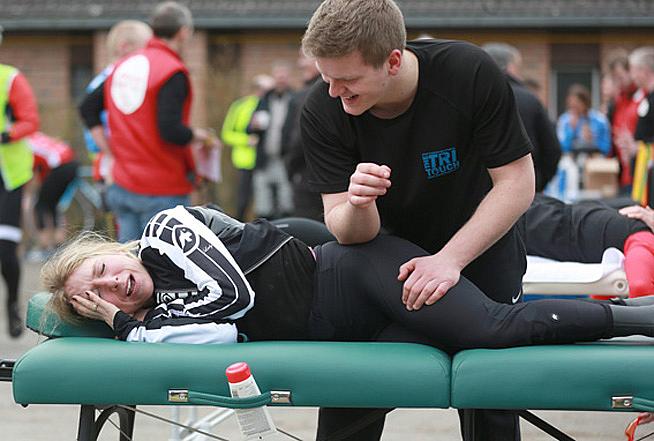 Stage 4, from Croisilles to Morcourt, was 57.9km for the Nottingham and Aedas teams and the riders that chose to join them. Without too many hills to slow them down, it was a quick stage. First time rider, William Beardmore-Gray of Knight Frank, commented, "If you sit at the front with the pace setters, it's not nearly as hard as being at the back. I'm still learning about cycling and I'm learning a lot about cycling in a group."
Stage 5 from Morcourt to Monthenault was 60.5km for teams Savills and Argent. The stage was another swift one, with an average of 21mph, with Sam McClary commended for her excellent pace-setting skills. A nasty hill at the end meant a few of the riders dropped off the back of the peloton, but there were helping hands a-plenty to get the stragglers up.
Adrian Gray of Chapman BDSP commented, "Last year this stage, and that hill in particular, were tough for me: my nemesis. My training this year has been all about this stage and I nailed it, so I'm really pleased."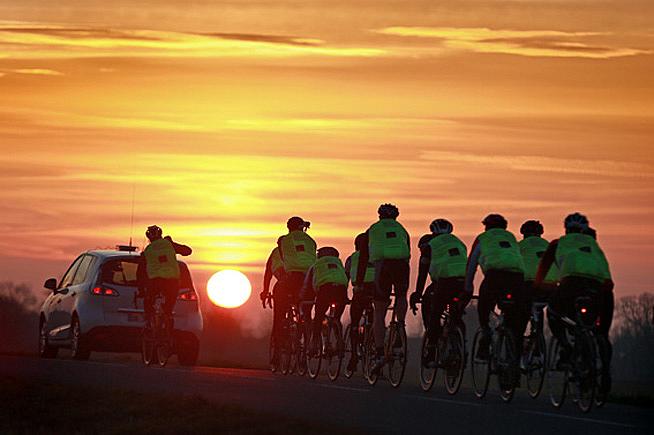 The sixth and final stage of the day, 51.3km from Monthenault to Reims, allotted to teams H2SO and Elliott Wood, had riders donning their hi-vis jackets and making sure their bikes were well lit. Riding through sunset into darkness the peloton arrived into Reims ahead of time. It's been just over 14 hours and 318km since we left Calais. It's been a long day. Tomorrow: 302km. Easy!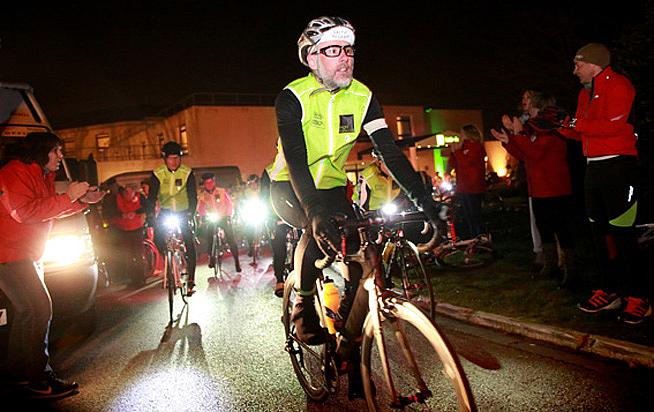 Our blogger reports:
There is no way to describe how your body feels after 14 hours in the saddle and a 315Km day 2. Agony? Excruciating... but very rewarding.
Currently I am writing at the bar - If I let go of the bar, I will fall down. Legs are jelly.
The cycling lessons from today are simple - keep spinning, keep shifting your position and keep eating. The ability to burn through the calories, especially on the hills is something I have never experienced in this way before. And the effect on your mood and ability to keep your technique becomes directly related to how much sugar you have flowing around in your blood.
I think I was about five pain au chocolat down by 6:30 this morning - the benefit of cycling in France. But it wasn't enough. The low before lunch was bad enough to show me that I wasn't eating and drinking enough.
I have done triathlons for the past few years and always thought I had nutrition down. But a long cycle like this just requires almost constant eating. Strava told us we burnt 6500 calories, and the 2763 metres of climbing took it out of the legs.
To be honest, at 8pm tonight, after a 6.00am start - I was just hanging on to the handlebars. But I did it.
And the beers I am having now are adding on to the calories I need for tomorrow!
- John Williams (Knight Frank)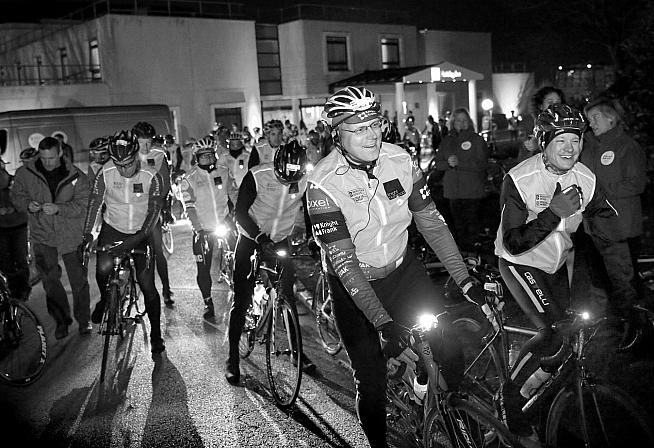 0 Comments