"March is quite early in the year for hill climbing..." was the response from most sensible people when I tried to cajole them into entering this year's Magnificent 7, Sheffield's rapidly growing sportive-cum-hillclimb event.
Only three years old, it's gained quite a reputation among those who like the lumpy stuff - evidenced by the places filling up within an hour of opening.
Famous rides such as the Fred Whitton and the Tour de Yorkshire sportive get this type of interest, and it's testament to the organisers that they've grown this event in three short years - thanks in no small part to the efforts of Sheffield City Council in supporting it.
It's part of Sheffield's Outdoor City festival, and the whole place seems to get into it, with plenty of supporters out to cheer us early on a cold Sunday morning.
The Mag7 (as you'll end up calling it when you too are out of breath to talk properly) is a cross between a leisurely club-run and a hillclimb: seven climbs on closed roads with re-grouping at the top of each and then mass peloton style pootling to the next one. It's not far, only 26 miles in total, but it makes up for this with more than 4,200ft (1280m) of climbing up inclines ranging from 9% up to a leg-straining 25%.
I had unfinished business from last year's event, where I managed 2nd in the vets category (and I'd probably have come 1st if I'd been aware where the first two climbs started). Let's just say I was keen to return in 2018, with this year's Magnificent 7 taking place on 12th March.
The event HQ was at Low Bradfield, on the outskirts of Sheffield in the Strines valley. It's as close to cycling paradise as you can get in these parts - lovely quiet lanes, nearly all of them covered in almost Mallorca-quality tarmac as a result of the Tour de France and Tour de Yorkshire regularly passing through.
Initial signs that this isn't your standard sportive are skinny whippets on turbo-trainers warming up in the early morning mist - bacon butties at the start this is not.
A quick debrief from Marc Etches, secretary of organisers Sheffrec CC, and we roll off for a lap of Dam Flask. It's been a week since the Beast from the East (part 1) and there's still a lot of snow melting across the tarmac, so within a few 100 metres everyone already has a Roubaix-style covering of grit/mud/slurry to them and their bikes.
In the last half km or so before each climb the groups are slowed and split into seniors, vets and women, to make it easier for the organisers at the top to place folk as they cross the line. Scoring is allocated with 15 points for 1st place, 14 for 2nd, etc all the way to 1 point for 15th place - it's a miracle of organisation and works very well.
As the event has grown (I understand this year's field is almost twice that of 2017) this is the big difference to last year, where each climb was just a free-for-all and, as I said earlier on, probably scuppered a win for me last year. I was too busy jabbering to notice the first climb had started and finished about 10th vet in that one. As I missed out on 1st last year by 5 points, and finished 1st or 2nd on every other climb, a bit less chatter would have been useful - nothing changes there!
Climb 1 this year was the cheeky and nasty Mill Lee Road out of Bradfield, about a km or so and 9-12% the whole way. The marshall blows a whistle and off you go. Being on closed roads is great, you can use the whole road and it also attracts a lot of support. The chap who cheerfully shouted "Nearly there..." halfway up the first climb got a torrent of abuse from all of us - sorry about that!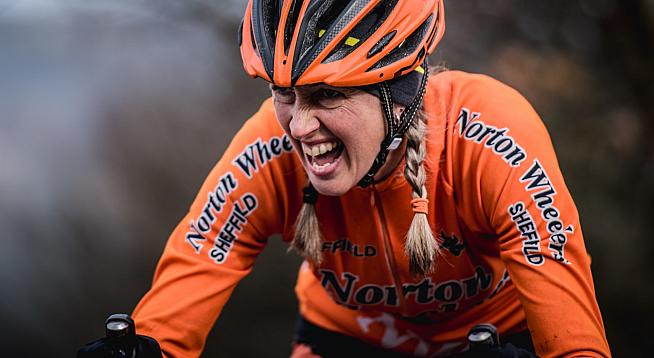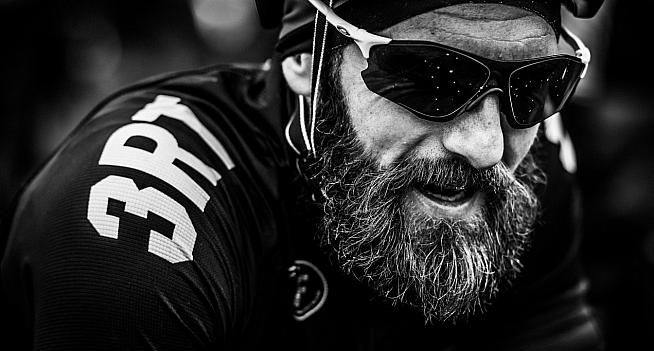 Unlike normal hill-climbs, where you're set off at one-minute intervals as in a standard TT, this event allows a bit more tactical riding, which I think is what really works well. I quickly determined that James Allen of Sheffrec CC was numero uno in the vets, so settled in determined to finish ahead of the rest and aim to defend 2nd.
After a bit of breath-recovery and laughing at the top at how much it hurt, we set off for climb 2, led by a lead car and supported by three National Escort Group motorcycles. This is where the flip-side of the event shows itself - you quickly form great friendships riding together, and it's a joy to roll along swapping stories with others wondering what we're all doing up a hill on a Sunday morning in March. With many riders from around the area, and the odd one or two from further afield, it shows how popular this event is.
The motorcycle outriders fairly soon start to split the groups up into the categories as climb 2 approaches, the feared Hagg Hill. With gradients hitting 25% in parts, it's an absolute killer out-of-the-saddle effort. The crowds here were much bigger, finishing as it does in a residential area. I swear there were a few more sensible folk in their dressing gowns, though I may have been seeing things. Again James Allen was a comfortable first and I rolled/flopped over the line in second.
Climbs 3 and 4 were much closer to the centre of Sheffield, so there was a nice few km of rolling along, but the talk of the cobbles of Fern Road reminded me of how bad I was at them last year! Short, sharp and bouncy, these two climbs favour the bigger rider, and I bounced my way to 5th or 6th on both.
One guy even managed to crash on his way UP the cobbles...he did well to move out of the way before he was swamped by the following riders! The crowds here were incredible, cow-bells and cheers all the way - almost Alpe d'Huez like (maybe..!).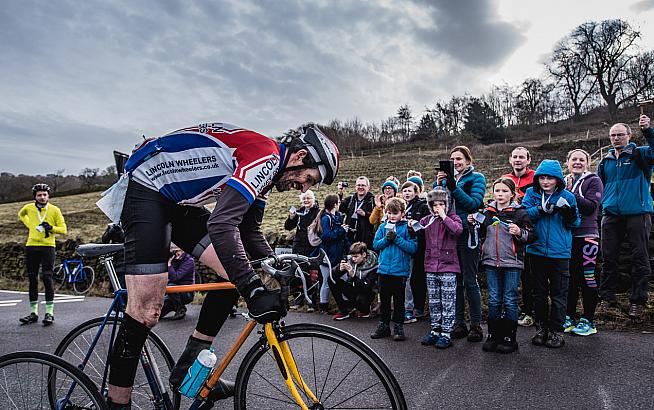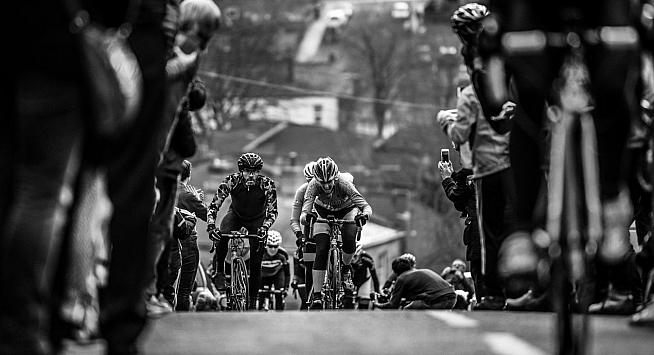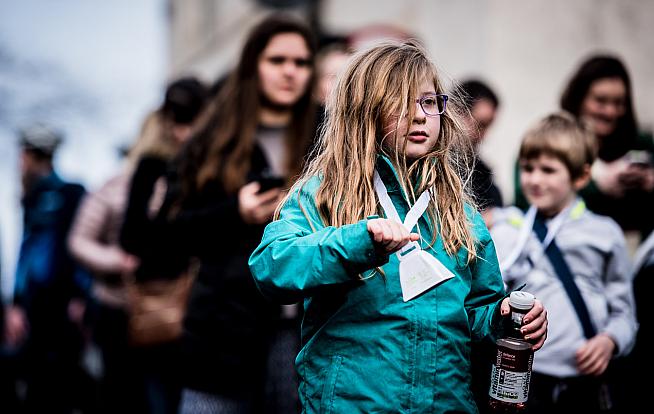 A long ride out to climb 5 followed, and this proved to be my undoing. Once again, I was too busy shooting the breeze with a local rider, when all of a sudden the road turned uphill and the whistle went - all-out hill-climbing already?!
I should have checked over my shoulder. The vets and women were further back, and I was mixed up in the seniors. Silly mistake, and I got null points for that one. Still, I did get a longer recovery!
Climbs 6 and 7 were back out near Bradfield. By now everyone knew who their rivals were, and there was a lot of comedy jockeying for position to get to the front of the group before the climb started. Climb 6 up Back Lane and Moor Road is a real test, barely three metres wide and full of farm muck - lovely. I managed to get up the road on James's wheel and get second again.
I probably could have hurt myself more and pushed him for 1st, but he looked like he was out for a recovery ride and I was already dreaming of the post-race pasta and beer.
The 7th, and last climb, was the infamous Cote de Bradfield - you know it's a tour climb if it's got a strange French/Yorkshire hybrid name. 5th I think here, pooped by now!
The Red Bull team were at the top, and everyone got pretty giddy pretty quick as we refuelled with liquid gloop and realised it was downhill all the way back to the aforementioned pasta.
After all that I finished in 6th place vets, missing out on 5th (and some nice cash prizes) by a point and on 2nd by 14 points - what could have been, eh!? James easily won the vets category, winning every climb and barely looking as if he tried.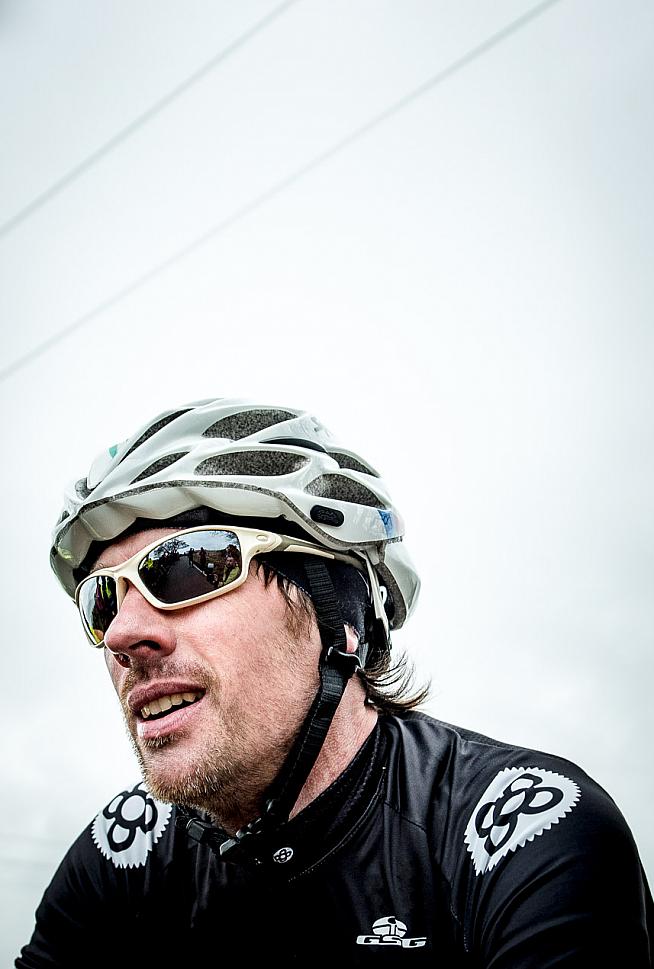 Despite the whole ride being only 26 miles, it took us almost four hours. There's a lot of standing around regrouping at the top of each climb, and being so early in the year it wasn't warm - you need to fully rug up otherwise you'll be shivering. It's a brilliant event though, and unique to the UK scene.
I'd not describe the Magnificent 7 as a sportive - it's pretty competitive on each climb. Though of course there's nothing to stop you just treating it as a fun opportunity to ride on closed roads and be escorted by motorcycle outriders, which is good fun and fuels your pro fantasy.
The organisation is fantastic. As someone who struggles to keep five people together on a club run, seeing the team keep more than 100 riders safe and well was impressive.
I'll definitely be going again next year. And this time I'll try to stop jabbering at the key moments...
Thanks to Colin Morley for use of his excellent photographs from the day. You can see more images and Colin's event report at his website, colinmorley.photography.
0 Comments