At one point last night John and I were just about to decide to sleep in and stay warm, frightened by the promise of 100 kph winds and sub-zero temperatures. Somehow, though, one of us decided that we'd packed already so we might as well drive up to Alès at least. So, with tin foil wrapped around my feet and every winter cycling thing I owned on my body, we posed for photos.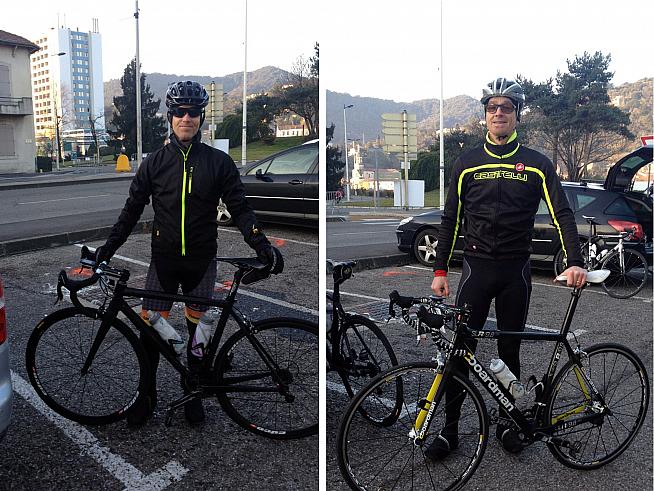 The Routes de l'Etoile, at a sane 87 km, is the season opening sportive in France. It coincides with the first pro stage race in Europe - L'Etoile de Bessèges. The sportive takes place in the morning, with the pro race (usually the final Individual Time Trial) starting just after lunch. It's a great way to get a major cycling 'fix' in just a few hours.
9:00 am: After a very poor warm-up, due to a morning 'emergency', we rolled up to the start line right at the back of the 300 or so shivering souls. This sort of set the tone for the race, at least for me. We started with a controlled roll-out, which quickly, and predictably, turned into a red-line express for the first 10 minutes or so. I was struggling to hang on to the dissipating tail of the front group, while John smartly stayed behind. I couldn't hold the speed in the end, but found a bunch of like-fitnessed riders to roll with. As I sped south of Alès at 55 kph I wondered how that group ahead of me could possibly be disappearing into the horizon. Even after 5 years of riding these things in France I am constantly amazed at the overall fitness of riders down here. It's depressing and motivating in equal measures.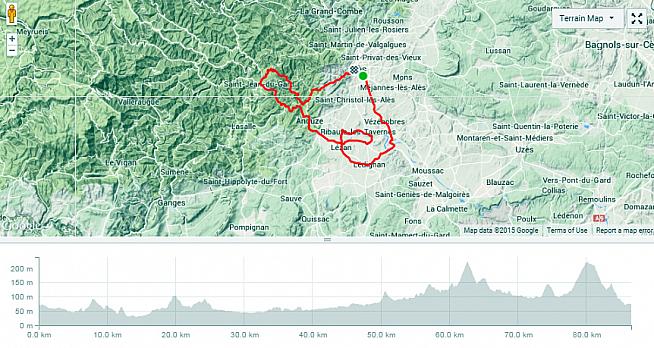 9:20: I lost the front group forever at the bridge over the Gardon, near Ners, then turned into the wind. Things were going pretty well, but my group certainly wasn't full of rouleurs, so John and a lot of fast guys caught us. We chatted, he put the hurt on the group a couple of times at the front, and I did a few short stints that must have been deemed to be insufficient, since I never had more than a few seconds out in the wind before the next guy would huff by me.
11:00: At St. Jean du Gard we turned right and started climbing a bit (total climbing on the day was around 1000 metres). This is around the time I realised I had lost my legs somewhere on the road behind. The power seeped out quickly, but luckily the hills were short and I could recover on the descents. Still, there's always that 'hill too far' and, just after taking a long-ish pull on the front, I hit it. I was pushing, but my legs weren't getting the message. I felt 'The Man with the Hammer' approaching and quickly ate a fig. This seemed to hold him off, but he returned and suddenly I was 'going backwards'. You don't realise what cycling clichés really mean till they happen to you.
11:38: This all happened 10-15 km from the finish line and I dropped 50 places in that time. Could have been lack of figs, that cough I have, or maybe it was my 'recovery year' in 2014. Whatever it is, I'm glad it happened at the beginning of February.
To wrap things up on a positive note, here is the '50 years and over pen' at the event, separated from the rest. See you guys in a couple of years...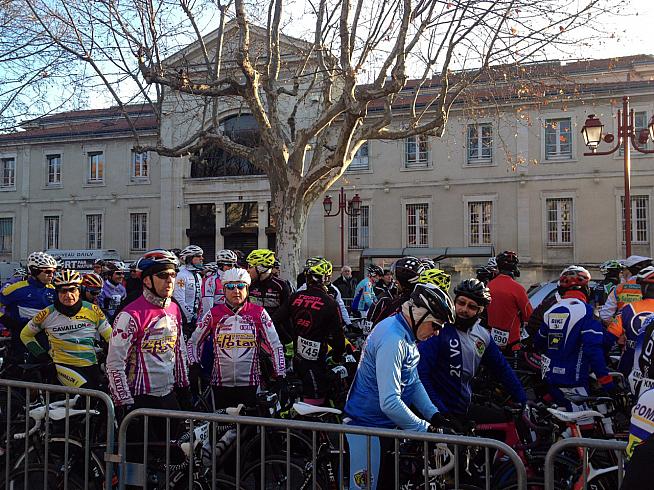 Along with long-time riding buddy John Helmkampf, Gerry runs 44|5 Cycling Tours, a bike tour operator in the south of France.
0 Comments