Dan McCausland writes for Sportive.com about his experiences training for La Marmotte.
Not a twinge for six months and then two and a half weeks before the off in Bourg D'Oisans my left knee starts aching. A long ride out to Oxford and back to London becomes a much shorter one and an embarrassing train ride is required to get home from Henley.
This was a told you so moment for the small part of me that still thinks I should have said "no, don't be daft" when asked whether I fancied doing the Marmotte.
Five physio sessions with the healing hands of Mark at Six Physio later, France beckons in the morning even if the joint is not perfect. On Saturday - if all goes well - I'll be clocking up 174 kms and 5,180m of climbing over the Col du Glandon, Col du Telegraph and the Col du Galibier before finishing up the hairpins of Alpe d'Huez.
The fastest finisher crosses the line in around 5.30 while the lanterne rouge is a good eight hours behind that. I have no illusions about which time I am going to be nearer.
Two and a bit years ago I had to ask the very nice man at Apex Cycles in Clapham how you changed gear as I scanned the down tune for levers, so the learning curve has been steep.
I started 2014 the wrong side of sixteen stone, with a single lifetime 100-miler notched on the stem and a spell of a couple of months pretty much off the bike. A spell without the demands of a job prior to relocation to the States gave me the time to train properly and a purpose to fill the months.
I have received great assistance on the training front from a friend in Singapore who rode the Marmotte in each of the last five years before moving to the Far East - I'll call him JP.
Coach JP introduced me to the concept of heart rate training and the turbo, injecting some structure to what would otherwise have been a pretty chaotic potpourri of random training rides.
Two months and over a thousand miles of base miles in January and February were followed by a month focussed on intervals on the turbo before it all went slightly wrong with frustrating failures to generate meaningful data from ramp tests and JP's realisation that attempts to raise my lactose threshold through high intensity work was perhaps a step too far.
The silver lining was less turbo time. I am not the first to comment on the tedium of the turbo and I find it far more uncomfortable than riding on the road, which I presume is down to the fixed position of arse on saddle in comparison to the constant little changes from bumps on the road.
Interval training was less bad, but doing base miles/hours on the turbo was hard work mentally, punched up a level by the ridiculousness of being in full cycle kit spinning away in the kitchen or garden. Even the relief of being out of sight evaporated when a bloke on a cherry picker slowly beeped his away over the top of the hedge as he changed a bulb in a streetlamp and gave the red-faced lycra-clad loon going nowhere in the back garden a very strange look.
At least he didn't catch my end of turbo session ritual of zipping up my jersey to show off the non-existent sponsor's name and giving it the double overhead index fingers of triumph.
The Etape du Dales in May was a landmark setting new marks for distance, climbing and time in the saddle and a very welcome confirmation that I had come on a huge amount from the start of the year.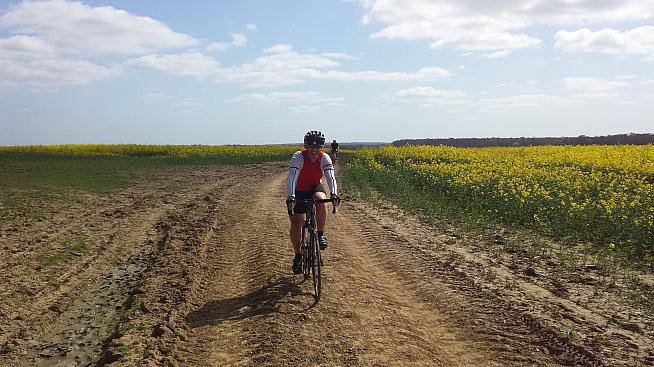 Since then - until the knee - there has been a mixture of long rides, including London to Brighton and back, and two-to-three-hour rides at a faster pace.
Am I going to set the world on fire in the Alps? No.
Have I put in a solid six months of training and given myself a decent chance of doing okay? I think so, knee permitting. I've even had to tighten my helmet strap as at least one of the double chins has disappeared.
I will post a report on the ride as soon as exhaustion, French wifi connections and celebratory/lamentory hangover allow.
Read Dan McCausland's ride report from La Marmotte 2014.
0 Comments