A 04:15 alarm seems premature for a 07:30 start but we have been advised to get down to Bourg early to make sure that we are at the front of the pen - we are in pen two which will hold two thousand of the eight thousand riders. Breakfast is a continuation of stuffing your face, as my wife calls it, and we are on our bikes at 05:30 for the descent down the Alpe. 16 minutes later we are in Bourg. I think it might take a bit longer to get up the Alpe later!
First mission accomplished. We are not only the first people in the pen, we seem to be the first people in the whole town. It's already 18 degrees and the forecast is for it to reach 40 degrees later. Need to add Bikram yoga to the training plans next year. We sit on the tarmac up against a wall which, as Simon said, had probably seen hundreds of dogs urinating on it. If this start pen is anything like the others I have experienced in Europe then there is probably a bit of cyclists' wee on it too! But do I look bothered?
Slowly the pen fills up. The nervous energy is palpable. The micro adjusters are busy tinkering. The queue for the loo is building. These early starts don't leave much time for 'dropping the kids off at the pool'. At 07:15 the gates open and we follow the motorbikes to the start. Adrenaline kicking in, there is almost a pile-up in the first 100 metres. Start line Euro pop is blasting out 5,4,3,2,1 and we are off.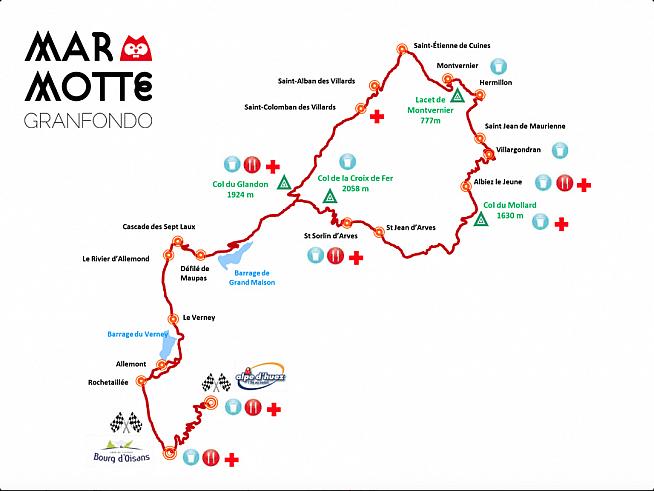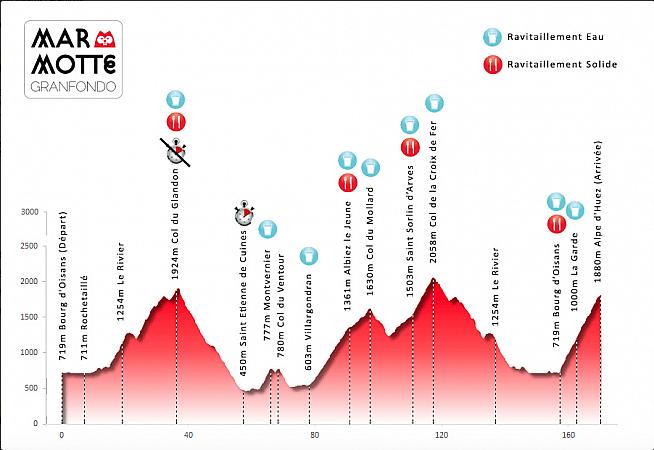 The first few kilometres are flat, fast and furious. The road is closed but still I hate these starts. Thundering along in large pelotons of riders you don't know. Keep concentrating I tell myself. We hit the first small climb up to the reservoir and the pack starts to split. Now we are on the Col du Glandon, which at nearly 30km is long but not steep. Tap in a pace and keep it steady. It is now that we reap the benefit of being at the front of the pen as we only have to pick our way through a few riders.
A quick water refill at the top of Glandon and I am off on the neutralised descent - it has been neutralised for a reason. The road is twisty, rough and has no barriers. It has witnessed fatalities in events gone by but still you get the nutters racing down. Corner 2, man down. Blood, gravel, and lycra cocktail. Sirens, stretcher, hospital. He was not the last.
The next real challenge is Les Lacets de Montvernier, a set of 19 hairpins that ascend what looks like an impossibly steep rock face. It's south facing and it is getting hot. Tap in a pace and keep it steady. I have been looking forward to this climb and it does not disappoint.
Next up after a small breather along a busy main road it is Col du Mollard. By this stage it is seriously hot. The winding ascent through the trees is humid and the tarmac rough. It's the type of surface that seems to grip the tyres, making something that on the face of it looks fairly tame seem really difficult. I start to have a mini sense of humour failure. The water station halfway up is a total scrum. Europeans don't know the meaning of queue so it's shoulder down, feigning exhaustion. I don't like stopping halfway up climbs but you have to take every chance to fill up with water. I drank 18 bottles on the ride in total.
I reach the top. There is a feed station which I don't stop at, and then pass a sign which depressingly tells me that I am not at the top at all. Tap in a pace and keep it steady.
Croix de Fer
The descent is pretty hairy. Windy, poor road surface and exhaustion-impaired judgement can be a fatal cocktail. I am passed at high speed by a group on the wrong side of the road around a blind corner. Car horn, brakes, skids, swerves, amazingly no one off. In no time at all I am at the foot of the Col de la Croix de Fer. It starts off at a very gentle incline of what can be no more than 5%, but as soon as we hit the ski village it rears up savagely. I am really hot at this stage and stop at the village fountain to fill my bottles and dunk my head in the water trough. It feels so good. Leaving the village I look up and see what looks like a stairway to heaven. Or is it hell?
Hairpin after hairpin, the heat is now savage and people are walking, drinking out of roadside water streams and making phone calls for help. Just tap out a pace and keep it steady.
I stop at the top to refill water again and begin the amazing descent. It's fast and fairly straight and I realise after the ride that I get down it at around 50mph. The descent is long but also punctuated by two climbs which are as unwelcome as they are a surprise.
I reach the valley floor. It is baking hot. The locals in the village we pass through are out in force cheering us on, spraying us with water from garden hoses having also set up garden sprinklers along the road. Would that happen in the UK? Probably only in Yorkshire.
I get on the main road back to Bourg and latch onto a group of 20 or so riders. It's downwind and slightly downhill. We make good progress but the pace is fairly slow. Everyone is thinking about the final climb up Alpe d'Huez. No one says a word. I stop for what I think is my last water stop, take on board two gels and begin the Alpe.
Alpe d'Huez
The first few slopes are brutal. Steep and searingly hot. There are already people walking up and I just keep my head down. Tap out a pace and keep it steady. I get to hairpin 5 (out of 21) knowing that the steepest pitches are behind me. My legs are tired, and my body is working overtime just to keep cool. I get to Dutch Corner, I think it's hairpin 9. My two bottles are empty already. I stop for water both for my bottles and my head and body.
I reach the 11th hairpin. Halfway up. Jersey fully unzipped. I actually had the foresight to put sun screen on my chest and torso at 04:15. It's all about the preparation.
By now there are a lot of walkers and people lying in the streams and the mini waterfalls that punctuate each slope. There are clearly people in a lot of trouble. Groans, out of control breathing, whimpers, ambulance sirens.
All along the climb there are people on the side of the road with bottles and buckets of cold water. As I approach, I catch their eyes, nod, and as I pass get the bucket of water tipped over my head. That happens at least five times on the way up. I don't even care if my phone is ruined.
Hairpin 20 and the slopes are packed with people cheering and encouraging. I start to feel a little bit tearful. Pull yourself together man and step on the gas! For the first time in over 8 hours I allow myself to push the pace. I know that I am going to finish and the crowds provide enough motivation to put on a bit of a show. I am not sure what the show is but it made me feel good!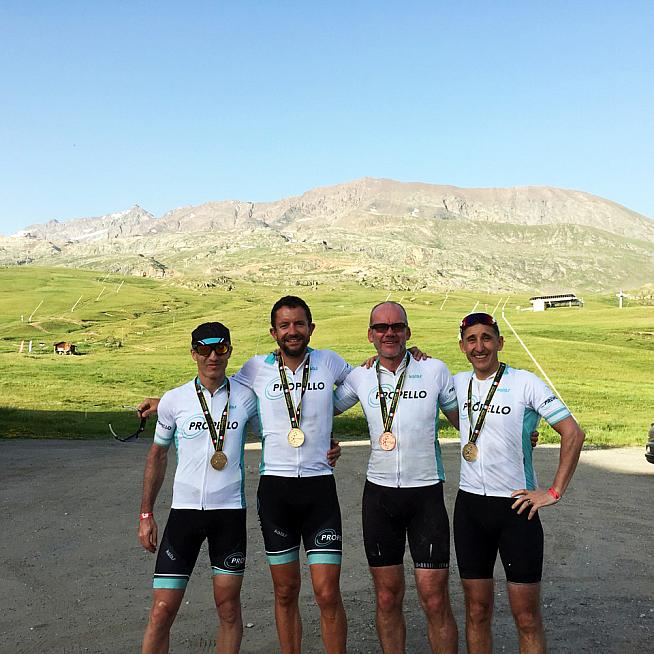 Over the last hump and the finish line is in sight. It's downhill to the line. I know I am close to Gold Medal time so I put in one last acceleration. I cross the line. It's all over. It's been an epic and rewarding sufferfest. The hardest physical challenge of my life. 8 hours 31 minutes wins me the Gold I have been aiming for all season. It has been an amazing event that will last in the memory forever.
Aftermath
Eight months training for just over 8 hours riding at one of the most famous sportives in the world. My ride strategy was to keep it steady and basically time trial every climb, keeping a close eye on my heart rate and how I felt. I spent over 4 hours at threshold heart rate. I knew that going into the red would be a very bad idea. The climbs were littered with the evidence of this. Clearly you need to train for an event like this, but today was more about ride strategy, concentration and body management. I pushed nowhere near the wattage I am capable of under normal circumstances. But these were not normal circumstances. I have said it many times. Riders that just ride on numbers will come unstuck at some stage. I rode zone 2 power but zone 4 heart rate for most of the ride. I had to listen to my body, know when to back off and when to just coast. It meant that I did not have to stop for long, which made up for any time I may have perceived to have lost by riding steady. It was a a real victory of the tortoise over the hare.
What now? A holiday. Time with family and friends. Letting the turbo get a little dusty. Growing the hair back on my legs for a while. Cutting down my intake of kale. Not having pink wee.
Having a few cheeky beers, and riding for fun in the sun.
Rob Wakefield is a fully qualified Level 3 Cycling Coach with the Association of British Cycling Coaches and founder of Propello, a cycling focused health and fitness business delivering Performance Training Programmes and Bespoke Coaching to cyclists anywhere in the world.
All cyclists who are looking to improve their speed, endurance or strength will benefit from a structured training programme. Propello Training will improve how your muscles, lungs and heart work and will enable your body to transport and utilise fuel effectively - making you faster and stronger for longer.
Click here to learn more about Propello.
3 Comments