Grand Tour Somerset - North Curry - 22nd March 2015
Despite a fair amount of miles under my bib braces since I first started cycling two years ago, and a corresponding decline in pre-event nerves, Sunday morning's drive to the start of the Grand Tour Somerset sportive was definitely tainted with the aroma of anxious anticipation. It's the first 'proper' sportive of the season, and although we've opted for the 'short' route, we still have 85 miles ahead of us. (The long route is 102 miles. Not today, thanks.)
With my trusty wingman Dad once again roped in as my co-pilot, we head out from my parents' home in south Somerset for a half hour drive to the tiny village of North Curry, slap-bang in the middle of Somerset's best greenness. My folks still live in the house that I grew up in so I am looking forward to a ride around familiar territory.
If you're not well-acquainted with Somerset, let me apprise you. Lots of it is flat: these are the Somerset Levels. But lots of it are, well, quite hilly: the Mendips, the Quantocks, the Blackdowns and - for those on the long route - there's also Exmoor thrown in. In total, the long route boasts 8,800 ft of climbing so this isn't a ride for the faint-hearted.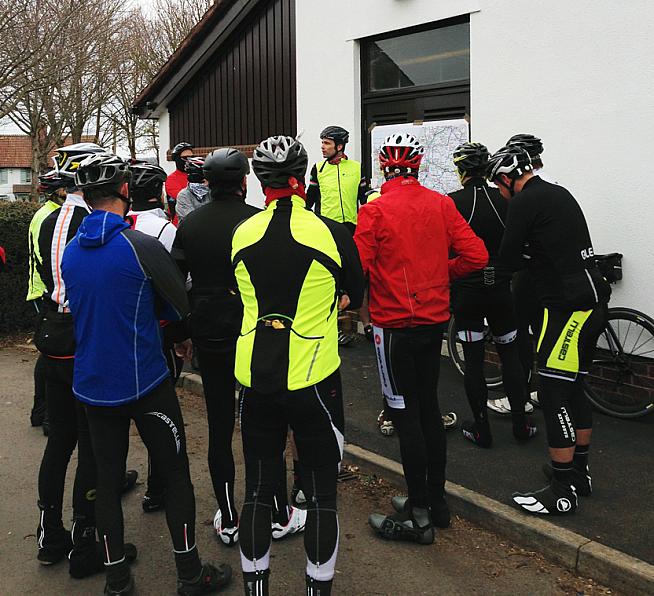 We gather at North Curry's primary school for registration, where maps are handed out and coffee, tea and loos are available. There are about 50 riders gathered, and because cyclists are always perennially punctual, our briefing is early. The organisers are Grand Tour Cycling, a Somerset-based road cycling outfit that operates cycle challenges around the world, and who now also offer a couple of UK sportives. This means a high level of organisation and an eye for detail, and what this translates to here on the ground, on a breezy Sunday morning, is a thorough briefing about both routes and ride leaders - cycle marshals in other words - out on the road with us. That means if you don't like maps or signposts, you can ride with someone who will guide you round the route. I am impressed by the level of care and attention; the ride now feels like a personal little adventure.
Not long after 8am, we head north out of North Curry across the Somerset Levels. There is a cheeky headwind and it takes my legs a while to warm up. We pick up an A-road, which at this time in the morning is peaceful. At major junctions and turnings there are ride leaders posted to see us on to the correct road. A very short, sharp climb just before Shapwick takes us safely across the A39 and away from the A361 and then we're on to the long, straight drove roads and vast open landscapes of the Levels proper, as we cross Shapwick Heath Nature Reserve, heading north east.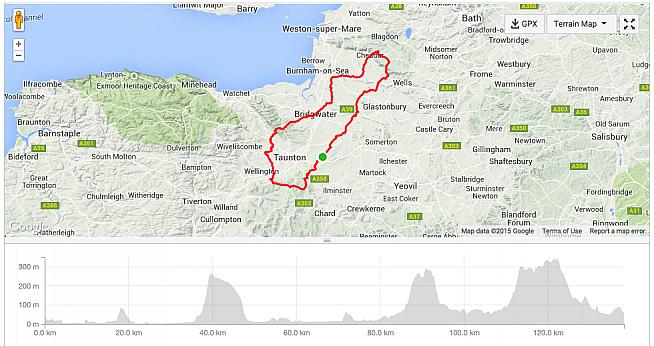 At Westbury-sub-Mendip comes the day's first serious climb, up on to the Mendips. Like the weather, my legs have now warmed up but it's still a very slow and steady three-mile climb up a hill that in places reaches almost 20%. I lose count of the number of times my Garmin auto pauses as I tap my way slowly upwards and I'd like to say it's because the trees of Stancombe Lane are blocking the GPS signal. Sadly, we know this isn't true.
Once on top of the Mendips, our reward is only a short distance away: the long and sweeping descent down Cheddar Gorge. At this time of the morning, it is populated only by those with 'serious' exercise habits (climbers, cyclists, walkers) and it is a joy to ride without cars and pedestrians to worry about.
From Cheddar we turn south west and head to the first food stop on the outskirts of Wedmore. There is a good selection of food on offer, including sandwiches, picnic eggs and sausage rolls, as well as fruit and chocolate. It makes a nice change to have savoury food to eat and I am definitely ready for my second breakfast of the day.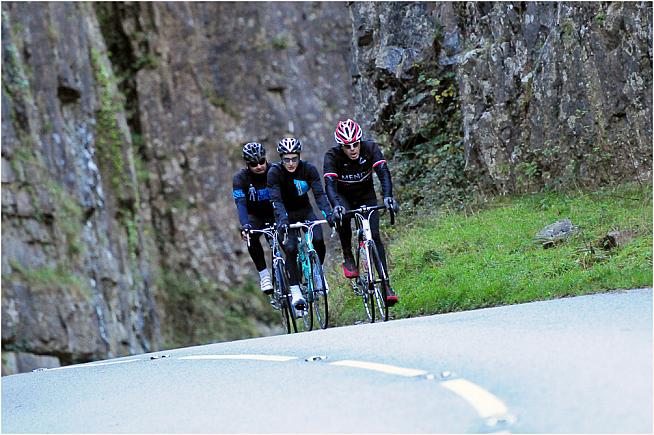 There are another 12 or so miles across the Levels - this more farmland than nature reserve - and we reach Bridgwater, home of Carnival and also my Mum, back in the day. Bridgwater is busy and full of Sunday shoppers but our route is clearly marked with well-placed road signs and ride marshals at all the major junctions. Having been out in quiet country lanes for the whole morning, negotiating this noisy, busy environment feels a bit alien but it doesn't take long before we're out the other side and starting the climb up onto the Quantocks. The gradient is a little less severe here: as we head up past Enmore, my Garmin only auto-pauses once. Result! It is about six miles of steady climbing to the top and the gnarly trees through which we climb and descend remind me of childhood walks with the grandparents. The spectacularly steep descent down Cothelstone Road brings us into Bishop's Lydeard and the second food stop - where sandwiches and picnic eggs are still on offer. Another result!
After a brief stint on another quiet A-road, we turn south towards West Buckland. Wellington Monument is visible off to the west, a pinpoint marking the top of the Blackdowns, the pinnacle of our third and final climb for the day. At around three miles, it is another long climb, although with mercifully less punishing gradients, through shady woods. This time my Garmin doesn't pause at all, although rather disappointingly (but unsurprisingly), we are overtaken by a number of chipper riders from the long route, but they are all very nice and encouraging.
Somewhere at this point, we are also joined by one of the ride captains, Jason. All of the ride captains work for Grand Tour Cycling in one capacity or another. Jason, for example, is about to go off to Morocco for the first time on Monday to take a group of road cyclists on what sounds like a fantastic jaunt. Jason and Dad swap stories of rides around West Bay and climbs where they live. Jason describes them as 'nice little climbs'. Dad is far less convinced. I like these guys - you get the sense that they're a group of like-minded individuals who liked cycling so set up a business to ensure that could they ride every day and call it 'work' (you're not kidding anyone). And they like it so much they want to share it with others.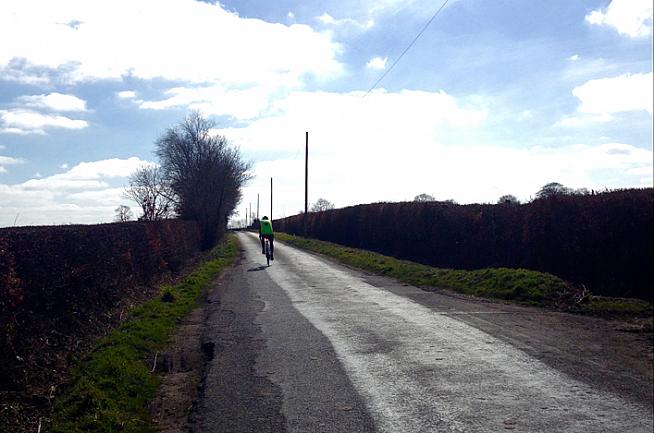 We take the back lanes towards North Curry, riding underneath the busy A358 through some rough lanes that call for more hand-eye-bike coordination than I am used to. Other ride captains join us, say hello then pedal merrily on, talking about doughnuts. I really want a doughnut now. After 85 miles and 4,660 ft of climbing, North Curry Primary School is a welcome sight, as are the many cups of tea. Sadly there are no doughnuts left, but there is plenty of chat and some honey roasted peanuts.
Today's event had about 50 or so riders on it and there's room, say Grand Tour Cycling, for it to grow - but they don't want it to be huge. They have an idea of how a sportive should be run and that's their goal: to provide cyclists with a great day out by taking them on all their favourite rides in the area. Despite my hesitation at the thought of kicking off the season with an 85-miler I have had a thoroughly enjoyable day out, tootling through the countryside of my childhood. Even Dad, who was probably move apprehensive than me (for the first time ever), has enjoyed the ride despite himself: he likes a good chat, and there was plenty of that all the way round.
The Grand Tour Somerset feels like what a sportive should be like: small, locally run, friendly and very personal - a boutique sportive, if you like. If you're in the area and you fancy trying something similar for yourself then Grand Tour Cycling's next UK sportive is the Screamer in November. I'll be there!
1 Comments