I admit it. I'm an n+1 diehard, and having recently added a rather lovely Genesis adventure road bike/cyclocross machine to my stable, I needed to do something that would test its legs... or to be more precise, mine. The Evans RIDE IT Sportive Cross in Hampshire certainly provided the test.
Cyclocross sportives are not an entirely new phenomenon, and there are a few classic rides that have existed for a number of years. The joy with Evans picking up the reins on this type of event is that it immediately makes the concept more accessible to newbie mud lovers.
So what is a cyclocross sportive? As I found out, they can involve a heady mix of off-road trails over varying terrain - such as farm tracks, forestry trails and bridleways. Unlike pure mountain bike events they don't require a bicycle with suspension (the courses feature no drop offs, for example) and generally involve sections of velvet smooth road sections in between the trails.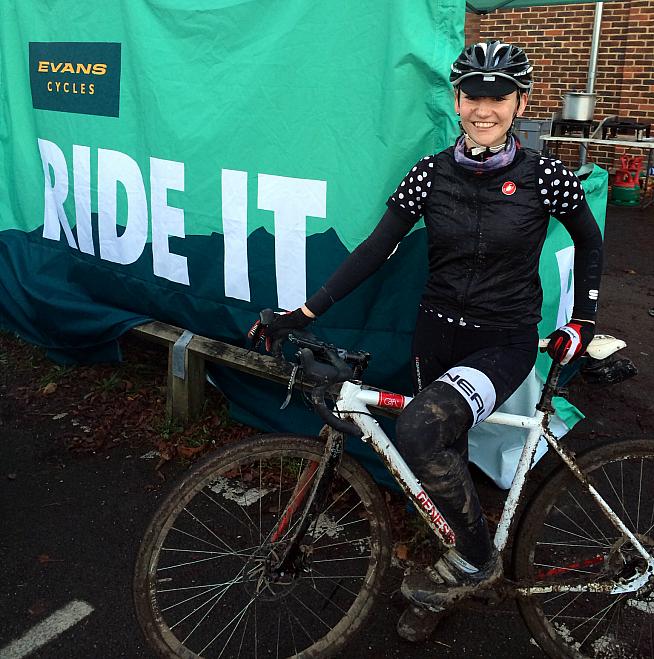 When the route map was released in the week prior to the event, there were a few rumblings of discontent due to the mix of road and off-road sections - there did seem to be longer sections of road. But for those that rode it on the day, the road sections provided much-needed recovery from the energy sapping trails, the majority of which were wet and muddy. I actually thought the ratio was well considered, and of course there is the practical element of getting from one off-road section to the next. Roads will have to be used, hence this being a cyclocross sportive, and not a pure MTB event.
There were two route length options, 26 and 44 miles. The course was well designed as you could decide on the day how far you wanted to go - the split was roughly halfway round. Another great thing about the route was that you were never too far from a road, so a back-up 'smooth' option was always available.
So - the trails. Me and my riding companion Gavin were so excited to get off the road after leaving event HQ. Through the first gate and heading off onto a tree-lined bridleway, the smiles and laughter soon turned into more serious 'concentration' faces as Gavin and I both nearly stacked it in within the first 5 minutes. We quickly made an agreement that whoever was to fall off first got the beers in. I engaged superglue bum!
We soon realised that the hard frost of the day before hadn't made an inch of difference to the ground conditions. It wasn't long before we were forced to get off the bikes - my back wheel simply stopped turning. There was no option but to push the bikes through sticky wet mud, whilst attempting to claw muck out of the rear mech and wheel arches. My attempts at using a stick didn't suffice. The gloves were off and getting truly stinking was the only option. This was getting more and more like a cyclocross race, just a touch longer!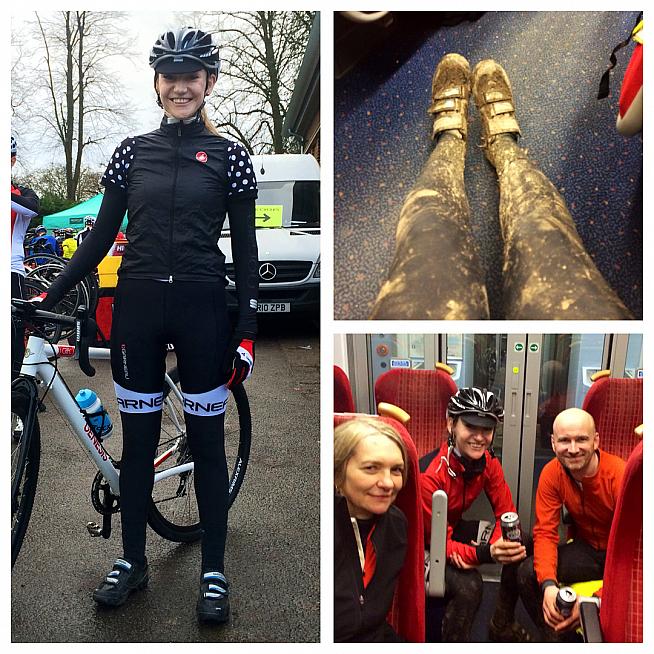 Jumping on and off the bikes continued for the next 10km, and I couldn't bear to look at how slow our progress was on the Garmin. My legs were knackered already and my Genesis wasn't happy. Suffice to say I found out after the ride that the first off-road section was on sodden clay - no wonder my wheels kept grinding to a halt. With tired legs and only 17km down, I started to have serious doubts about whether the long route would be a good idea. The trail chopped and changed between deep rutted tracks, sodden muddy grass to skirting around the sides of stubble fields. At this point I was wondering what my road bike had done to deserve being left at home for the day...
Hitting road sections gave rise to mini celebrations. Time and distance were rapidly covered on the road and the mud and muck quickly shredded off the tyres, mostly onto Gavin (sorry Gav). I've seldom been as pleased to roll into a feed station as at the first stop, not only for a well needed refuel but I had also suffered a puncture. The roadside buffet included the usual well received fayre: cake, crisps, jelly beans, bananas and salted peanuts along with High 5 energy drink and water. Refuelled, we set off into the midday sun and started to 'have the chat' - would we get round the route before it started to get dark.
A decision was made at the halfway point to crack on and try and complete the long route. We both agreed that we weren't scared of the dark, we had lights, and most importantly agreed that the bogey man probably didn't live in Hampshire anyway. Darkness or not, we were going for it.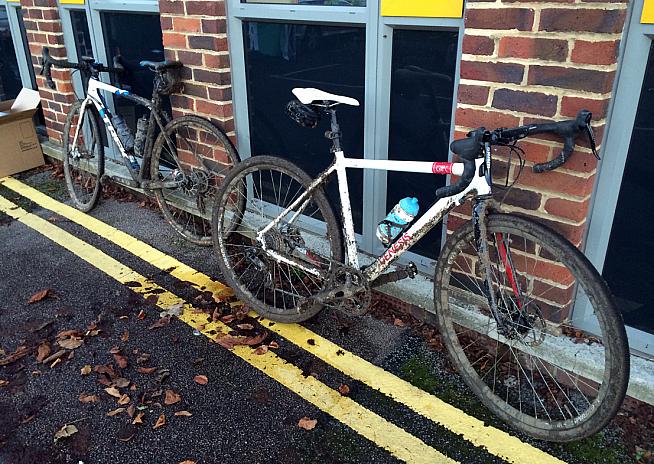 Our decision proved to be a good one, and we were rewarded for our incredible bravery: the second half of the course was considerably better than the first. With no more clay to contend with, the bikes coped more easily over the tracks which were still muddy and rutted, but were interspersed with harder packed gravel sections and grass tracks which were generally slow going but a lot easier than the morning's offerings.
With the light fading and legs hanging on by a thread, we rode over some beautiful high ground which then dropped through some forestry to tackle the last incline of the day, a stony farm track which proved utterly exhausting to already exhausted bodies. There was no more chat, apart from me constantly mumbling about wanting a cup of tea.
Rolling back into event HQ we were greeted by the lovely Evans lot who fed us delicious beef chilli and cups of tea and cake. A hose was also fully utilised as half the Hampshire countryside was on my frame. The hard-earned beers came on the train and we even tucked into a slice of hot pizza from some other riders who had taken part.
After the ride I spoke briefly to Dean Stacey, Head of Events at Evans Cycles, about the concept behind these cross sportives. "We wanted to cater for this expanding section of our customer base," Dean explained. "We had events for mountain bikers and roadies, but nothing in between."
For this initiative Dean, we salute you. I was so excited at the prospect of the day and trying something entirely new, and I wasn't disappointed. It was epic. Feedback from the day was that other entrants found it a hard but enjoyable ride, with riders commenting on the Evans blog that they will be coming back next year.
The Hampshire Sportive Cross was an all-round cracking day with the friendly Evans crew and cheerful co-riders. Mechanics were on hand at both feed stations, and the route was very well signed. My only criticism would be that I would have liked to have seen a roaming mechanic or event bike - this might be tricky in practice due to the off-road sections, but I'm not sure I would have been comfortable doing that entire distance by myself. It felt really isolated at times, and I was glad to have another rider with me.
While I would recommend these rides to anyone, I wouldn't advise tackling a long route unless you have a good base fitness and are confident in slipping around in the mud. That said, the short route would be accessible to everyone. There are still two more events in the Evans Sportive Cross series this winter, so beg, steal, borrow (or buy!) an adventure cross bike and get signed up!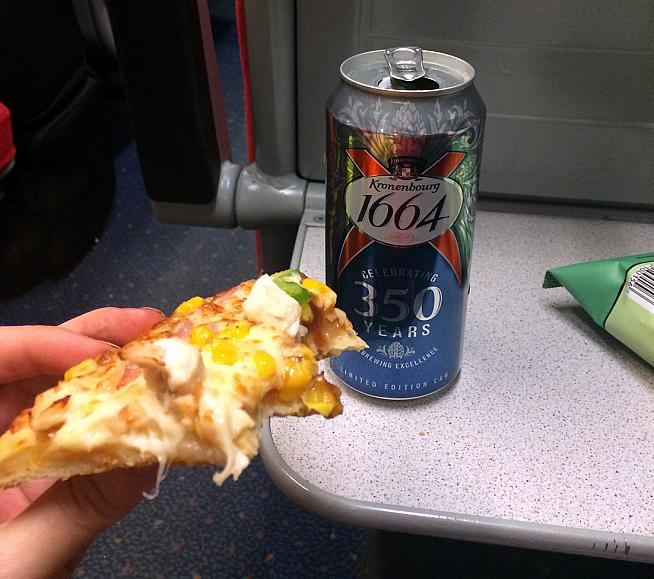 Beth rode a Genesis CDA 20 and Gavin rode a Trek Boone 5 with Challenge Griffo 33 tyres. Both bikes coped and neither rider fell off (there were several near misses) but the Trek behaved better over the unrelenting clay section, with the muck clearing far easier through the wheel arches.
Beth also chats about cycling on Twitter: @bethbrynhodge
0 Comments