Every cyclist knows that riding in a bunch saves energy - and now you can save money too, when you ride with your friends on virtual cycling platform ROUVY.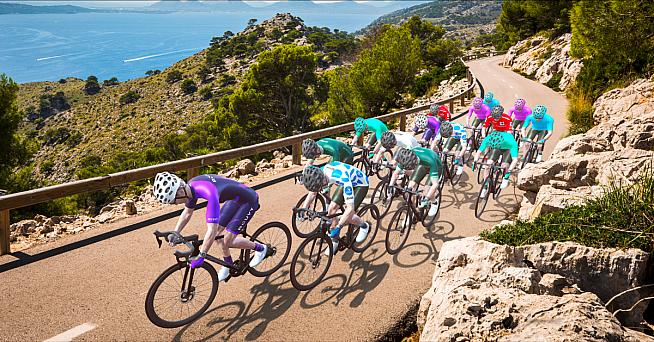 ROUVY is an indoor cycling app, a little like Zwift, which lets you ride real routes around the world on your indoor trainer. Like Zwift it also offers races and structured workouts, along with the chance to ride over 1300 beautifully rendered recreations of real-life routes - such as the climb from Corvara to Passo Pordoi from Maratona dles Dolomites, to name just one example.
Today's announcement sees a revamp of ROUVY's subscription model, opening up new packages for pairs and groups of riders with monthly savings of over 50%.
​​Under the new pricing model riders in the same household, friend group, club or team can take advantage of discounted subscription prices when they ride and train together.
While the individual subscription price remains unchanged at 14.99 EUR/USD (£12.21) per month, the new DUO package, for two riders, is priced at 19.99 EUR/USD (£16.29) per month. That works out at about €10 or £8.15 each, for a total saving of 33%.
​The Group subscription package is available for up to 5 riders and is priced at 32.99 EUR/USD (£26.89) per month, offering a saving of more than 55% over the individual cost for five.
That works out at less than 7 USD/EUR (£5.40) per person - considerably cheaper than rival platforms like Zwift, which costs around 14.99 USD / £12.99 per month.
"With our new pricing model, we're opening doors to a broader range of cyclists, regardless of their commitment time frame," said Petr Samek, CEO of ROUVY.
"We made this change because we want to provide more options and better value to our diverse community of users, whether they are individual cyclists or a family of five.
"Everyone knows riding is better with your friends, so we are offering these packages to encourage riders to train together!'
​​For more info on ROUVY and the new pricing options, visit rouvy.com.
0 Comments