Entries are now open for the 2023 Paris-Roubaix Challenge, the sportive that lets amateur cyclists tackle the legendary pavé of northern France.
The next edition will take place on Saturday 8 April 2023, just hours before the women's race and the day before the men.
Three distances are on offer: 170km, 145km and 70km featuring 30, 19 and eight cobbled sectors respectively.
Early-bird entry starts at €29 for the 70km route, €37 for the 145km distance and €65 for the full monty.
Enter now at www.timeto.com.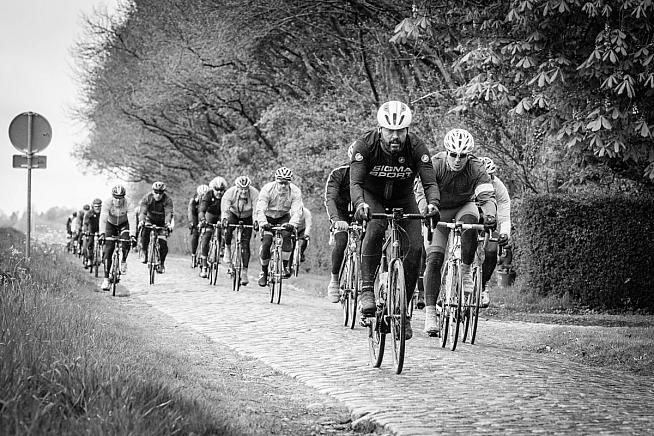 Rated by many as the greatest one-day race in cycling, Paris-Roubaix is also one of the toughest with a well-earned nickname of "Hell of the North". It's the third of the cycling season's five Monuments, usually taking place the week after the Tour of Flanders and a fortnight before Liege-Bastogne-Liege.
Three distances are on offer for sportive cyclists. The two shorter routes start and finish in Roubaix, while the 170km starts in Busigny and finishes with a lap of the iconic velodrome in Roubaix. After the ride, you can even use the same spartan shower facilities as the pros.
A shuttle bus service from Roubaix to Busigny is available for riders on the 170km route as an optional extra at €45, and you'll also have the chance to snap up a souvenir while booking. Choose an event jersey by Santini for €107, or how about your very own 1.5kg cobblestone for just €22?
Entry prices for the three distances rise as the event date nears, so it's worth registering early to secure your place on the start line.
Whichever route you choose, Paris-Roubaix offers a fantastic opportunity to sample the best of one-day racing at your own pace in the company of thousands of enthusiasts.
Best of all, the next day you can sit back with a beer and recover while watching the pro peloton blitz the same route at double speed!
For more details and to enter, visit www.parisroubaixchallenge.com.
>>> Wondering what to expect? Check out Neil's ride report from the 2019 Paris-Roubaix sportive. >>>
0 Comments