Controversy has hit next weekend's RideLondon sportive over the apparent introduction of a 22mph (35.4kph) speed limit at the head of the event.
News of the restriction appears towards the end of the official event guide, which states:
"A safety car will travel at the front of the event at 22mph. Those riding at the front of the event must not pass this vehicle for safety reasons."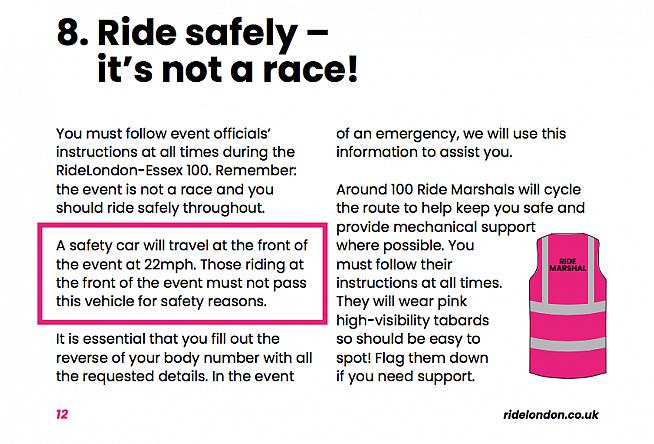 The news has sparked confusion and outrage among some entrants, given that the fastest groups are expected to complete the course at speeds in excess of 25mph (40.2kph).
It has come as a surprise to entrants hoping for a fast time, especially as the entry form invited riders to indicate their expected finish time and gave an option of <4hrs. p="">
The original RideLondon_surrey 100 route typically saw the lead groups break the 4hr mark for the 100 mile course, for an average speed of 25mph.
The new Essex route features fewer climbs and is expected to be even faster.
As in previous years, RideLondon will operate a staggered start with riders setting off in waves from 6.00am.
Faster riders will typically choose to join an early wave to avoid getting caight up in large groups of slower moving riders.
However, some faster riders may now look to get around the safety car problem by joining a later wave. Entrants are permitted to start in a later wave than the one they've been allocated, so long as they cross the start line by 9.10am.
But, as has been pointed out on social media, this creates a potential hazard as faster moving groups will inevitably find themselves overtaking slower or less experienced cyclists along the way.
Meanwhile, at the back of the course, a broom wagon will ride the course at a speed of 11.5mph (18.5kph) to sweep up any riders who are unable to complete the course in time.
More on the cut-offs and rescue options below.
Cut-off points and time limits
RideLondon attracts a wide range of cyclists of all abilities - and many entrants will be less concerned about a 22mph limit than about making it around the 100-mile course within the allocated time.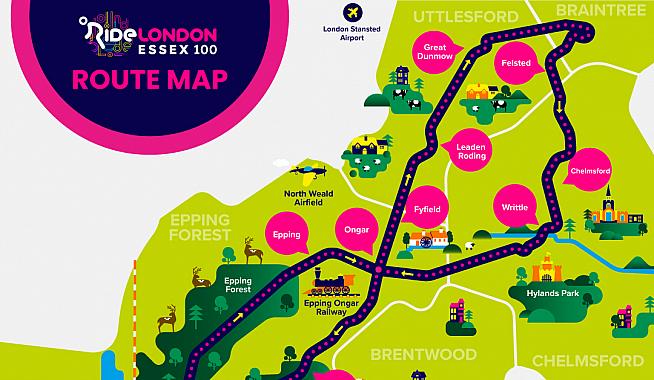 There are two cut-off points along the route, which you must reach by a certain time to avoid being diverted onto a shorter course.
The cut-off points are at Woodford Green (mile 18) which you must reach by 11.00am. Riders who miss this cut-off will be diverted onto the RideLondon 30 course.
The second cut-off is the Four Wantz Roundabout in Chipping Ongar (mile 32), which riders must reach by 12.20pm. Miss this cut-off and you'll be diverted onto the 60-mile course instead.
A broom wagon will be in operation throughout the course, with buses collecting riders who need a lift to the nearest public transport station.
Bus stops will be placed at 5-mile intervals, but you can flag down a bus anywhere along the course and it'll stop where safe to do so.
Finally, if you run into mechanical issues you can flag down one of the event's moto mechanics, who will be patrolling the route equipped with inner tubes and basic repair kit.
There will also be mechanics at the four 'Welfare Stops'. These are located at:
Ongar Leisure Centre (Mile 32)
Felsted School (Mile 53)
Chipping Ongar High Street (Mile 73)
James Hawkey Hall, Woodford Green (Mile 87)
We'll have a couple of reporters riding on the day, hopefully managing to restrain themselves from lapping the safety car.
Whatever speed you plan to ride the course, we hope you enjoy the experience!
0 Comments