Garmin have unveiled the latest addition to their range of sports smartwatches, the Forerunner 55.
The Forerunner 55 is pitched as an easy-to-use GPS smartwatch designed for people of all skill levels - especially those new to running - to track their stats and achieve their fitness goals.
"With the simple press of a button, users can start their run or walk and track their time, distance, speed, pace and heart rate data right from their wrist," say Garmin.
The Forerunner 55 also offers detailed running data, daily suggested workouts, additional built-in sports apps and more.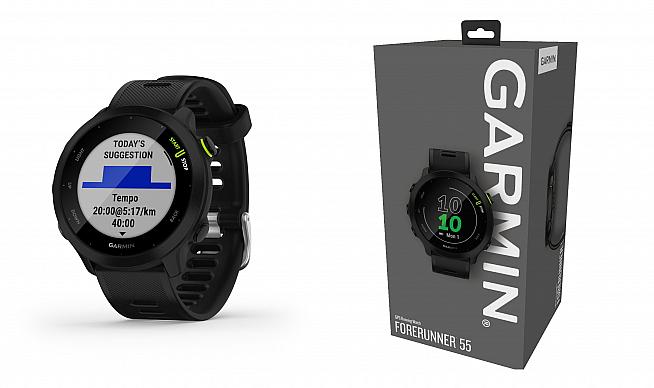 The Forerunner 55 can be used to track cycling activities - either outdoors or on an indoor trainer - adding appeal to runners who also like to hop on a bike occasionally.
While it doesn't offer the full functionality of Garmin's Edge range of bike computers, the Forerunner has a claimed battery life of 20 hours in GPS mode - much longer than most dedicated cycling computers - and you can upload your ride (or run) to Strava and other platforms afterwards.
Other features include:
Wrist-based heart rate provides data all day and night
All-day activity tracking counts steps, calories, sleep and more1
Daily suggested workouts take the guesswork out of training by offering personalised run workouts tailored to the runner's training history, fitness level and recovery time
Garmin Coach training plans offer on-screen guidance from expert coaches and free 5K, 10K or half marathon training plans that adapt based on a runner's goals
Safety features let runners send a message with their location to family and friends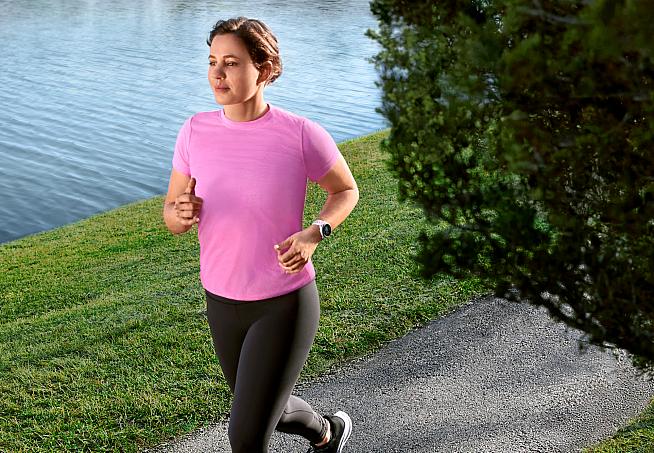 "We know there are runners of all skill levels who prefer a simplified running watch," said Dan Bartel, Garmin vice president of worldwide sales.
"With that in mind, the Forerunner 55 presents informative and digestible data in a way that can help people reach their running goals, while also encouraging them to live a healthy lifestyle."
It may be simple to use, but there are plenty of more advanced features packed away in the Forerunner 55 for those looking to take the next step.
A finish time estimator lets athletes select a run distance and view their estimated finish time right from the wrist. Cadence alerts let runners know when they've gone outside their target cadence range, helping to improve their running form.
For those looking to switch up their workout routine, the Forerunner 55 features several built-in activity profiles, including track or virtual running, pool swimming, Pilates, HIIT and more.
And when you've finished your workout, the built-in recovery time alert lets you know how long to rest before your next big effort.
The watch also pairs with your smartphone so you can receive text messages and view social media updates, emails and more.
The Forerunner 55 is available now in black, white or aqua priced £179.99. For more information on the entire Forerunner lineup, visit garmin.com/forerunner.
0 Comments