Rapha have launched their first collection of mountain bike clothing, featuring performance shorts and jerseys, helmets and accessories designed for trail riding.
Followers of Rapha will in recent months have spotted teasers for the new range on the Rapha website and social media. Today the wait is over, with a range of men's and women's clothing unveiled at rapha.cc.
The range includes jackets and trail tops, along with a limited edition helmet in collaboration with Smith. The new range also sees a fresh logo for Rapha, with their MTB kit featuring a diamond emblem representing a trail marker.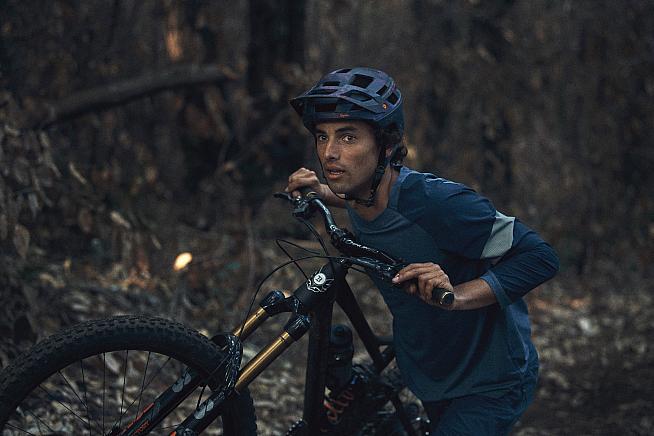 While the brand has been producing gravel-oriented kit for a few years now, the move into the MTB sector is something of a radical step change for Rapha, whose ethos and style cues have since the company's conception been deeply rooted in road cycling history and culture.
It's not that long ago, or so rumour has it, that Rapha club members were expressly discouraged from wearing their club branded kit on mountain bikes for fear of tarnishing the brand's reputation.
But now, after dipping a toe into the joys of off-road riding with their gravel kit, the wheel has turned full circle.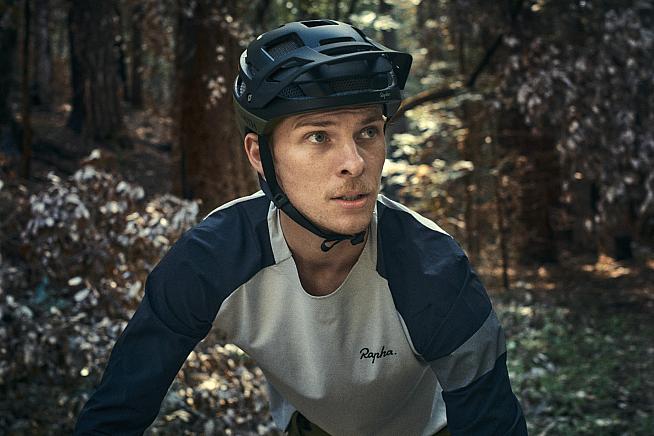 If the launch of an MTB range seems at odds with Rapha's early ethos, it is entirely in keeping with the brand's broader mission to promote cycling.
"Rapha exists to make cycling the most popular sport in the world," explain the launch notes.
"In everything we do, from the clothing we design to the stories we tell to the communities we celebrate, we portray our deep and honest love for the sport in all its forms.
"We draw endless inspiration from the simplicity of riding a bike, from the beautiful places to which it takes us and from the people we meet along the way. While our heritage lies in road racing, we've been pushing the envelope in off-road exploration for years. We've raised the bar in technical apparel for adventures far beyond the tarmac, and now we're going even further with performance-engineered, style-driven trailwear."
Rapha's founder, Simon Mottram, recently addressed the new collection in his regular message to members of the Rapha Cycling Club.
"Now more than ever, the lines that separate disciplines are increasingly blurred," he wrote.
"It's evident from the emerging ride-it-all talents at the sport's biggest races, to the masses of ardent cyclists flooding street and trail alike across the globe on all manner of machines. Yet, there's one discipline that reminds me most of our beginnings as a brand: mountain biking.
"Today, much like road cycling in 2003, mountain bikers are faced with a familiar set of problems. While bike innovation continues apace, very little has changed in the way of apparel since the sport's inception. And that's where we come in, with a goal that's no different to the one we started with.
"Through products that offer a much-needed combination of MTB-specific performance and style, Rapha Performance Trailwear utilises the toughest technical fabrics - tested in the roughest natural environments - so mountain bike riders can feel confident in their clothing.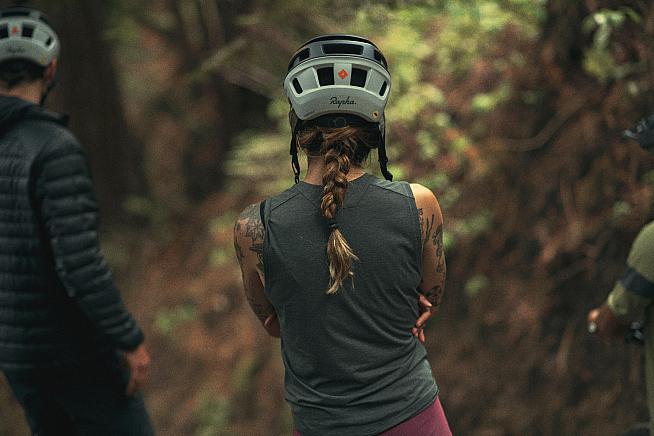 "We've incorporated recycled materials, and have opted for a progressive fit and refined aesthetic to ensure riders don't have to sacrifice performance for durability, or style for sustainability.
As the first in cyclewear to offer free repairs, we're also maintaining our commitment to product longevity with our brilliant MTB repair patches, included with selected garments."
So what - other than repair patches, a looser fit and lack of pockets - can Rapha fans expect from the new range? And will the signature stripe  (or diamond) on the sleeve be enough to tempt mountain bikers away from more established MTB brands?
We've yet to get our hands on the new range for a close look, but few would dispute that Rapha know what they're doing when it comes to stylish, performance-oriented cycling kit. They haven't made many missteps in their 17-year history, and expanding into MTB clothing seems a no brainer.
And, with growing numbers of Rapha's core market of road cyclists "discovering" or returning to off-road via the gateway of gravel, it's easy to see the new collection being a hit.
The collection even features a Hip Pack, with capacity for two bidons and bungee cords for lashing down a burrito or a waterproof jacket: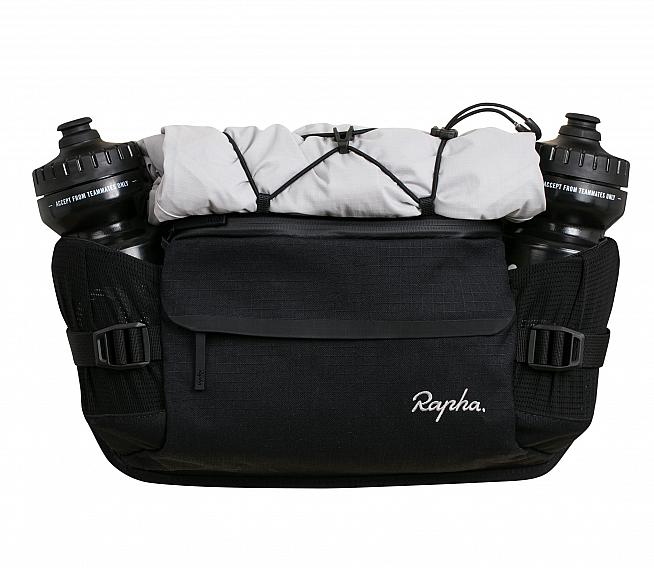 We'd guess even Simon Mottram never imagined the day would come when Rapha launched a bum bag. But now it's here, we kind of want it...
Discover the Rapha MTB collection at www.rapha.cc.
0 Comments