Hutchinson Cycling Dpt., one of the pioneers of tubeless bicycle tyre technology, has today unveiled a new range of accessories aimed at simplifying the installation, maintenance and repair of going tubeless.
The French brand produce a well-regarded range of road, MTB, gravel and urban tyres - we've been riding their Touareg gravel tyres for the past year and they continue to impress (click here to read the review).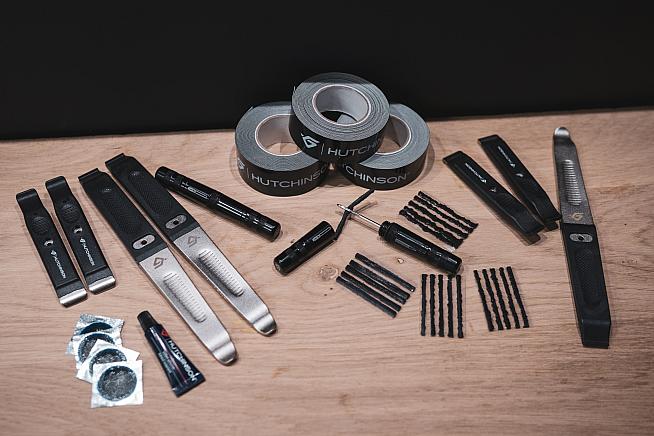 The benefits of tubeless tyre technology include lower rolling resistances over various terrains, the ability to run lower tyre pressures for improved traction and comfort, and a reduced chance of flats as tyre sealant rapidly plugs small nicks.
That said, many riders are still cautious about making the switch to tubeless - especially on road bikes where the benefits are less pronounced.
Then there's the anecdotes about tight tolerances making tyres a challenge to fit and seal, setup being a messy process, and the fact you still need to carry an inner tube in case you do get a puncture too severe for the sealant to work its magic.
Keen to address each of these concerns, Hutchinson has developed its new range of tools and accessories with these riders in mind.
The new range covers installation, maintenance and repair, aiming to remove the anxiety from running tubeless and ensuring riders can get as much enjoyment out of their tyres as possible.
Installation
Easy to use rim tape, available in 20, 25 and 30mm sizes covers a wide range of internal rim widths and new black conical tubeless valves offer a reliable seal with 20 and 40mm valve extender options.
Once the rim is prepared and the tyre mounted, Hutchinson's say their new 60ml transparent Injector tubeless syringe makes adding the sealant incredibly easy.
The flexible hose which has a tap at one end, enabling the user to easily lock or unlock the flow of sealant. This new tool has been carefully designed to eliminate any potential messy disasters during installation and occasional sealant top-ups - simply load the syringe with sealant, remove the valve core, insert the hose and squeeze the plunger.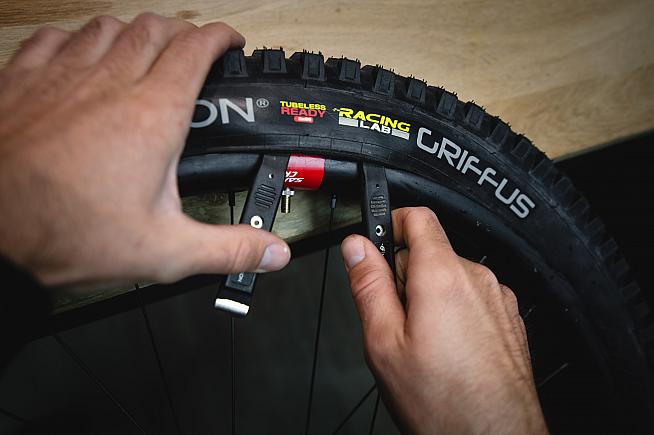 Meanwhile a new burly workshop tyre lever offers additional leverage for mounting more stubborn tyre beads.
The lever is built around a steel core with one end left bare for when you need the additional strength and the other with a plastic lip to prevent damage to carbon rims. New pocket sized versions are also available.
Maintenance
The star of the tubeless accessories range is a double-ended plug kit featuring a pick with a file edge to clear out any remaining sharp debris and a plug applicator clamp which can be stowed with a plug installed inside the case, ready for a quick repair.
The kit comes with 10 plugs which can be stored inside either end of the tool with additional plugs, available in 1.5 and 3mm gauges available to purchase separately.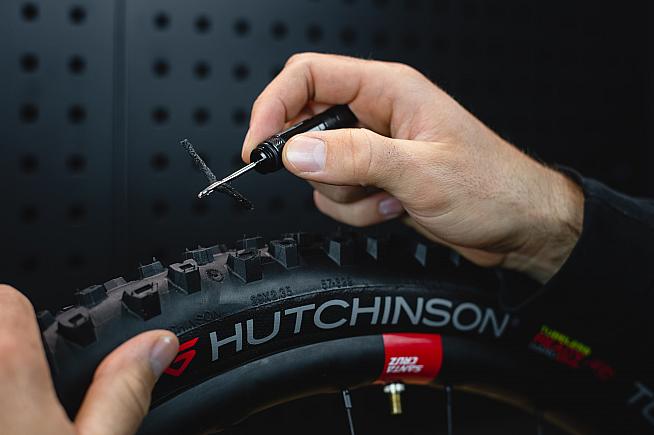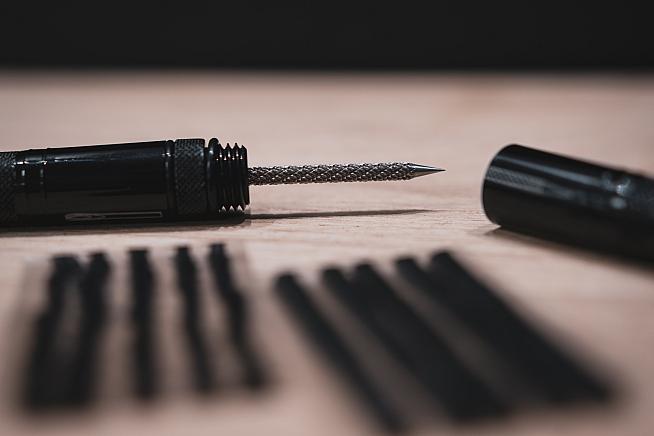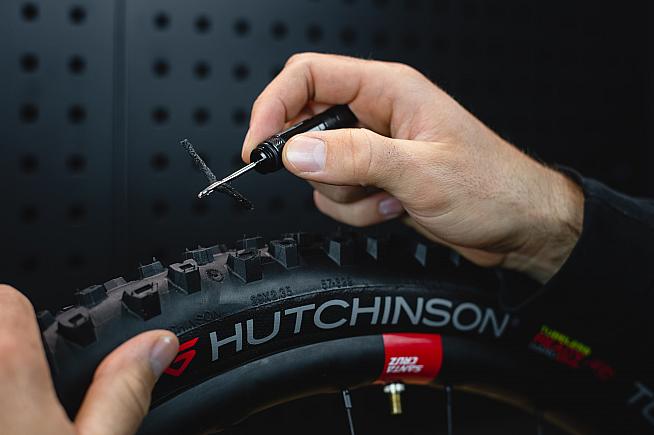 Repair
To bolster the brand's popular line-up of Rep'Air road and MTB tubeless tyre repair kits, Hutchinson has now added a new glue patch kit for inner tubes, allowing riders to get much more life out of their tubes.
While some brands have favoured temporary patches in recent years, Hutchinson say these have a tendency to fail before the full life of the inner tube has been reached. Keen to encourage riders to repair their tubes rather than replace them, Hutchinson has opted for a more robust glue and patch system.
To see the full range of Hutchinson accessories, visit cycling.hutchinson.com/accessories.
0 Comments