"Rule 1: the Touareg has no rules" say Hutchinson of their latest tyre, which sounds like fighting talk (or at least Fight Club) - but does it convey the versatility of this gravel/cyclocross/rough stuff touring tyre?
Available in 700C and 650B versions, we've been testing the 700C x 40mm Touareg for the past few months. We've tried our best to break them, to no avail.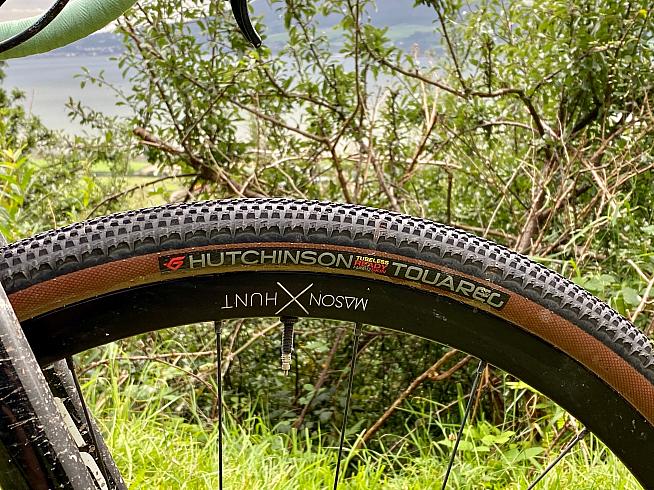 Set up tubeless using Hutchinon's own sealant, the Touaregs have coped with 100s of miles of South Downs Way - think flint-strewn singletrack, rutted fields and gravel - without putting a foot wrong.
Weighing in at 490g (claimed) apiece, these are a medium weight tyre which Hutchinson say combine the best of the road and mountain bike expertise.
The results are impressive. We've yet to have a single puncture (at least, nothing the sealant couldn't fix) and on this evidence the Touaregs are a great choice for off-road trails where durability and puncture resistance are key.
Tubeless set-up was straightforward, the tyres held pressure with no leakage either from the bead or through those distinctive brown sidewalls. The tyres use a 127 tpi (thread per inch) casing, designed to be flexible and light.
The tyre is reinforced by a Hardskin textile grid which lies beneath the tread from bead to bead. Hutchinson say it offers additional protection against sharp stones and rocks typically found on rough gravel terrain, and certainly our test tyres have stood up to everything we could throw at them so far.
As for the tread, it features a central arrangement of tightly packed low profile knobs arranged in a chevron pattern, with a ridge of taller side knobs along the outer edge to boost traction.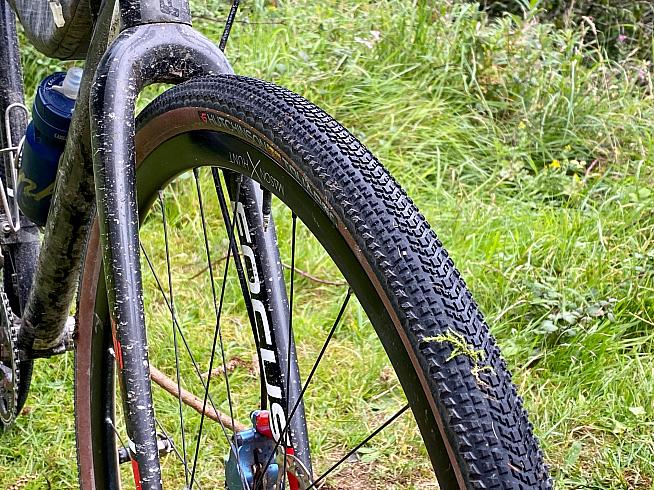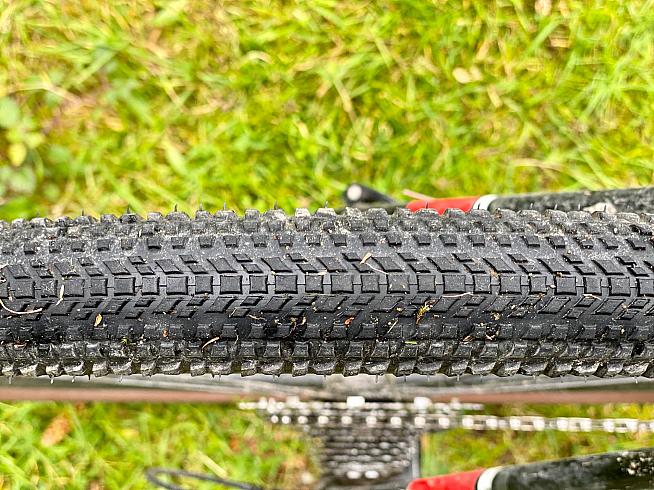 We'd have no hesitation setting out on a bikepacking adventure with the Touaregs. True, they're a little heavier than a dedicated cyclocross race tyre - but at 40C you couldn't race them between the tape anyway.
Acceleration is of course slower than a slick road tyre that's half the weight, but it's certainly acceptable; they spin up rapidly enough - and once they're rolling, they're proper trail crushers.
The densely packed knobs of the tread provide sure-footed traction on hard to medium trails. We had to drop the pressure a bit (to around 35psi) to avoid the rear wheel spinning out occasionally on particularly steep climbs, but that only helped to boost comfort and grip.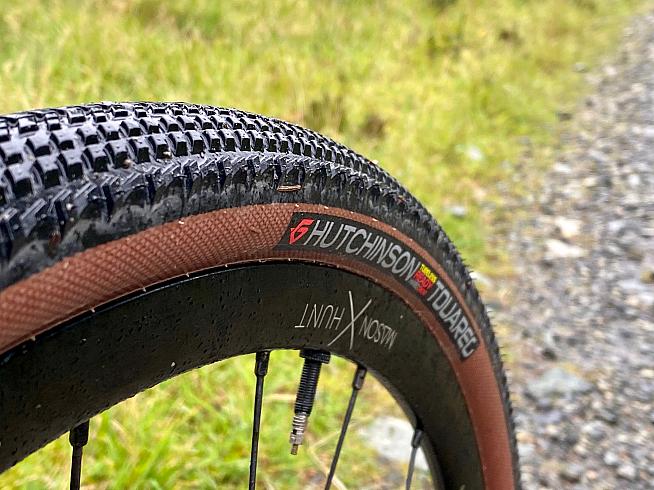 On tarmac, the tightly packed pattern and consistent profile of the knobs means the Touaregs roll well. I was especially impressed on cornering, where the tyres remain completely stable and resist the tendency to squirm that I noticed occasionally with the WTB Nanos they replaced.
As we head into wetter, muddier conditions in autumn and winter, it'll be interesting to see how the tyres cope; maybe something with a deeper tread would be preferable.
But for the dryer months, the Touaregs shine. Tough and supple as old boots, they're a dependable choice where reliability is key.
Hutchinson Touareg 700x40 Gravel Tyre - £32.99 at wiggle.co.uk.
0 Comments