They say anything's easy with hindsight. But when physicist Alex Macdonald and Olympic track champ Callum Skinner embarked on a project to create a pair of cycling glasses that allowed riders to see behind them, they were told by multiple lens makers that what they had in mind was not just difficult, but impossible.
No fewer than 11 manufacturers told the duo their part-mirrored lens was impossible; but after pairing with an inventor their vision is now a reality, and this week sees HindSight rear view cycling glasses launch worldwide.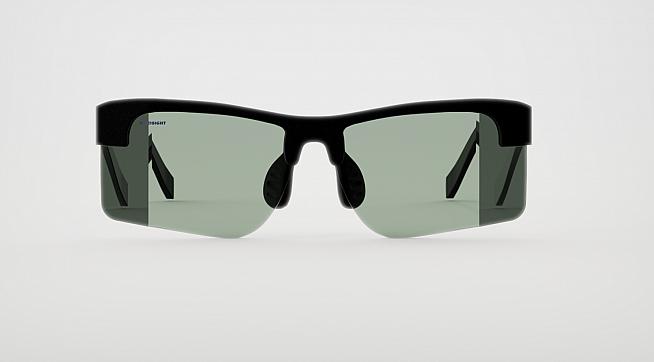 HindSight Edge rear view cycling glasses feature unique two-part angled lenses with scientifically designed semi-transparent mirrors. The patent-pending lens technology has been integrated into stylish sunglasses to allows cyclists to see forwards and backwards with a simple shift of focus rather than having to turn their heads.
Invented by physicist Alex Macdonald, developed with Rio 2016 Olympic gold medal-winning cyclist Callum Skinner and designed by award-winning optical engineer Bob Henderson, the glasses are now on public sale after a Kickstarter campaign that raised more than £100,000 from more than 600 backers in 38 countries.
The HindSight Edge range features three stylish sunglasses-style models suitable for daytime use; the HindSight Edge Sport model, which is available at a special discounted pre-order price of £174.99 (full price £199.99) while stocks last; the HindSight Edge Hemp (£209.99); and the HindSight Edge Hemp Core (£219.99).
Making cyclists safer
With a British Cycling State of Cycling report in 2019 finding that almost nine in ten (87%) cyclists are 'close passed' by vehicles at least once a week, HindSight glasses are designed to help make commuter cyclists safer. They are also intended to help professional cyclists and other athletes, such as runners and rowers, gain a performance edge by allowing them to see competitors without losing crucial seconds by looking back over their shoulders.
HindSight co-founder & CEO, physicist and keen cyclist Macdonald, came up with the idea for the glasses after experiencing dangerous close-passing incidents on the roads. Having explored the available options for rear vision such as rear-view radars and mirrors that can be mounted on helmets or handlebars, he decided to create a more stylish and functional solution which didn't require any set up, maintenance or batteries.
Developing the idea with close friend Skinner, who won gold and silver at the 2016 Summer Olympics, the idea of HindSight was born.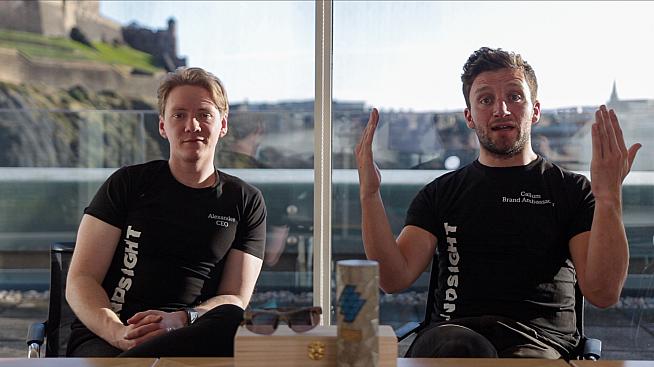 Having been told by 11 lens manufacturers that that their proposed lens design was 'impossible', the Edinburgh-based team worked with Henderson, a former European Inventor Of The Year, to create their unique two-part angled lens with semi-transparent mirrors. The team created a mathematical model based on cyclists, looking at head rotation rates, metrics such as average interpupillary distance and optimal range of eye movement, using the widely recognised Gullstrand model of the human eye.
Commenting on the pre-order launch of HindSight rear view glasses, Macdonald said: "As a regular cyclist, I was aware that knowing what was coming behind me would allow me to make smarter decisions, but I had no way to do it. HindSight glasses are designed to ensure the preservation of forward-facing vision, while adding the capacity to look behind.
"When riders currently choose to look behind them, they have no option but to choose to completely eliminate their ability to look forward; this leaves them cycling blind, at speed, with no ability to even react to changes in the road ahead. Hindsight glasses allow peripheral vision to be maintained in the forward direction while checking behind, giving effectively the best of both worlds."
Skinner added: "As a passionate cyclist, I'm acutely aware of the importance of road safety. I'm also struck by the potential of HindSight glasses to help professional cyclists reach their peak performance. Managing aerodynamic profile is essential for any elite cyclist, and, by turning back to look over your shoulder, you can easily lose efficiencies in your speed and performance. I believe HindSight glasses provide the answer to this and will change the norm as we know it."
HindSight's innovative glasses have already won a series of entrepreneurial development awards in 2020 including the Scottish Edge Award, the Scottish Enterprise Unlocking Ambition program, and the Allia Business Impact Accelerator fellowship. Earlier this year, HindSight was accepted into the Royal Academy of Engineering's Enterprise Fellowship and Macdonald has become RAEng 1851 Royal Commission Enterprise Fellow.
For full details and to buy a pair of HindSight glasses at a discounted pre-order price, visit hindsight.store.
0 Comments