Gravel pioneers Hotchillee have launched two European gravel tours for 2021, the Suisse Gravel Explorer and the Rainmaker Rollercoaster.
Set to run over 3-4 days in September and October 2021, the fully supported tours promise spectacular off-road riding in Switzerland and Catalonia.
With Covid vaccines being rolled out around the globe, the UK-based cycling specialists are looking ahead with optimism.
"We are confident we will be back riding events in 2021 and have added two very different off-road adventures for gravel aficionados this autumn," say Hotchillee.
And by the looks of it, gravel lovers are in for a treat...
Suisse Gravel Explorer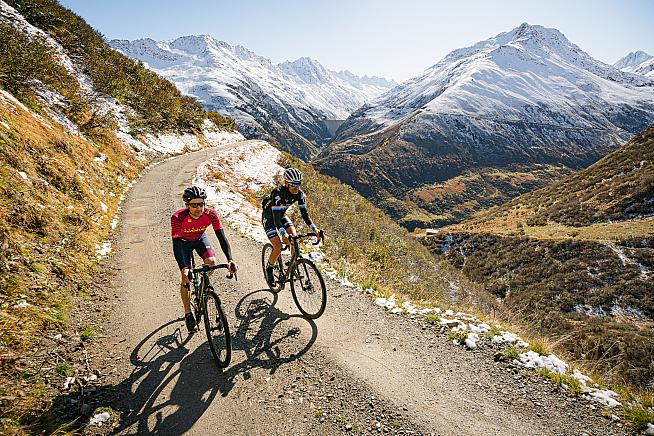 First up is the Suisse Gravel Explorer, running from 16-20 September.
As you might expect from a gravel tour set in the Swiss Alps, riders can look forward to plenty of vertical action.
"For this three day epic, you'll need the legs of a genuine mountain goat, combined with well-honed technical off-road skills," advise Hotchillee.
"Don't be lulled into a false sense of security by the seemingly low 179km/5573m over three days, every kilometre of distance and metre of ascent will be hard-earned so make sure you fit some low gears if you enter this one."
It's not a race - the challenge lies in the high altitude and technical terrain. Although, as Hotchillee note, "Put a group of riders on a tough climb and you can be sure there will be some gunning for bragging rights!"
Just 30 places are available, with entry set at £1540 including 4 nights accommodation and all meals.
Ian Holmes, Hotchillee Ride Captain and Suisse Gravel Explorer route finder, adds: "This is some of the most breathtaking scenery on the planet and one hell of a ride."
Rainmaker Rollercoaster
In October the Hotchillee crew roll south from Switzerland to Spain for the Rainmaker Rollercoaster.
Previously held in South Africa's Southern Cape, this year marks the first edition of the Rollercoaster to take place in Spain.
Covering 395km with 6012m climbing over four days, you'll definitely feel it in your legs. There are timed sections, but Hotchillee say this event is as much about soaking up the Catalonian culture, scenery and gastronomy as it is the bike.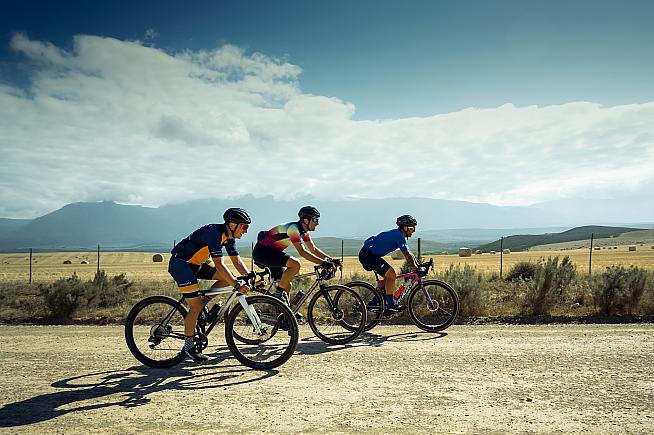 "Starting in the cycling Mecca of Girona before glamping in the olive groves of an ancient estate near Lake Banyoles, expect to be truly immersed in this rugged and beautiful area," say Hotchillee.
"You'll be expertly guided by local riders and the Hotchillee Ride Captains through maze-like medieval villages, across rolling farmland, through stunning valleys, out to the Costa Brava and, of course, up some breathtaking climbs.
"Your efforts in the saddle will be rewarded with stops at a cider house, an artisan bakery, an off the grid organic eco-lodge and even a brewery. At the end of each day, a pool, mechanics, massage therapists, more great food and maybe a drink or two will be waiting for you."
Well, we're sold. If you need further convincing, Hotchillee have opened this event up to non-riding partners, with a carefully selected daily itinerary for those preferring to explore the area on two feet, rather than two wheels, or just enjoy the relaxing atmosphere and local cuisine.
Ashleigh Moolman-Pasio, South African National Champion and Olympian, adds: "After riding the Rainmaker Rollercoaster with Hotchillee I loved it so much I brought it to my home in Banyoles! I'm looking forward to hosting the event this year, and showing off this beautiful corner of the world."
The Rainmaker Rollercoaster runs from 2-7 October 2021. Entry is priced £1890 including 5 nights twin-sharing accommodation and meals.
Entries for both gravel events are now open and covered by Hotchillee's COVID Guarantee.
For more information and to enter, check out Hotchillee.com.
0 Comments