The UK's coronavirus lockdown may be less restrictive than those currently in force in France, Italy and Spain - bike rides are still allowed - but for many cyclists, taking their training indoors seems a sensible precaution.
Recognising the dilemma facing their customer base, Rapha have launched a series of group rides on the online training platform Zwift.
Some of the rides will be exclusive to members of the Rapha Cycling  Club (RCC), replacling the club's regular rides from Rapha's international clubhouses.
There's plenty for non-members too though, with Pro Rides led by professional riders from CANYON//SRAM and EF Pro Cycling open to all.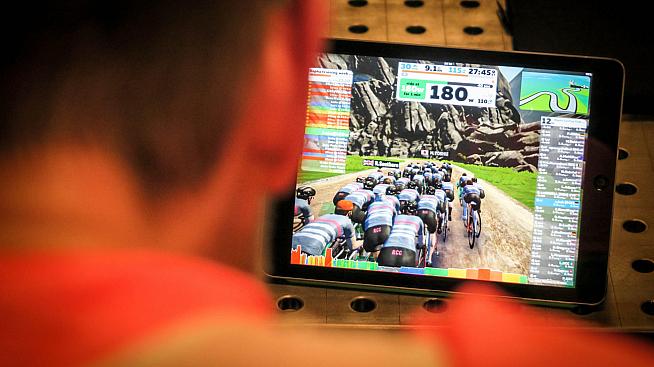 "For many of us, getting out for a ride has become difficult or impossible in recent times," say Rapha. "In partnership with Zwift, we're taking the fight for form and fitness online, offering a series of group training rides with Justin Williams, CANYON//SRAM and EF Pro Cycling over the coming weeks and months.
"Scheduled to suit riders of all abilities in time zones around the world, our group training sessions provide a unique opportunity to connect with the global riding community like never before. Cyclists from all corners will join, along with a selection of professional riders from CANYON//SRAM and EF Pro Cycling, allowing fans to ride with their heroes rather than simply watch them."
Zwift users can view and sign up to the Pro Rides at zwift.com.
RCC Club Rides
Rapha Cycling Club's coordinators aim to help members make the most of riding in their city. Now, they're helping unlock the potential of Zwift with regular online group rides in place of the club's usual RCC group rides.
RCC members can sign up on the RCC app.
RCC Member Rides
You'll never be short of a ride on Zwift, and plenty of RCC's Ride Leaders will also be hosting group rides on Zwift to replace their regular rides. Check the RCC app to find a group and a time that suits you.
0 Comments