Outside getting too cold/muddy? Zwift have launched a collection of off-road training plans, allowing you to hone your gravel fitness indoors - and there's a new selection of in-game mountain and gravel bikes on offer too.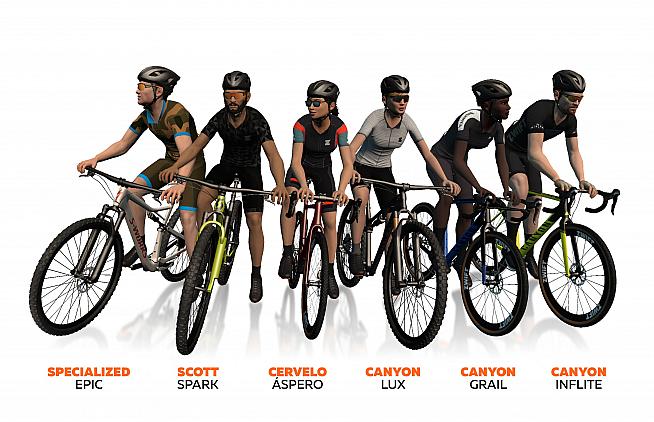 Until recently the preserve of roadies, virtual training platform Zwift have moved to embrace the growing gravel scene with a new range of training schedules designed specifically for the demands of off-road riding.
The new plans "are geared towards the type of efforts you can expect whilst riding the dirt," say Zwift.
"It's not every day you can make it to the trailhead or explore the less-traveled-gravel-roads, but you can prepare yourself. When the next off-road adventure comes calling, you'll be primed and ready to rip."
There are four training plans in total - Pebble Punder (Gravel, beginner), Grave Grinder (Gravel, intermediate), Dity Destroyer (MTB, intermediate) and Singletrack Slayer (MTB, advanced).
The plans range from 6-12 weeks in length, and are flexible - so you can combine indoor and outdoor sessions to build your endurance and skills ready for your next off-road adventure.
That new bike day feeling
Zwift have added a fleet of new bikes to the online store to go with the new training plans. Mountain bikes from Specialized, Scott and Canyon are now available, while gravel grinders can choose from the Cervelo Aspero, Canyon Grail and Canyon Inflite.
The bikes have been tuned to replicate the characteristics of their real-life counterparts, with wider, treaded tyres increasing rolling resistance for example.
Check out the new bikes and training plans on the Zwift website: zwift.com.
0 Comments