Picture riding under the dark of night, alone in the forest, on the moors, through twisty singletrack. You, the bike, and the wildlife calling in the distance.
Nocturnal adventure is the name of the game at Dark Skies, a starlit sort-of sportive on the North York Moors. Saturday 22 February 2020 will see the event's third edition, featuring 50 miles of the sort of offroad terrain that will be familiar to anyone who's enjoyed organisers Yorkshire True Grit's epic gravel rides.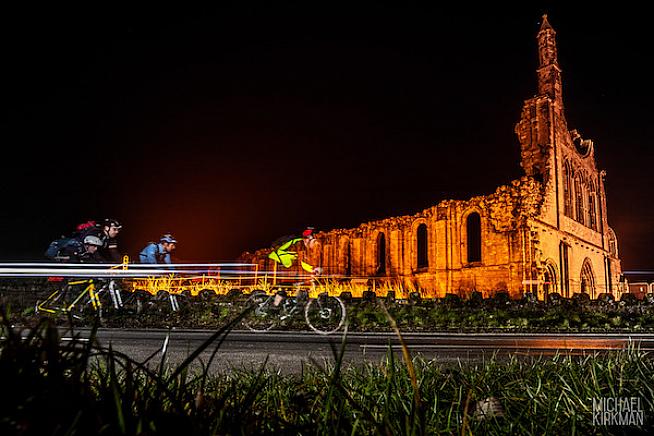 Limited again to just 100 riders, the event forms part of the North York Moors Dark Skies Festival. The North York Moors National Park is a stargazer's paradise with little or no light pollution. Add a cloud-free sky and those taking part in Yorkshire True Grit Dark Skies should be able to see thousands and thousands of stars and constellations overhead - and plenty of bike lights to lead the way ahead!
The event starts at the stunning Newburgh Priory on the edge of the village of Coxwold in the Howardian Hills, as the sun goes down, and heads into the Howardian Hills and traverses below the White Horse at Kilburn, before heading toward Boltby where the climb to the very edge of the exposed North York Moors begins.
From there riders will head toward the feed station where they'll be warmed with soup, tea and coffee (and the cheesy sausage rolls that are now infamous at Yorkshire True Grit events) before heading back toward Newburgh for a pie and pea supper.
This gravel event is an adventure like no other, and if you thought the terrain was tough in daylight then rest assured, riding at night will test if riders really have Yorkshire True Grit!
Riders will go through a kit check at the start to make sure they're carrying mandatory survival gear, and all participants will be issued with a GPS tracker so that friends and family can watch the event from afar.
Route Planner and Event Director, Andrew Wright said: "The atmosphere at this event is something else - it's really special. There's a sense of camaraderie amongst the riders.
"Riding at night provides a completely different experience to daytime riding and challenges you in a different way. It is great that the first couple of events were loved so much that we're able to put this on again."
This year's Yorkshire True Grit events are sponsored by British bike brand Vielo. Trevor Hughes, Director of Vielo said "We're incredibly excited to be sponsoring the Yorkshire True Grit series of events this year. Having ridden the Yorkshire True Grit last year we instantly fell in love with it. There aren't many events that can provide such stunning scenery, exhilarating riding along with a welcoming festival vibe in the way that Yorkshire True Grit events do."
For more details and to enter, visit yorkshiretruegrit.co.uk.
0 Comments