When WyndyMilla created the original Massive Attack in 2012, it was designed with one purpose - to create the bike that has "everything the modern rider needs, and nothing they don't.'' Handmade craftsmanship, fitted perfectly to the rider, exquisitely painted to the exact specifications of the owner - put simply, more than just a bike; an extension of the rider, and crafted as a work of art.
Seven years on, WyndyMilla's flagship bike has been redesigned and represents the completion of the entire remodelled range, which launched earlier this year.
Described as "the pinnacle of crossing design with beauty, and performance with custom - perfecting what it is that riders need from their bicycle", WyndyMilla are setting high expectations for the new Massive Attack. And, as we think you'll agree from the photos, it certainly looks the part.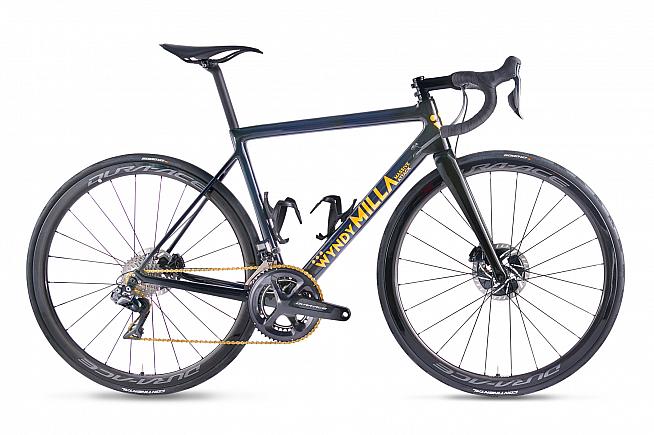 The original Massive Attack was designed with input from former Paris-Roubaix winner Magnus Backstedt and was the weapon of choice for Hannah Barnes in her National Champs winning season. It has been WyndyMilla's most popular model, but the brand say this new generation "takes all-round performance to another level".
The new bike features a monocoque head and downtube construction, moulded into one single piece of carbon to increase rigidity and reduce weight, yet still cunningly designed so WyndyMilla can customise a wide range of precise head-angles plus headtube and downtube lengths, exactly as the rider needs.
Kammtail shaping gives better aerodynamic performance of the tubes while also sheltering the bottle and cage, further reducing overall aerodynamic drag for both official crit races and unofficial charges to the cafe stop.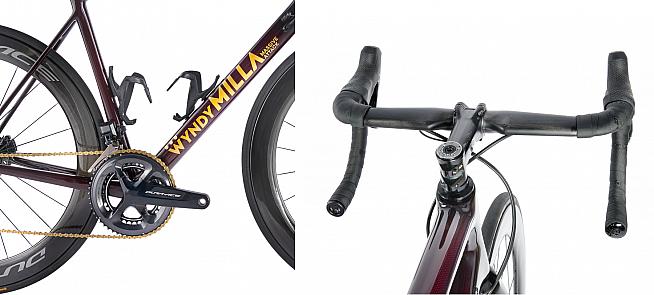 An oversized bottom bracket shell has been added for maximum stiffness and power transfer plus a new D-shaped seat tube and seat post for increased comfort - perfect for long days in the saddle.
It's no gravel bike - look to the WyndyMilla All Road if grit's your thing - but when the road surface worsens, the rear triangle now includes dropped stays to improve the aerodynamic performance while reducing road vibration.
Assisting in the comfort department is increased tyre clearance to allow for modern wide-format rims and tyres up to 30mm.
Have it your way
With complete customisation of fit and finish and a lifetime warranty, the new Massive Attack offers uncompromising quality to riders.
Each purchase starts with a bike fit and consultation. Time, care, and usually a coffee or two are taken to perfect the fit for each rider - resulting in a versatile, all-round high-performance bike, with unique individualities to make the riding position as comfortable as possible.
Handcrafted carbon tubes are designed and specified at Wyndymilla UK HQ with frames then hand-fabricated in Italy, before coming back to WM Paintworks for painting. Riders have a range of options; from single colours with high-quality finishes - to fully custom, detailed artwork; making each bike not just bespoke by fit and fabrication, but uniquely decorated to create a piece of art.
Not only will each Massive Attack have fully custom geometry, but individuals are also given total control over all components and gearing systems - with expert advice offered throughout the process.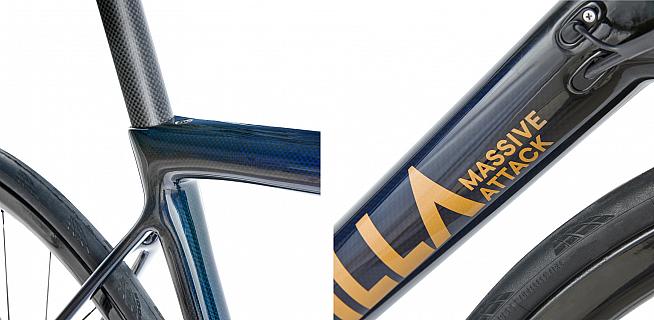 Henry Furniss, founder of WyndyMilla, comments, "The Massive Attack model has been a staple member of the WyndyMilla family for years. It's won road championships and races all over the world, plus it has been the go-to, do-it-all machine for most of our loyal customers, we're proud to be reintroducing the model to match the discerning tastes and requirements of the modern cyclist. We've spent months redesigning and improving our best-selling bike to continue to offer the best in performance and comfort, with brand new tubing to bridge speed with endurance. The ability to offer wider tyre clearance has also been important to offer our customers greater choice; we can't wait to give new Massive Attack owners wings"
The new Massive Attack is now available from WyndyMilla, with a custom carbon frameset costing £4000 for rim brake and £4200 for the disc version.
To browse the range, visit www.wyndymilla.com.
0 Comments