Nice has been confirmed as destination for the 2020 Etape du Tour. The 2020 edition will see two firsts for L'Etape: the first coastal route and the first loop, as riders tackle stage 2 of the Tour de France.

The 30th edition of the Étape du Tour de France will be held in Nice on 5 July 2020. Riders will face a 177km course with an elevation gain of 3,570m in the Alpes Maritimes range that provides the city with its spectacular backdrop.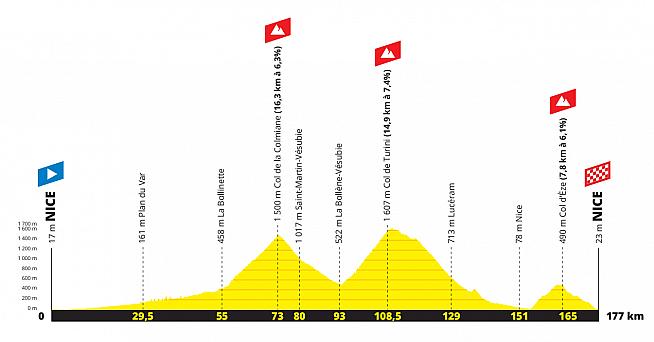 16,000 riders are expected to take part in L'Etape du Tour, making it one of the world's biggest as well as best-known sportives. The 2020 edition starts and finishes in Nice - a real bonus for riders, avoiding the logistical headache of transferring to and from distant start/finish points.
The course features two key climbs, the Col de la Colmiane (1500m) and the Col de Turini (1607m), with a third challenge - the Col d'Eze - lying in wait at the 100-mile mark.
We'll have a full route analysis soon, but here's a quick summary from the official notes...
"Following the start on the Promenade des Anglais, riders will draw energy and inspiration from the magnificent setting of the Gorges de la Mescla in the Tinée Valley.
"A rising false flat in the first 50 kilometres will help riders warm up before tackling the first challenge of the day, the Col de la Colmiane, where Simon Yates was victorious on the 2018 edition of Paris-Nice.
"After cresting the Col de la Colmiane, a 20km descent will give the legs a break before the second main challenge, the Col de Turini. Cycling fans may recall this as the site of Colombian Egan Bernal's first success on French roads in this year's Paris-Nice race - foreshadowing his Tour triumph later in the summer.
"To complete the festival of climbing, the route finishes with the ascent of the Col d'Eze, a landmark of the Race to the Sun on top of which Eddy Merckx, Joop Zoetemelk and Sean Kelly sealed their victories in the 1970's and 80's.
"Here riders will have to burn their final reserves against the backdrop of the superb view from the Moyenne Corniche.
"It will also give riders their first glimpse of the finish line, just a few kilometres down the road - but they will need to leave something in the tank to avoid mistakes in the extremely long descent that will take them back to Nice and the finish line."
Registration for the 2020 Etape du Tour opens at the time to website at 4pm on 21 October.
In the meantime, check out the teaser video here:
0 Comments