So another RideLondon has passed, with thousands of cyclists enjoying the chance to ride London and Surrey's roads free from motor traffic on Sunday.
On paper it's a fantastic event, and we'd venture that for most who take part, it's a highlight of their cycling summer. And that would include our own reporter, Asha.
Riding for the second successive year, Asha commented:
"This year was a thoroughly enjoyable ride right from the get-go. The weather was beautiful all day (a stark contrast from the rain last year), which made it all the more enjoyable.
"I was also delighted to see a more diverse range of riders in addition to the masses of MAMILs - especially those of a similar demographic to me - making RideLondon feel more inclusive.
"My finish time was 07 hours and 57 minutes - a significant improvement from last year's 09 hours and 24 minutes thanks to a new road bike. And whilst I chose to skip both Leith Hill and Box Hill, I think I'll definitely have to give them a go next year!
"Thoroughly enjoyed the sportive, already looking forward to RideLondon 2020!"
But not everyone was happy. Some riders on the 46-mile short course have taken to social media to complain that the route was shortened to just 39 miles, while others have posted photos of congested lanes crowded with cyclists at a standstill: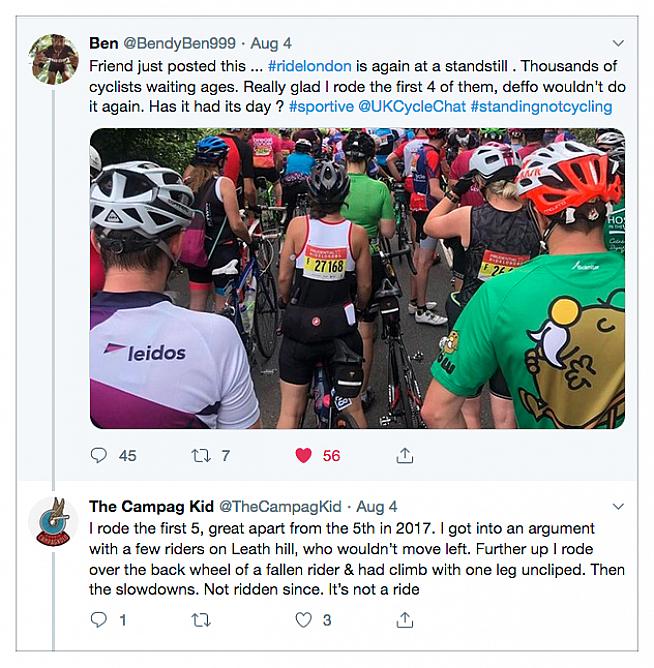 Our own James Andrews (well, we share him) also took part, with mixed feelings:
"Never have I been told to "slow down" or made to walk as much in any sportive. Ever.
"9:30 to complete it - three hours more than 2017 when I was stupidly under-prepared, and 4:40 longer than my best time.
"That time is despite averaging about 19mph for the first 31 miles - including stops (I said hello to my parents waiting by the roadside coming out of Richmond Park, and had to slow down so I didn't get there early).
"I walked so much I completely wore out a brand new set of SPDs, hit my 10,000 steps count before Esher and at the finish was handed a bit of paper because they'd lost 7,000 medals.
"I think being told not to try and sprint (or go above about 15mph) down the Mall was worst - one of the most famous sprint finishes in cycling (certainly most famous in British cycling).
"I did manage to ride Box and Leith, which a lot of people didn't, but routing the 19 and the 46 on the same roads as the 100 at the end meant huge numbers of families, people on mountain bikes etc flooded onto the same streets from Hampton Court onwards.
"I walked 80% of the Portsmouth Road and into, then through, Kingston.
"I get it's not a race, but it is meant to be a ride."
As ever, some famous faces took to the course - including a former Love Island contestant.
No sign of Boris Johnson this year, but Labour MP Tom Watson was delighted to complete the RideLondon 46 course: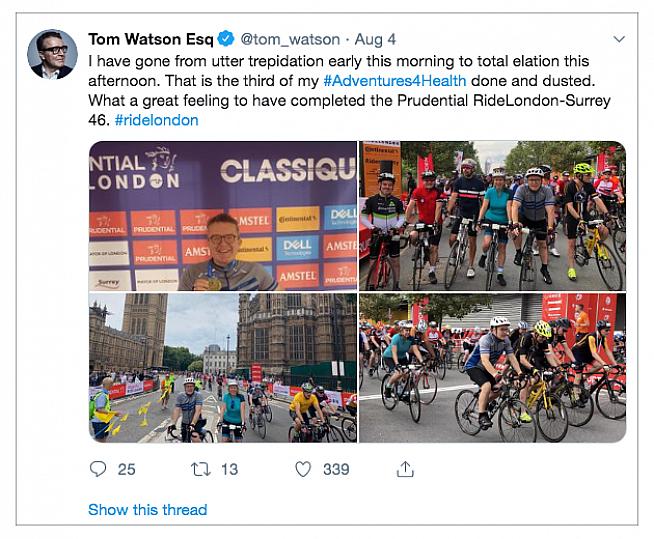 The deputy Labour leader, who has Type 2 diabetes, has lost 7 stone (44kg) in weight over the past two years. His RideLondon effort was part of a series of sporting challenges he's undertaking for charity - Adventures 4 Health.
There was also one celebrity complaint, with West End singer Elaine Page griping about being held up on her car journey.
"Just had an autocation with a rather rude road security person stopping me from driving to my home due to An annual disruptive bike ride across the capital. If cyclists paid road tax as I do I wouldn't feel quite so disgruntled," tweeted Page.
Needless to say, fellow Twitter users quickly corrected her regarding road tax - and the tweet has now been deleted.
With so many people taking part, it's inevitable that experiences will be mixed. And of course, it's the dissatisfied customers that are more likely to make their views known.
Here's a small selection of the views on Twitter, both good and bad: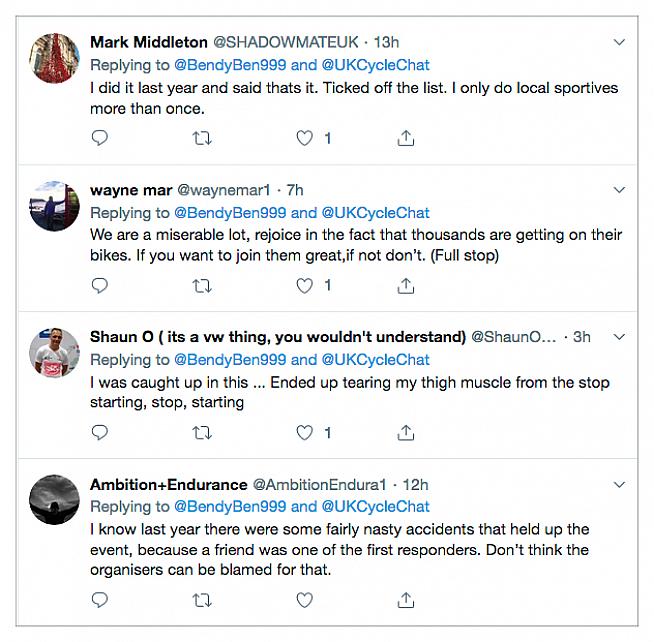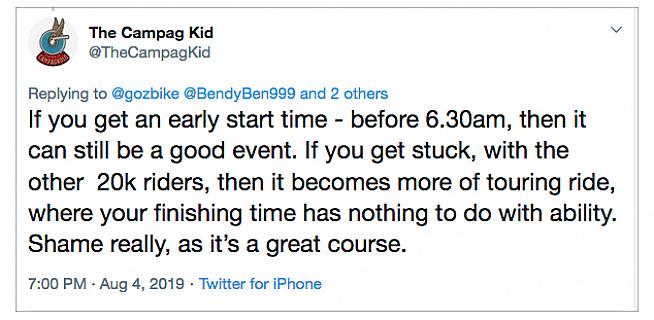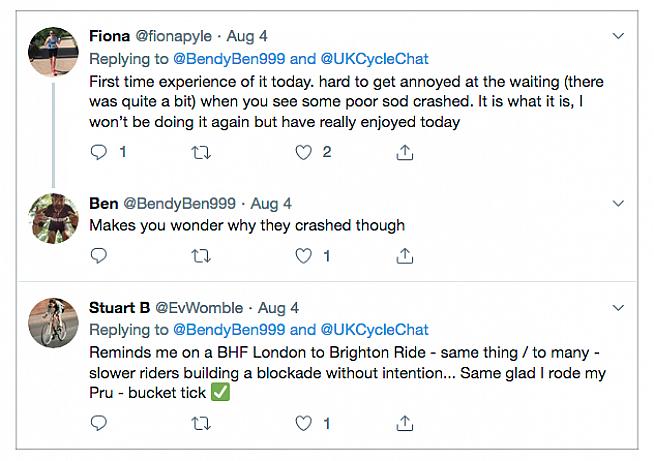 We've also had one rider write in to us to voice his concerns about RideLondon:
"I rode this event yesterday and will not ride it again," says Andrew.
"It is too crowded with riders making it difficult to pass anyone without cutting in etc. Also, the organisers decided to cut the time allowances between locations in the middle of the event. Also, Leith Hill and Box Hill were closed off mid event.
"The event is well organised and goes through some great countryside with all roads closed, but it is spoiled by the sheer numbers of riders taking part.
"Of the seven and half hours it took me to get around, I walked an hour of it as it was too crowded to ride.
"The numbers of entries need to be cut. This means less money for the Pru, but a more enjoyable experience for the rider. Otherwise, I feel that the event may eventually close due to rider dissatisfaction."
What do you think - did you take part in RideLondon this year? Good, bad, mixed - how was your experience?
0 Comments