Entries have opened for the 2019 edition of the Cyclassics Hamburg Challenge. Taking place on 25 August 2019, the sportive is held alongside the Cyclassics Hamburg pro race and is one of Europe's biggest, with 18,000 riders exploring Hamburg and surrounds on roads closed to traffic. 
Three courses are on offer of 60, 120 or 160km long and, say the organisers, are "among the most beautiful cycling courses you're going to find on this planet":
"Thanks to completely closed roads, neither cars nor traffic lights will get between you and the finish line as you race past world-famous sites. You won't find better conditions for a personal best and an unforgettable weekend full of cycling."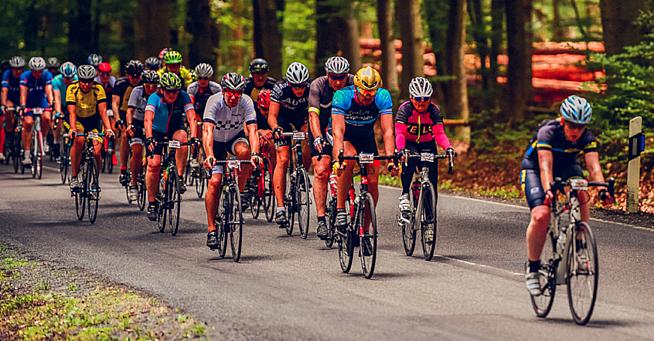 The course ends on the "Mönckebergstraße" in the very center of the Hanseatic city. Completely closed roads leave you free to enjoy the woodland and urban sights like Hamburg's famous Reeperbahn, through which the route passes - giving a whole new meaning to "going into the red".
After the sportive, you can join 500,000 spectators to enjoy the sight of the world's best pros duelling it out on the same course. The top 18 cycling teams in the world will be taking part for the Cyclassics Hamburg WorldTour pro race, offering fans a chance to get up close to some stars of world cycling.
The Routes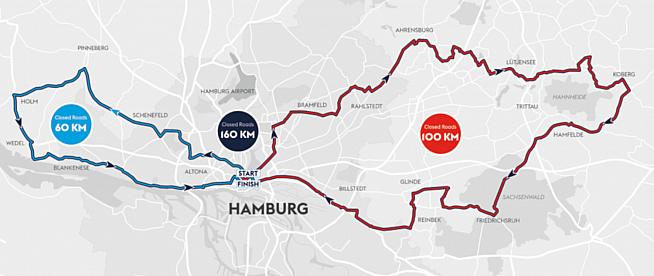 CYCLASSICS 60
The Cyclassics 60 lead you to the west of Hamburg. They start between Hamburg's famous lakes, the inner and the outer Alster and then take you beyond the city's borders and into the federal country Schleswig-Holstein. On the way back the Kösterberg hill awaits you. Make sure you fully enjoy the route from here on as countless highlights await on your way to the finish line. You'll ride past the Reeperbahn, Hamburg's famous night-life-street.
CYCLASSICS 100
Are you an ambitious cyclist who wants to show what you're made of, or beat your last year's (or best friend's) time? Then take on the CYCLASSICS 100. The course leads you to outer Hamburg and into Schleswig-Holstein's Stormarn. After riding through Hamburg's vicinity the course takes you back to the very heart of Hamburg and the finish straight on the 'Mönckebergstraße'.
CYCLASSICS 160
Can't get enough of your passion for cycling and want the ultimate EuroEyes CYCLASSICS experience? The CYCLASSICS 160 is made for you. The course combines the known features of the event with a new incomparable race character and offers all endurance enthusiasts the ultimate challenge.
Entries
Entries for Cyclassics Hamburg 2019 are open now, with prices starting at €85.50. For more details and to enter, visit www.cyclassics-hamburg.de.
0 Comments