Rapha have announced a new sponsorship deal with EF Education First pro cycling team. The deal marks a return after two years to the top level of professional road cycling for Rapha, who enjoyed a successful partnership with Team Sky including three Tour de France wins for Chris Froome.
In a press release announcing the partnership, Rapha hinted that the new partnership will strike a different note as they aim to "revolutionise the way professional cycling is presented by taking a disruptive approach to the sport throughout the 2019 season and beyond."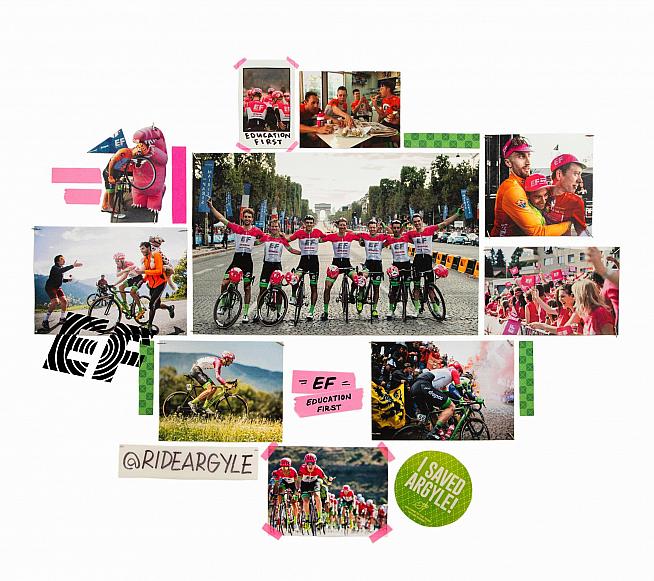 EF Education First (full title EF Education First-Drapac p/b Cannondale) are based in Boulder, Colorado and led by Jonathan Vaughters. The team has gone through multiple iterations since forming in 2003, with the recent Garmin-Sharp and Cannondale-Garmin incarnations attaining notable success with charismatic riders including Taylor Phinney and Phil Gaimon.
Fans can look forward to a unique insight into the team next season, with Rapha promising to "bring their creative credentials to EF Pro Cycling ... together they will focus on profiling inspirational and charismatic riders and showcasing their stories. Coverage will include regular shows from inside the team, with some developed and presented by the riders themselves. Cameras will follow the racers on a year-long journey through the most interesting events in cycling, offering a new window into all aspects of the sport."
"Together, Rapha and EF will celebrate the team's characters and heroes, and will explore not only the traditional heart of cycling in the Grand Tours and Classics but also bring new formats and disciplines into focus. A number of EF racers will ride a mixed calendar of events in the 2019 season, including the WorldTour schedule and also criteriums, ultra-endurance races and renowned mixed- terrain events. This coverage will be coupled with live events in Rapha Clubhouses and other venues around the world, building on the local cycling communities that the brand has been developing since the company's inception.
"Building on Rapha's previous success in the WorldTour and race-proven range of Pro Team kit, the team will wear the most technically advanced and visually striking clothing in the professional peloton. The new designs will be released soon."
Rapha's founder, Simon Mottram said: "Rapha started in 2004 because of my own love for road racing. Racing has always been something that inspires us and our customers - it's our common ground. Through our sponsorships with Rapha-Condor, Rapha Focus, Team Sky, Team WIGGINS and CANYON//SRAM, we've had great success, but are still frustrated that the sport can only grow if it fundamentally reforms. For this reason, we are excited to play a role in moving the sport forwards through the new venture with EF. We are passionate about making it reach more fans and be a better spectacle so that more people come to appreciate how great it is. As a fan, I'm so excited about us being back in the men's WorldTour."
Jonathan Vaughters commented: "Rapha is a great partner for us, from their world-class kit to the cycling culture we both want to help grow. We aim to open up cycling to a wider group of people; we're interested in exploring all aspects of the community, from racing and its core fans to the people who just got on bikes.
"By bringing some of our athletes to grassroots and mainstream races across the world, we're hoping to deepen the relationship between our team and other riders, and have some fun while we're at it. We're also going to give people more insight into the sport than before, showing a rare, unvarnished perspective of these athletes' lives. The human element of cycling is very, very powerful.
"And as for the kit...we look forward to building on the strong visual identity forged by POC and bringing our style into a new chapter. I can't wait for everyone to see it."
Rapha say the new team kit will be revealed soon. Any bets on a return to the famous Argyle checks?
Find out more at www.rapha.cc.
0 Comments