Flanders is done and dusted, next up is Paris-Roubais; the Spring Classics are well underway. If you want a taste of the action but can't get over to France or Belgium, fear not: a small but growing number of Classics-inspired sportives are springing up here in the UK.
Whether it's the velodrome finish of Paris-Roubaix, the cobbled climbs of Flanders, or even the white roads of the Strade Bianche, you can find domestic equivalents right here on home shores. So put away your passport and check out these homegrown sportive tributes to cycling's most famous races...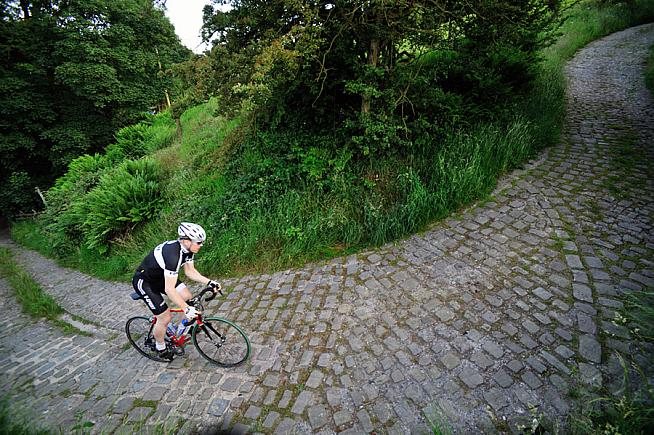 The Cobblemonster
Sunday 8th April 2018
Billed as "London's original and best urbosportive", The Cobble Monster isn't your typical sportive, but we're including it because 1) it has cobbles and 2) it sounds a hell of a lot of fun!
WIth a route vaguely described as between 38 and 40 miles in length (depending on road access on the day), the ride sets out from Brixton Cycles Shop and then you'll... well, over to the organisers:
"...descend into the melee of the west end, blatting across some early secteurs of the Smokes' Victorian pave before tucking into the east end and its myriad lanes of snaking cobbled nadgery.
"We then cross the river start a series of LBCs (Lung Bursting Climbs) which increase in frequency toward the finish at Brixton Jamm and the finish."
You see? It does sound like fun.
Entry is free but donations to the Evelina London Children's Hospital are welcome.
For more details, see cobblemonster.com.
Sean Yates Spring Classic
Sunday 8th April 2018
Now in its fourth year, the Velopace Spring Classic is an early season leg-warmer based amid the telescope domes of the Observatory Science Centre in Herstmonceux.
Endorsed by former pro and Directeur Sportif Sean Yates, the undulating course rolls out into the Sussex Weald and the Ashdown Forest on Yates' old training roads, with 62 miles of quiet country lanes.
Featuring Belgian style frits & mayo and some hot soup and crusty bread to warm you up at the feed station, there's even a free bottle of Belgian beer and a medal at the end for every finisher. Save it till you get home, and enjoy while watching Paris Roubaix on telly...
Cost: £28 (102km) / £22 (66km)
For more information and to enter, visit www.velopace.com.
Rapha A Day in Hell
Sunday 8th April 2018
Now in its ninth year, Rapha's annual London tribute to Paris-Roubaix leads riders from Pond Square, Highgate on a barnstorming tour of Hertfordshire's gnarliest country lanes. Featuring multiple off-road sections of 'gravé', the ride is a North London institution and a hugely enjoyable day out, with a pub finish just in time to watch the pros race into Roubaix Velodrome.
New for 2018, Rapha have rebranded the Hell of the North as A Day in Hell - and in addition to the London ride, new international editions will take place in Berlin, Boulder CO, Hong Kong, Manchester, Melbourne, Osaka, Paris, Singapore, Sydney and Taipei. Gravé has gone global!
Entry includes a limited edition Rapha cap, and you can pick up some matching kit from a limited edition Rapha collection too.
Entries to some editions (including London) have long sold out - but hey, the roads are open to anyone willing to download a route map... Just don't try to blag the free beer and frites at the end!
Cost: £20
For more info, visit www.rapha.cc.
Ronde van Calderdale
Sunday 8th April 2018
Organised by Kirklees Cycling Academy in homage to the Tour of Flanders, the Ronde van Calderdale has established itself as one of the toughest Classics-inspired sportives in the country. Based in Liversedge, West Yorkshire, the 72-mile ride features 13 testing climbs on both cobbles and tarmac road sections.
Retro/vintage kit is welcome but not mandatory, and all proceeds go to help develop riders from Kirklees Cycling Academy - a cheering thought as you struggle up the cobbled Dodlee Lane (avg. 14%) in your wool jersey!
Cost: £25 (£30 on the day)
Entries via the British Cycling event page have now closed, but keep an eye on the RVC Facebook page for details of on-the-day entry.
Yorkshire Velo Tours Challenge Ride 2: Haworth, Hebden Bridge and Widdop Moor
Saturday 21st April 2018
One of Yorkshire Velo Tours' monthly challenge rides, this route tips a nod to the Spring Classics and gives riders a taste of Bronte country with sections of road famously used in both the Tour de France and the Tour de Yorkshire.
"There's a truly distinct character to this part of Yorkshire and if you've not been here before, the roads and scenery will win you over big time!" say the organisers.
"Don't be deceived by the relatively short distance of the ride, the hills are not long but they come thick and fast meaning that the ride will feel much more than the 61 miles!"
The ride takes in two short (not steep) cobbled climbs of Haworth Main Street and the top of Heptonstall Lane up from Hebden Bridge.
After a climb out of the Wharfe Valley the route rises from the Aire Valley over to Haworth to join a section of the 2014 Tour de France route, including the famous cobbles and the Cote de Oxenhope Moor.
Cost: £40
For more information and to enter, visit www.eventbrite.co.uk.
Lincoln Grand Prix Sportive
Saturday 12th May
While this challenging sportive doesn't set out to be a Classics tribute, it makes the list for one reason: it's the only sportive (we know of) that includes the cobbled climb of Michaelgate in Lincoln.
This 400m long climb (avg gradient 11%) in the heart of the old town has an iconic place in British cycling thanks to its inclusion in the Lincoln GP - and it poses a short but sharp final challenge to riders on the Lincoln GP Sportive.
With a choice of five routes, including the option to have a coach guide you around the course, the sportive forms part of Lincoln Cycling Festival. Why not make a full weekend of it?
Cost: £24 - £36
For full details and to register, visit www.itpevents.co.uk.
Wilier Tour of the Black Country
Sunday 20th May 2018
Inspired by Paris-Roubaix, The Wilier Tour of the Black Country follows a 120km route that takes in 22km of cobbled roads, stony farm tracks and bridleways in the West Midlands and Worcestershire, with a Roubaix-style velodrome finish.
The 14 unpaved gravel and cobbled sectors vary in length from 600m to 2500m, but they're all passable on a standard road bike. Just like Paris-Roubaix, each sector is rated according to difficulty; one star being the most straightforward, five stars being the most difficult. The five-star sectors include the 'Waltonberg' cobbled climb and the epic 2500m Clent gravel climb, whose summit provides a spectacular 360-degree panorama of the Black Country, the Malvern Hills and Wales.
The roads of the Tour of the Black Country are mostly traffic-free, and the majority of the unpaved sectors are closed to all traffic. Fittingly, the ride finishes with a lap of the large outdoor velodrome at Aldersley Stadium making for one of the UK's most authentic Spring Classic tribute sportives.
Cost: £29
For full details and to enter, visit cycleclassics.co.uk.
Wilier Cheshire Cobbled Classic Sportive
Sunday 10th June 2018
Cycle Classics' tribute to the Ronde van Vlaanderen (Tour of Flanders), the Cheshire Cobbled Classic is billed as an extremely tough 105km sportive featuring twelve cobbled sectors. Five cobbled climbs exceed 20% in gradient, including the infamous Corkscrew which hits a frankly terrifying 45% and is claimed to be the steepest climb in the country.
With 1600m of climbing the course includes an ascent of Swiss Hill - a 25% cobbled climb used by Team Sky to prepare for Flanders - ensuring you'll have earned your complimentary Belgian waffles, chocolate and glass of Leffe at the finish line.
Cost: £29
For full details of the course (and descriptions of those climbs!) and to enter, visit cycleclassics.co.uk.
Wilier White Roads Classic Sportive
Sunday 22nd July 2018
Prepare for a dust-up on Oxfordshire's very own Strade Bianche with this 80-mile (125km) sportive in The Ridgeway Area of Outstanding Natural Beauty. The route takes in 16 sectors - totaling 25km - of gravel and chalk roads, most of which are closed to traffic.
"On a sunny day these roads are a brilliant white," say the organisers. "The route is situated in the North Wessex Downs Area of Outstanding Natural Beauty, on and around the 8000-year- old chalk 'Ridgeway' - the oldest road in the country."
Cost: £29
For more information and to enter, visit cycleclassics.co.uk.
Ride of the Falling Leaves
TBC October 2018
Now in its 20th year, Dulwich Paragon's CC's annual tribute to the Giro di Lombardia (known as the Race of the Falling Leaves) offers riders a choice of 70km or 110km routes through the Kent and Surrey countryside.
In true Classics style the ride finishes in a velodrome: event HQ is Herne Hill Velodrome, the refurbished venue from London's 1948 Olympics, making this the perfect finale to your summer road season.
Date and cost yet to be confirmed - keep an eye on the Dulwich Paragon website for the latest: www.dulwichparagon.com.
Gold Rush Gravelcross
Sunday 14th October 2018
Something a bit different to finish with: the Gold Rush is a 'gravelcross' sportive, meaning it's designed for adventure/gravel/cyclocross bikes rather than your standard skinny-tyred racer.
Tackle a choice of 75, 55 & 38km routes, criss-crossing the lanes and droves of the Chalke Valley en route to Shaftesbury's iconic Gold Hill, then back to the start on a series of long, fast CX perfect drove roads.
We're including this sportive in part because the off-piste lanes are like an extreme reimagining of the Strade Bianche. But mainly, it's because the course features a climb of Gold Hill, the iconic setting for the classic Hovis advert; a 1 in 4 gradient on "(occasionally) grippy cobbles that will test your heart, legs and grimacing skills!"
"It's a true classic of a climb that should be on your bucket list," add the organisers, "and you'll get a special award if you can ride the whole thing clean!"
Cost: £31 (Full or Mid route) / £28 (Short)
Full details and entry at www.cxsportive.com
0 Comments