Trekking through the stunning passes of the Lake District, the Fred Whitton Challenge is among the oldest and toughest sportives in the UK. 2018 will see the 19th edition of this iconic sportive, and from today you can secure a guaranteed place on the start line by riding for charity.
Famed for its difficulty, the 112-mile Fred Whitton sportive packs in 4,000m of climbing and is hugely oversubscribed each year with 2,500 entries being allocated via a ballot.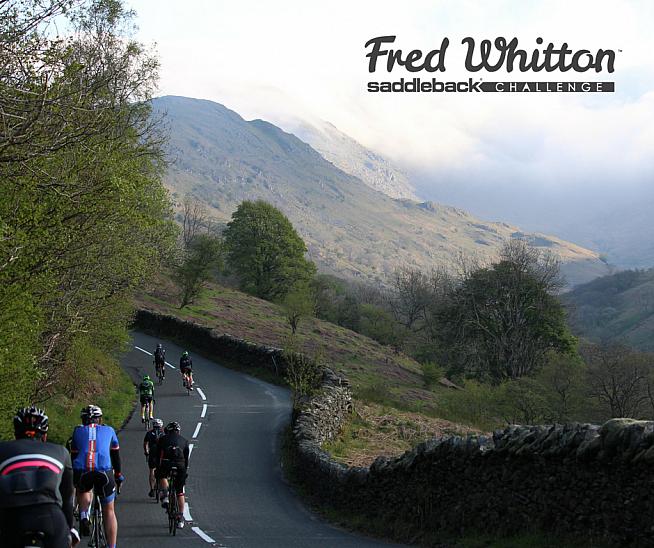 The 2018 edition takes place on Sunday 13 May 2018 from Grasmere in the Lake District, recently named a UNESCO World Heritage Sight. The route takes in all of the major Lakeland passes: Kirkstone, Honister, Newlands, Whinlatter, Hardknott and Wrynose, with gradients touching 30%. Top riders complete the route in just under six hours, but eleven hours and over is not uncommon for the average sportive rider.
>> All the passes, one fell swoop: Read Ian's report on riding the 2016 Fred Whitton Challenge >>
The ballot for the 2018 Fred Whitton Challenge opens on 3 January 2018. Those fortunate enough to be successful will tackle one of the UK's most brutal yet well-loved cycling events. But not everyone gets the chance!
There is only one way to 100% guarantee your place ahead of the ballot.
Between 1 December 2017 - 2 January 2018 riders can sign up to ride for the charity partners of The Fred: The Duddon and Furness Mountain Rescue Team, The North West Air Ambulance and The Great North Air Ambulance.
Purchase a charity entry for £60 plus a donation of £250 to fix your place in this bucket-list ride, whilst supporting fantastic national and local causes. The £250 is refunded once you raise the equivalent sum in fundraising on Justgiving.
Additionally, all riders are encouraged to fundraise for Macmillan Cancer Care. The Fred Whitton Challenge has now raised £1,138,000 for Macmillan and local charities.
Paul Loftus, the Chairman of the Fred Whitton Challenge Steering Group, says: "This event was first established to encourage people to appreciate the challenge of cycling in The Lakes, and to raise money for worthy causes. People love this event, which makes this charity entry window a really exciting opportunity for people to get involved and fundraising."
Nick Rusling, CEO of Human Race, adds: "This is the most loved, and most gruelling event that we have the privilege of delivering. The hard work that the riders put in make it a real challenge, worthy of serious sponsorship."
The event is in honour of Fred Whitton. Fred, who died aged just 50 in 1998, was an extremely popular member of the Lakes Road Club and a lynchpin in the cycling community of Cumbria.
Visit www.fredwhittonchallenge.co.uk to secure your charity entry now.
0 Comments