Everyone likes a bargain, and love it or loathe it the US custom of Black Friday has well and truly implanted itself here in the UK. There's a lot of dubious deals out there, offering little to no real value over the regular discounts you might find throughout the season. But as ever, there are a few gems. Here's our pick of 10 decent deals to look out for over the weekend.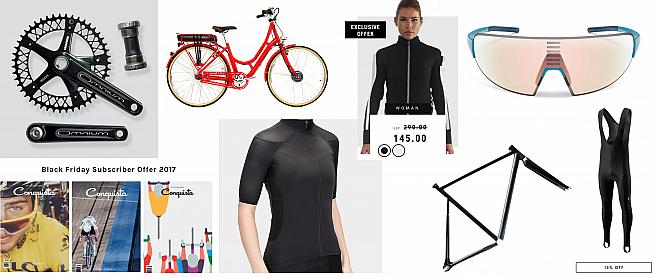 1. 30-50% off at Rapha
Rapha are offering 30% off a selection of their range for the week around Black Friday, plus daily picks at a very tempting 50% discount. Recent half-price deals have included the Winter Jacket and the excellent Brevet Windproof Jersey, with rumours that the Pro Team Flyweight Glasses will be added to the sale in coming days.
Pro Team Winter Tights at £140 (down from £200) and Reflective Climber's Shoes at £196 (down from £280) are two of the higher-end offers, but it's also a good time to pick up some nice socks, bidons and winter hats.
The top deals sell out quickly, the trick is to check the website shortly after midnight for the following day's deals - and snap them up fast. You snooze, you lose!
2. Sweet fixie bits at Factory 5
Shanghai boutique brand Factory 5 launched their Black Friday deals a couple of days early with some incredible eye-catching discounts. They've already sold out of a lot of kit, but if you fancy building a fixie you can still get their Stream frameset in size large for $119 (down from $309) along with some cracking deals on apparel - $19 (down from $74) Nightshade jersey anyone?
This year they've also included their beautiful Lattice chainring (get the discounted SRAM Omnium version for max style points) and the uniquely useful Titan quill stem which lets you run modern oversized handlebars on older steel-framed framesets.
Jump in there before it all sells out - but remember to budget for postage.
3. Half-price ASSOS
I'm not even going to try to type out the names of some of the products included in ASSOS's Black Friday sale, suffice to say it's comprehensive - from jackets and jersey to bib tights and base layers for both men and women.
Sizes in many items are limited to the extremes (XS / XL), but with discounts of up to 50% it's definitely worth a rummage.
4. 30% off at Morvelo
Too-cool-for-school Brighton brand Morvelo are running a Black Friday promotion with discounts of "up to 30%".
In truth most items are discounted by a more modest 10%, but if you're in the market for a pair of winter bibs their Stealth Thermoactive tights at £105 (RRP £120) is a timely offer.
Add on the 15% discount for first-time customers and things really start to look interesting.
5. Half-price bikes at Raleigh
We got very excited when Raleigh got in touch last week about their half price bikes for Black Friday. There are 36 bikes included in the promotion, although unfortunately their mid and high-range road and 'cross bikes are not included.
But, if you're in the market for a kid's bike or even an e-bike then you may just find your fancy tickled.
Check out the deals at www.raleigh.co.uk/black-friday.
6. Discounted subscription to Conquista
Someone at Conquista magazine has gone to the trouble of writing persuasive email around their Black Friday promotion.
If we've got it right, the offer is you buy a two-year subscription for £66 (usual price £88) - and they'll throw in a couple of free back issues to sweeten the deal.
That's 10 issues in total. Seems worth it.
7. 15-25% off everything at Isadore
We're big fans of Isadore kit, but there's no getting around the fact their pricing is distinctly premium (to match their product). They're offering a site-wide discounts of 15-25% for Black Friday, and while this still doesn't make their clothing cheap it definitely makes it a good time to buy.
The biggest savings are on their summer range, for example this stealthy Echelon women's jersey is down to €116.25 (from €155).
8. Hunt the discounts at Canyon
Bit of an odd one this: Canyon announced their "Cyber Weekend" promotion midway through Friday, promising an additional 10% off the already discounted bikes in their factory outlet among other offers. Being dangerously familiar with said factory outlet, we've had a quick look and in fact we can't see any difference in prices since yesterday. But even at their usual discounts, Canyon's factory outlet is always worth a look.
9. 20% off Quoc Night Road Shoes
We love lace-ups, and the Quoc Night Road Shoe is a particularly stylish example. Normally priced £219, Quoc are offering 20% off until midnight on Monday 27th November.
That brings the price down to £175 - and you can get a further £10 off by signing up their newsletter.
Use the code QUOC-BFCM2017at checkout.
10. 2-for-1 on Evans RIDE IT sportives
Well we couldn't let a sportive offer pass us by, and Evans Cycles are once again treating riders to a BOGOF deal on their popular RIDE IT series of events.
With a packed programme of road, MTB and 'cross sporives to choose from, it's the perfect chance to try out some of that kit you've picked up in the sales. Because shopping's are all well and good, but cycling's what it's all about...
Simply add both events to your basket and use the code RIDE2for1.
0 Comments