If you want to try your hand at some of the toughest sportives in the UK, then you need to head north of the border. From the rugged highlands to its spectacular coastline, Scotland boasts some of the best cycling routes in the UK. There are plenty of great sportives too: here are ten of the best Scottish sportives to put on your bucket list.
1. Bealach Mor
If you want to test your alpine fitness the Bealach Mor is the one for you! The Bealach is the UK's biggest road climb with an ascent of 626 metres from sea level over just 6 miles. In total the route tackles 144km and 2,100 metres of ascent, but the rewards for this effort are outstanding. Unspoilt landscape and outstanding views of the sea and hills make this sportive a very popular one.
Since its initial launch in 2006 the organisers have decided to run the Bealach Mor and its shorter sibling, the 43-mile Bealach Beag, as separate events to ease demand on such a small village with limited parking.
This year's Bealach Mor sportive takes place on Saturday 2 September. Visit www.handsonevents.co.uk to take part.
2. Tesco Bank Tour O The Borders
Run over closed roads through stunning Borders countryside, the Tesco Bank Tour O the Borders begins and ends in Peebles and takes in the monster gradient of the iconic Talla Wall early on in the ride. With 4,659m of climbing and a choice of short (88 km) and long (120 km) routes, this is a classic and a great day out on the bike. As Scottish cycling hero Graeme Obree says, "why wouldn't you?"
The Tesco Bank Tour O The Borders takes place on Sunday 3 September 2017. For more details visit tourotheborders.com.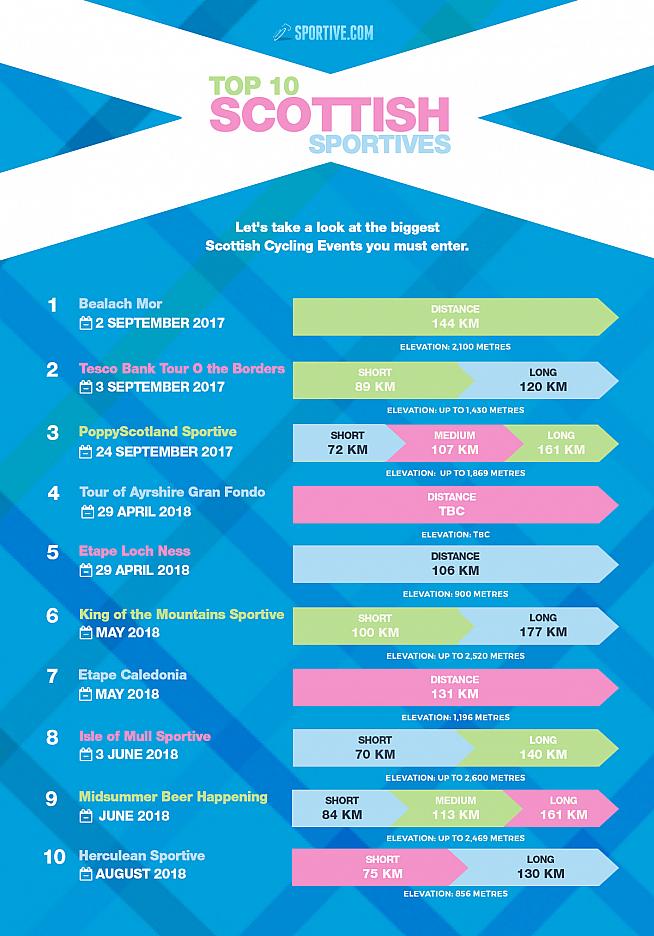 3. PoppyScotland Sportive - 24 September 2017
Whether you want to challenge yourself on the truly epic Muckle route taking you up and over the Lammermuirs and the East Lothian hills for 160 km, take it moderately easy with the 106 km circuit over the infamous 'Rigg', or you're a total novice who wants a taste of sportive riding over the 77 km Mickle ride, the PoppyScotland sportive has something to suit everyone. Set in the idyllic countryside of the Borders and the East Lothian hills, you can choose your own challenge while doing something for charity - every penny of your entrance fee will go to help ex-servicemen through the PoppyScotland appeal.
The PoppyScotland Sportive takes place on 24 September 2017. See www.poppyscotland.org.uk for details.
4. Tour of Ayrshire Gran Fondo - 
One of only two UK qualifying events for the UCI Gran Fondo World Championships, the Tour of Ayrshire Gran Fondo is a popular one - and there's a cycling festival too! Hosted in Kilmarnock, Scotland, this 69.9 mile route takes place on fully closed roads and offers 1410 meters of ascent. There's jerseys, medals and prizes awarded to the first 3 riders in each age / gender classification, and the top 25% in each age classification will be invited to compete in the UCI Gran Fondo World Championships. Good luck!
The next Tour of Ayrshire Gran Fondo is on 29 April 2018. You can enter now at www.golazocycling.com.
5. Etape Loch Ness
Ride a lap of the famous loch, and keep an eye out for its legendary inhabitant in the Etape Loch Ness. This closed-road route takes you 360 degrees around the iconic Loch Ness, including a timed King of the Mountain segment. This involves climbing 380m in height over 4.8 miles! Starting and finishing in Inverness, the 66-mile route offers 900m of ascent.
Read our report on the 2017 Etape Loch Ness here. The Etape Loch Ness returns in April 2018. Register interest at www.etapelochness.com.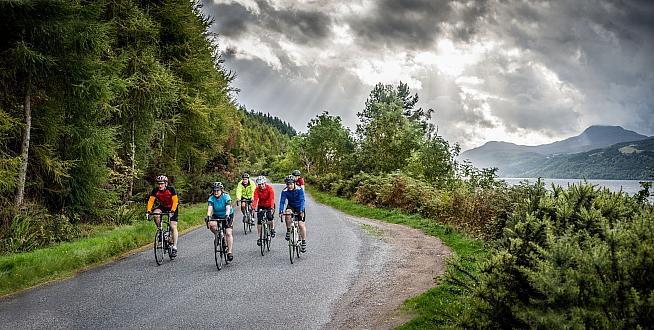 6. King of the Mountains Sportive
With the King of the Mountains sportive you can choose from two routes; a 110 miler or a 100 km. Both rides take on Scotland's toughest road routes up steep mountain passes and down flowing descents, however, the rewards are worth it. You will ride through the best of highland Scotland taking on views of lochs, rivers and castles. The descents are amazing and with fantastic rider support you're sure to finish feeling fantastic.
King of the Mountains returns on Sunday 14 May 2018. Enter at www.komsportive.co.uk.
7. Marie Curie Etape Caledonia
Steep climbs, rolling hills and breathtaking views describes the Etape Caledonia perfectly. As one of the UK's first closed-road sportives, this popular 81 mile ride begins and finishes in Pitlochry. Setting off from the buzzing start line there will be time to warm your legs up in preparation for the steep climb of Schiehallion. After this you will be rewarded with superb views and tree-lined closed roads to glide through. As an added bonus, after you cross the finish line there is an Event Village where you can relax with friends, take advantage of the complimentary bike mechanical services, refuel and raise a glass to celebrate your achievements.
Check out our report on the Etape Caledonia here. The next edition is in May 2018 - visit etapecaledonia.co.uk for details.
8. Isle of Mull Sportive
Based on the beautiful Isle of Mull you can expect no less than stunning views and scenic coastline. There's two distance options; the short one is 43 miles (70 km) and the long one is 87 miles (140 km). Both routes take you on quiet single-track roads that circle the island giving you views of the wildest, most rugged coastline you will ever see on a sportive. Run purely by volunteers you can expect a personal touch and warm welcome at the Isle of Mull cyclosportive.
The next Isle of Mull Sportive is in June 2018. Visit the event website at www.mullsportive.co.uk for details.
9. Midsummer Beer Happening Stonehaven
If there's anything cyclists like more than bikes and coffee it's beer, and the Midsummer Beer Happening at Stonehaven's Baird Park gives you the best of both worlds. Not for the faint-hearted, there is over 8,000 feet of climbing over the 100-mile parcours and your entry fee gets you a goodie bag, T-shirt and entry to the beer festival. Not only will this one test your legs, it's great value too.
The next Beer Happening is - you've guessed it - midsummer 2018. See midsummerbeerhappening.co.uk for details.
10. Herculean Sportive
It's not often that you get to trace the route of a runaway bear, but that's exactly what the Herculean Sportive has to offer. When Hercules the bear escaped during the filming of an advert in the Western Isles, his tour of the islands took 24 days. You'll cover the 80 mile route across four islands in a day, enjoying spectacular scenery and a challenging route. Don't forget to visit Hercules in his final resting place and snap a selfie for the gallery. Camping and B&B accommodation is available if you want to explore this lovely part of the world further.
The Herculean Sportive is held in August. For details see www.facebook.com/cyclingsportive.
0 Comments