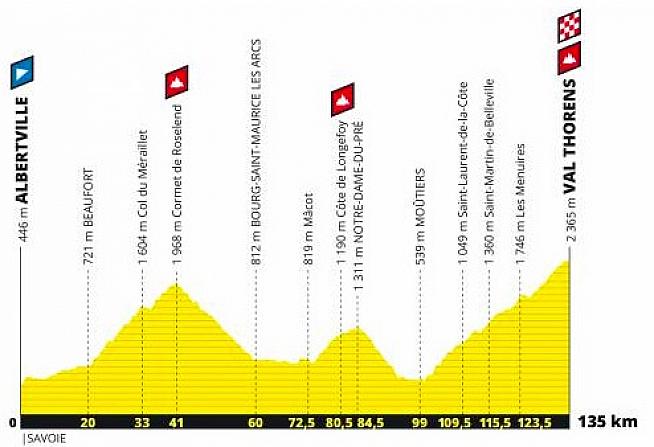 The 2019 edition of the Etape du Tour is a relatively short 135km but it packs a pretty decent punch with a total of 4,563 metres of climbing and a summit finish in the ski resort of Val Thorens, which is the highest point that an Etape du Tour has ever ended.
The stage starts in Albertville, a small town with a population of 19,000 that is most famous for hosting the 1992 Winter Olympics. It is hard to say where in Albertville that the Etape will start but the obvious point is by the campsite, on the D925 which is the road that the sportive will be taking north out of the town.
Heading out of town on the D925, the first kilometre is flat but then there is an ascent of 180 metres over the next four kilometres. With most riders having fresh legs this shouldn't cause a bottleneck but it may make for testing conditions as there will be a huge variation of speeds as strong riders go off fast and those who are pacing themselves sensibly try not to get carried away in the general exuberance. Remember that slower riders should stick to the right of the road. The next 15 kilometres see only 200 metres of total climbing, so this should be a quite nice gentle ascent with only a couple of small sections at above a 5% gradient.
After 20km you hit the village of Beaufort, which while it only has a population of 2,000 is famous throughout France as it is the home of the Beaufort cheese, produced in the Beaufortain valley, which is where you are cycling for the first 41 kilometres. I'd strongly urge you to try some Beaufort during your Etape trip, which is to my mind the finest cheese in the Savoie (although Abondance runs it a close second).
From Beaufort there is a solid 20.3km climb to the top of the Cormet de Roselend, with an ascent of 1,154 metres at an average of 6%. No section goes above 9% but this is a proper climb. 2019 will be the tenth time it has been used in the Tour de France, and the second year in a row after it featured in Stage 11 of the 2018 Tour (albeit taking a different approach from Albertville).
The views along this climb are really beautiful and after 32km you will hit the Lac de Roselend and ride alongside the lake for a couple of kilometres before heading for the summit.
Off the top of the Cormet, there is a 19km descent into Bourg St Maurice, which sees a vertical descent of 1,152 metres. I don't want to scare anyone but while most of this descent is going to be a beautiful and speedy run of fun, after 50km there is a highly technical section of nine hairpin bends in quick succession that will no doubt catch a few lunatic riders out.
Remember that this was where Johan Bruyneel overshot a fast left-hand bend in the 1996 Tour de France and disappeared over the edge, only to be hauled up almost unscathed, although his bike disappeared into the ravine. You can see where it occurred because the concrete barrier by the road is painted with a JOHAN sign. The first 5km of the descent is at an average of 9% so you should be able to get a decent speed up and there shouldn't be too much congestion as the climb up the Cormet will have sorted the speedy from the slower fairly well.
Bourg St Maurice, which is known as Bourg by all the locals, isn't the loveliest place on earth and is best known as a transport hub, including a railway station that has trains from Paris. It also has a funicular railway, Arc en Ciel, which takes you up to the ski resort of Les Arcs. For cheese lovers, it has an excellent cheese shop, The Cooperative Saint Bernard SICA, which sells cheese from all the surrounding valleys at incredibly good prices (about a third of what you would pay in the UK for the same cheese but kept infinitely better). I'd expect there will be a feed station on the outskirts of Bourg.
Out of Bourg you take the D220 and it is a pretty flat run for 12.5km to the village of Mâcot-la-Plagne, which is where the ski resort of La Plagne (which is nearby) gets its name. From the village there is an 12km ascent which has 492 metres of climbing. That's an average of 4.1% and while there are sections of the climb at 8%, this should be a relatively easy climb unless the temperature is insanely high (which it could well be at the end of July). You take in the Cote de Longefoy on this climb but it keeps going up to the ski resort of Notre-Dame-du-Pré, which could be more accurately described as a hamlet.
From Notre-Dame-du-Pré there is a highly technical descent with 26 hairpin bends over the course of about 9 kilometres. It should be quite exciting but if you are a little tired after 90km of riding, you want to make sure you don't relax too much on this part of the course!
Your descent takes you down to Moûtiers, another town that is most famous for its railway station. Given it has a population of just over 3,000, it is suprising it has a cathedral and is the main town in the Tarentaise Valley. It is the access point to several ski resorts, including Val Thorens. I once found myself sleeping on the floor of the municipal gym in Moûtiers when I arrived by train from London to find that the entire valley had been engulfed by snow and all the roads were closed. 800 people ended up sleeping in the gym and living on Haribo and croissants for the next 24 hours.
Once you have reached Moûtiers you can feel comfortable knowing that there is only one climb to go. Unfortunately that climb is 36 kilometres long and involves 2,096 metres of climbing. I think that is what is technically known as non trivial. At an average of 5.2% it doesn't sound too bad but this isn't a consistent gradient all the way. The first 7.5km out of Moûtiers is at an average of 7%, followed by 3km at 3%, then a gebtle downhill section for 2.5km, followed by 5km at 7.5%. Then comes a 3km section at 3%, followed by a 3km section at 8% which takes you into the ski resort of Les Menuires, possibly the ugliest ski resort in Europe (although it has been upgraded in recent years and isn't as horrible as it was a decade ago).
Out of Les Menuires you have a 1.5km short descent which should provide a good breather and then you are faced with the final 8.5k slog which comes in at an average of 7.8%. There is one section at the 29km mark of the climb (so 127km into your ride) which is a pretty tough kilometre at 9% but once you have this out of the way then you know the end is in sight. The final two kilometres into the resort of Val Thorens are at 6%, so you have a slight respite before the finish line.
Once you have finished, don't forget to take in the amazing views down the Belleville valley. Val Thorens is the highest ski resort in Europe and is in a spectacular setting, albeit you may be more concerned about recovery food and drink than taking in the vista. Cars are not going to be allowed back down the road until 7pm and cyclists will be allowed to descend from 1pm, although will be told to take it slowly to ensure there are no nasty crashes with those still going up the climb.
All in all, this looks like a fantastic Etape du Tour. It is definitely a challenging day on the bike and a lot of the difficultly level will depend on how hot (or indeed cold) it is. On a hot day, this will be a really, really tough ride. On a good day it should be a lot of fun, especially if you pace yourself sensibly and don't go off too hard. I expect there will be a lot of people who don't do this and I'd expect to see a large number of sad looking people walking the last 10km of this Etape!
We have also plotted the route on Strava - 2019 Etape du Tour route.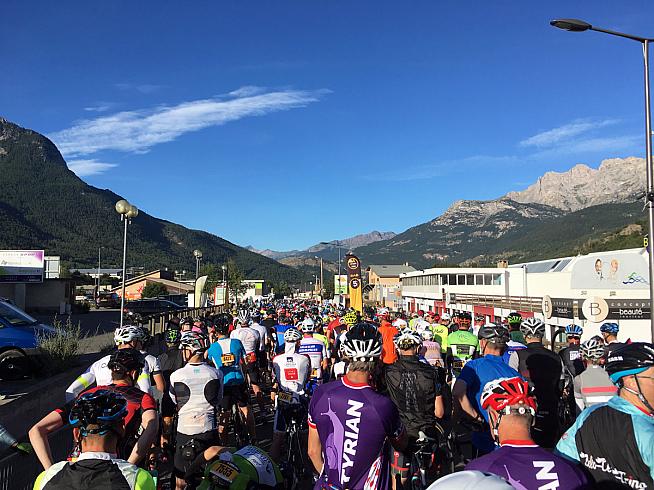 4 Comments