"So Oisin, I hear you're riding the Tour de France?" asks a cousin on a trip home. "I didn't realise the cycling was going so well!"
This is awkward.
"Ha ha! Well yes, I mean not the whole Tour..." I reply, "just three stages. And not the actual race -" I try to add, panicking slightly as I realise there's been some misunderstanding. I mean, it should be obvious - I'm not a pro cyclist, just look at me!
But apparently it's not obvious to relatives who aren't really into cycling. Word is out: I'm racing the Tour de France this year. Pretty impressive for a 38-year-old father of two toddlers, who only gets out for a few hours at the weekend...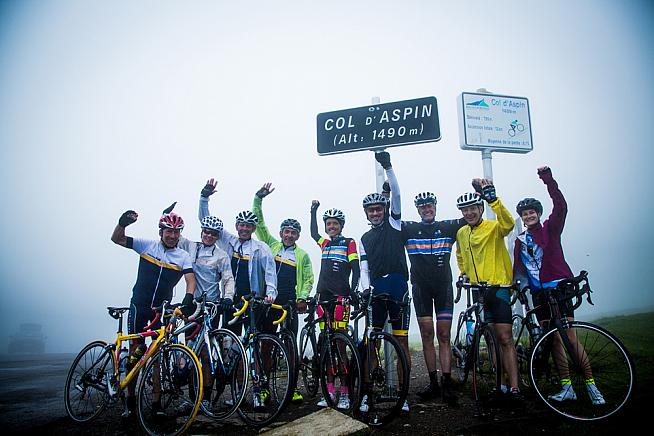 Just for the record, I am not racing the Tour de France this summer. But I am riding three stages of it; that is, I'll be riding the same course as the pros, but one week ahead of the race.
This is all thanks not to a secretive programme of training and doping (there aren't enough Therapeutic Use Exemptions in the world, trust me), but to an organisation called Le Loop. Each year, they offer a bunch of cycling nuts the chance to ride the route of the world's biggest bike race, the Tour de France.
You don't have to ride all 21 stages of it - although you can if you want; Le Loop offer a selection of packages ranging from two or three day tasters all the way up to the full Grande Boucle itself. It's run in aid of the William Wates Memorial Trust, so riders are asked to fundraise a set amount towards the charity's work with disadvantaged young people.
Whichever loop you choose, it's an epic undertaking. I've signed up for Loop 5, The Alpine Triple. As the name suggests, this takes in three mountain stages starting with this year's Etape du Tour (stage 10) and finishing atop Alpe d'Huez on stage 12. That's 442km over three days, with more than 12,000m of climbing. Crikey.
It's going to be amazing, but there is one catch: as I'm pretty sure I might have mentioned, I'm not actually a pro cyclist (Sorry mum and dad; good luck breaking the news to the town).
Riding the Etape alone is more than enough challenge for most amateur cyclists, so how exactly does your average sportive chopper go about preparing for probably the hardest three stages of the toughest bike race on earth? Can it even be done?
I'll have to come back to you on that in July, if and when I actually see the ride through.
All I can say at this point is that my training's been a mixed bag. While most people would probably adopt a structured training programme, I've relied on regular-ish rides in the local countryside, ranging from 25km lunchtime quickies to longer 70-100km loops at weekends. I've tried to include as many hills as possible, and obviously, I've thrown a few sportives into the mix as well.
At the turn of the year my loose strategy was to build up to Le Loop with two major targets beforehand: the Mallorca 312 at the end of April, and the Veneto Trail - a 550km unsupported off-road ride in Italy - in late June.
So how's that working out?
Well, not entirely to plan is the answer. The Mallorca 312 was an unmitigated disaster - perhaps not surprisingly, given I'd cycled barely 312km in total in the eight weeks preceding it. I'll get the full story written up at some point, but suffice to say I missed both the start and the end, and in the middle I was so delirious that I was angrily convinced the organisers had added in extra mountains.
If I had to pick the low point, it was probably fishing ham and cheese sandwiches out of a bin at a feed stop (they were wrapped in clingfilm, I'm not an actual raccoon).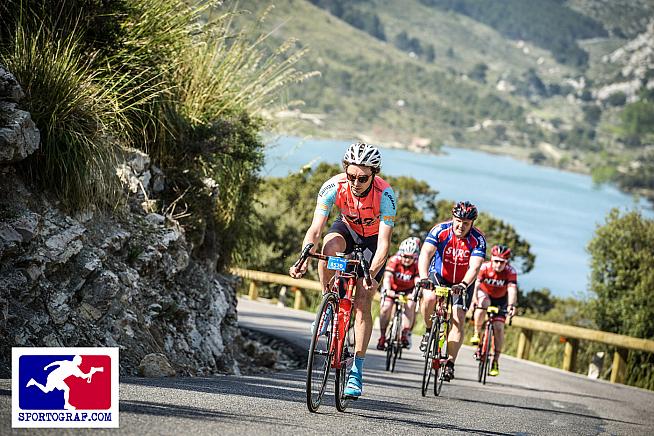 Dubious lunch decisions aside, the Mallorca experience was actually a valuable lesson in that I realised turning up to an event undercooked really sucks. Lack of preparation drained a lot of the fun out of what should have been a highlight of the year.
I was left kicking myself for putting myself in a situation where I could suffer for 289km in the saddle through stunning scenery, and still end the day feeling like I'd failed. The moral of the story? Be prepared.
Of course, even if you do end up snacking on litter you can never really regret a day's cycling somewhere as beautiful as Mallorca; I'm chalking it up as 289km of much needed Le Loop training.
That brings my yearly total mileage to 2,300km, with the small matter of an unsupported gravel race/bikepacking adventure to come. I'm hoping the Veneto Trail will be the final piece in the training jigsaw, although "final nail in the coffin" seems at least as likely to be accurate. We shall see.
But what else, apart from racking up the miles, can your average sportive part-timer do to prepare for the endurance test that is Le Tour?
Eat right, get light
Nutrition and being sensible about diet is an obvious place to start if you're looking to build to peak fitness for a sporting challenge.
Now I'm not a dietitian, so look elsewhere for competent advice on how to eat your way to victory. All I know is, I've got a target weight in mind, selected more or less on a hunch (call it gut instinct), which is about three kilos less than I currently weigh.
I'm scrawny enough as it is, so there's not exactly a lot to work with, but experience from last year's Etape (the only sportive I've approached with anything close to similar trepidation and attention) suggests cutting out alocoholic and sugar-based treats will get me close to the target. Not eating after dinner/8pm is another top tip.
Shedding any spare pounds (sensibly of course - don't go doing anything crazy) will pay dividends when it comes to cycling up mountains. That's just science; as Tesco's will tell you, every little helps when it comes to boosting the all-important power to weight ratio.
I must admit I haven't fully embraced my Le Loop diet yet, but with five weeks to go it's probably time. Again, I'm sorting of banking on the Veneto Trail to do the job for me. If three or four days lugging a loaded 'cross bike up gravel inclines doesn't fettle your physique, what will?
But on the other hand, the Trail also passes through many Italian villages, with all their inevitable and irresistible array of gelaterias, pizzerias and er, Irish pubs. It's dawning on me that I could quite conceivably finish the Trail totally knackered, yet somehow heavier than when I started: a lose-lose scenario that would not bode well for Le Loop just two weeks later.
Sure, if I could count on my iron self-discipline then this would not be an issue. But as things stand it's in the laps of the gods. And oh gawd, I do like Italian ice cream...
Kit: it's mostly about the bike
Where equipment is concerned, the received wisdom is to make sure your bike's in good working order ahead of a big ride, and don't go experimenting with anything new.
'New' means things like saddle height or shoes. Consumables like chain, bar tape, cleats, or cassette, by all means fit new. But give 'em a good test ride first to make sure it's all spinning as it should. (Not your bar tape; if that's spinning, you've done something wrong.)
Given my track record (I rode Mallorca 312 on an unpadded saddle, and with no means of repair should my freshly fitted tubular tyres get a flat) it may surprise you to hear that I've got things fairly well in hand for Le Loop.
Well, at least my bike's sorted; I'll be riding this Bianchi Fenice, a recent labour of love that I've built up from an imported frameset in the opinion-dividing Mercatone Uno colours: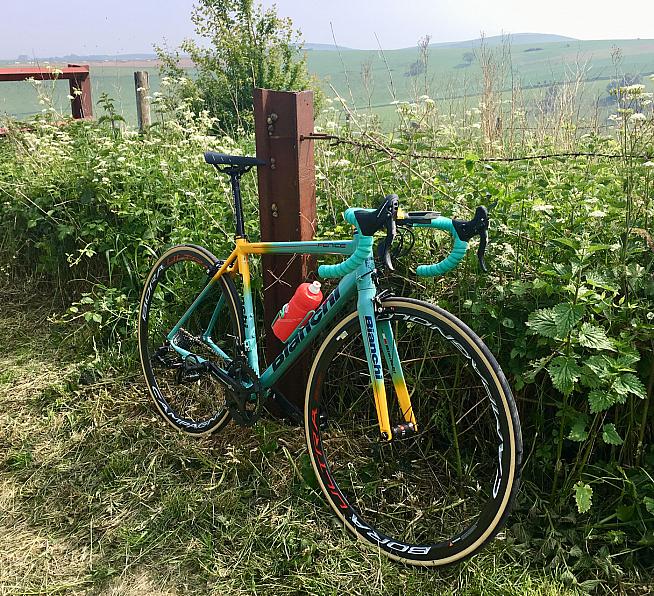 The irony of sweating up mountains in slow motion atop a bike painted in tribute to Marco Pantani, one of the most talented climbers (asterisks notwithstanding) cycling's ever seen, will not be lost on me; in fact I will relish it, so don't even mention it.
I'll still be riding those sweet tubs of course, but I'll be using sealant to hopefully cope with any minor punctures, and also bring along a couple of spare tyres to cope with disaster. Le Loop is not an unsupported ride, and a day bag is available to riders on each stage so I should hopefully be ok if I stick the spares in there.
I might even carry a pump and tyre levers, who knows. No point rushing into these decisions.
Research the parcours
A vital part of preparation, and one that I admit I frequently overlook, is doing a bit of research about the course facing you on a particular challenge. You know, to familiarise yourself with any big climbs and work out a plan of attack to which you can refer mentally in those long hours alone with your thoughts on the bike.
If you've ridden the Etape du Tour, Flanders or any of the Spring Classics, you'll be familiar with those stickers they issue at registration, showing the course profile with km markers indicating major climbs, cobbled sections and feed stations. They are a fantastic idea; stick them on your top tube and, in the absence of a directeur sportif relaying minute-by-minute course info over an earpiece, you've got the best possible visualisation of where you are at any given point in the ride, helping you measure out your efforts on the road.
I don't know whether Le Loop provide stickers, but they certainly look after their clientele where pre-ride info is concerned. I've received monthly email newsletters from le Loop filled with useful guidance and pointers from their ambassador Emily Chappell (TCR winner, writer and something of a hero in my eyes).
Sure, I haven't followed all the guidance on training to the letter - but it's all good stuff. Their latest newsletter suggested checking out the official Tour de France magazine for detailed analysis of each stage, so I dutifully picked up a copy and will enjoy poring over the profile of stages 10, 11 and 12.
Here they are: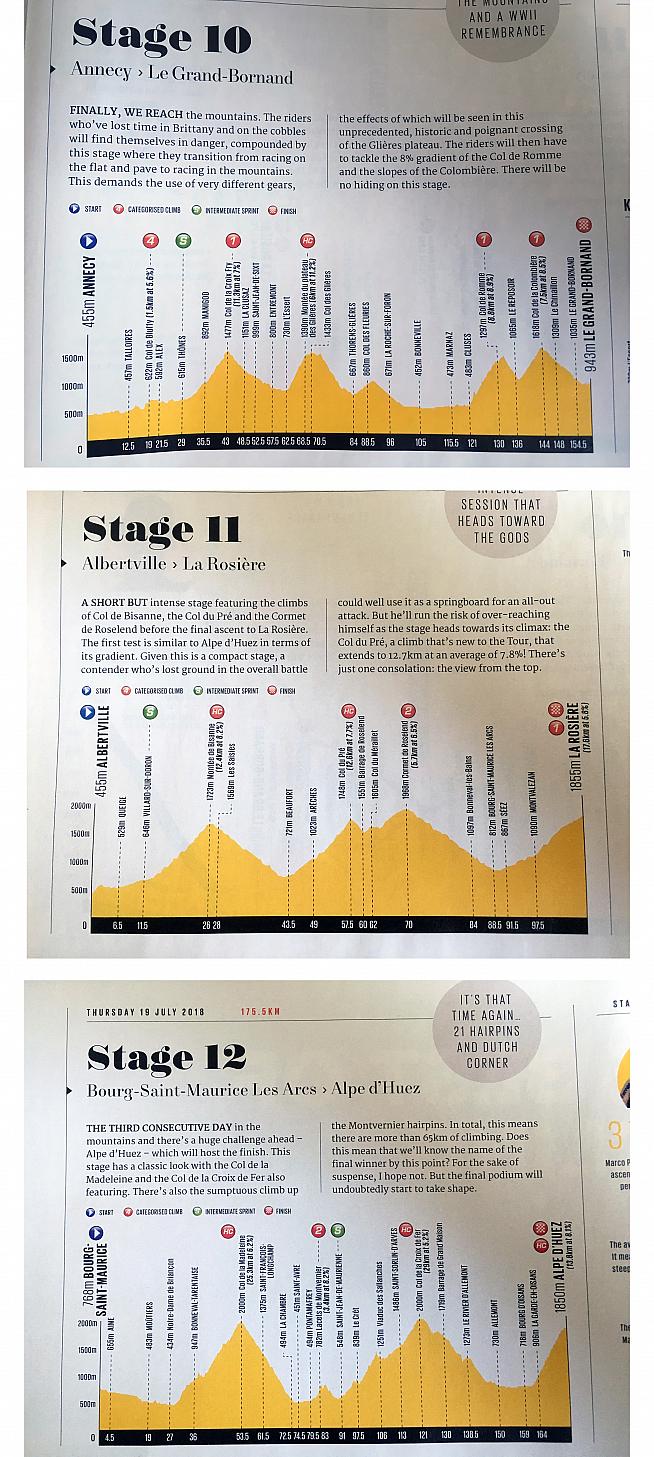 Arrrrgh!! I'm so screwed.
Logistics and admin
As with any sportive that involves overseas travel, there's some tedious logistics involved: insurance, booking accommodation, transport, packing your bike, finding your passport, wiping the kids' porridgey fingerprints off the passport, etc.
Fortunately for me, Le Loop do a lot of the legwork in terms of providing accommodation and transfers between stages, advice on insurance tailored for cyclists, and other things I probably haven't even thought of yet.
As for transport, whether you're riding the whole Tour or joining for a shorter section, you have to make your own way to the start point of your loop on the day before. But, again, Le Loop provide all the info you need and are on hand with expert assistance on flights and connections if needed.
They take care of your bike too, in fact the efficiency of their system for transporting riders' bikes from numerous collection points across the UK across the Channel to France is a point of pride among Le Loop staffers.
Ask any cyclist, packing up their bike and lugging it through airports is not the highlight of a cycling holiday. With Le Loop's transfer service you don't even have to pack your bike; just wheel it into one of their collection points and hand it over.
My nearest drop off point is On Your Bike in East Grinstead, so I'll be heading up there the day before I leave. All that remains now is to fill out my medical form and insurance. And clean the porridge off my passport.
Five week countdown
With just five weeks to go until Le Loop I wouldn't say I feel ready, but I've put in a solid month of riding since Mallorca and already feel in better shape. A lot rests on this upcoming trip to Italy. I'm hoping I can avoid mishap, whether it's overdosing on calzone or steering my bike into a ravine, and that the off-road miles will stand me in good stead when it comes to ascending those ribbons of tarmac spiralling up the Alps.
Either way, I can't wait. I'm looking forward to meeting fellow loopers, not least the chance to chat with some young people from the William Wates Memorial Trust who'll be joining the ride. And I'm looking forward to what will no doubt be the most challenging, spectacular cycling adventure I've undertaken to date.
And will my slapdash approach to training pay off, or will it be another Mallorca all over again?
I've pledged to update the site and our Twitter feed with live updates from Le Loop come July, so stay tuned for that. Come what may, there'll be at least one photo of a rapidly melting ice cream per day; you don't get that from Chris Froome.
Now I just have to explain to my extended family that I'm not actually Chris Froome... I'll try to let them down gently. Wish me luck.
Find out more about Le Loop at rideleloop.org.
Fancy heading off-road for the Veneto Trail? venetotrail.eu
Dine like a raccoon on the Mallorca 312 - packages for 2019 are on sale now: www.mallorca312.com
2 Comments